This Chicken Stew with Balsamic Roasted Vegetables is the perfect keep-you-warm comfort food dinner recipe.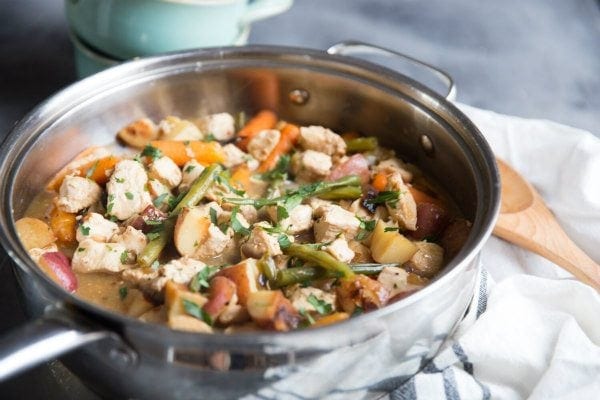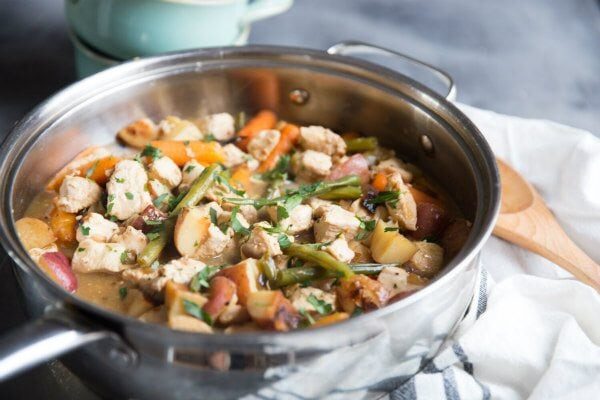 Packed with plenty of roasted vegetables and potatoes, this stew will fill you up and keep you happy.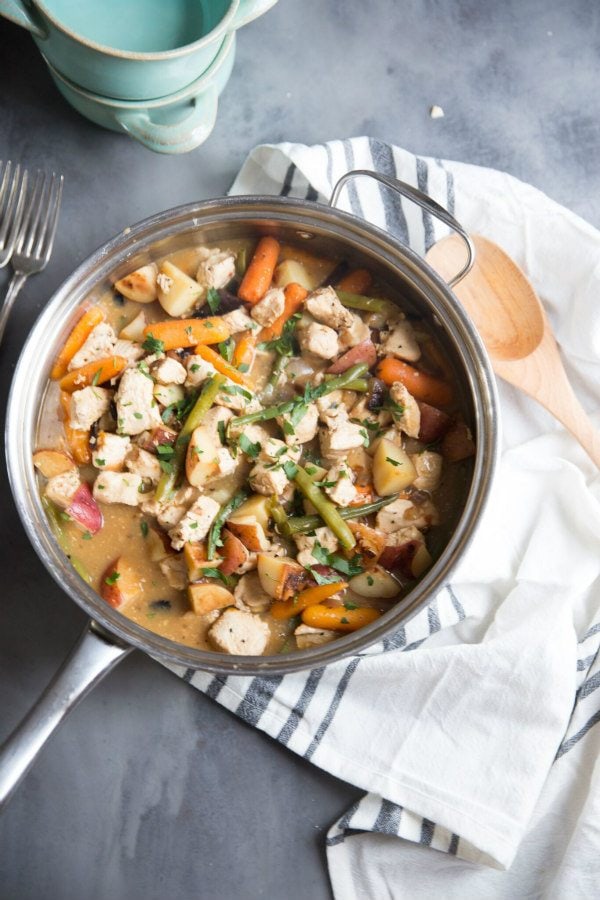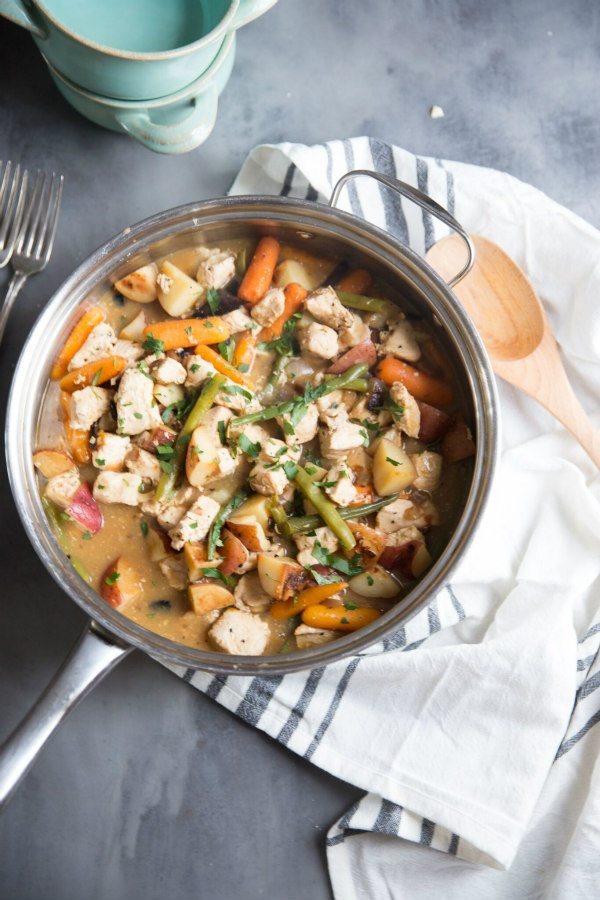 It's one of those meals that tastes even better the next day!
Chicken Stew with Balsamic Roasted Vegetables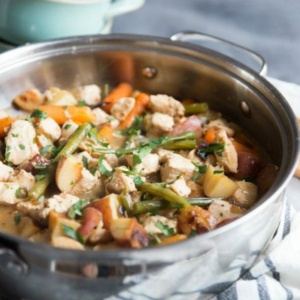 Yield:
6 Servings
Prep Time: 25 minutes
Cook Time: 1 hour
Ingredients:
4 cups unpeeled, cubed red potatoes
2 cups whole baby carrots
1 cup chopped red onions
2 tablespoons balsamic vinegar
1 tablespoon olive oil
1 clove garlic, minced
1 1/2 teaspoon dried thyme, divided
1 1/2 teaspoon dried rosemary, divided
1 teaspoon dried tarragon
1/2 teaspoon salt
1/2 teaspoon black pepper
1 cup trimmed fresh green beans
1/2 cup dry white wine
6 halves boneless, skinless chicken breasts, cut into 1-inch cubes
3 cups low sodium, low fat chicken broth
3 tablespoons all-purpose flour
Directions:
Spray a large roasting pan with non stick spray. Add potatoes, carrots, onions, vinegar, oil, garlic, 1 teaspoon thyme, 1 teaspoon rosemary, tarragon, salt and pepper. Mix well. Roast, uncovered, at 425° F. for 30 minutes. Stir once, halfway through cooking time. Add green beans and roast for 10 more minutes.
Meanwhile, pour wine into a large saucepan. Add remaining 1/2 teaspoon thyme and 1/2 teaspoon rosemary. Bring to a boil. Add chicken pieces and reduce heat to medium-high. Cook, uncovered, until chicken is cooked through, about 12 minutes.
Add roasted vegetables to chicken and wine. Stir in 2 1/2 cups of broth. In a small bowl, combine flour with remaining 1/2 cup broth and stir until lump-free. Add flour mixture to chicken and vegetables. Cook until stew is bubbly and has thickened, about 3 minutes.
Tips:
If preparing this recipe as GLUTEN FREE, just be sure to use a brand of chicken broth that is designated as GF and sub GF flour for the all-purpose flour.
Nutrition:
Nutritional Information Per Serving (stew divided into 6 equal portions): Calories 297, Calories from Fat 42, Total Fat 4.75g, Sat Fat 1g, Cholesterol 68mg, Sodium 320g, Potassium 1041mg, Carbohydrates 27.5g, Dietary Fiber 3.25g, Sugar .5g, Net Carbs 24.25g, Protein 33g
Weight Watchers POINTS per serving:  Freestyle SmartPoints: 4, Points Plus Program: 7, Old Points Program: 7
SOURCE: RecipeGirl.com (via Crazy Plates)
Here are a few more stew recipes you might enjoy: