This recipe is featured as part of a Cinco de Mayo- themed dinner menu.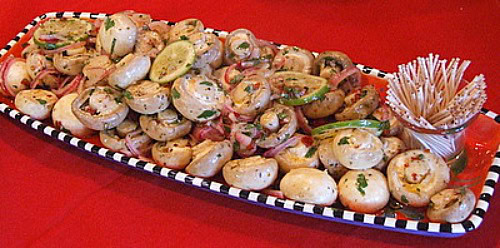 Chipotle and Lime Marinated Mushrooms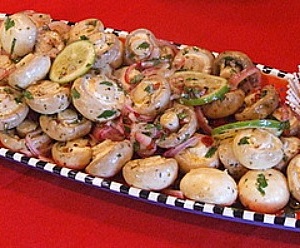 This is a really easy appetizer to put together for a Cinco de Mayo party. It's nice to have a vegetable among the chips and guacamole. I suggest letting it marinate in the refrigerator overnight for maximum flavor.
Yield:
a whole bunch!
Prep Time: 20 min + marinating time
Ingredients:
1 Tablespoon minced fresh oregano (or 1 teaspoon dried)
1 to 2 Tablespoons pureed canned chipotle chiles in adobo sauce (more/less, as desired)
2 Tablespoons minced garlic
1/2 cup olive oil
1/3 cup fresh lime juice
1 medium lime, thinly sliced into circles
2 teaspoons salt
1 small red onion, halved lengthwise, then very thinly sliced into half moons
2 pounds very small button mushrooms (or medium mushrooms, halved)- rinsed & patted dry
1/4 cup coarsely chopped Italian parsley
Directions:
1. Toss all ingredients together and let marinate in refrigerator at least 2 hours or overnight.
2. Drain and serve at room temperature.