I've been so good for so long… working out… eating salads… eating lean proteins… and eating everything else I like to eat in moderation! Seriously, I've been good. But I got a craving and I got it bad. That craving was for cookies, so picked out a yummy recipe and did the deed! I'm a very big, huge, HUGE fan of Snickerdoodles. But since I've made those a million times, I decided to go with something quite similar instead: Cinnamon- Vanilla Monster Cookies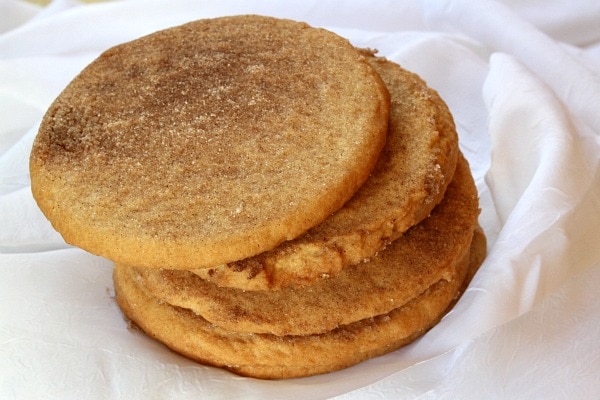 These cookies are flavored of cinnamon and vanilla (think… cinnamon sugar cookie). They're soft but they have a slightly crispy exterior.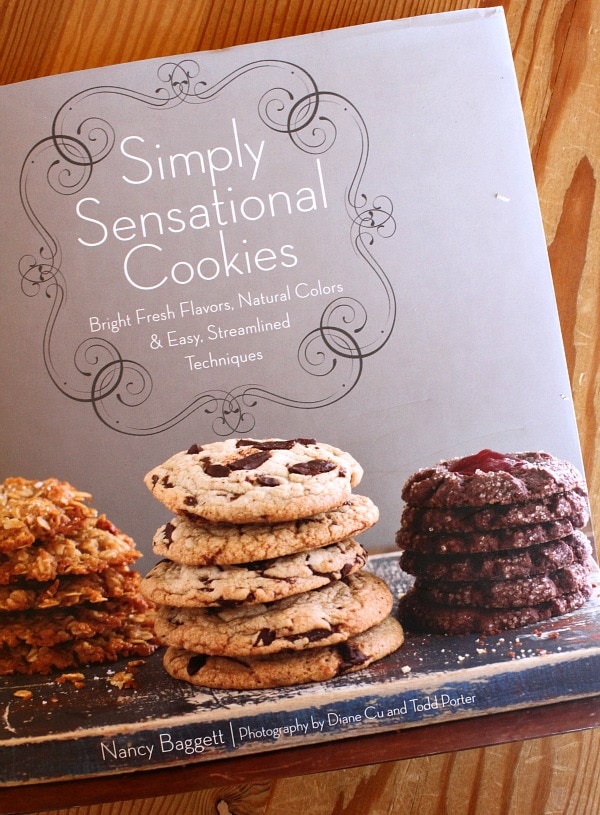 And the recipe comes directly from this fabulous cookie cookbook:  Simply Sensational Cookies by Nancy Baggett.  If you love to collect baking cookbooks, here's another one to add to your shelf!  There are all kinds of delicious choices, and many of them are one-bowl mixing.  Love it!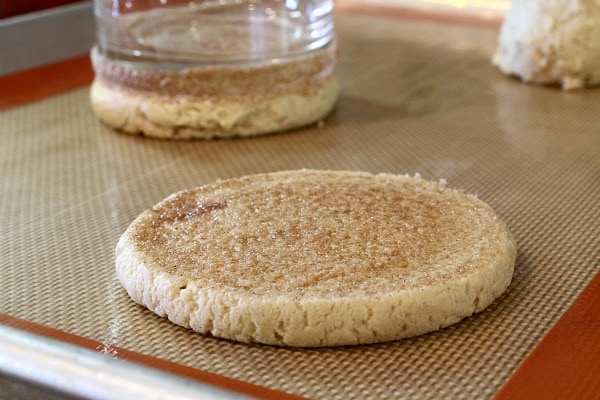 The dough is fairly soft.  It's rolled into balls and smashed with the bottom of a cinnamon-sugar coated glass…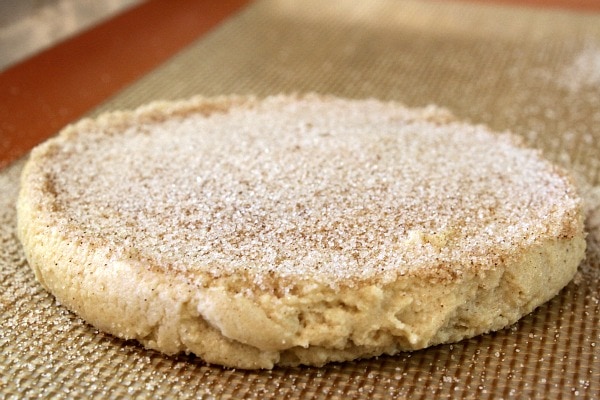 … and then it's covered with even more cinnamon-sugar!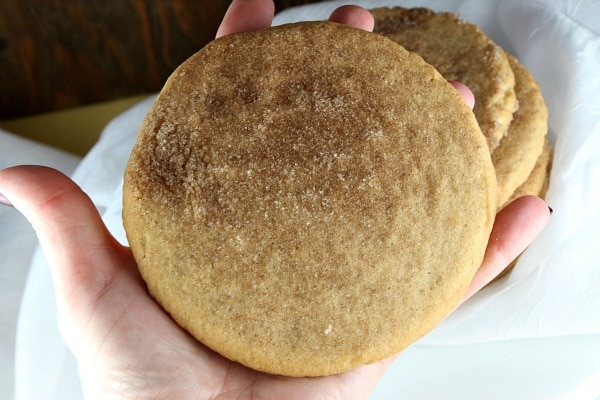 So because these were referenced as "Monster Cookies," I totally went with that theme.  I made my cookies truly monstrous!  I got about one dozen super Monster Cookies out of the batch, but I'm sure you could stretch it into two dozen if you made them a bit smaller.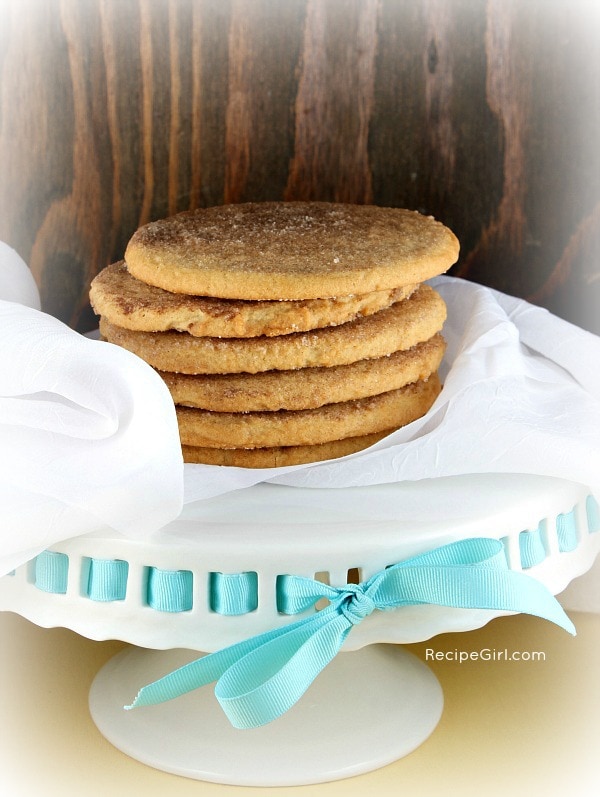 If you're a fan of the classic Snickerdoodle, I'd say you'd probably like these too.  They don't have that classic Snickerdoodle flavor (no cream of tartar in the recipe), but they're a wonderful cinnamony sugar cookie indeed.
Cinnamon- Vanilla Monster Cookies
Yield:
1 dozen MONSTER Cookies (or 2 dozen smaller ones)
Prep Time: 25 min + chill time
Cook Time: 10 min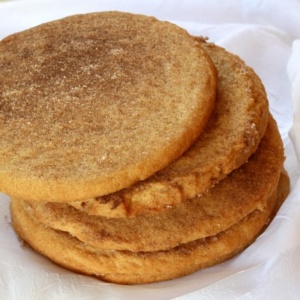 Ingredients:

1 cup (2 sticks) unsalted butter, at room temperature
2/3 cup canola or vegetable oil
3/4 cup powdered sugar
2/3 cup packed light brown sugar
2 teaspoons baking powder
3/4 teaspoons ground cinnamon
1/2 teaspoon salt
1 large egg + 1 egg yolk, at room temperature
2 1/2 teaspoons vanilla extract
3 2/3 cups All Purpose Gold Medal® Flour
1/3 cup granulated white sugar combined with 1 teaspoon cinnamon

Instructions:

1. Preheat the oven to 350 degrees F. Line baking sheets with parchment or silpat mats.

2. In a large bowl, use an electric mixer to combine the butter, oil, powdered sugar, brown sugar, baking powder, cinnamon, and salt until light and fluffy, about 2 minutes.

3. Beat in the egg and egg yolk and vanilla until well blended. On low speed, beat in half of the flour. Then beat in the remaining flour until well-blended. The cookie dough will be very soft. Refrigerate at least 15 to 30 minutes, to firm up the dough slightly. Put the cinnamon- sugar mixture in a shallow bowl.

4. Use an ice cream scoop to scoop out a generous amount of cookie dough, roll it into a ball and place it on the prepared baking sheet. Space cookie balls at least 3 inches apart on the baking sheet (I baked 3 or 4 at a time). Lightly coat a glass with a 4-inch bottom in oil, then dip in cinnamon-sugar, then use the bottom of the glass to flatten the cookie dough balls. Re-dip, as needed. Lightly sprinkle the cookies with additional cinnamon-sugar.

5. Bake for 10 to 12 minutes, or until cookies are just light golden brown around the edges. Let the cookies cool on the baking sheet for about 5 minutes before using a wide spatula to transfer the cookies to a cooling rack to cool completely.