Here's a summery sort of HOT DAY kind of cocktail that you'll want to make this summer > Coconut Rum Limeade Slushie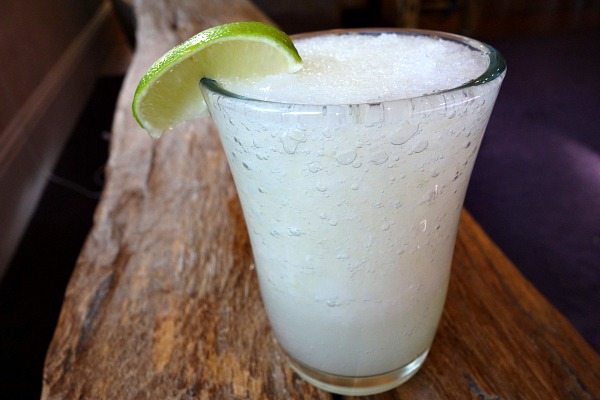 When I was a kid, my Dad used to take me and my childhood friend Karen to 7-11 for a slurpee every Saturday afternoon. It was our "reward" treat for helping him in the yard. Karen and I would climb into the back Dad's convertible mustang (a car he had for a short time to enjoy the CA sunshine), and we'd cruise to get our slurpees, hair blowing in the wind. I always chose a mixture of cherry and cola. Those were some fun times.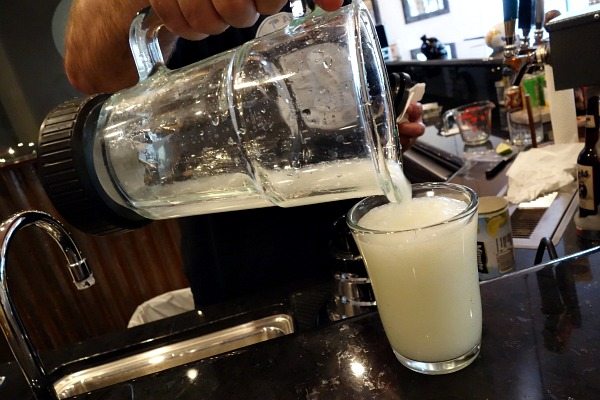 This kind of slushie that I'm sharing today is the adult version of a slurpee. You sure can't go to 7-11 and press a button to get an adult slurpee… though occasionally I've seen bars that dispense these sorts of drinks! It's best to just make them at home. This one is so super easy to make- just 2 ingredients + ice and a lime wedge garnish.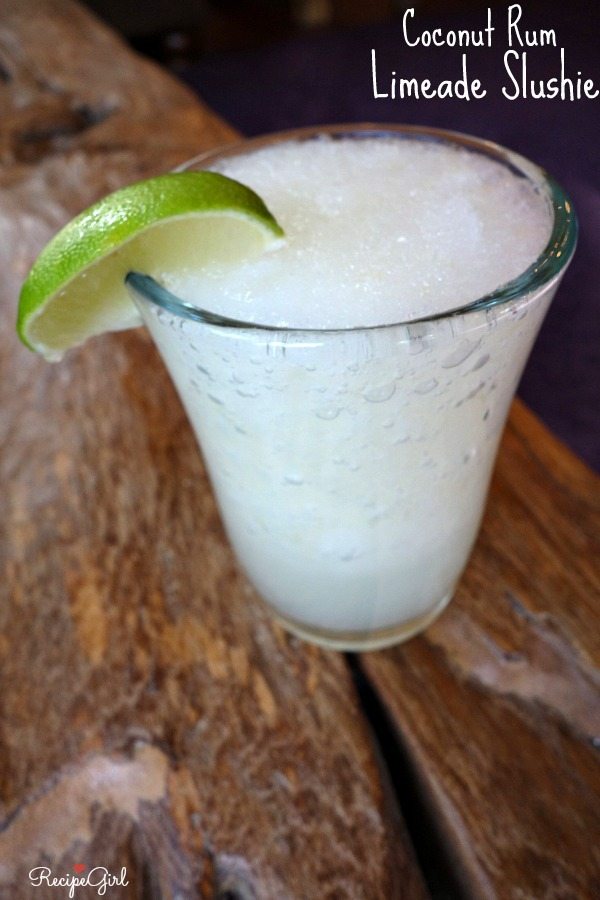 This recipe makes a slushie cocktail for one. If you'd like to share, I suggest you double the recipe. You'll want to double the recipe anyways since these are totally yummy and refreshing on a hot summer day. They do go down pretty easily, so drink them responsibly!
Coconut Rum Limeade Slushie
This is not your average slushie. It's for grown ups only!
Recipe Details
Ingredients
1½

cups

crushed ice

3 to 4

tablespoons

frozen limeade concentrate

3 to 4

tablespoons

coconut rum

(I use Malibu)

1

wdge

lime,

for garnish
Instructions
Blend ice, limeade and rum in a blender until slushy.

Pour into a glass and garnish with a lime wedge.
Nutrition
Serving:
1
serving
,
Calories:
148
kcal
,
Carbohydrates:
7
g
,
Protein:
0.01
g
,
Sodium:
20
mg
,
Potassium:
7
mg
,
Fiber:
0.03
g
,
Sugar:
7
g
,
Vitamin A:
1
IU
,
Vitamin C:
2
mg
,
Calcium:
12
mg
,
Iron:
0.03
mg