Here's a side dish recipe that is perfect for serving with chicken, pork, beef or seafood:  Couscous with Parsley and Shallots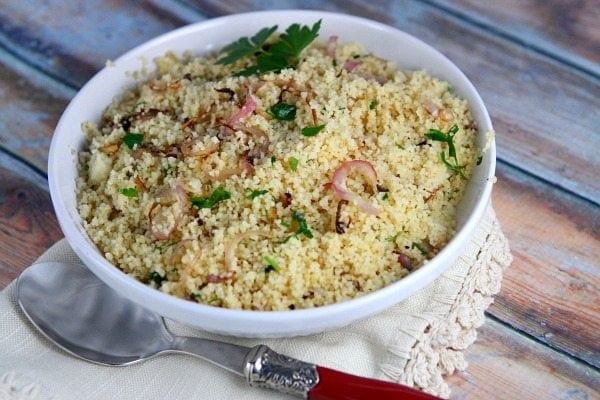 There is something to be said for having a good arsenal of carb-loving side dish recipes at hand.  Whether it is rice, potatoes, quinoa, pasta or couscous… it is nice to have quite a few options to choose from when you're serving up dinner.  And if you're anything like me, you're usually looking for the magic three:  main dish, side dish and vegetable.  My sister called me a couple weeks ago and said, "You need more couscous recipes on RecipeGirl!"  I took a peek, and she's totally right.  I don't have too many options for couscous.  So here ya go sis!  This recipe is super simple.  It's just freshly cooked couscous mixed with sauteed shallots, lemon juice and parsley.  Sometimes the simple dishes are best.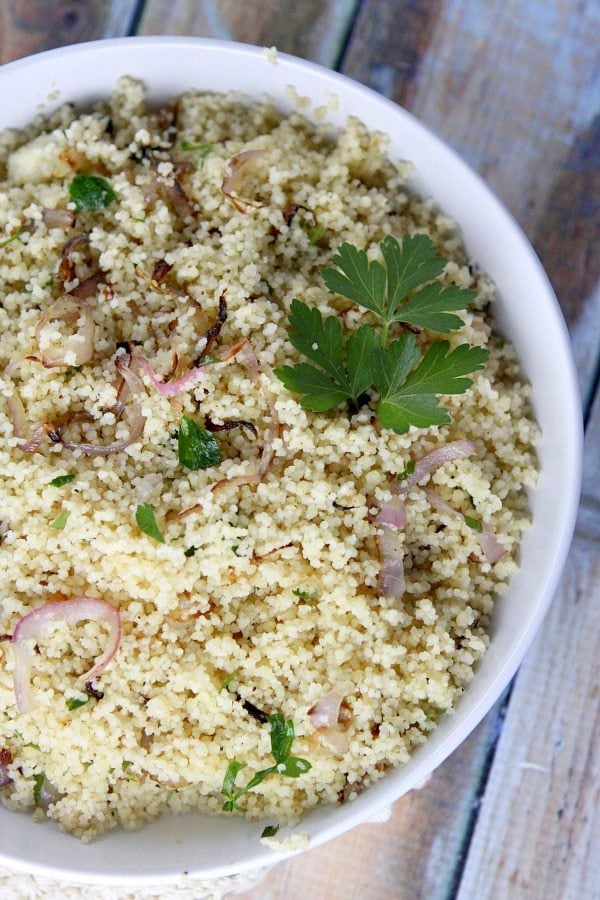 One of the nice things about serving couscous as a side dish is that it's a fairly light side dish.  You won't eat it and feel completely overstuffed.  Another nice thing about making couscous is that it takes very little time to cook- about 5 minutes and it's done!  I served this with the fabulous pork tenderloin recipe that I blabbed about yesterday:  Sweet and Spicy Pork Tenderloin.  Oh, and to round out the magic three, I served some steamed broccoli too.  My family kind of freaks out if I don't have three things on the dinner plates (not really, but they do kind of expect it!)
Go forth and make this couscous recipe with parsley and shallots for dinner tonight!
Couscous with Parsley and Shallots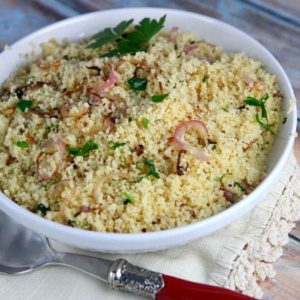 Yield:
4 servings
Prep Time:15 min
Cook Time:10 min
Ingredients:
1 cup couscous
1 tablespoon olive oil
4 large shallots, peeled and thinly sliced
1/2 cup chopped fresh parsley
1 1/2 tablespoons freshly squeezed lemon juice
Kosher salt and freshly ground black pepper, to taste
Directions:
1. In a medium saucepan, cook the couscous according to package instructions. Fluff with a fork and transfer to a serving dish.
2. In a medium skillet, heat the oil at medium-high heat. Add the shallots and cook, stirring frequently, until softened and slightly browned- 3 to 5 minutes. Add to the bowl with the couscous, along with the parsley and lemon juice. Toss to combine, and season with salt and pepper.
SOURCE: RecipeGirl.com (adapted from Everyday Food)
More couscous recipes you might enjoy:
Couscous with Pistachios and Apricots by Simply Recipes
Roasted Vegetable Couscous by Budget Bytes
Greek Couscous Salad by TasteFood
Curry Couscous by Lisa's Kitchen
Couscous with Lentils and Vegetables by A Family Feast