There's a restaurant near our house that sells Cream Cheese Wontons. My son is absolutely addicted to these things, and we truly cannot have dinner there unless a cream cheese wonton order is placed. They're a little on the decadent side, but I have to admit that they're quite delicious.  My little guy was thrilled that I decided to re-create these at home. I added a little fresh crab to the mix to create Crab and Cream Cheese Wontons. Here's how you make them: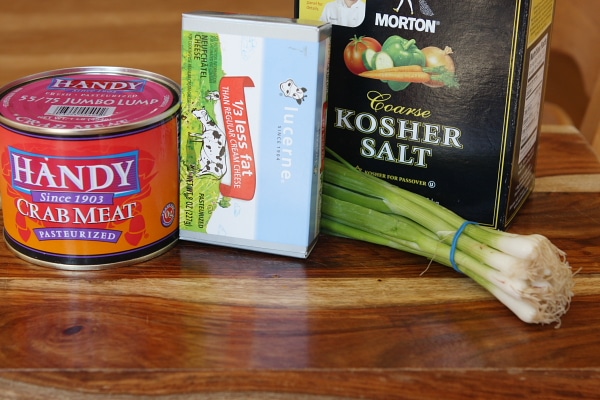 Anderson Seafoods recently sent me a goodie box of their seafoods (halibut, mahi mahi, lobster tails…). And also in that box was a can of jumbo lump crab meat. For the filling I used crab meat, kosher salt, cream cheese and green onions…. fresh ginger too, but it didn't make it into the picture.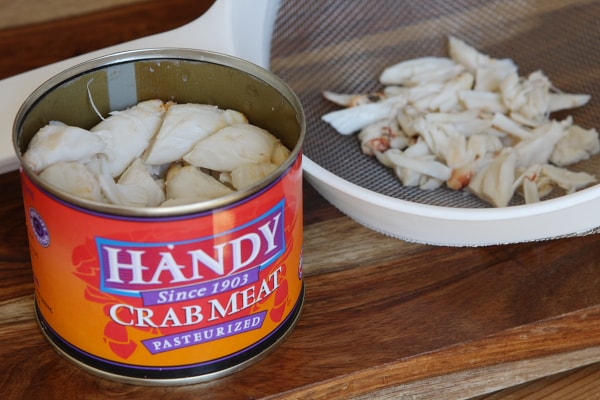 I have to talk about this crab meat for a minute. I didn't think I really liked crab all that much. I doubled the recipe for these wontons, and I had some crab meat left over. I have to tell you that I could not stop eating it. It was that delicious. I guess I do like crab!
Mix the filling ingredients in a bowl. Super simple- just mix them with a sturdy spoon.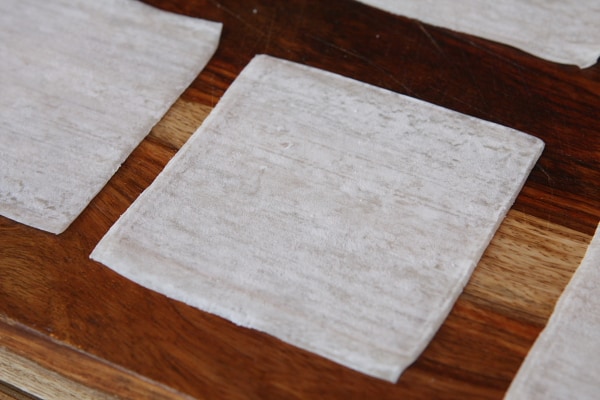 Lay a wonton wrapper on a dry work surface. You'll need a little bowl of water nearby.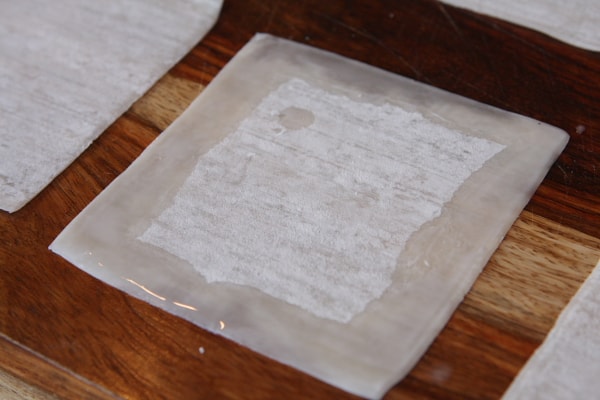 Dip your finger in the water and rub along the edges of the wonton wrapper to dampen them. This is going to act as the glue that holds the edges of your wonton together.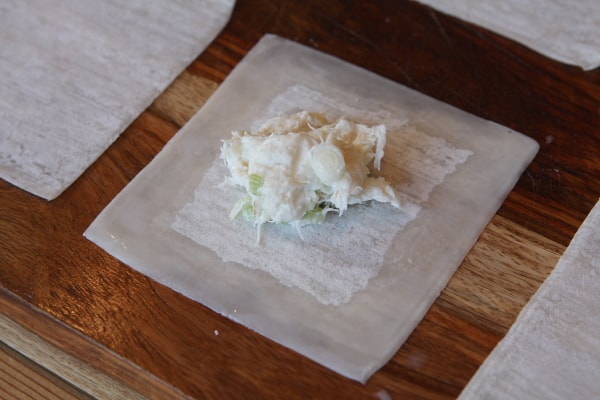 Place a heaping teaspoonful of the filling in the center of the wonton wrapper.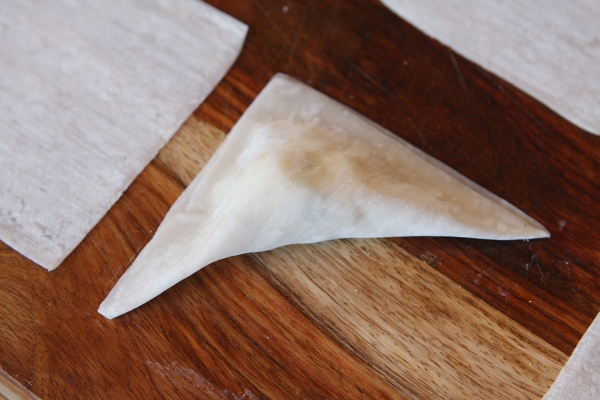 Fold the wrapper over the filling to create a triangle and run your finger along the edges to seal.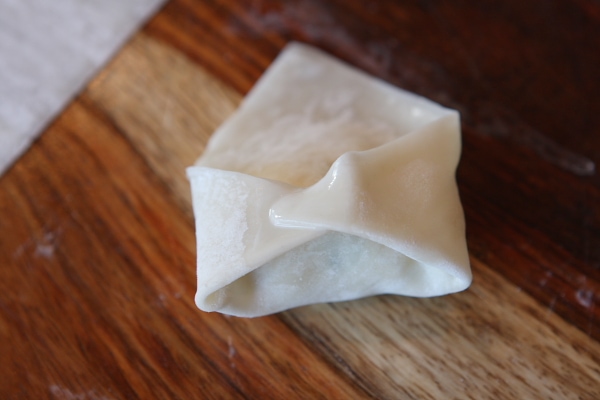 You can always keep them in the shape of a triangle if you'd like, but I think that bringing the corners up to meet in the center is more fun… and it makes them more bite-sized. Just bring the two outside corners up to the center and press them together with a tiny bit of water (again… the glue). Repeat with the remaining wrappers- you can get a little assembly line going to make this process quicker. A dampened paper towel placed over the filled wontons will keep them from drying out.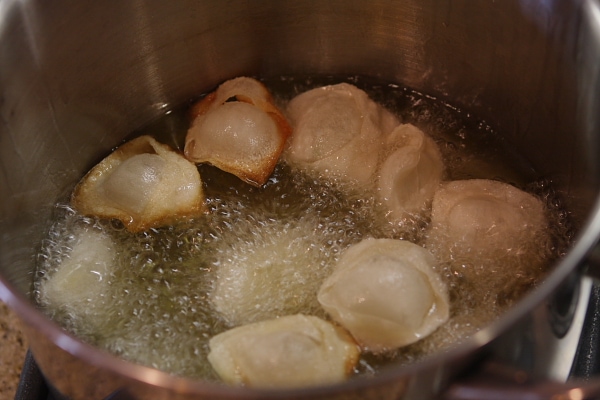 Heat a couple of cups of oil in a deep saucepan. It's hot enough when you flick a little drop of water into the oil and you can hear it sizzle. Fry the wontons a few at a time, just until they're golden brown & crispy.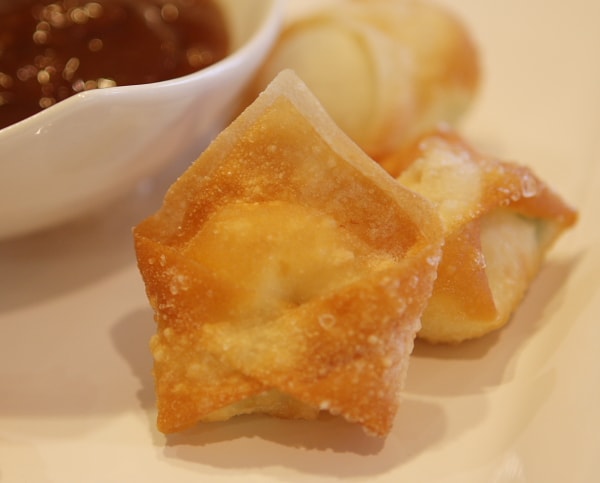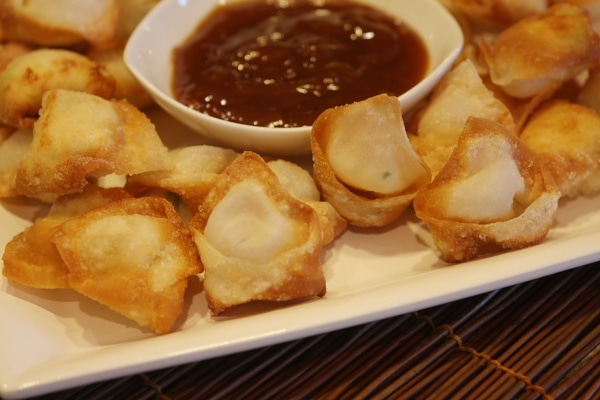 All fried and crispy and ready to eat. I served these with some Plum Sauce for dipping that I purchased from the Asian aisle in my regular market. My kid was overjoyed that I made his favorite appetizer at home. I have a feeling that I'll get requests to make these often. They really were very, very good. 
Crab and Cream Cheese Wontons
My family is addicted to these appetizers at a local restaurant of ours. It seemed only natural to re-create the recipe at home!
Yield:
About 20 wontons
Prep Time: 35 min
Cook Time: 15 min
Ingredients:

4 ounces cream cheese, softened
2 green onions, minced
1/2 teaspoon minced fresh ginger
1/4 pound lump dungeness crab meat
kosher salt, to taste
20 wonton wrappers
2 cups canola oil (for frying)

Instructions:

1. In a medium bowl, use a sturdy spoon to mix cream cheese, onions, fresh ginger, crab meat and salt.

2. Assemble the wontons: Place a wonton wrapper on a work surface. Dip your finger in a bowl of water and then rub edges of the wonton wrapper to dampen. Place a heaping teaspoonful of the crab mixure into the center of the wonton wrapper. Fold the bottom corner of the wonton wrapper over the filling to meet the opposite corner (you'll end up with a triangle). Press the edges lightly to seal. Bring the left and right corners up to the center and seal those together. Place on a greased or parchment-lined baking sheet. Continue with remaining wonton wrappers- an assembly line of doing 3 or 4 at a time works well.

3. Heat oil in a medium to large saucepan over medium-high heat. Oil is hot enough when a drop of water flicked into the oil creates a crackling sound. Fry wontons in hot oil until golden brown and crispy, about 3 to 4 minutes on each side. Transfer to a paper towel-lined plate.

4. Serve immediately.

Tips:

*I like to serve these with plum sauce (Asian aisle in the market) for dipping.

*These can also be heated up (re-heated) in the oven the same day that you make them.
Anderson Seafoods is a 30 year old, family-owned, online source for fresh, frozen and live seafood products. They service top-notch chefs, as well as marketplaces such as Trader Joe's and Whole Foods. They have recently started to deliver seafood overnight to home customers who would like to have fresh, healthy, tasty, sustainable seafood delivered directly to their front door. You can also order entrees, already prepared for you & shipping is free on orders over $119.  Order one day and your seafood arrives the next day.  How cool is that?
Anderson Seafoods is offering up a $150 gift card to one lucky RecipeGirl reader, just in time for your Memorial Day weekend barbecue! This giveaway is now closed!
The winner was selected via random.org:  commenter #137.  Congratulations, Iris!

disclosure: I was not paid to write this post.  Anderson Seafoods sent me a sampler of their seafoods and provided this giveaway for my readers.  All opinions shared are entirely my own.