These beautiful bars are all-kinds-of-awesome: Cran Apple Raspberry Bars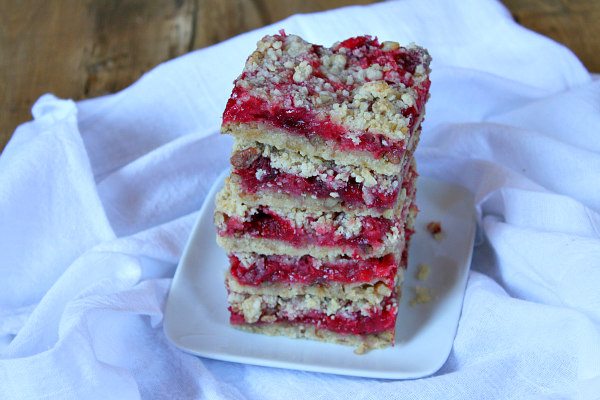 Three kinds of fruit sit inside the filling of these bars: fresh cranberries, apple and raspberries. This makes for the perfect sweet-tart filling, with a buttery, crumbly crust and topping.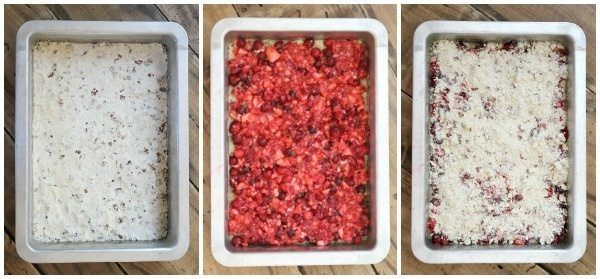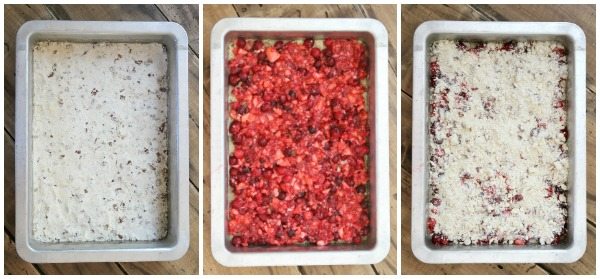 This simple recipe begins with the buttery shortbread crust, topped with the sugared, triple-fruit filling and finished off with more of that buttery shortbread crumb mixture.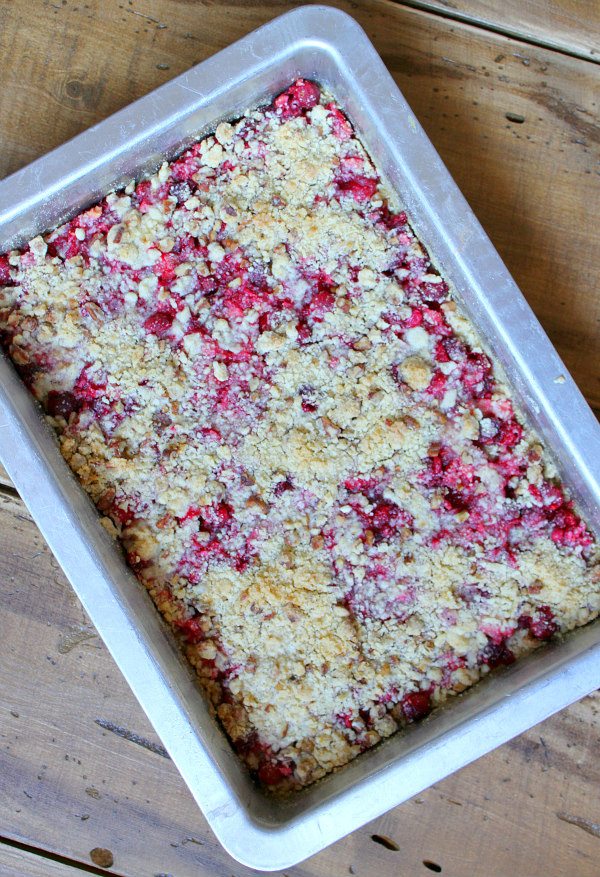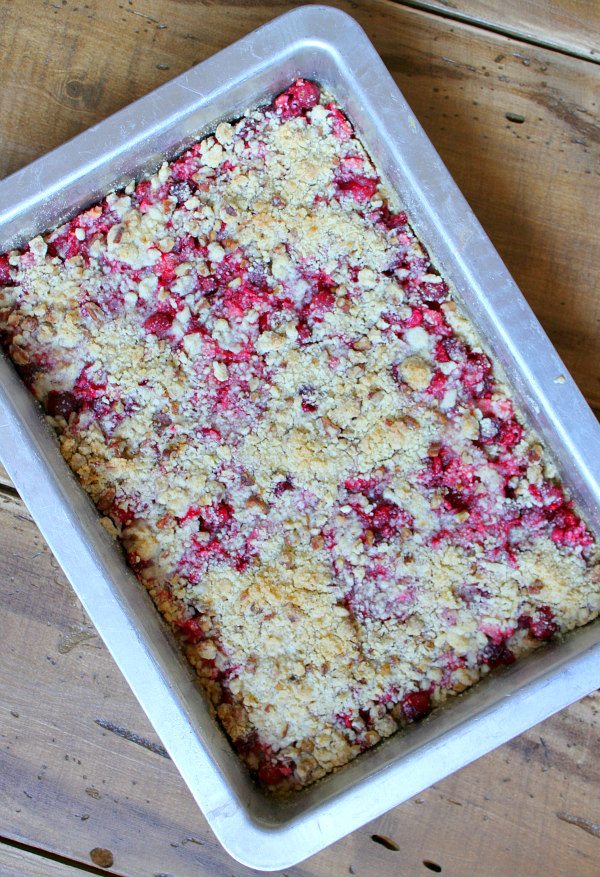 The result is this gorgeous pan of treats. I love seeing the pretty red berries peek through the crumb topping.
And I'm thinking these bars are an awfully festive treat for the fall and winter holidays, don't you agree?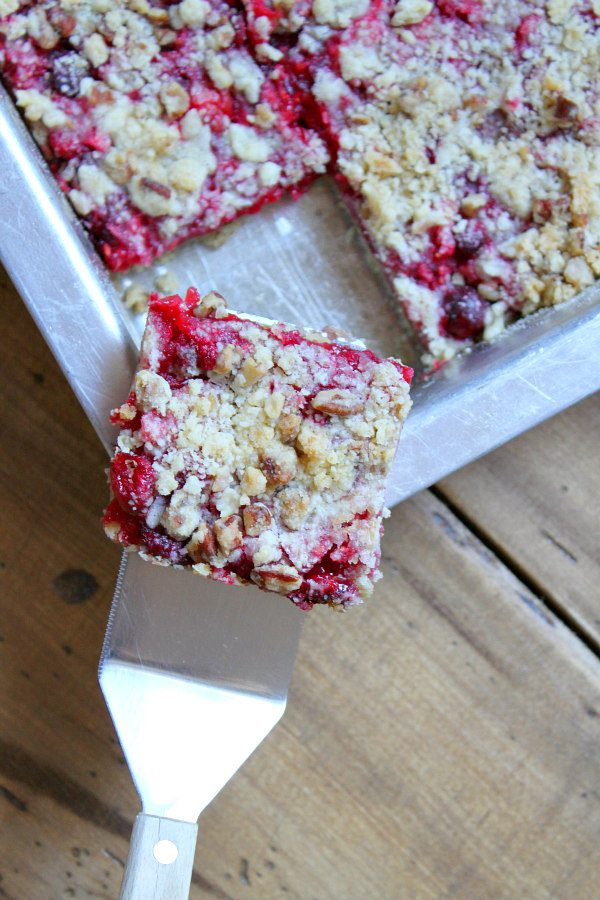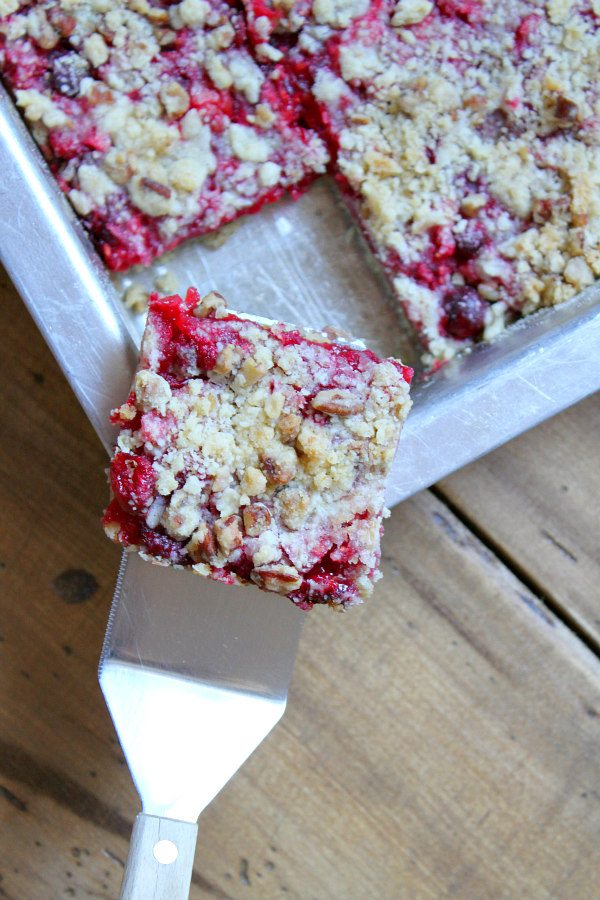 I was a little worried that these might be a soggy sort of bar because of all of the fruit involved in the filling. Who wants to eat a soggy bar?!
They're not a soggy bar at all. After cooling, these are very easy to cut. And they're a substantial enough bar to pick up and eat…. a good hand-held treat.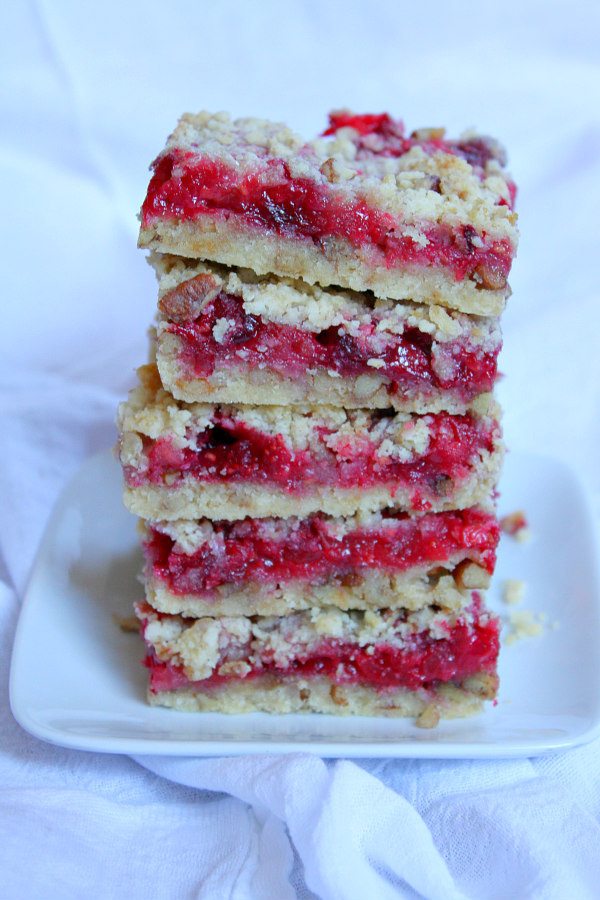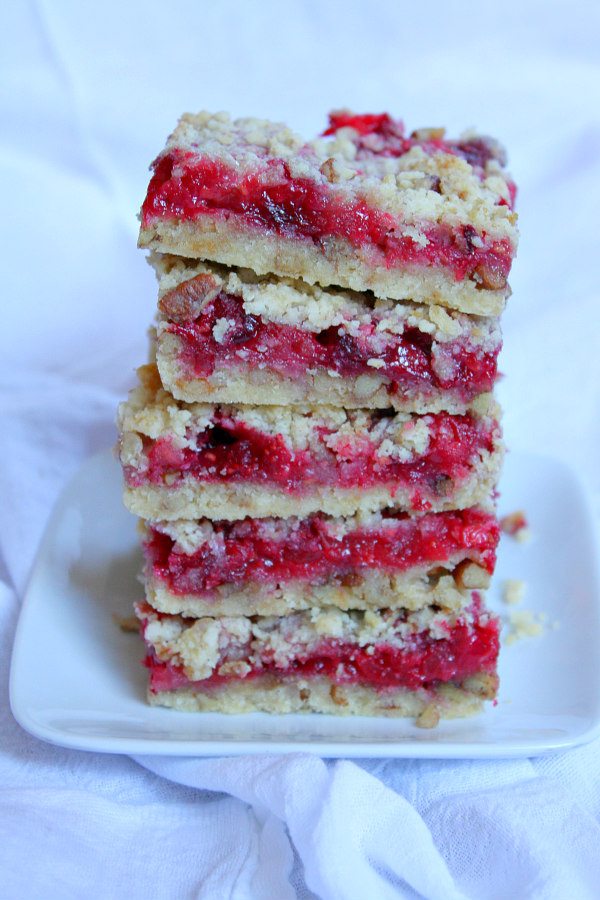 They're sturdy enough for stacking too. These bars are so good that I had to hide them from my family this last weekend. They begged me to tell them where my secret hiding place was, and I wouldn't tell them. I thought it would be best to bring them out a little at a time… over several days… so we wouldn't chow down on them all at once (a perfectly dangerous thing to do- they're good!)
Cran-Apple Raspberry Bars
Yield:
24 tiny bars (or 12 regular-sized bars)
Prep Time: 30 minutes
Cook Time: 50 minutes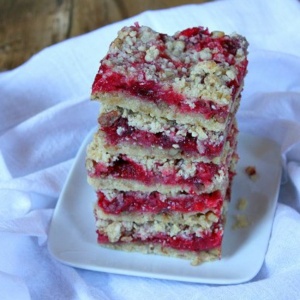 Ingredients:

CRUST:

2 cups all-purpose flour
1 cup powdered sugar
1/4 cup packed brown sugar
1/4 teaspoon salt
1 teaspoon vanilla extract
3/4 cup unsalted butter, softened
1 cup pecans, toasted and chopped

FILLING:

2 cups cranberries- fresh or frozen (do not thaw, if frozen)
1 1/2 cups peeled, cored and chopped apples
1 cup fresh raspberries
1/2 cup granulated white sugar
2 tablespoons all-purpose flour
2 tablespoons unsalted butter, melted

Instructions:

Preheat oven to 350°F. Lightly coat a 9x13-inch baking pan with nonstick spray.
Prepare the crust: In a medium bowl, whisk together the flour, sugars and salt. Add the vanilla and butter- use a pastry blender to mix the butter into the flour until the mixture is very crumbly. Stir in the nuts. Measure out 1 1/2 cups of the crumb mixture and set aside. Scoop the remaining crumbs into the bottom of the prepared pan. Pat the crumbs down to form an even layer. Bake for 15 minutes.
Prepare the filling: While the crust is baking, add the cranberries, apples, raspberries and sugar into a food processor. Pulse a few times to chop the cranberries. Add the flour and melted butter- pulse a few more times to combine the mixture.  If you do not have a food processor, chop the berries and apples finely and then combine with the sugar, butter and flour.
Scoop the mixture over the baked crust and spread it in an ever layer. Crumble the reserved crumb mixture over the filling- bake until the filling is bubbly and the crumbles begin to turn a golden brown, about 35 to 40 minutes. Remove and let cool completely before cutting into bars.
SOURCE: RecipeGirl.com (via King Arthur Flour Cookie Companion)
Here are a few more bar recipes you might enjoy: