This Raspberry Cheesecake Cake recipe is perfect for celebrations.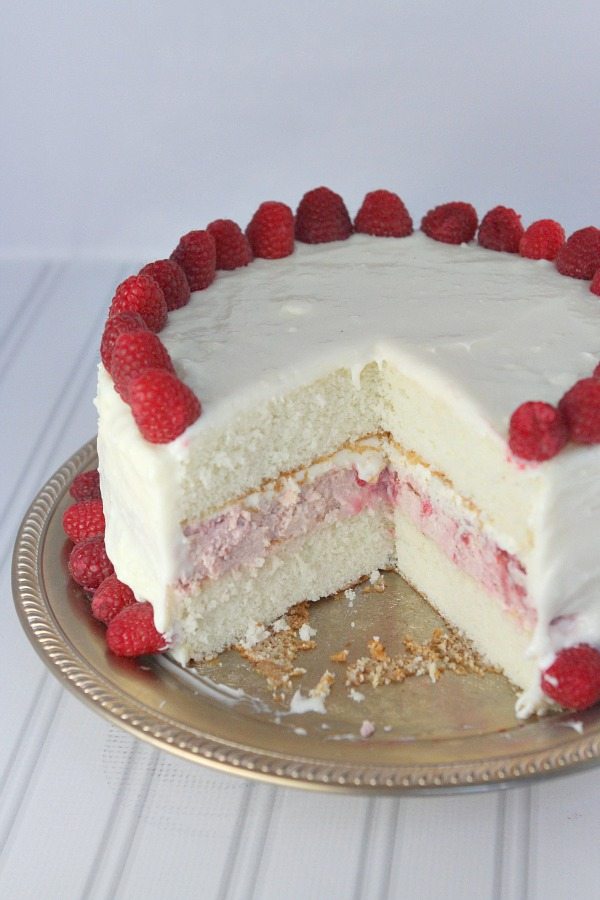 It's another cheesecake cake!! Let's celebrate! Readers have been writing in and asking me to create another one. With the holidays approaching, I thought I'd take the opportunity to create something special and pretty to use for your holiday gathering. My favorite dessert ever is cheesecake. It's great to make cheesecake for guests since everyone seems to always enjoy it, but why not add some cake to it too? Adding raspberries (our all-time favorite berry in the RecipeGirl household) makes my favorite dessert even better! This cake is made up of two tender layers of white cake with raspberry cheesecake sandwiched in the middle. The whole cake is covered with a delicious cream cheese frosting, and it's garnished with fresh raspberries.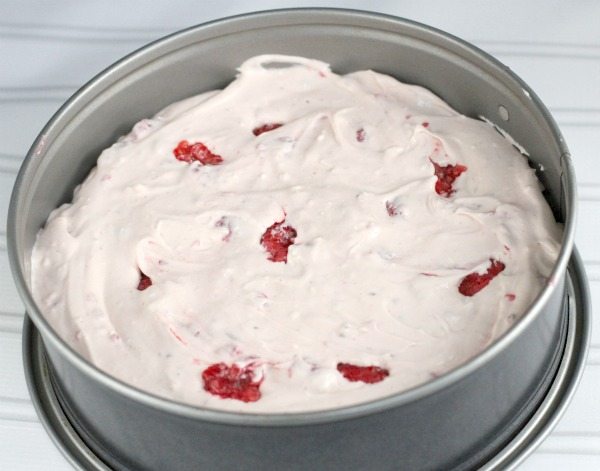 This dessert begins with making a raspberry cheesecake (with fresh raspberries mixed in, of course!)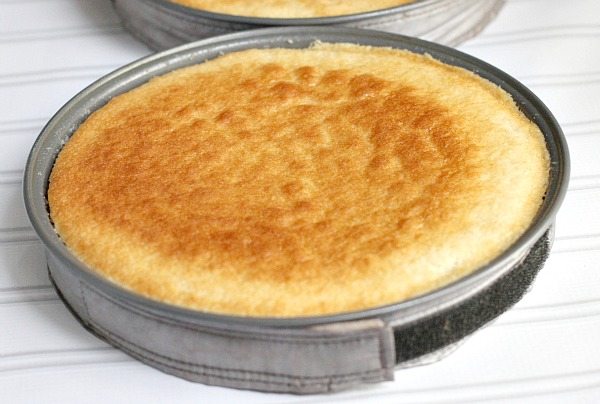 And then you also need two layers of white cake. You want the layers to be as flat as possible, which you can achieve by using Bake Even Strips. I love this product- it works perfectly for turning out flat (not mounded) cake layers every time!
How do you Make a Raspberry Cheesecake Cake?
Place one layer of cake on your cake platter, sliding pieces of parchment or wax paper under the sides (to make frosting the cake less messy).
Spread a light layer of frosting on top of the first layer of cake.
Place the frozen cheesecake on next.
Spread a light layer of frosting on top of the frozen cheesecake.
Place the 2nd layer of cake on next
Spread a light layer of frosting over the whole cake. At this point, you'll put it in the refrigerator to set the "crumb coat" of frosting. Then you can take it out and cover the cake with another layer of frosting to finish.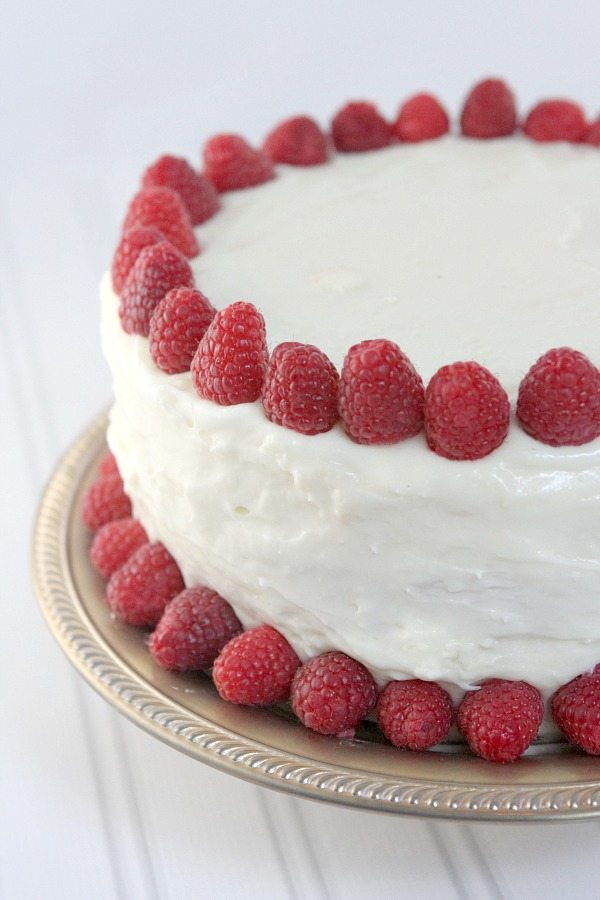 You'll want to garnish this beautiful celebration cake with gorgeous, fresh raspberries. I opted to edge the bottom and the top. Simple stuff, nothing fancy needed since the raspberries are so pretty.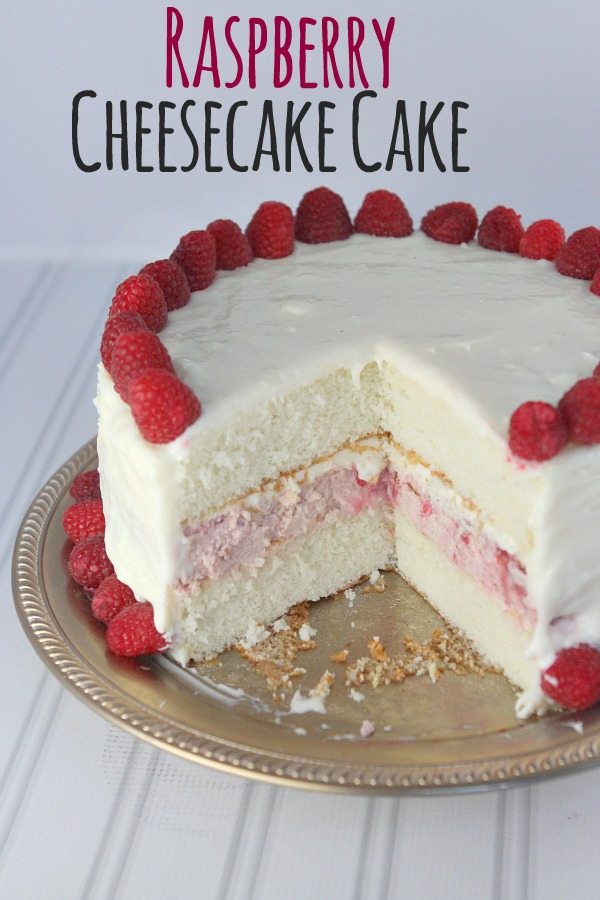 This is a cake that you'll need to keep refrigerated since it has a cheesecake hiding inside. When you cut into it, you'll be able to see that delicious raspberry layer in the middle.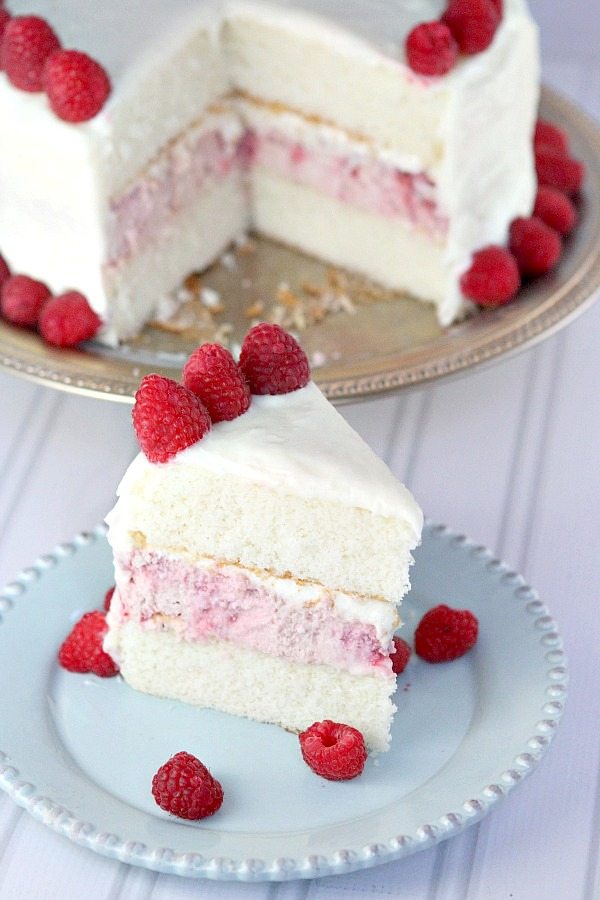 Your guests will have the luxury of being able to eat both cake and cheesecake in the same dessert. It's kind of a win-win, right? It's an impressive dessert for celebrations like birthdays and holidays!
Raspberry Cheesecake Cake
This Raspberry Cheesecake Cake is all about two layers of white cake with a layer of raspberry cheesecake sandwiched in between.
Recipe Details
Ingredients
Cheesecake:
Two

8-ounce packages

cream cheese

at room temperature

2/3

cup

granulated white sugar

pinch

of salt

2

large

eggs

1/3

cup

sour cream

1/3

cup

heavy whipping cream

1

tablespoon

seedless raspberry jam

1

teaspoon

vanilla extract

3

drops

red food coloring

1

tablespoon

all purpose flour

1½

cups

fresh raspberries

halved
White Cake
1

cup

whole milk

6

large

egg whites

(3/4 cup)

1

tablespoon

vanilla extract

2¼

cups

cake flour

1¾

cups

granulated white sugar

4

teaspoons

baking powder

1

teaspoon

salt

3/4

cup (1½ sticks)

unsalted butter

at room temperature
Frosting and Garnish:
2½½

cups

powdered sugar

2

8-ounce packages

cream cheese

at room temperature

1/2

cup (1 stick)

unsalted butter

at room temperature

1

tablespoon

vanilla extract

fresh raspberries

for garnish
Instructions
Prepare the cheesecake layer:
Preheat the oven to 325 degrees F. Spray a 9-inch springform pan with nonstick spray. In a large bowl, use an electric mixer to mix the cream cheese- blend until is is nice and smooth and creamy. Mix in the sugar and salt and blend for 2 minutes, scraping down the sides of the bowl as needed. Mix in the eggs. Then mix in the sour cream, whipping cream, jam, vanilla and food color (if using). Sprinkle in the flour and mix that in too. Gently stir in the halved raspberries. Scrape the batter into the prepared pan. Bake for 50 to 60 minutes, or until the cheesecake is set to the touch and not terribly jiggly. Remove the cheesecake from the oven and let it cool on a wire rack for about an hour. When it has cooled, wrap the pan with plastic wrap, place the pan into the freezer and let the cheesecake freeze completely. This can be done several hours ahead (or overnight).
Prepare the cake layers:
Preheat the oven to 350 degrees F. Spray two 9-inch pans with cooking spray, line the bottoms with rounds of parchment paper, then spray again (I like to use the Pam Baking Spray with flour). In a medium bowl, whisk together the milk, egg whites and vanilla. In a large bowl, whisk together the flour, sugar, baking powder and salt. Add the butter and mix on low- you'll end up with a crumby mixture. Add half of the liquid mixture to the dry ingredients and beat at medium speed until incorporated. Add the remaining liquid and continue to mix for 1 1/2 minutes, until everything is well-combined and smooth (scraping the sides of the bowl, as needed). Divide the batter evenly between the two pans. Bake 25 to 30 minutes, or the tops are completely set and a toothpick inserted into the center comes out clean. Let the cakes cool in their pans for at least 20 minutes, then run a knife along the sides and turn them onto a cooling rack to cool completely (don't forget to remove the parchment paper). Once cooled, wrap them each in plastic wrap until you are ready to assemble the cake.
Prepare the frosting:
In a large bowl, using an electric mixer on medium-high speed, beat powdered sugar, cream cheese, butter and vanilla until it is smooth and creamy (do not over-beat).
Assemble the cake:
Place one cake layer into the center of a cake plate or platter. Spread a small amount of frosting onto the cake. Remove the cheesecake from the freezer, Run a knife along the edge of the pan, take off the sides of the pan, and slide a knife under the cheesecake to release it from the bottom of the pan. Measure your cheesecake layer against the cake layers. If the cheesecake layer turns out to be a slightly larger round than your cake, move it to a cutting board and gently shave off some of the exterior of the cheesecake to get it to the same size as your cake layers. Place the cheesecake layer on top of the first cake layer. Spread a small amount of frosting onto the cheesecake. Place the 2nd cake layer on top of the cheesecake.
Frost the cake:
Apply a crumb coat layer to the cake- use a long, thin spatula to cover the cake completely with a thin and even layer of frosting. Be sure to wipe off your spatula each time you are about to dip it back into the bowl to get more frosting (this way you won't be transferring any crumbs into the bowl of frosting). Don't worry at this point about the crumbs being visible in the frosting on the cake. When your cake has a thin layer of frosting all over it, place it into the refrigerator for at least 30 minutes to "set" the frosting. Once the first layer of frosting is set, apply the 2nd layer. Start by adding a large scoop of frosting onto the top of the cake. Use a long, thin spatula to spread the frosting evenly across the top and then spread it down the sides of the cake too. Because you applied a crumb-coat layer, you shouldn't have any crumbs floating around in the final frosting layer. Decorate, as desired with fresh raspberries. Keep this cake refrigerated.
Notes
On cake flour: Yes, you need to use cake flour. If you don't wish to buy it though, you can easily make your own: Measure out your 2 1/2 cups of all-purpose flour, remove 4 tablespoons, and then add in 4 tablespoons of corn starch. Whisk together your flour and cornstarch, and then sift. A lot. You now have cake flour!
On clear vanilla extract:
You don't have to use clear, but if you're shooting for really white cake... it helps. You can buy it cheap online: Clear Vanilla Extract.
On raspberries: Definitely use fresh raspberries, not frozen.
On getting flat cake layers: I recommend Bake Even Strips (you can order on Amazon). They are cheap, and they work perfectly for creating flat, even cake layers.
On high altitude baking of the cake layers: (above 5,000 feet, reduce sugar by 1/4 cup, reduce baking powder by 1/2 teaspoon, and add an additional tablespoon of milk.
Nutrition
Serving:
14
slices
,
Calories:
734
kcal
,
Carbohydrates:
78
g
,
Protein:
9
g
,
Fat:
43
g
,
Saturated Fat:
25
g
,
Cholesterol:
153
mg
,
Sodium:
426
mg
,
Potassium:
315
mg
,
Fiber:
1
g
,
Sugar:
60
g
,
Vitamin A:
1565
IU
,
Vitamin C:
3.5
mg
,
Calcium:
158
mg
,
Iron:
0.8
mg
Here are a few more raspberry cake recipes you might enjoy: