Although my child is VERY good about trying new foods and loves to be my number one taste-tester for my baked goods, I still most often hear the inevitable disappointed sigh when I tell him what I'm making for dinner. My husband is grateful for whatever I put in front of him, but my son…he still hopes for the kid-friendly sorts of things for dinner like mac & cheese, pizza, chicken nuggets or his favorite- breakfast 4 dinner. Since my husband works at dinnertime many nights, I'm guilty of whipping up those kiddo meals at times. Especially since we're running around to baseball games and other activities, it's just easy to do. BUT, I do make sure that I make a few nicer dinners during the week and that my child eats whatever WE eat. He enjoys many things that other children do not… sushi, artichokes, hummus, lamb, asparagus, and Thai food. And I'm most grateful that he enjoys nearly every type of seafood (except lobster, oddly enough, but that's probably a good thing!)
Here's my latest dinner find that was a success with the entire family: Creamy Gruyere and Shrimp Pasta.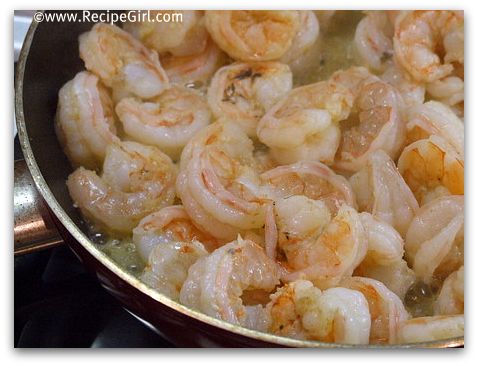 You can use frozen shrimp, but fresh is best. If you have a good seafood source, sometimes they sell them already peeled & deveined. Just pull the tails off and you're all set. That wonderful shrimp is sauteed with light butter, garlic, wine and touch of cayenne.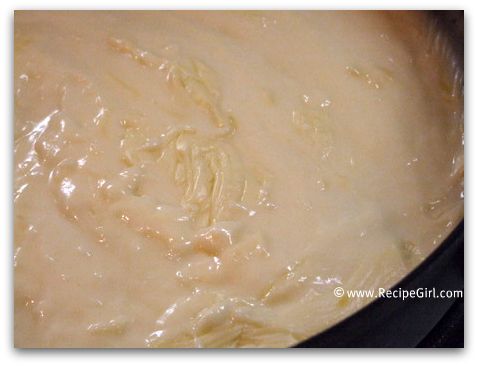 We are quite enamored with creamy pasta dishes, but in this time of healthy-eating in the RecipeGirl household… they are not being served up all that often. This one was the exception- it was made to be on the healthier side of things- as healthy as a creamy pasta can be 🙂 The cream sauce is made up of nonfat milk, flour & salt. Cheese is mixed in to make the creamy sauce. If you can't find Gruyere, Swiss is a close substitute.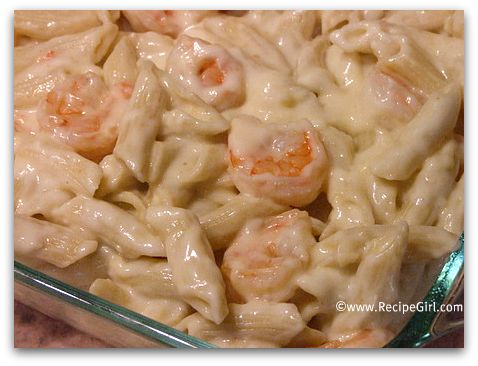 The shrimp is mixed with the cream sauce and whatever pasta you've cooked up. I like the tube-pasta (like penne) with a cream sauce since the sauce gets trapped inside the pasta and thus creates more flavor in every bite! The mix is baked for about 20 minutes with a little more of that cheese sprinkled on top.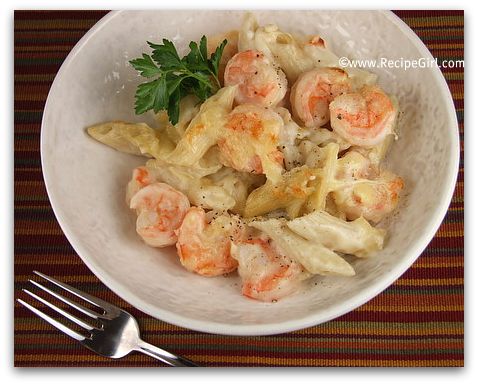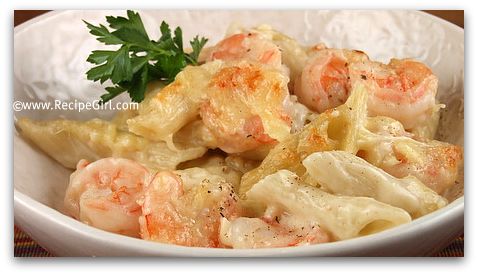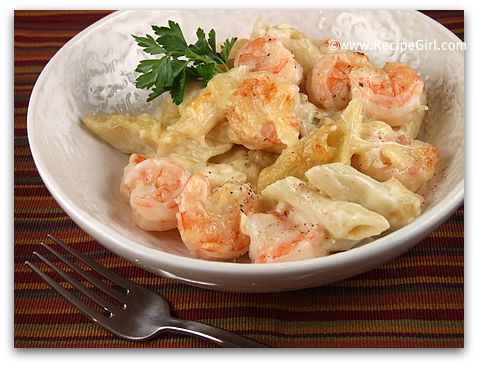 It's usually after a dinner like this that I hear, "Mom, you're the best Mommy ever!" and "Honey, this is Restaurant Quality!" Needless to say, the family loved this dinner. Though I don't typically repeat recipes, I'm going to have to make this one again.
This is an easy, easy dinner to make… even if you don't think you know how to cook very well. Your family will be so impressed. And if you are a seasoned cook and you're family expects great meals from you, then you'll be pleased to have a dinner that you can add to your quick and easy pile.  I served this with the Watercress-Grape Salad with Creamy Cabernet Dressing– perfect!
This recipe can be found here: Creamy Shrimp and Gruyere Pasta