This recipe has been featured in a post on The Recipe Girl blog: Greek Shrimp Scampi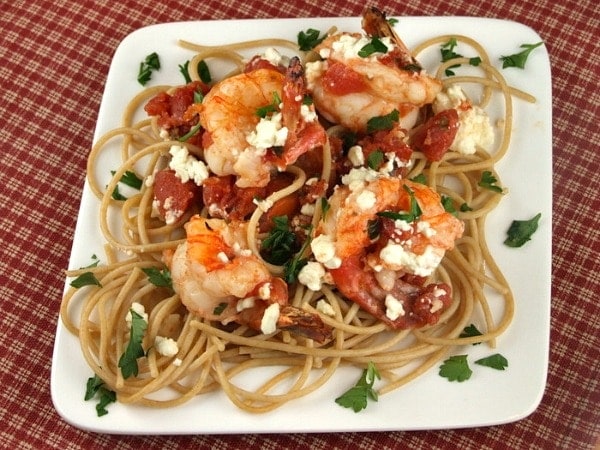 Greek- Style Shrimp Scampi w/ Whole Wheat Spaghetti
Yield:
6 servings
Prep Time: 25 min
Cook Time: 35 min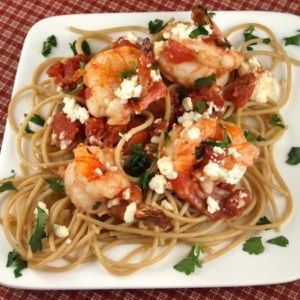 Ingredients:

1/2 pound whole wheat spaghetti (or regular if you prefer)
1 teaspoon extra-virgin olive oil
5 cloves garlic, minced
Three 15-ounce cans chopped tomatoes, drained
1/2 cup chopped fresh Italian parsley, divided
1 1/4 pounds large shrimp, peeled and deveined
1 cup (4 ounces) crumbled feta cheese
3 tablespoons freshly squeezed lemon juice
salt and pepper to taste

Instructions:

1. Preheat oven to 400°F. Spray 9x13 pan with nonstick spray.

2. Cook pasta as directed; drain, rinse and spread out along bottom of prepared pan.

3. Heat oil in a large sauté pan over medium heat. Add minced garlic and sauté 30 seconds. Add tomatoes and 1/4 cup parsley; reduce heat, and simmer 10 minutes. Add shrimp; cover and cook for 5 minutes. Scoop mixture on top of pasta in dish, and sprinkle with feta cheese.

4. Bake for 10 minutes. Sprinkle with 1/4 cup parsley and lemon juice. Add salt and freshly ground pepper to taste.