A simple, delicious recipe: Shrimp Scampi
Shrimp Scampi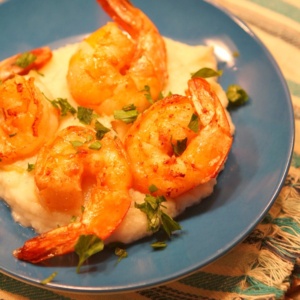 Yield:
4 servings
Prep Time: 15 minutes
Cook Time: 9 minutes
Ingredients:
3 tablespoons butter
2 cloves crushed garlic
1 lb + large shrimp, peeled and deveined
1/4 cup dry white wine
juice of one lemon
salt and pepper to taste
1/4 cup chopped fresh parsley
rice, polenta, cauliflower puree, or noodles- for serving
Directions:
In a large skillet, melt the butter. Add garlic and cook 2 minutes. Stir and watch carefully- you don't want the butter to burn. Remove the garlic from the pan and discard.
Add the shrimp to the hot butter. Sauté the shrimp until firm and pink- 3 to 5 minutes. Stir in the wine, lemon and salt/pepper.
Serve over rice, polenta, cauliflower puree or noodles.  Sprinkle with parsley.
SOURCE:  RecipeGirl.com