Croissant Chicken is a super simple, family-friendly chicken recipe.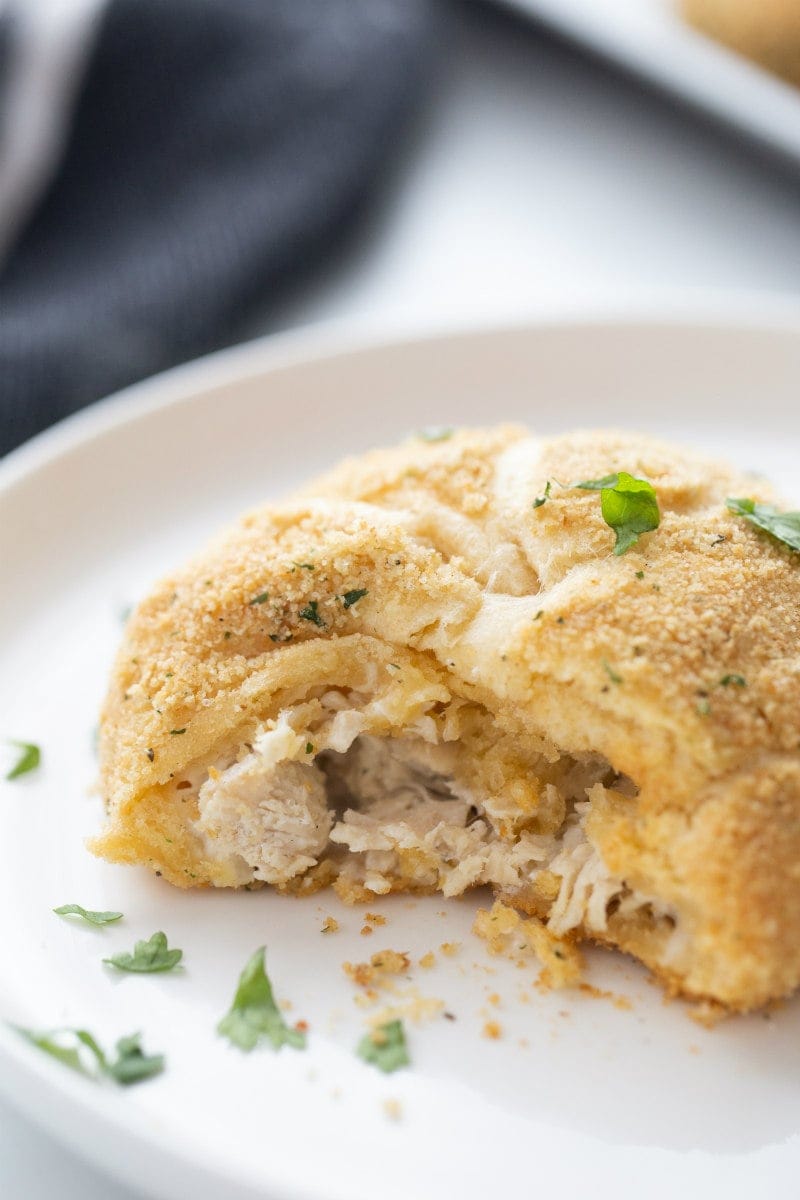 This was one of the first recipes I ever made as a blooming cook back in college. The short list of easy-to-find ingredients and the use of refrigerated croissants made it seem approachable. I found the recipe in a little chicken cookbook that my Mom had put in my Christmas stocking, but I'm pretty sure it originally came from Pillsbury. It's easy to make and it's quite delicious. My son has asked for Croissant Chicken for dinner many times since I first made it for our family.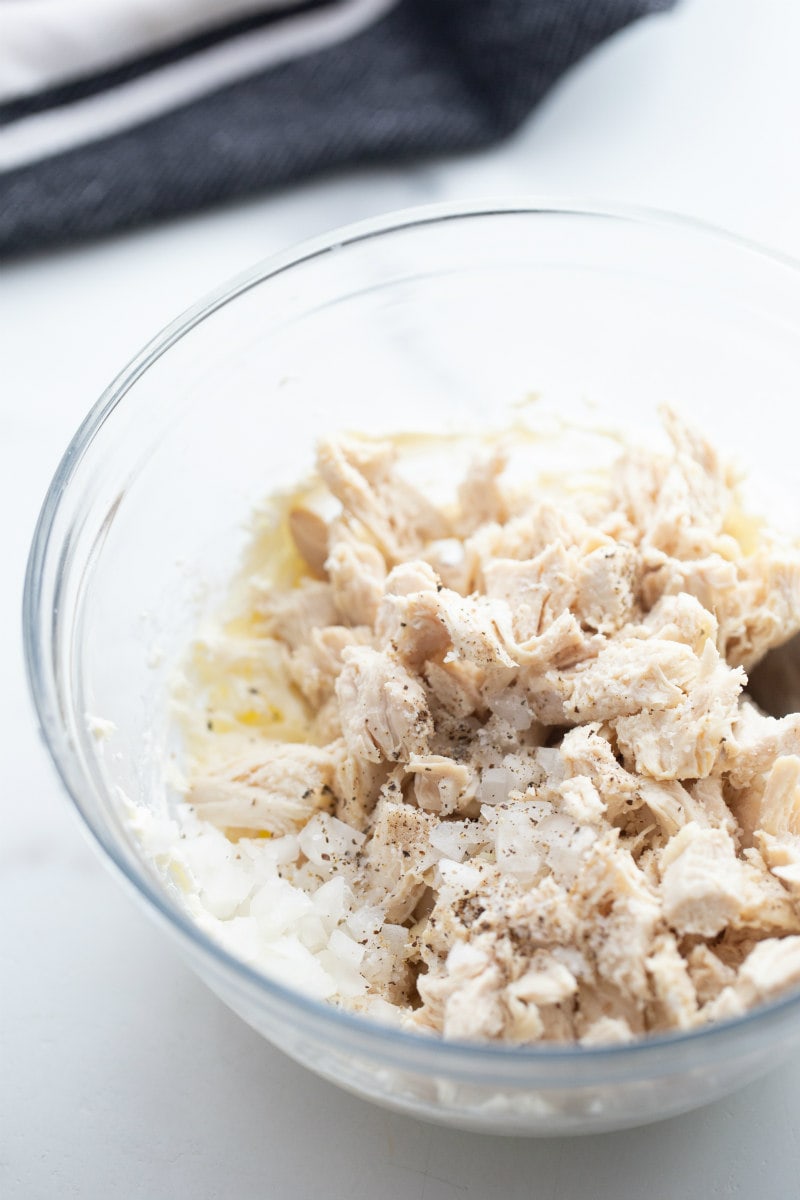 How to make Croissant Chicken:
Begin by making the chicken filling. It's a combination of cream cheese, butter, chopped cooked chicken, milk, onions and salt/pepper.
The croissant dough is popped out of the can, and then laid onto a work surface. Separate the dough into four rectangles. Each rectangle will have perforations with the purpose of separating them into two. You don't want to do that, so you'll press on the dough to seal those perforations. Then you'll end up with four rectangles of croissant dough. The filling is divided between the dough, and then the dough is wrapped around the filling and pinched at the top to make little balls.
About refrigerated croissants:
Locate canned refrigerated croissant dough in your market in the same place you'd find canned refrigerated biscuits. You might be able to find croissant dough that is sold in one giant sheet instead of perforated pieces. If you use the giant sheet of croissant dough, you'll just want to cut it into four equal rectangles.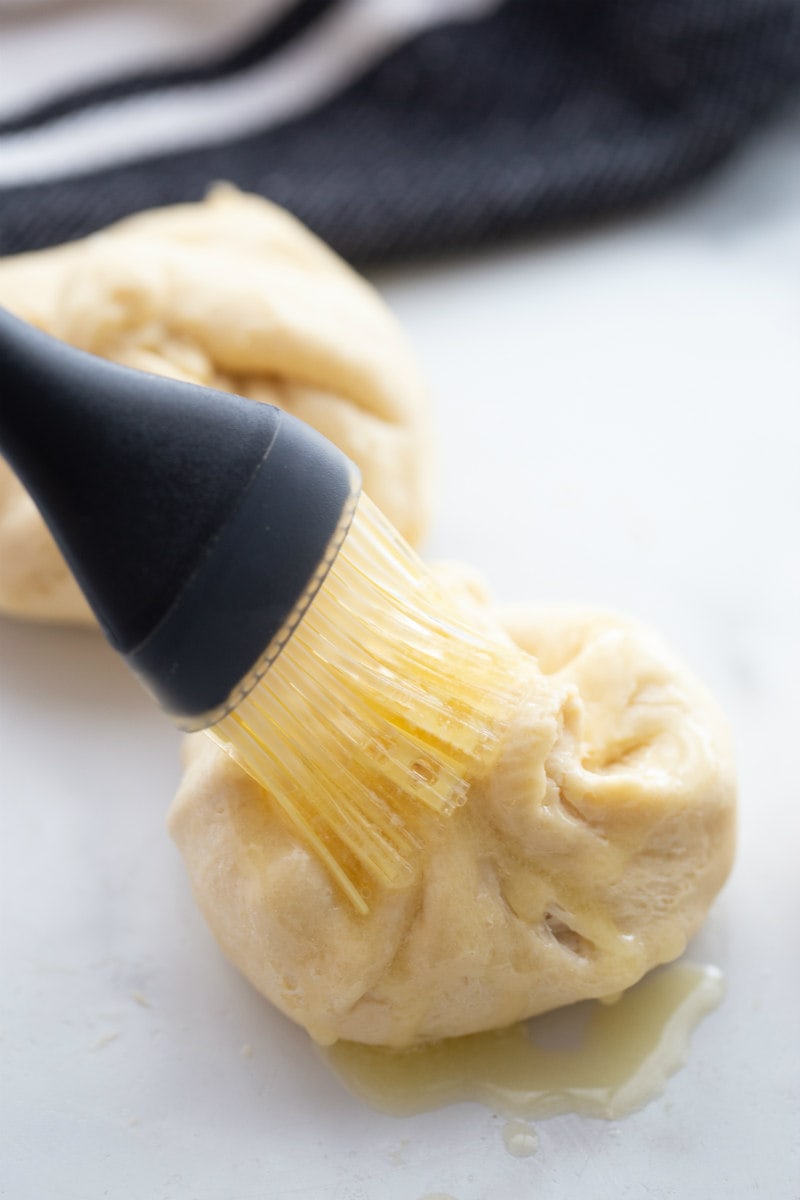 Each ball of chicken-stuffed croissant dough is brushed with melted butter.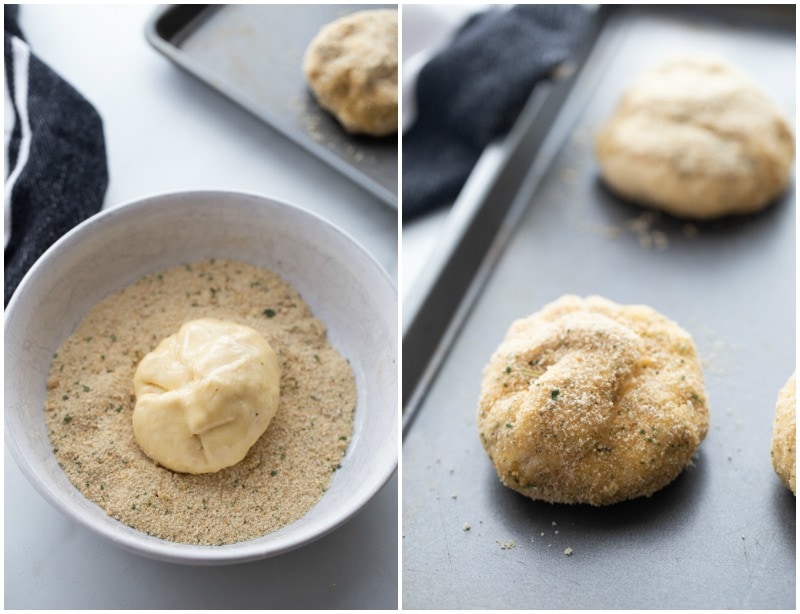 And then the croissant chicken balls are rolled into breadcrumbs and placed on a baking sheet to bake. Since the chicken is already cooked, they just bake for a short time- about 20 minutes.
How to make your own breadcrumbs:
Preheat your oven to 300 degrees F. Place 2 slices of torn-apart bread in a food processor and process it into crumbs. Then combine the breadcrumbs with 1/4 teaspoon salt, 1/4 teaspoon Italian seasoning and a sprinkle each of garlic powder and onion powder. Spread on a baking sheet and bake for 5 minutes. Give them a stir and bake for another 5 minutes. Check them at this point to make sure they're dry and crisp. If not, give them a couple more minutes.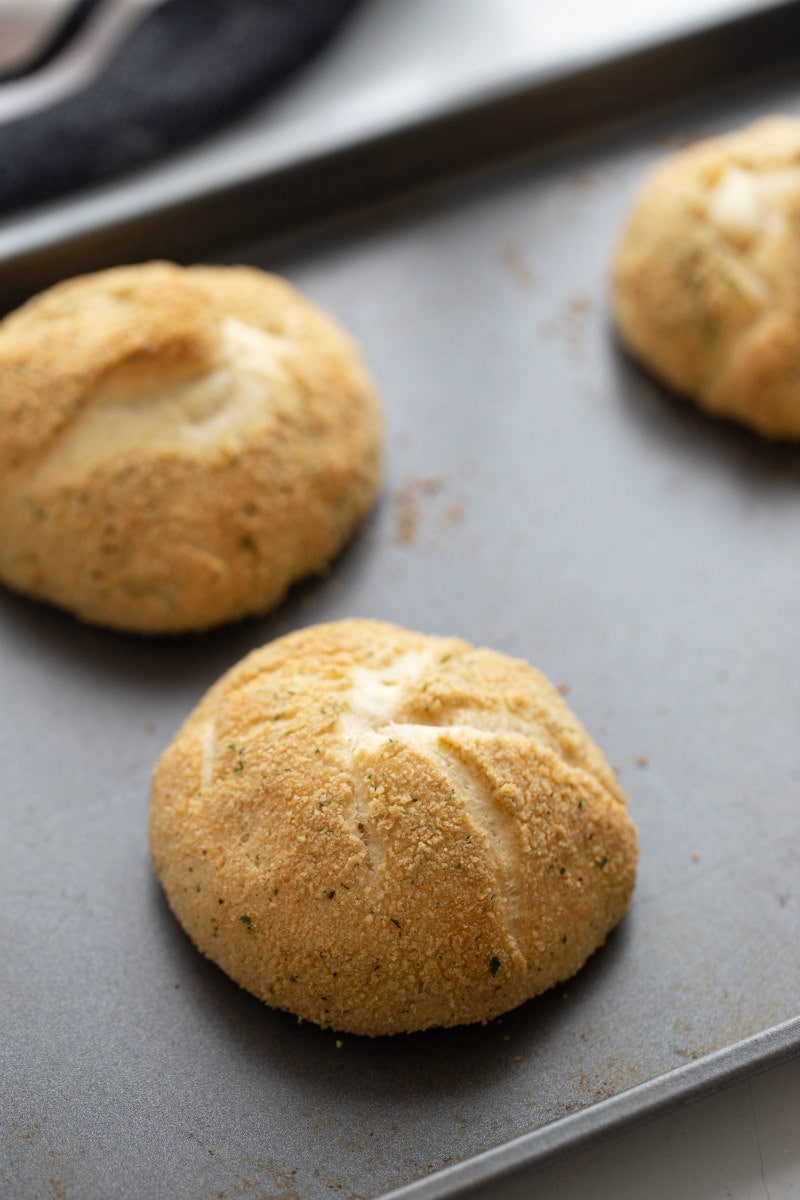 Here's what the Croissant Chicken looks like when it comes out of the oven.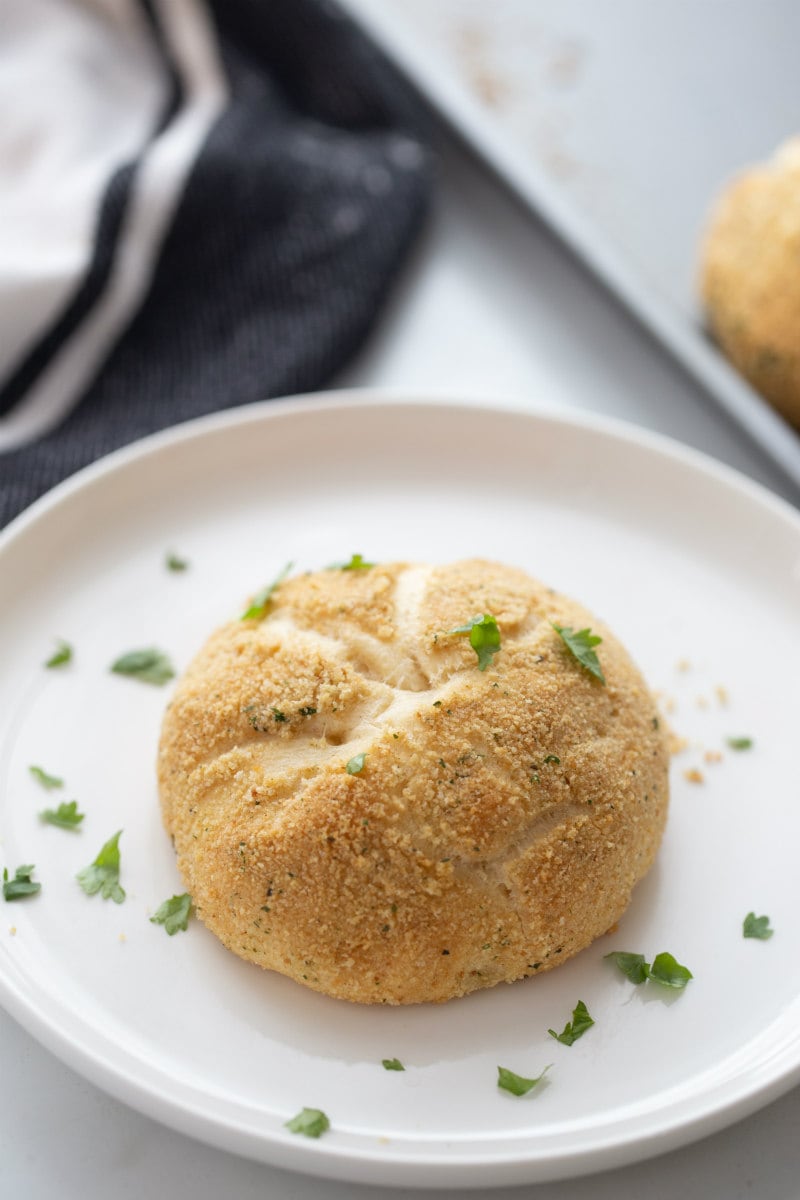 To make it pretty on a serving plate, give it a sprinkle of freshly chopped parsley.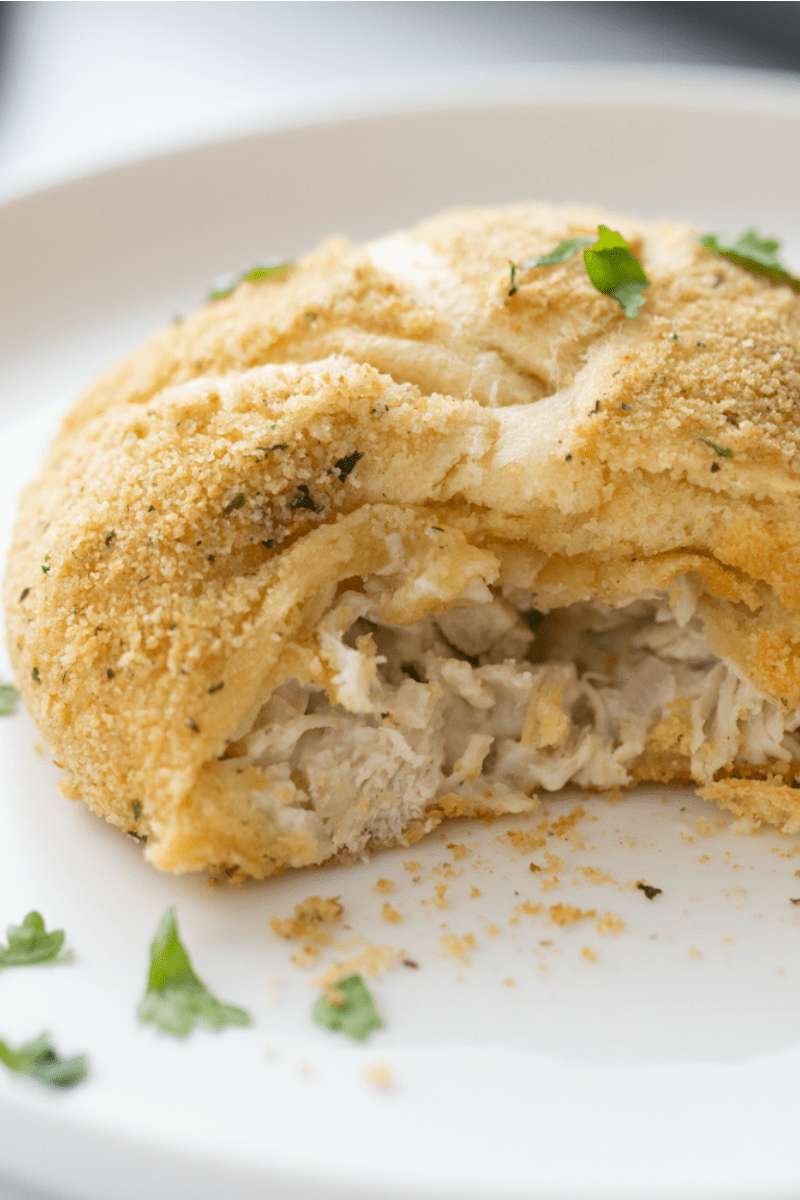 When you break into the middle, you'll find a piping hot, creamy chicken mixture inside. Serve with a side salad or your favorite vegetables. Enjoy!
Here are a few more chicken recipes you might like to try:
Croissant Chicken
A totally delicious and super simple chicken dinner!
Recipe Details
Ingredients
FILLING AND ROLLS:
4

ounces

cream cheese,

at room temperature

1

tablespoon

butter,

at room temperature

2

cups

diced, cooked chicken

2

tablespoons

milk

1

tablespoon

finely chopped onion

salt and pepper,

to taste

One

8-ounce can

refrigerated croissant dough
TOPPING:
2

tablespoons

butter,

melted

3/4

cup

seasoned breadcrumbs
Instructions
Preheat the oven to 350 degrees F.

In a medium bowl, use a sturdy spoon to blend the cream cheese with 1 tablespoon butter until smooth. Stir in the chicken, milk, onions, salt and pepper.

On a work surface, separate the croissant dough into 4 rectangles- press the perforations to eliminate the seams. Spoon ½ cup of the chicken mixture onto the center of each rectangle. Pull the 4 corners of the dough to the top. Twist and seal to form a round ball.

Brush melted butter over each ball and then roll in breadcrumbs. Bake on an un-greased baking sheet for 20 to 25 minutes.
Nutrition
Serving:
1
serving
,
Calories:
584
kcal
,
Carbohydrates:
45
g
,
Protein:
30
g
,
Fat:
31
g
,
Saturated Fat:
13
g
,
Cholesterol:
114
mg
,
Sodium:
1056
mg
,
Potassium:
409
mg
,
Fiber:
2
g
,
Sugar:
5
g
,
Vitamin A:
717
IU
,
Vitamin C:
1
mg
,
Calcium:
116
mg
,
Iron:
4
mg