Chicken and Summer Vegetable Tostadas
This recipe has been featured in a post on The Recipe Girl blog: Chicken & Summer Vegetable Tostadas.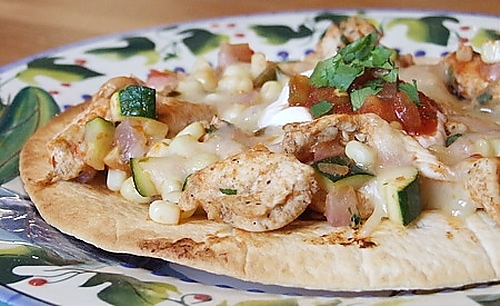 Yield: 4 Servings
Prep Time: 20 min
Cook Time: 15 min
Chicken & Summer Vegetable Tostadas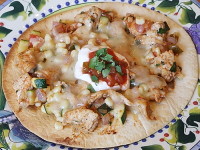 Ingredients:
12 ounces chicken breast
1 teaspoon ground cumin
1/4 teaspoon salt
1/4 teaspoon ground black pepper
2 teaspoons canola oil
1 cup chopped red onion
1 cup fresh corn kernels (about 2 cobs)
1 cup chopped zucchini
1/2 cup salsa
3 Tablespoons chopped fresh cilantro, divided
4 (8-inch) fat-free flour tortillas
cooking spray
1 cup shredded Pepper Jack cheese
4 Tablespoons reduced-fat sour cream
Directions:
1. Preheat oven broiler.
2. Dice chicken and place in a medium bowl. Combine cumin, salt and pepper in a small bowl; sprinkle over chicken and toss to combine.
3. Heat a large, nonstick skillet to med-high heat. Add chicken to pan; sauté for 3 minutes. Add onion, corn, and zucchini to pan; sauté for 2 minutes or until chicken is done. Stir in salsa and 2 Tablespoons cilantro. Cook 2 minutes or until liquid almost evaporates, stirring frequently.
4. Working with 2 tortillas at a time, arrange them in a single layer on a baking sheet; lightly spray the tortillas with cooking spray. Broil for 2 to 3 minutes, or until very lightly browned. Spoon about 3/4 cup of the chicken mixture in the center of each tortilla; sprinkle each serving with 1/4 cup of cheese. Broil an additional 2 minutes, or until cheese is melted. Repeat with remaining tortillas and other ingredients. Sprinkle each serving with a Tablespoon of sour cream and a pinch of cilantro. Serve immediately.
Nutritional Information per serving:
Serving size: 1 tortilla
Calories per serving: 418
Fat per serving: 15g
Fiber per serving: 3.1g
Protein per serving: 32.5g
Cholesterol per serving: 75mg
Carbohydrates per serving: 36.1g
WW POINTS per serving:
Points Plus Program: 11 Old Points Program: 9
Comments