This Summer Gratin is full of seasonal fresh vegetables! Serve it as a side dish to grilled meats and fish. Or you can enjoy it as a main dish too!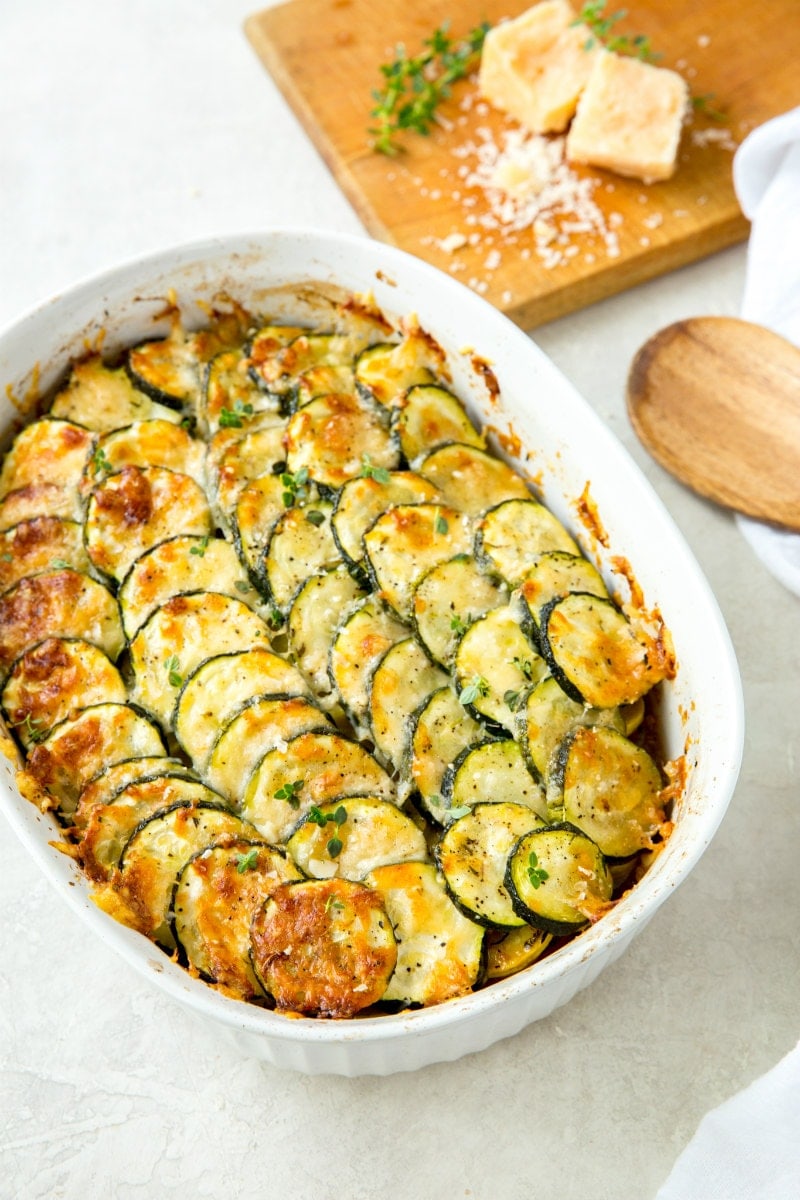 This gratin is layered with four kinds of vegetables- onion, tomato, zucchini and yellow squash. It's topped with Parmesan and fresh thyme, and it's baked until golden brown on top.
What is a Gratin?
Simply said, a "gratin" is a dish that has been given a browned topping. It's made in a low-lying dish, usually with some sort of vegetable. And it can be topped with breadcrumbs or cheese or a combination of both. The result after baking is that the dish has obtained a browned topping. That being said, you'll see a lot of potato gratin recipes, and you will also spot recipes for gratin that are made with various kinds of vegetables.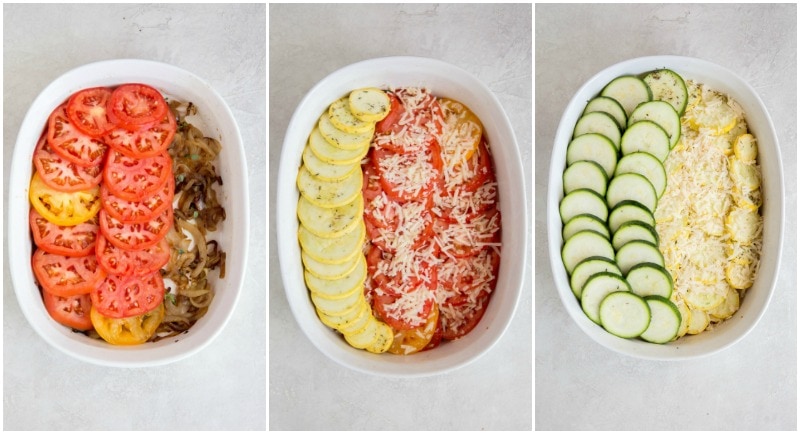 How to make a Summer Gratin:
You'll begin by doing a little bit of stove-top cooking. The onions are sauteed with olive oil and garlic until browned and a bit caramelized. Then you can assemble your gratin. Simply layer tomatoes, yellow squash and zucchini. Cheese and fresh thyme are sprinkled between layers along the way. The whole thing is topped with more cheese and fresh thyme. About an hour in the oven, and you'll end up with a wonderful summer vegetable side dish.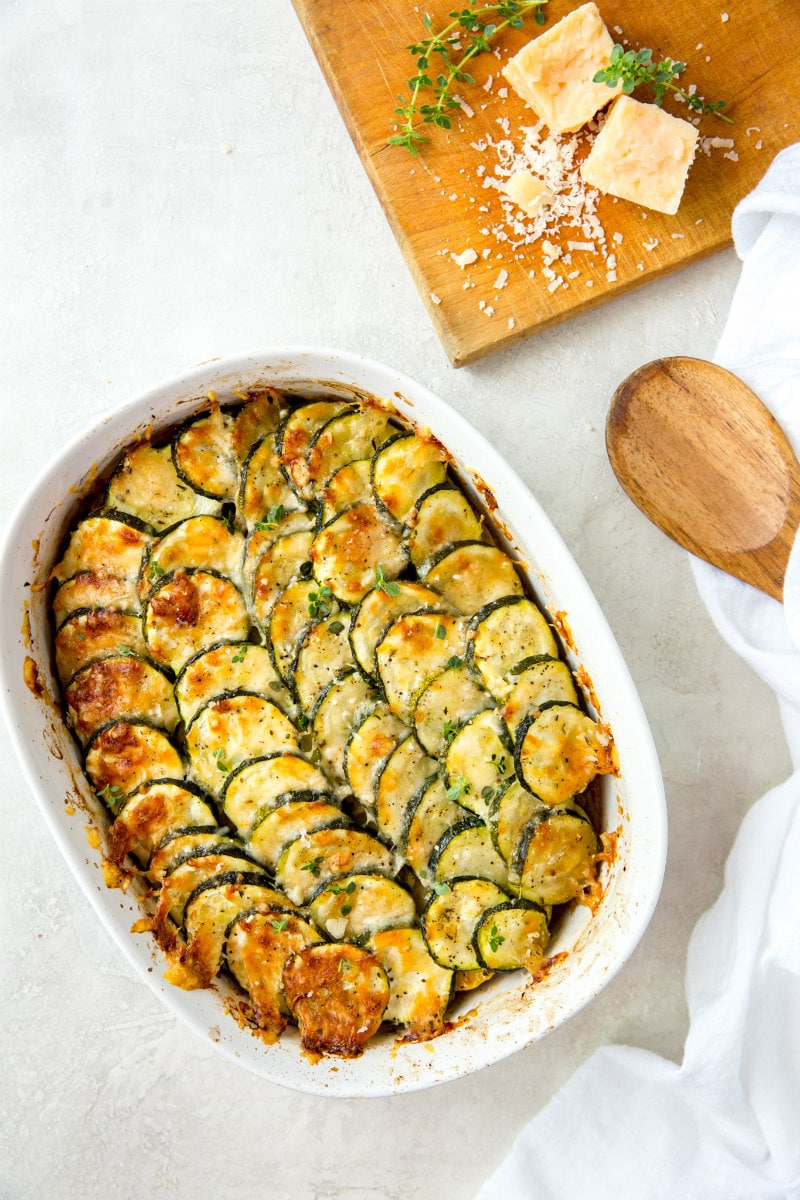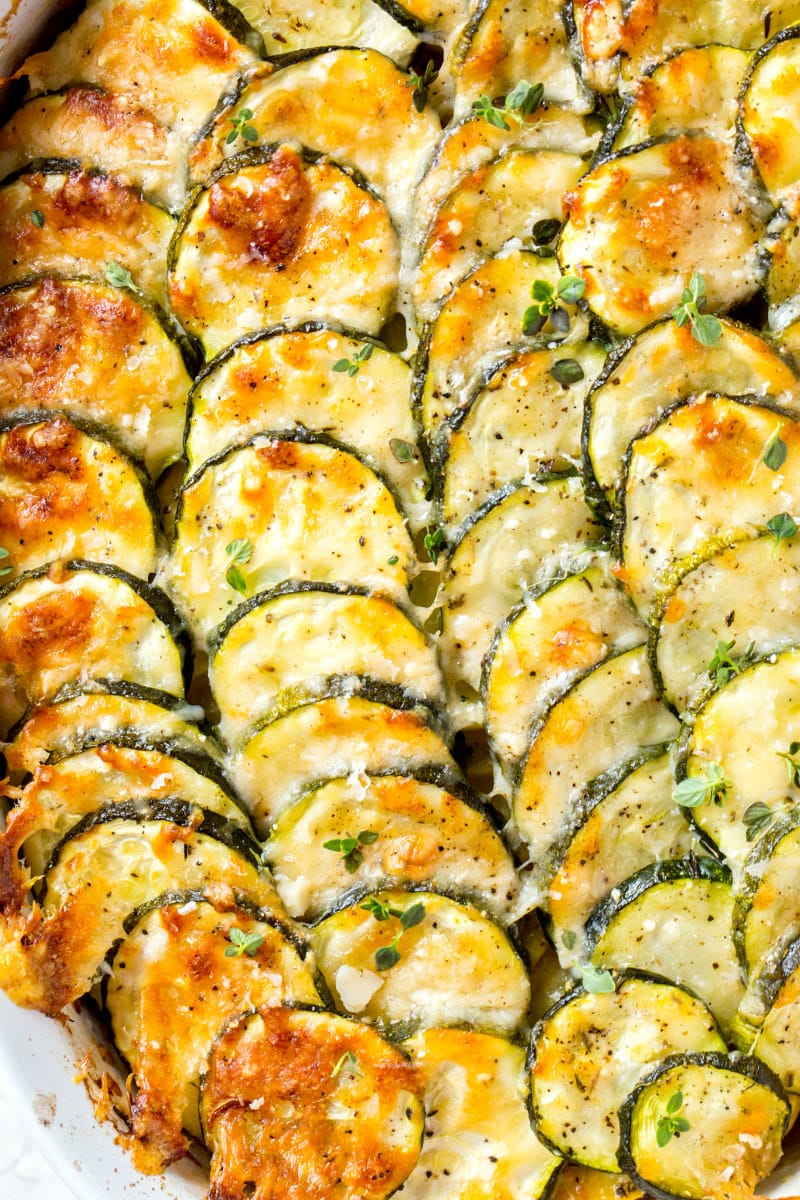 In this close-up photo, you can see how the cheese pulls everything together. It becomes nice and crusty on top, connecting that wonderful flavor of fresh thyme with the vegetables.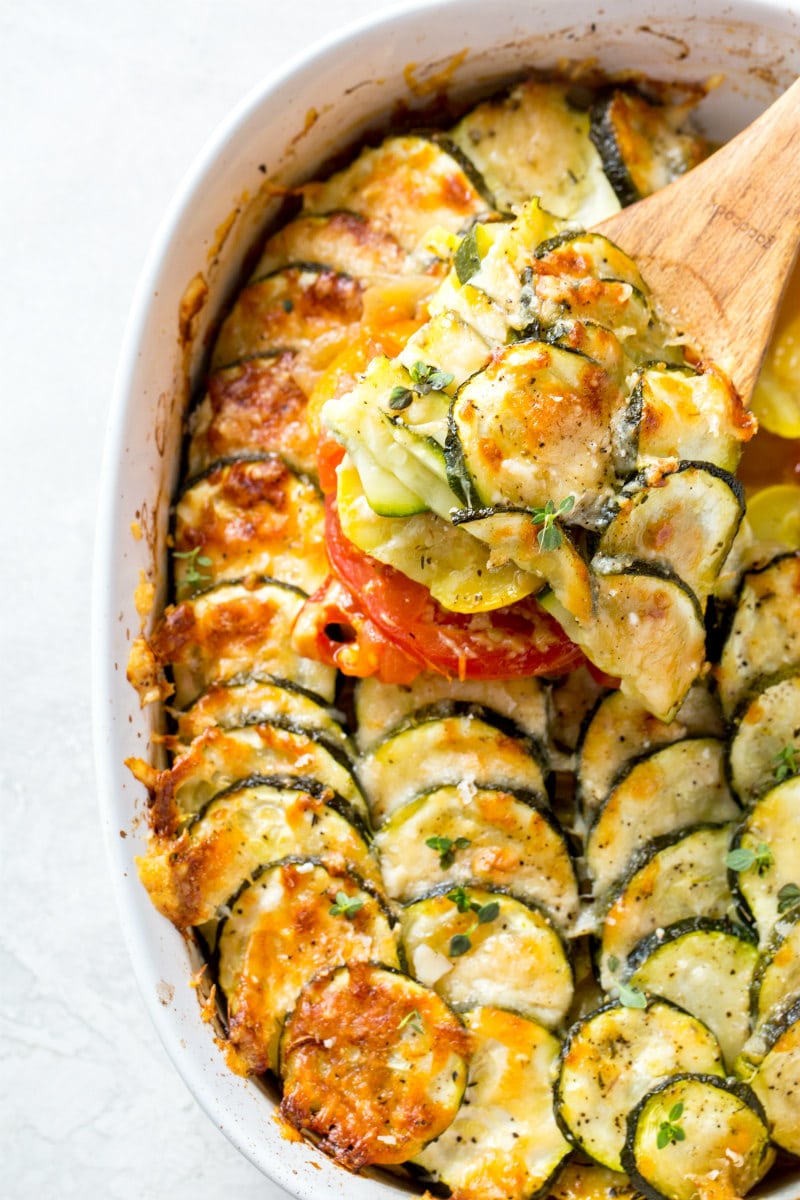 Best things to serve with a Summer Gratin:
This is a beautiful recipe to serve with something you've made on the grill. If you decide to do this, then the Gratin will be the only thing made in the oven. I suggest Grilled Lemon Mustard Chicken or Grilled Flank Steak with Rosemary. If you have more than one oven, consider serving the Summer Gratin with something like Roasted Beef Tenderloin with Merlot- Shallot Sauce or Roasted Chicken with Lemon Curd.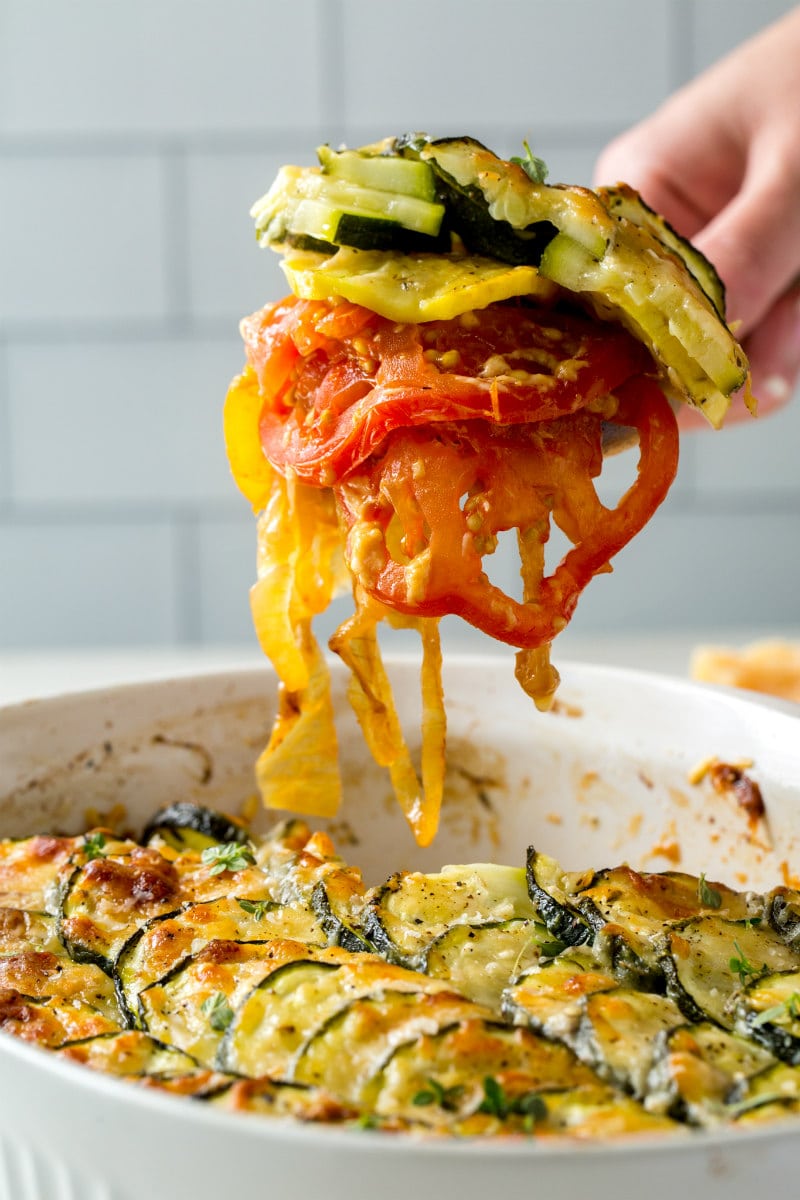 Can this recipe be prepared ahead?
This recipe is a good one to make earlier in the day and then put in the oven when it's time to prepare dinner. It's not a good one to bake ahead of time to be re-heated later. I fear that the ingredients will become a bit to soggy if it's baked ahead and then re-heated for your meal.
Leftovers re-heated should be totally fine. It just won't be as intact and wonderful as it will be when coming directly out of the oven.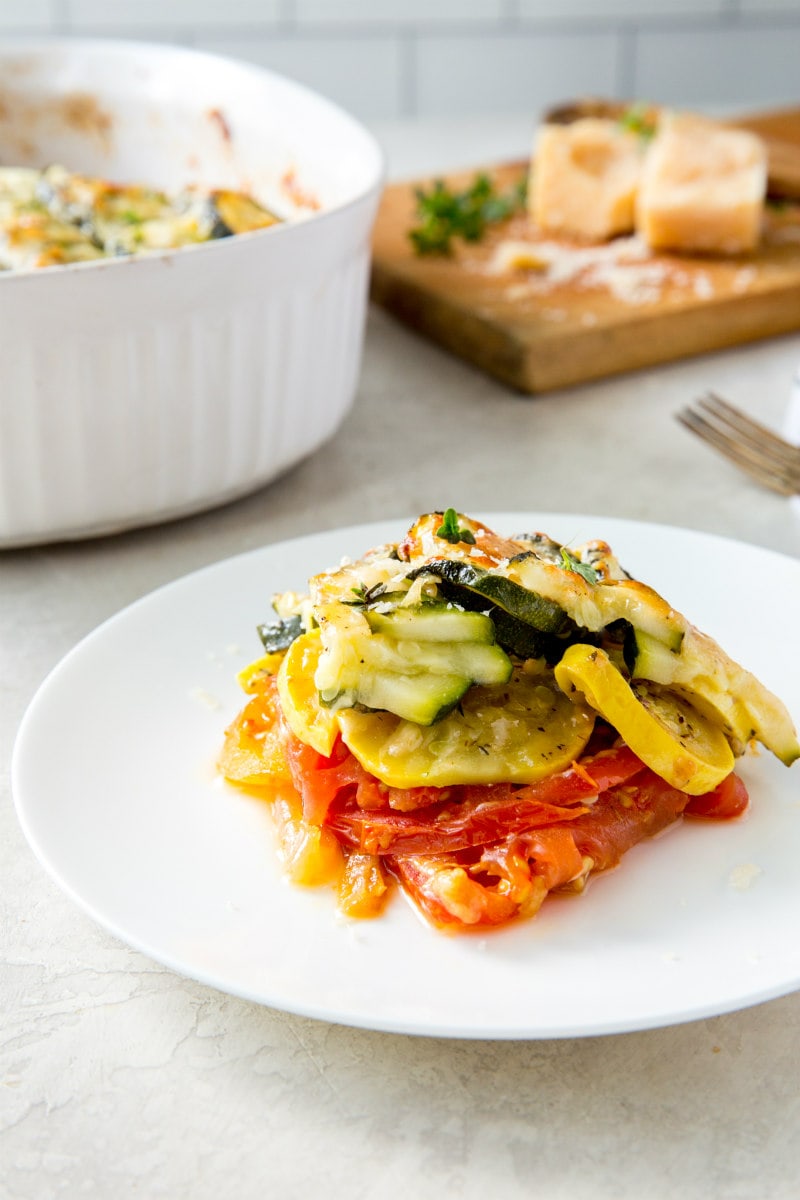 Here are a few more gratin recipes you might like to try:
Summer Gratin
This Summer Gratin recipe is full of fresh seasonal vegetables!
Recipe Details
Ingredients
5

tablespoons

olive oil,

divided

2

medium

onions,

thinly sliced

1

medium

garlic clove,

minced

1¼

pounds

small or medium, ripe tomatoes

(cored and cut into 1/4-inch slices)

3/4

pound (2 small)

zucchini,

cut into 1/4-inch slices

3/4

pound (2 small)

yellow summer squash,

cut into 1/4-inch slices

1/4

cup

chopped fresh thyme,

divided

1

teaspoon

salt,

divided

1¼

cups

grated Parmesan cheese,

divided

freshly ground black pepper,

to taste
Instructions
In a medium skillet, heat 2 tablespoons of olive oil over medium heat. Add the onions and sauté, stirring frequently, until limp and golden brown (about 20 minutes). Reduce the heat to medium-low if they're browning too quickly. Add the garlic in the last minute or two.

Spread the onions evenly in the bottom of an oiled 2-quart shallow dish. Let cool.

Put tomato slices on a shallow plate to drain for a few minutes, and then discard the collected juices.

In a medium bowl, toss the zucchini and squash slices with 1 1/2 tablespoons of olive oil, 2 tablespoons thyme, and 1/2 teaspoon salt.

Sprinkle 1 tablespoon thyme over the onions in the dish. Starting at one end of the baking dish, lay a row of slightly overlapping tomato slices across the width of the dish and sprinkle with a little of the cheese. Next, lay a row of zucchini, overlapping the tomatoes by two-thirds, and sprinkle with cheese. Repeat with a row of squash, then repeat rows, sprinkling each with cheese, until the dish is full. You may want to press the rows tight (like you're trying to stand them more upright) two or three times as you go along. Season lightly with pepper and remaining 1/2 teaspoon salt. Drizzle remaining 1 1/2 teaspoons olive oil over everything.

Combine the remaining cheese with the remaining 1 tablespoon of thyme, and sprinkle this liberally over the whole gratin. Bake 65 to 70 minutes, until well-browned all over and juices have bubbled for a while and reduced considerably. Let cool at least 15 minutes before serving.
Nutrition
Serving:
1
serving
,
Calories:
246
kcal
,
Carbohydrates:
12
g
,
Protein:
11
g
,
Fat:
18
g
,
Saturated Fat:
5
g
,
Cholesterol:
18
mg
,
Sodium:
718
mg
,
Potassium:
611
mg
,
Fiber:
3
g
,
Sugar:
7
g
,
Vitamin A:
1285
IU
,
Vitamin C:
38.6
mg
,
Calcium:
274
mg
,
Iron:
1.3
mg