Roasted Beef Tenderloin is topped with a delicious Merlot Shallot Sauce.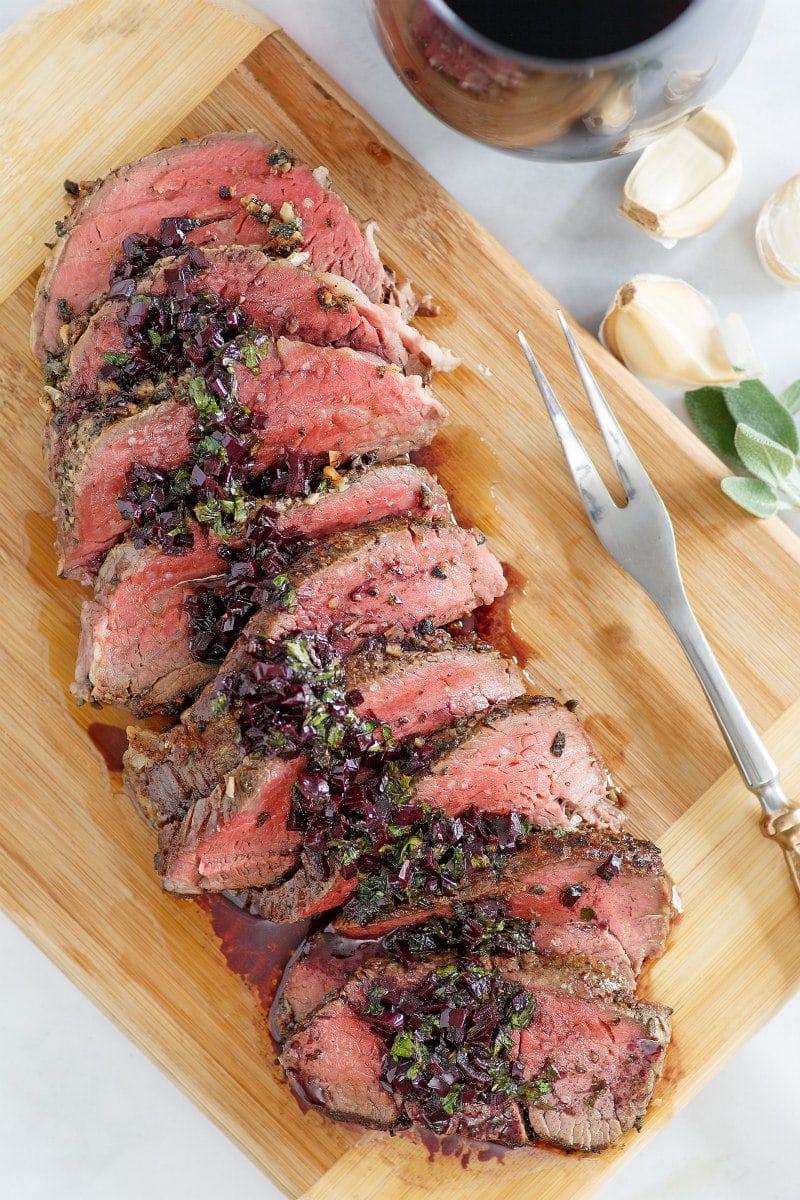 This Roasted Beef Tenderloin with Merlot-Shallot Sauce was the main dish at one of my Gourmet Club's dinner parties when we lived in our old neighborhood in San Diego. That's the first time I made it, and it has been made many times since. It's very easy to make and turns out oh-so-tender and delicious. Everyone enjoys this recipe.
Beef tenderloin is such a popular cut of meat because it's incredibly tender and rich. It's an expensive splurge, so plan to make it for a special meal. Look for the tenderloin on sale! Plan on 4 servings per pound of tenderloin.
Do you need a meat thermometer for this recipe?
Yes, you definitely should have a meat thermometer on hand for making Roasted Beef Tenderloin. It's pretty impossible to know where the meat is in the cooking process unless you have something measuring the progress in the center of the tenderloin. I like to use this meat thermometer (or one that is similar) for making tenderloin and roasts. It's great because the temperature monitor sits outside the oven, and a long cord allows you to keep the probe inside the center of the meat for the entire cooking process.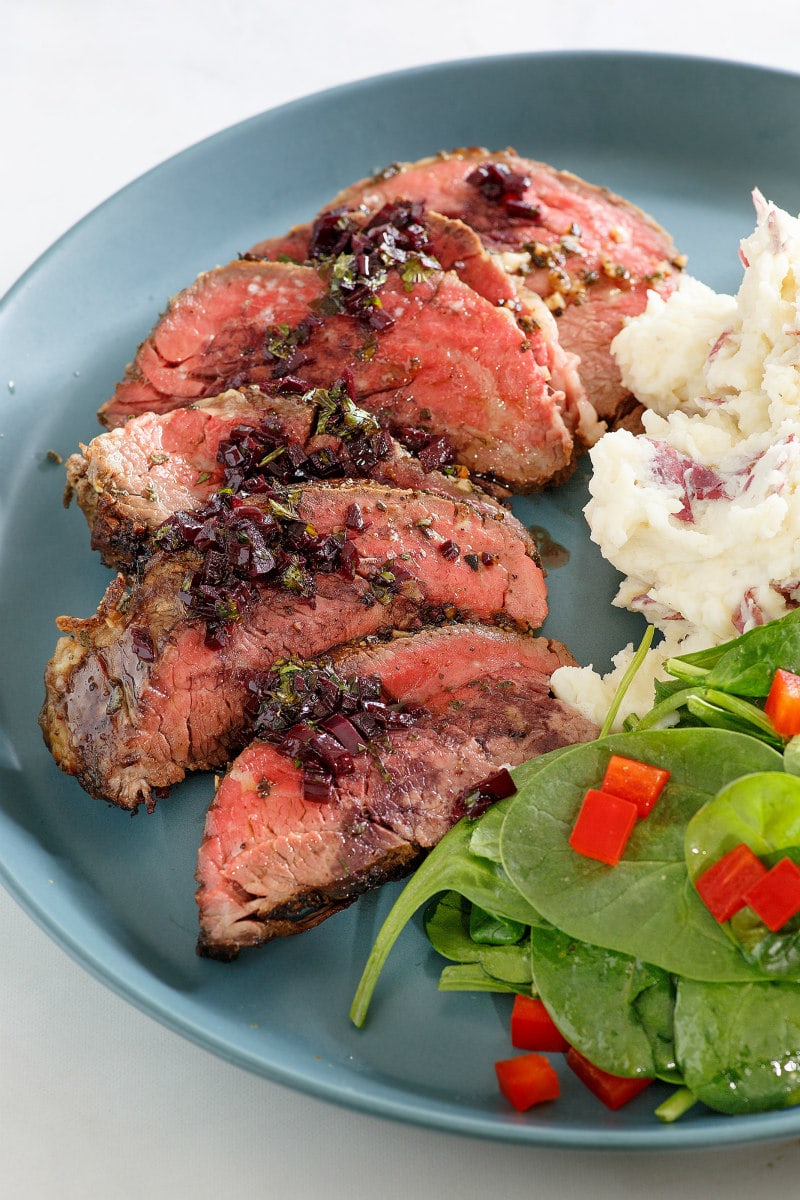 What's the best temperature to cook beef tenderloin?
There's a pretty simple guide for what temperatures are best for roasted beef tenderloin. 140°F is generally the most common temperature to pull it out of the oven. It will increase to 145°F (medium rare) after standing at room temperature. If you prefer it not-so-rare, pull it out at 155°F, and it will increase to 160°F (medium) after standing.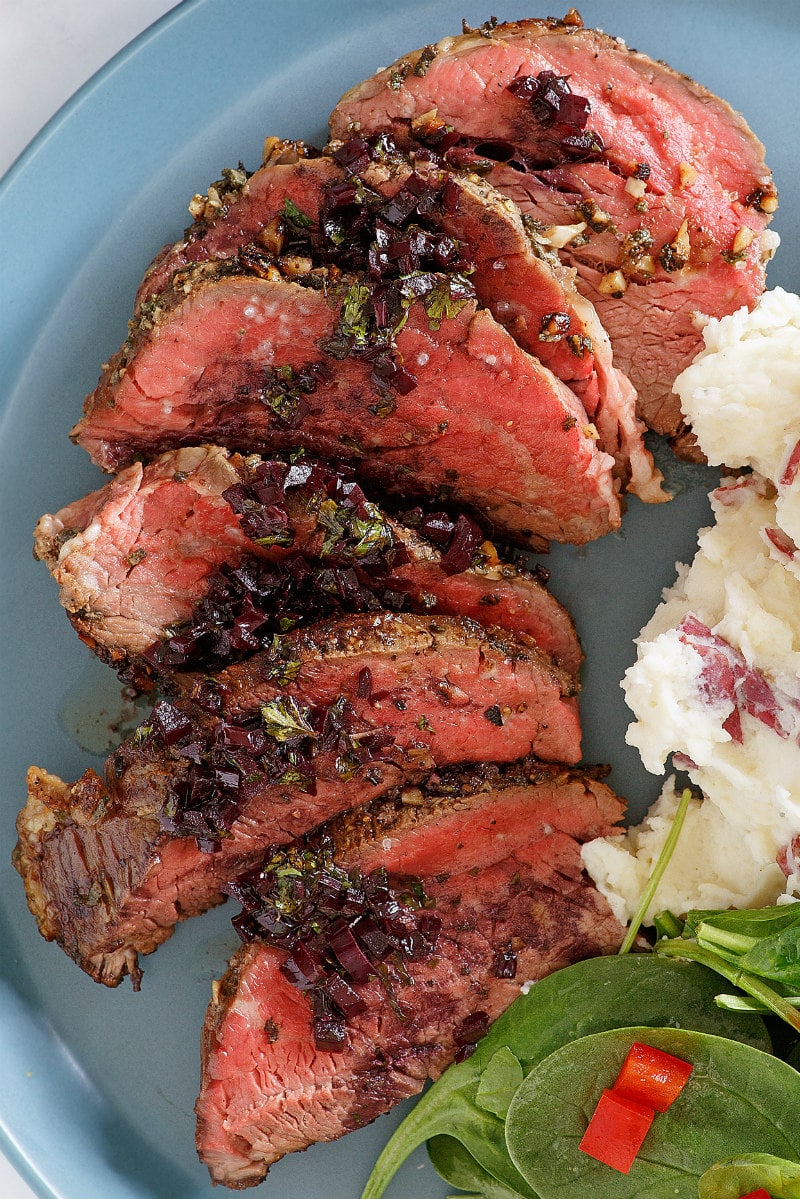 Merlot-Shallot Sauce
Roasted Beef Tenderloin is wonderful eaten on its own. It's so incredibly tender and flavorful, and everyone will love it. Add a simple sauce on top though, and it becomes even more amazing! This Merlot-Shallot Sauce is made sautéeing shallots, adding in wine and cooking until it's reduced by half. This means the wine will have a much richer flavor. Beef broth is added in, and it's reduced a bit more. Butter and parsley are swirled in at the end. This is spooned over servings of the roasted beef tenderloin. Delicious!
What kind of red wine is best for this recipe?
The sauce recipe here calls for Merlot. If you have Merlot, use that. You don't need to buy an expensive brand. If you don't want to use Merlot, you can substitute another medium-bodied red like Pinot Noir, Sangiovese, or a lighter-style Cabernet.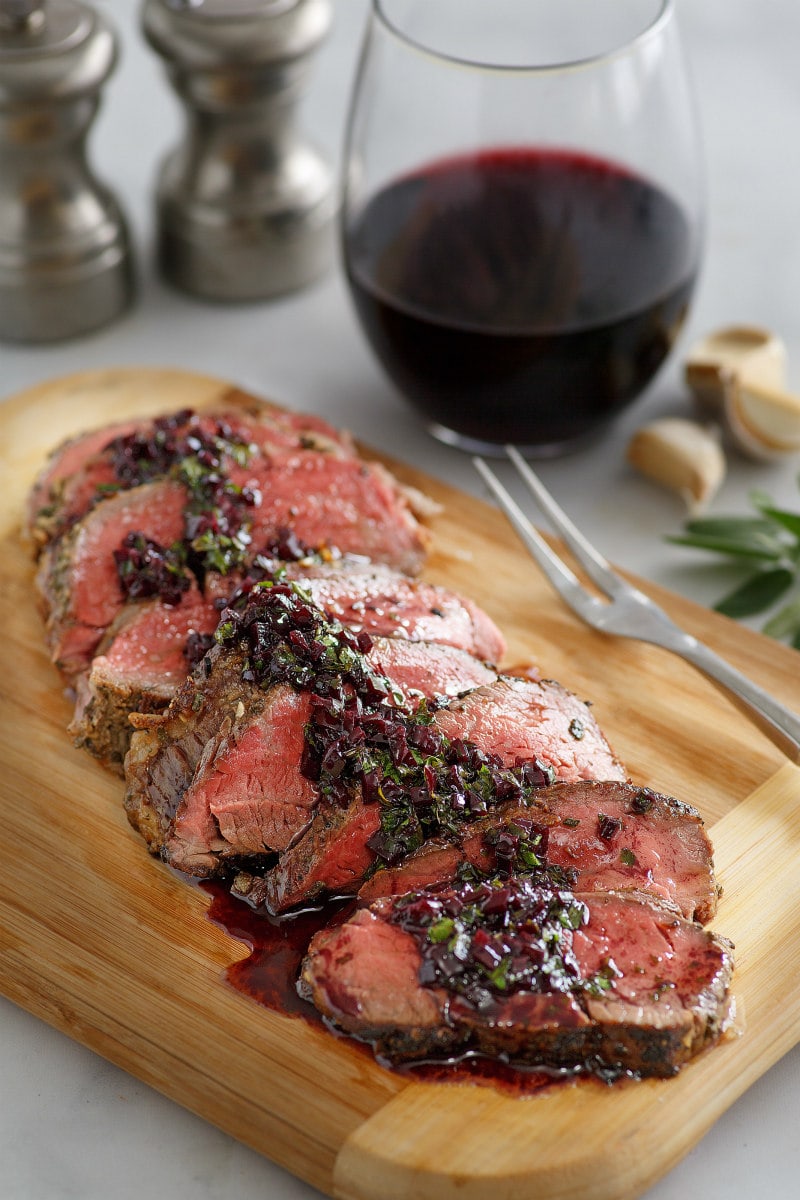 This recipe was originally published in Cooking Light sixteen years ago. It has been one of my favorite roasted beef tenderloin recipes since trying it for the first time from the magazine. And, if you happen to be following the Weight Watchers WW plan, you'll find a link to the WW Points on the recipe card below. Enjoy!
If you're looking for recipes that would good sides to roasted beef tenderloin, here are a few I'd suggest:
Roasted Beef Tenderloin with Merlot- Shallot Sauce
This roasted beef tenderloin is topped with an amazing sauce!
Recipe Details
Ingredients
BEEF TENDERLOIN:
⅓

cup

finely chopped fresh sage

1

tablespoon

freshly ground black pepper

3

tablespoons

minced garlic

2

teaspoons

Kosher salt

2½

pounds

center cut beef tenderloin
SAUCE:
⅓

cup

finely minced chopped shallots

1½

cups

Merlot

(or another red wine)

1½

cups

low-sodium beef broth

1

teaspoon

butter

3

tablespoons

chopped fresh parsley

¼

teaspoon

Kosher salt
Instructions
PREPARE THE BEEF TENDERLOIN:
Preheat the oven to 350℉. Heat a large nonstick skillet coated with cooking spray over medium-high heat. In a small bowl, combine the sage, pepper, garlic, and salt; rub over the tenderloin. Add the tenderloin to the pan; cook 6 minutes, lightly browning on all sides.

Insert a meat thermometer into the thickest portion of the tenderloin. Cover the handle of the pan with foil. Bake at 350° for 25 minutes or until thermometer registers 135- 140℉ (medium-rare) or desired degree of doneness. Place the tenderloin on a cutting board; cover loosely with foil. Let stand 15 minutes. (Temperature of tenderloin will increase 5℉ upon standing.)
PREPARE THE SAUCE:
Heat a pan coated with cooking spray over medium-high heat. Add the shallots; sauté 3 minutes or until tender. Stir in the wine. Bring to a boil; cook until reduced to 3/4 cup (about 4 minutes). Stir in the broth; cook until reduced to 1¼ cups (about 6 minutes). Add the butter, stirring until melted. Stir in the parsley and ¼ teaspoon salt. Serve spooned over slices of tenderloin.
Nutrition
Serving:
1
serving (3 ounces beef + 2 tablespoons sauce)
,
Calories:
351
kcal
,
Carbohydrates:
2
g
,
Protein:
21
g
,
Fat:
25
g
,
Saturated Fat:
10
g
,
Cholesterol:
80
mg
,
Sodium:
651
mg
,
Potassium:
485
mg
,
Vitamin A:
115
IU
,
Vitamin C:
2.3
mg
,
Calcium:
19
mg
,
Iron:
3
mg