This is the perfect sort of side dish to serve for a special dinner:  Brussels Sprouts with Bacon and Hazelnuts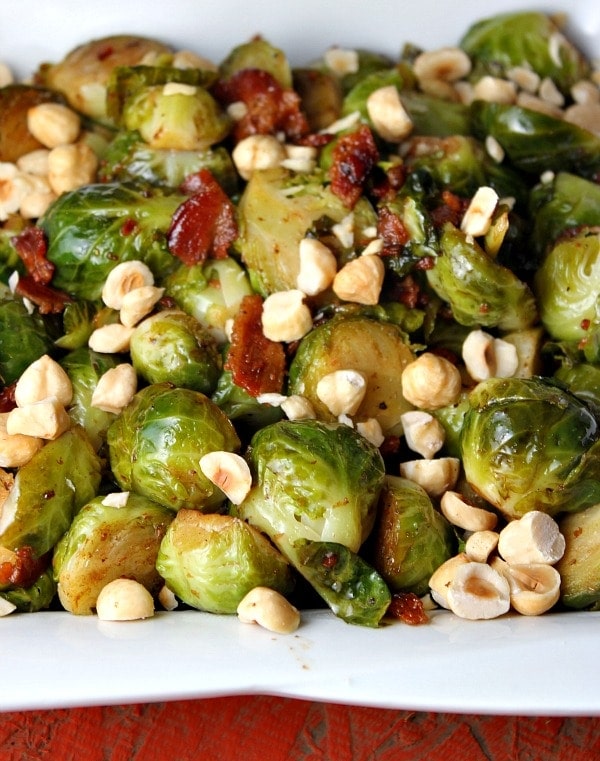 Brussels Sprouts with Bacon and Hazelnuts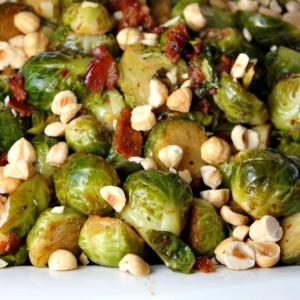 Yield:
6 servings
Prep Time: 30 minutes
Cook Time: 30 minutes
Ingredients:
1 1/2 pounds brussel sprouts, trimmed
3 thick-cut slices of bacon (about 3 ounces), preferably applewood smoked, cut into 1/2-inch pieces
1 tablespoon unsalted butter
2 teaspoons balsamic vinegar
1/2 cup coarsely chopped hazelnuts, lightly toasted
kosher salt and freshly ground black pepper
Directions:
Cut brussels sprouts lengthwise in half or quarters depending on their size (if they are dime-size, leave them whole).
Bring a large pot of salted water to a boil. Drop in brussels sprouts and boil until just tender, 6 to 8 minutes. Drain, shaking to dry them as much as possible.
Place bacon in a large skillet and cook over medium heat until crispy. With a slotted spoon, transfer bacon to a paper towel and set aside. There should be about 2 Tablespoons of fat in the pan; pour off any excess.
Just before serving, add butter to the skillet. Increase heat to medium-high and add drained sprouts. Cook, tossing and stirring, until heated through and beginning to brown. Stir in bacon and balsamic vinegar. Season to taste with kosher salt and freshly ground black pepper. Sprinkle on hazelnuts and serve warm.
Tips:
If preparing this recipe as GLUTEN FREE, just be sure to use a brand of bacon that is known to be GF.