Here's a delicious salad to serve as a side dish for dinner:  Bacon and Brussels Sprouts Salad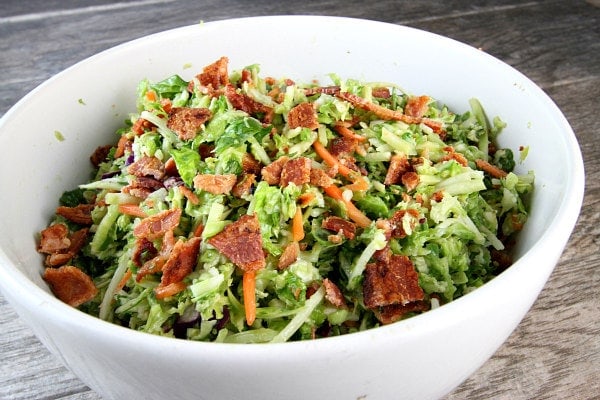 This was my first time venturing into using brussels sprouts as the main ingredient for salad.  But as soon as I saw that BACON was involved in the recipe… as well as a delicious-sounding Honey-Lemon Vinaigrette, I was totally on board.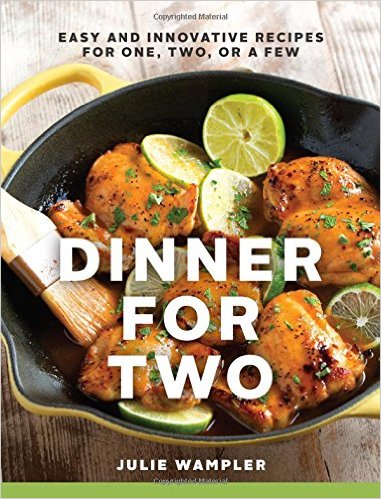 The recipe come from a new book by Julie Wampler from the Table for Two blog.  Her book is aptly named, Dinner for Two: Easy and Innovative Recipes for One, Two or a Few.  This is a great cookbook to have on hand if it's just you at home… or if it's just you and a partner.  Here are some recipes I have bookmarked to make:  Parmesan- Crusted Chicken Rice Bowls, 20-Minute Teriyaki Chicken and Broccoli, Sloppy Joe Mac n' Cheese, Creamy Sun-Dried Tomato Fettuccine, Beer-Braised Roast with Polenta, and the Smoked Sausage and Spinach Tater Tot Breakfast Bake.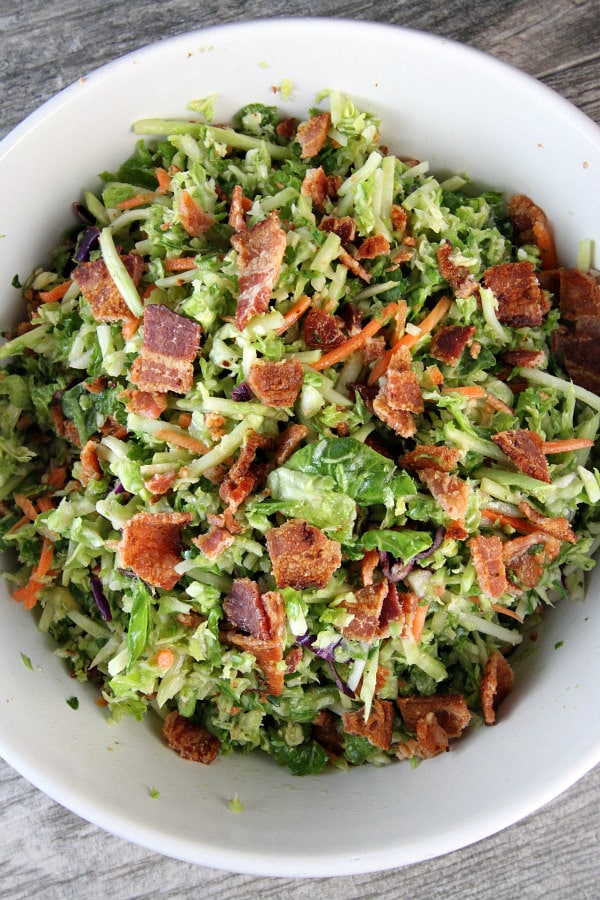 I made this recipe to go with our Thanksgiving meal this year, and I plan to make it to go with our Christmas dinner too.  The sweet lemony vinaigrette is delicious, it's a nice change from regular-'ol salad, and I was really happy to taste a lot of bacon in this salad.  We loved it!
Bacon and Brussels Sprouts Salad
Yield:
3 to 4 servings
Prep Time: 15 minutes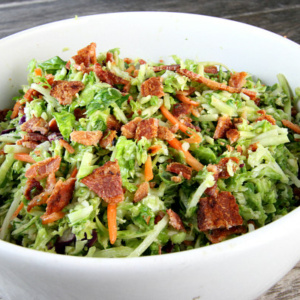 Ingredients:

Vinaigrette:

1/4 cup olive oil
1/4 cup honey
2 tablespoons champagne vinegar or white wine vinegar
juice of one lemon
1/4 teaspoon kosher salt
1/4 teaspoon ground black pepper

Salad:

4 cups shredded brussels sprouts
2 cups premade broccoli slaw
6 slices bacon, cooked crispy and roughly chopped

Instructions:

Prepare the vinaigrette:  In a small bowl, whisk together all of the vinaigrette ingredients; set aside.
Assemble the salad:  In a large bowl, toss together the brussels sprouts and slaw so that everything is evenly distributed.  Add the chopped bacon, and then drizzle with the vinaigrette.  Toss again to incorporate.  Serve at room temperature or refrigerate 1 to 2 hours and serve it chilled.

Nutrition:

If you are preparing this recipe as gluten-free, just be sure to use a brand of bacon that is known to be GF.
SOURCE:  RecipeGirl.com (shared from the cookbook, Dinner for Two by Julie Wampler)
Here are a few more brussels sprouts salad recipes you might enjoy: