Part 2 of my family's Summer Road Trip 2012! (Part 1 here): a visit to New Orleans LA, Mobile AL, and Redington Shores FL- with food highlights, of course!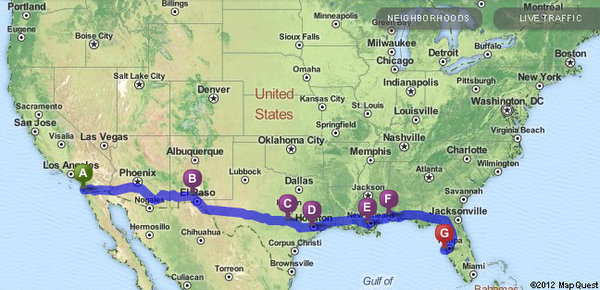 We started in San Diego… and this post takes us all the way to Florida (in the car). We had some fun times in New Orleans, Mobile, Alabama and at our friend's place in Florida.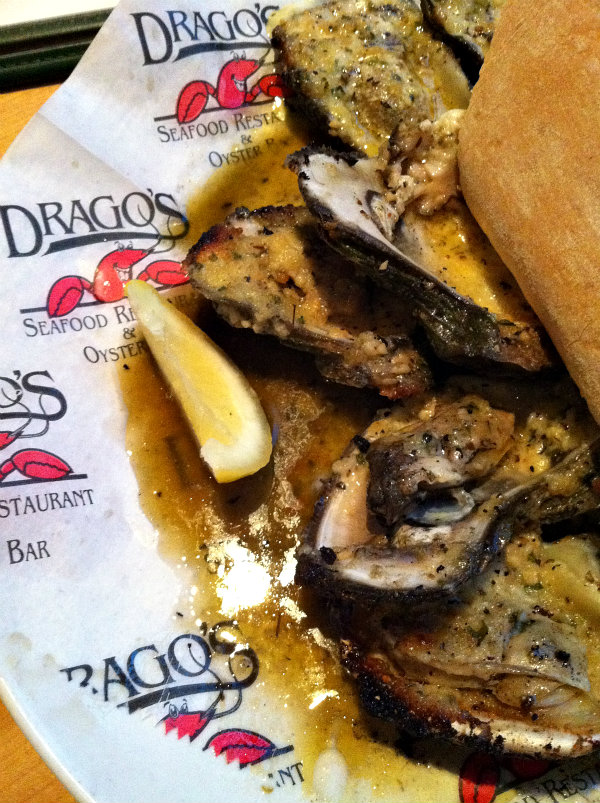 I had never, ever been to New Orleans before this trip. It was a little crazy and very, very hot, but we had some good food there. First up: Stuffed Oysters at Drago's, where we met Kevin and Amanda for dinner.  The oysters there were pretty amazing- ask for extra bread to soak up the butter & juices!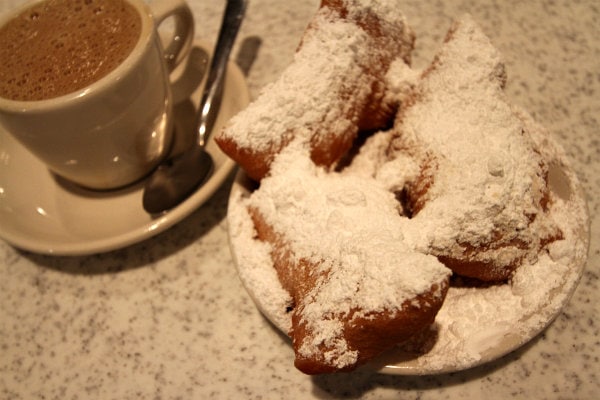 Of course we had to try the beignets at Cafe du Monde.  I wasn't so crazy about the beignets myself, but this place is a must-visit, long-standing institution in New Orleans.  You must also try the chicory coffee.
I don't remember where we had breakfast, but you can order up Pain Perdu just about anywhere ("Lost Bread").  It is called "lost bread" because it is a way to reclaim stale or "lost" bread. The hard bread is softened by dipping in a mixture of milk and eggs, and then fried.  It's basically really good French toast!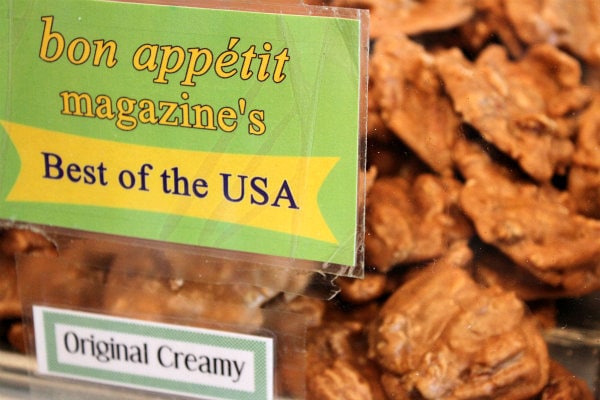 The best pralines were found at Southern Candymaker's.  Bon Appetit apparently thinks so too.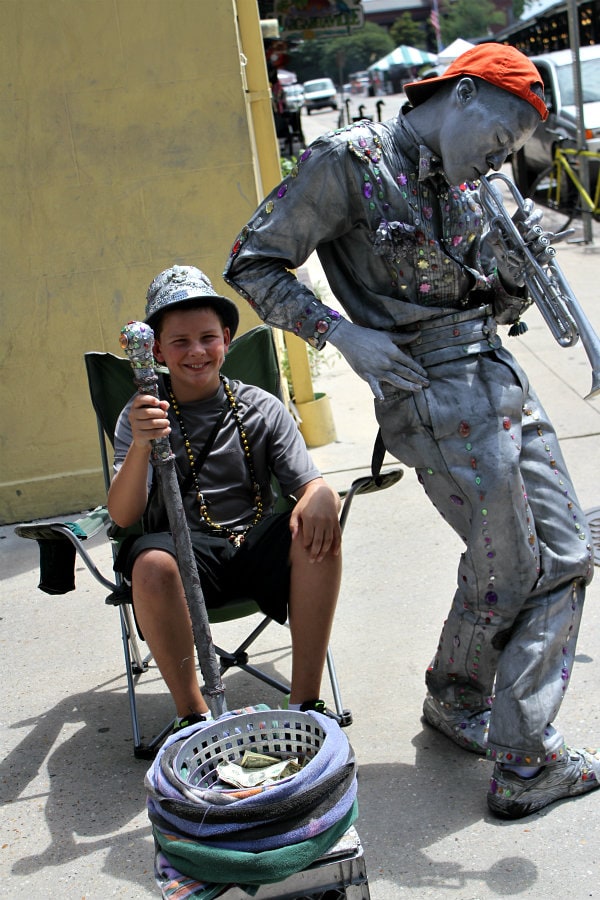 My son Brooks enjoyed the street performers, who are all over the place in New Orleans.  Most of them are all painted up to look like statues (not sure how they do it in the HEAT!), and they're totally entertaining.
A walk through the French Market was fun- lots of vendors and food.  Good place to buy cheap t-shirts, sunglasses, jewelry and other crafty things.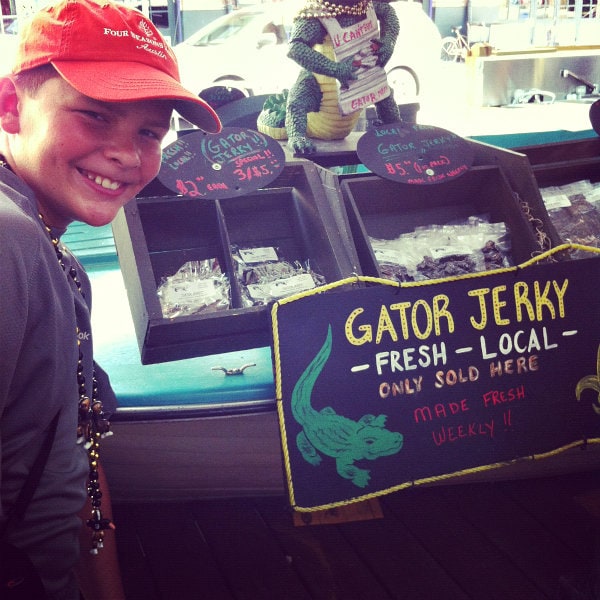 We had to try Gator Jerky!  But it we weren't all that impressed with it.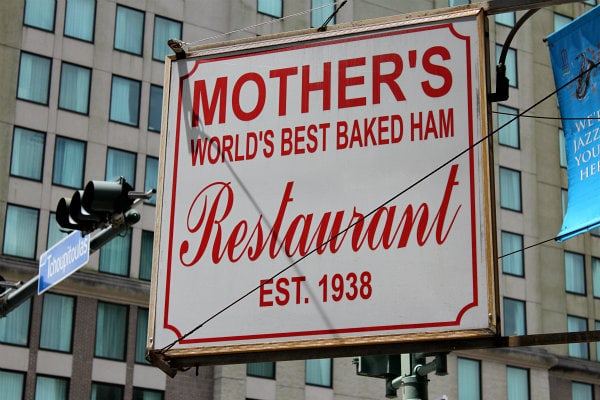 Many folks recommended that we go to Mother's for the best sandwiches in town.  We listened!  There was a line out the door, but the line moved pretty quickly.  You've got to know what you want as soon as you get to the counter because they move you through as fast as they can!
This here is the Oyster Po Boy Sandwich.  LOVED IT.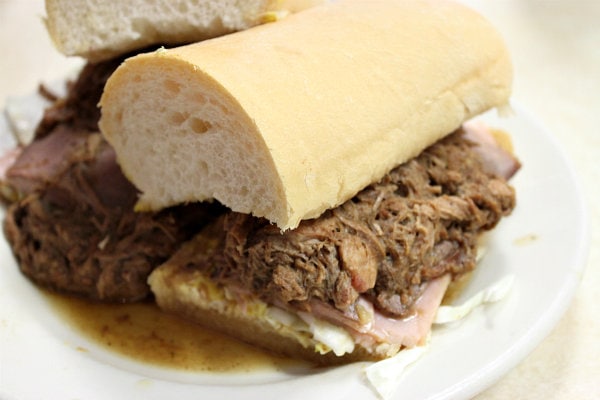 And this one is their signature sandwich: Famous Ferdi (Ham, Roast Beef, Debris and Gravy).  I never did figure out what "debris" is in the sandwich.  But it was good anyways.  Not mind-blowing good, but good.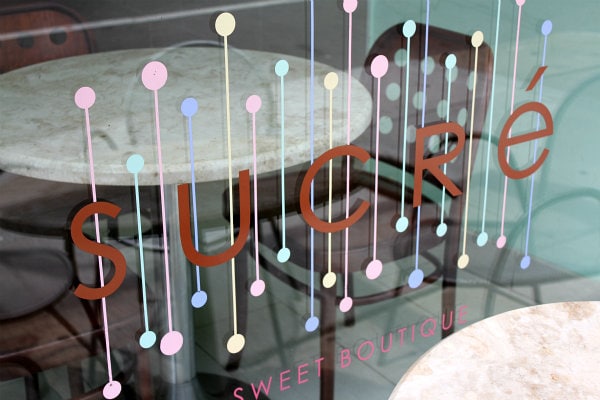 I'm really glad we took a little detour from the hustle and bustle of downtown New Orleans to visit Sucre Sweet Boutique.  It was a cab ride to the Magazine District, which also happens to have some cute antique shops too.  Walk into Sucre and you'll discover chocolates, gelato, macarons, cupcakes and other baked goods.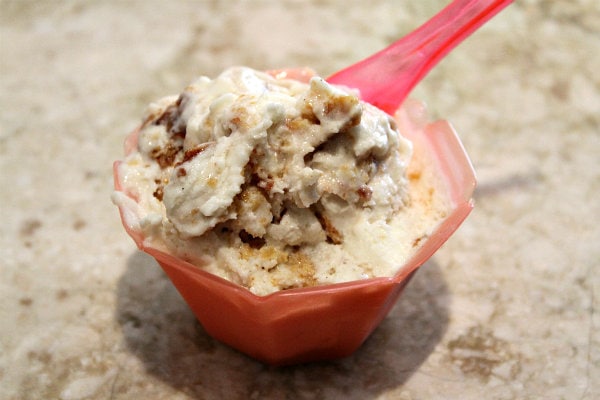 We tried the Cinnamon Bun gelato.  YUM…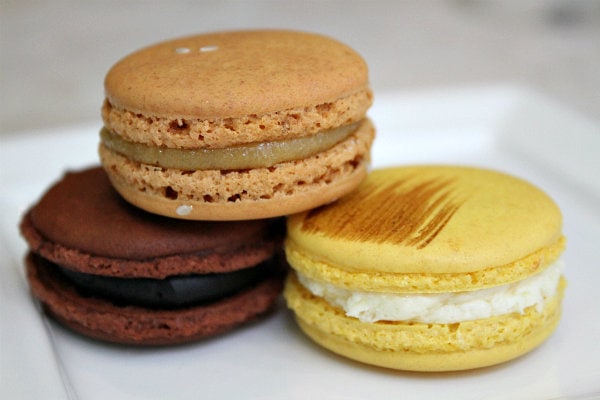 …and some assorted macaron flavors too.  My favorite was the salted caramel.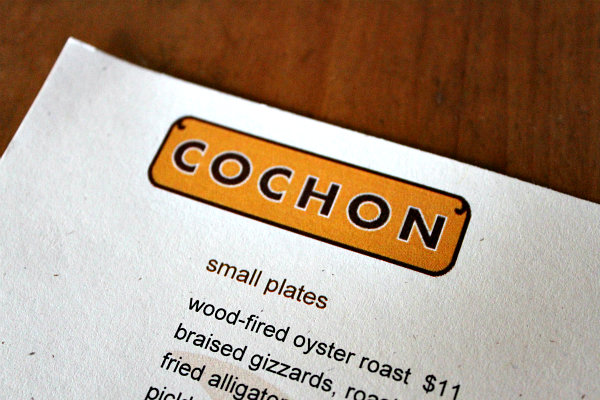 We had dinner at another highly recommended restaurant: Cochon, which is described as Cajun Southern Cooking.  It's a little off the beaten path, but it was worth the cab ride.  The menu choices were unique and delicious.  Here are a couple highlights: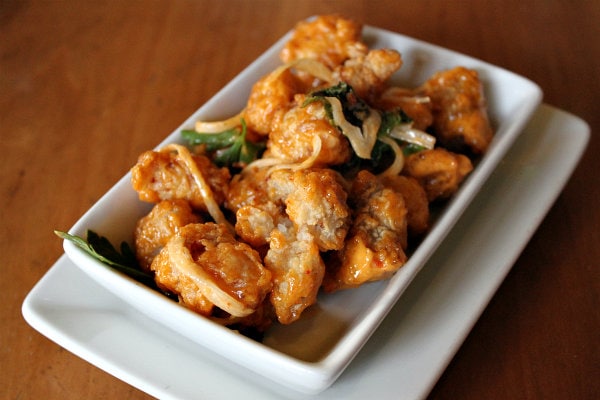 Fried Alligator with Chili-Garlic Aioli: my son just "had" to order alligator.  We all thought it tasted (as they say…) like chicken.  It was great w/ the sauce.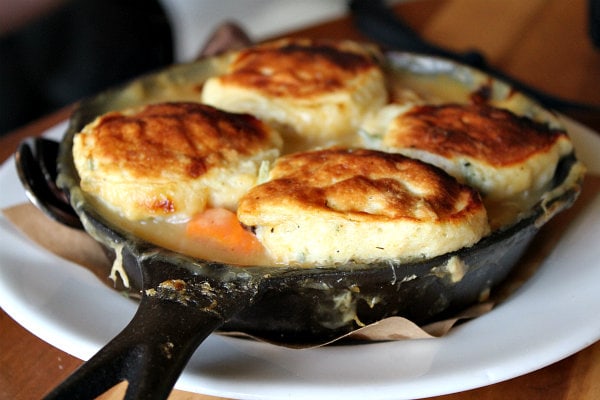 Rabbit and Dumplings: Again, my son was interested in ordering something that wasn't mainstream!  It was delicious comfort food though!  Also worth a mention- the paneed pork cheeks with roasted corn grits and tomato salad, and the twice-baked stuffed potato.
Where we stayed in New Orleans:  The Olivier House Hotel– great location just a short walk to Bourbon Street and the rest of downtown, and a nice, older hotel with a POOL!  Perfect layout for our family with two double beds in a loft and kitchenette and living area downstairs.  Ask to stay in the back unless you don't mind street noise at night.
My 11 year old wasn't too keen on New Orleans- we avoided Bourbon Street in general since it's pretty wild and inappropriate for younger kids.  Next time we're in New Orleans, I definitely want to go on a swamp tour and take a tour of the plantation mansions too.  There are also plenty of night time ghost tours that look fun.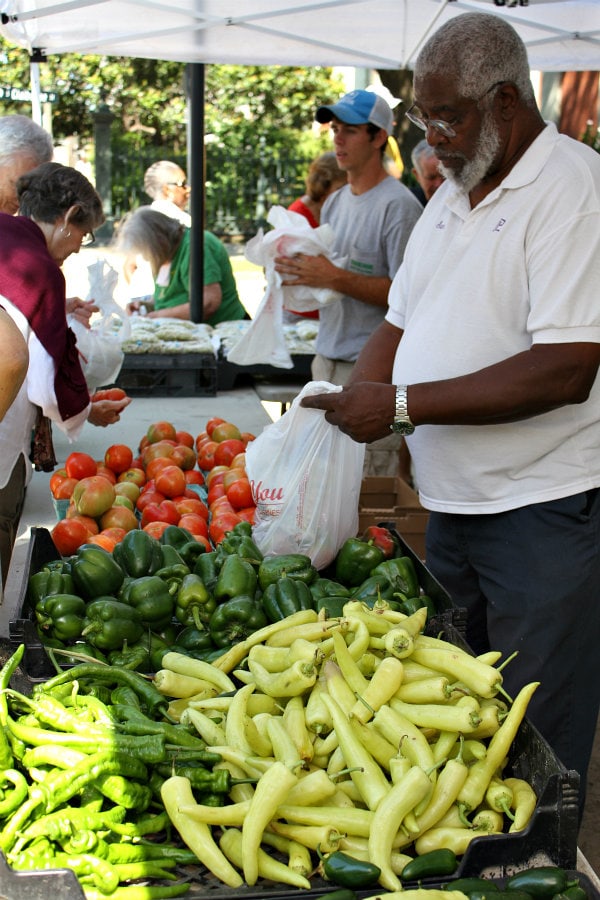 Moving on… we drove toward Florida, and we decided to stop in Mobile, Alabama for a look around.  What a beautiful city!  We happened upon a Farmer's Market in Cathedral Square.  It was really fun to see what kinds of vendors display their goods in the South (an area we are not very familiar with).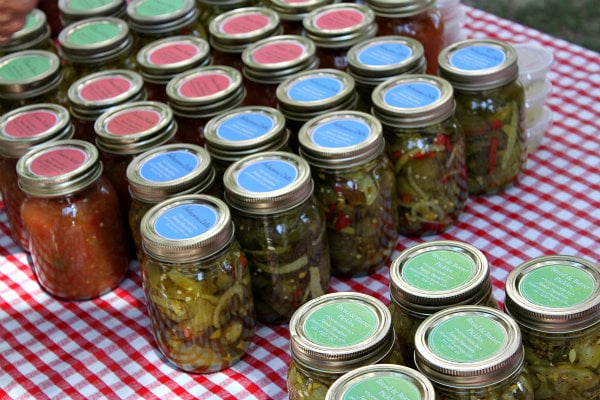 There were all kinds of lovely Southern ladies selling their canned goods.  I bought some jams and bread & butter pickles.  The cutest booth was a gal selling little pieces of her pink-frosted sheet cake- cut into little slices and wrapped with plastic wrap.  It just had that sort of small-town, homey feel.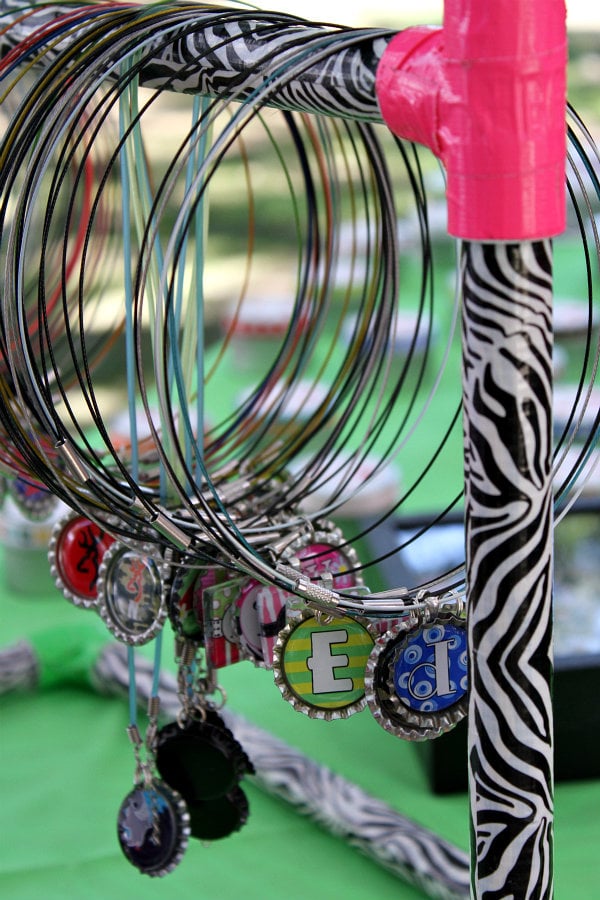 These necklaces made from soda/beer tops were fun too.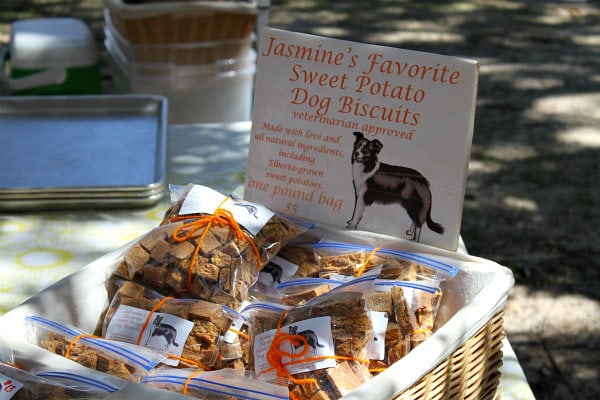 And in the south, apparently even the DOGS eat sweet potatoes…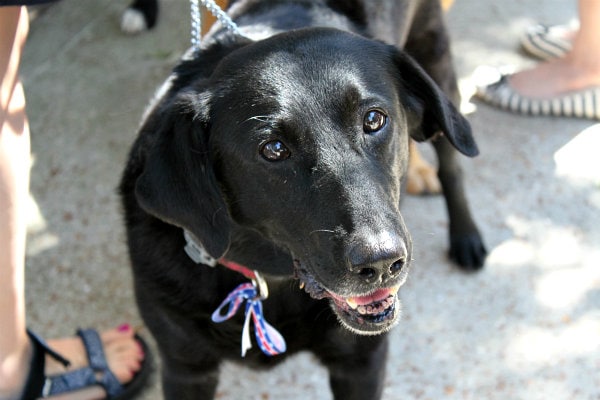 …which this guy was pretty happy about 🙂
I'd love to visit Mobile again sometime since this was just a quick stop on our drive to Florida.  We had a chance to drive around the city a little bit and just loved the vibe of this great, southern town.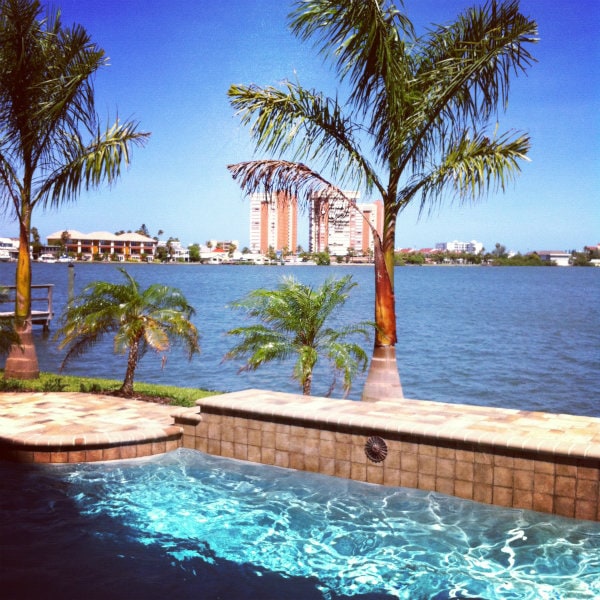 We have a close friend who just built a house along the Gulf in Redington Shores, Florida and he very generously invited us to lie low here for a few days.  His gulf-side pool was calling our name the whole time we were there.  This area of the country is gorgeous- a terrific place to bring the family for a beach vacation.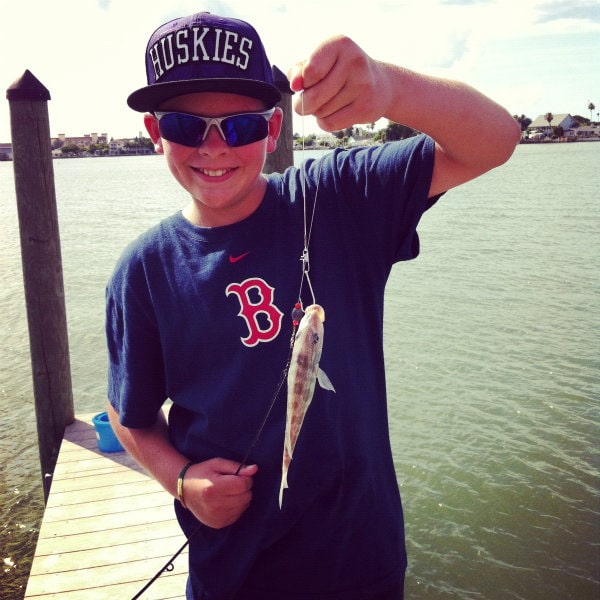 Our boy Brooks had a choice to either… A. Go to the new Harry Potter Theme Park (or) B. Fish to his heart's content off our friend's dock.  I think you can probably guess what he chose 🙂
P.S. All fishies caught were let go again to be free in the Gulf!
Next up:  we head North up the east coast of the old USA!