Continuing on our summer Road trip (with food highlights), we finally made it to Philadelphia. Here we had 2 days of eating and exploring a bit.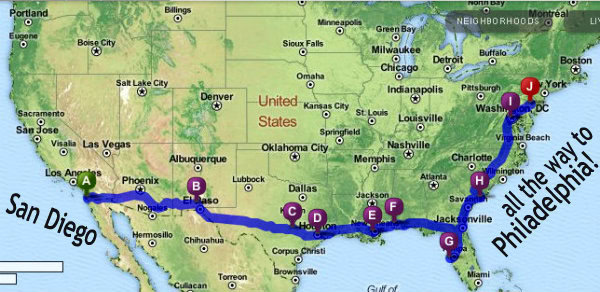 When I look at that map, I think… omg, we really drove all that way on this road trip?! Yikes. It was fun though- trust me!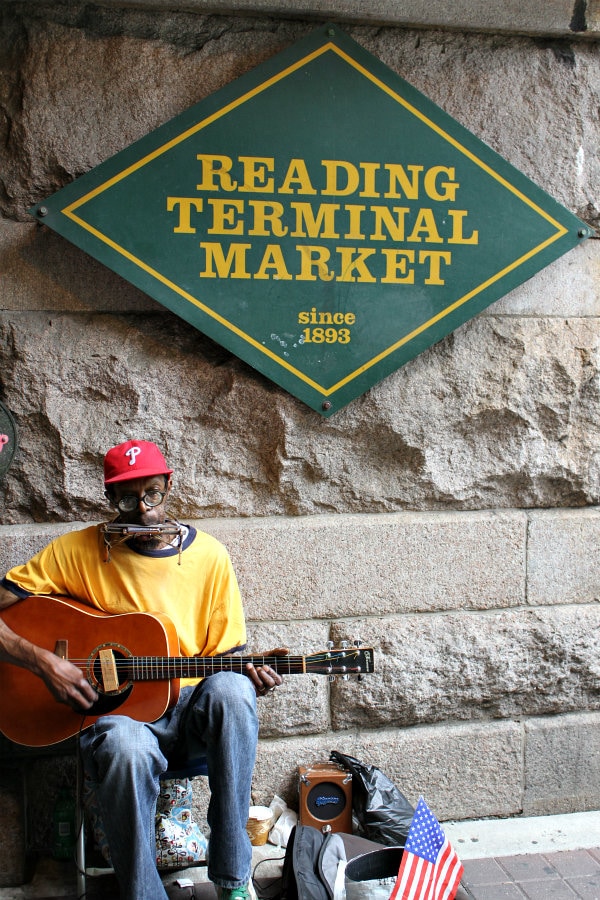 After our long road trip, we were starving when we arrived in Philly, so we immediately went to Reading Terminal Market. It's Philadelphia's historic farmer's market- a big place full of food vendors, crafts, flowers and Amish goods too! I had seen some of the vendors/restaurants featured on Food Network/Travel Channel before, so this was definitely a must-see-and-sample-the-goods kind of place!


We started with a lunch at Carmen's Famous Hoagies and Cheesesteaks. From left to right, we sampled a classic Italian Hoagie (always good), Chicken Cheesesteak (AMAZING!!!) and a meatball hoagie (delish). I'd recommend this place for their cheesesteaks… you can watch them frying up the meat and creating so it's a fun experience. The chicken cheesesteak was incredible, so I can only imagine how good their classic cheesesteaks must be.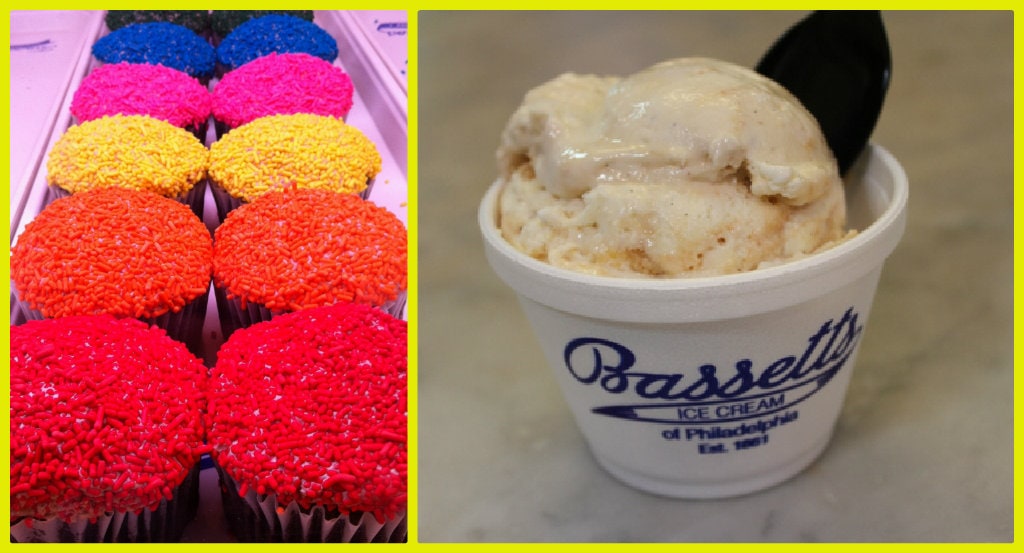 There are plenty of choices to eat sweets in the Reading Terminal Market. It was hard to make a decision about dessert, so we went with many (you'd do that too, right?) These cupcakes were just darn pretty, so I had to snap a pic. Not sure what bakery they were from. But we definitely need to talk about Bassett's Ice Cream. This place has been around since 1861, and they call themselves America's Oldest Ice Cream Company. It's a 5th generation family business. I love places like that. I usually seek out homemade ice cream in the cities we visit, and I must say that their ice cream is excellent. We tried the Gadzooks Blanc flavor: classic vanilla ice cream with pieces of peanut butter brownies, chocolate chunks and a rich caramel swirl. My husband ordered his favorite- Rum Raisin. How can I possibly be married to someone who would order Rum Raisin as his favorite? Ick. He liked it though.


We couldn't resist picking up some yummy cookies too from Pennsylvania General Store. These are Chocolate Chunk, Reeses Pieces and Snickerdoodle. Listen to me now: "I will be re-creating that Reeses Pieces Cookie on my blog one of these days." Mark my word.

And of course we had to eat our way through the Flying Monkey Bakery as well. I don't know how the bakery got it's name, but it's catchy and I love it. All of their baked goods are made from scratch right there in Reading Terminal Market. Pictured are a S'Mores Bar, Macaroon and Red Velvet Whoopie Pie. Yeah, we scarfed down on all of these too and enjoyed every bite of them too. It's a vacation road trip, right?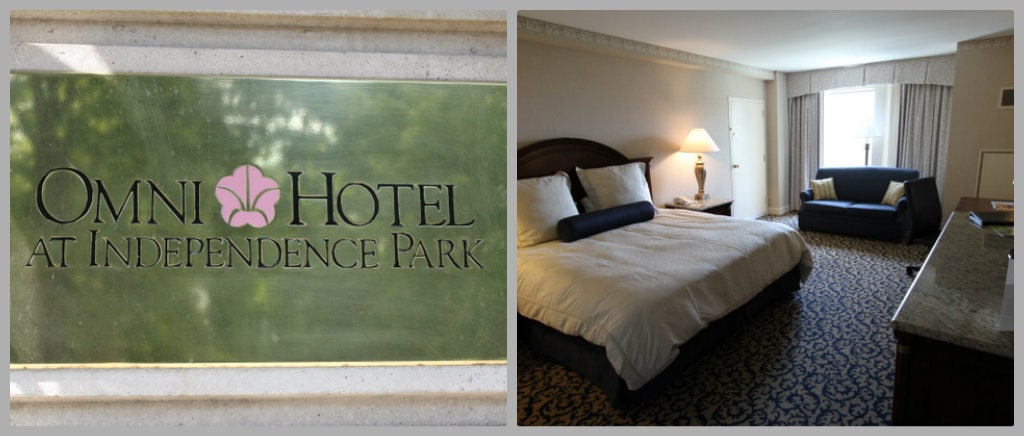 Here's where we stayed: The Omni Hotel at Independence Park, a luxury hotel smack dab in the midst of all the good stuff overlooking Independence Park. We literally walked to everything from our hotel- Liberty Bell, Mint, Independence Hall, Benjamin Franklin's House and gravesite, and Reading Terminal Market. When we walked in, my son said, "Oh great. I get the pull-out sofa again." But then he went over to the corner and tugged on that little door…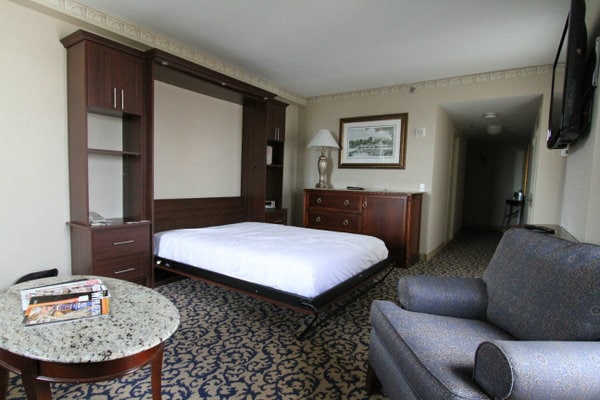 … and here's what he found in the next room! A bedroom all to himself with a pull-down Murphy bed and his own bathroom. He was way beyond excited! Such a cool feature for traveling families (and parents who just might like a night in their room all to themselves!)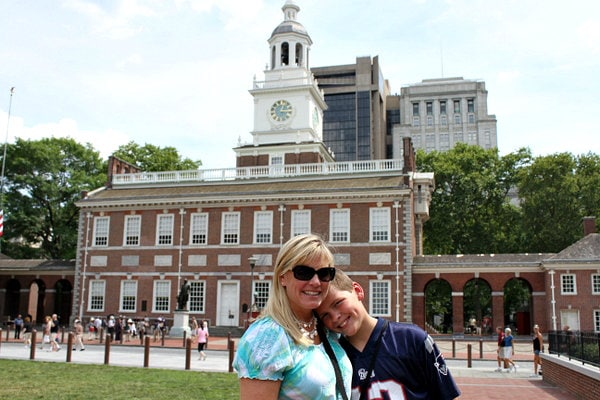 As I mentioned, we walked to the Liberty Bell– no photo, but it's a cracked bell sitting in an enclosed area that you have to wait in a very long line to get a peek at! It's free, but sheesh, that line! This is Independence Hall– also free admission. This was the meeting place for the Second Continental Congress. It was in the Assembly Room of this building that George Washington was appointed commander in chief of the Continental Army in 1775 and the Declaration of Independence was adopted on July 4, 1776. In the same room the design of the American flag was agreed upon in 1777, the Articles of Confederation were adopted in 1781, and the U. S. Constitution was drafted in 1787.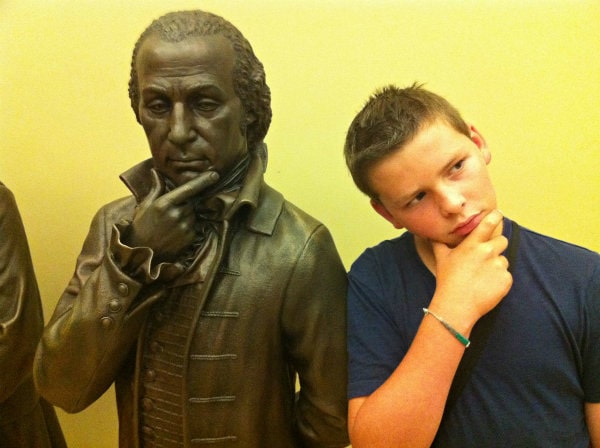 My husband is a pretty private person, which is why you don't see a whole lot of him on my blog. But I will divulge to you that he's a HUGE Bruce Springsteen fan. He's seen him a large handful of times in concert (he went to see the same concert three times this past year). So when we stumbled upon a Bruce Springsteen exhibit at The National Constitution Center, my son and I just looked at each other and said, "Let's do this for Dad." Brooks and I meandered through the Springsteen exhibit rather quickly, and then we checked out the rest of the place. The National Constitution Center is America's most interactive history museum. It is the only museum devoted to the U.S. Constitution and the story of We, the People. There were lots of great historical things in the museum related to past Presidents and the creation of our country. You must purchase tickets for admission. The Springsteen exhibit is available until Sept 3rd, and then there will be an exhibit on the History of Prohibition. Oh, and that photo above… there is a room full of statues of the political figures who were part of the origin of our country. Brooks found it fun to walk around the room mimicking the statues and having pretend conversations with them 🙂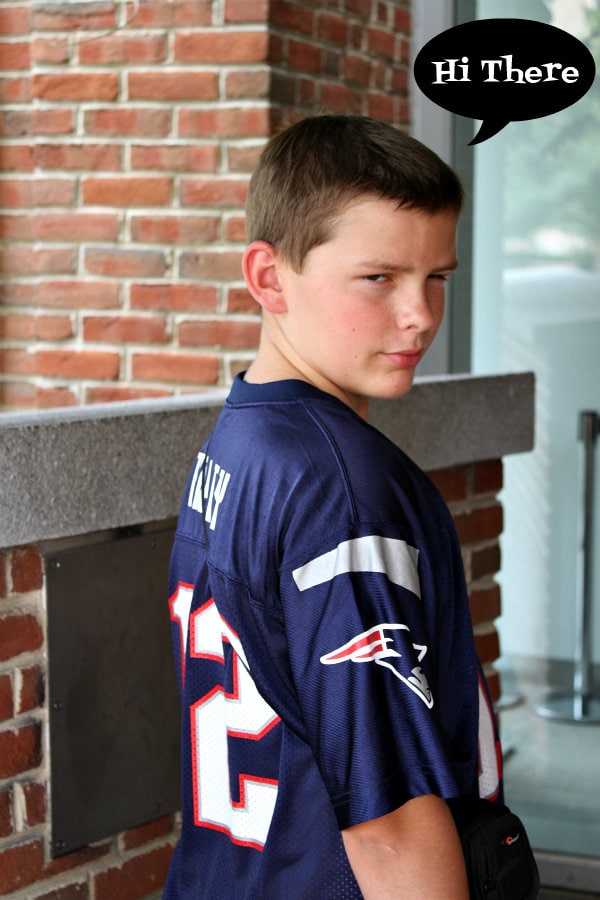 I couldn't resist sharing this pic. We're taking applications now for future potential mates for this handsome guy 😉 You know, 20 years from now.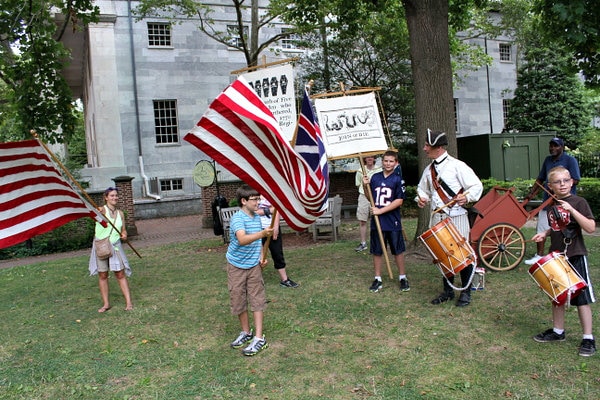 Across the street from the Omni Hotel is Independence Park. We were walking back to our hotel one day when we discovered an impromptu History re-enactment going on. It's a (FREE) storytelling experience that you can participate in right there in the park. Just join in and learn. It was great fun for the kids. It's called Once Upon a Nation 11am to 4pm in Independence Park. They offer other locations and historical activities as well.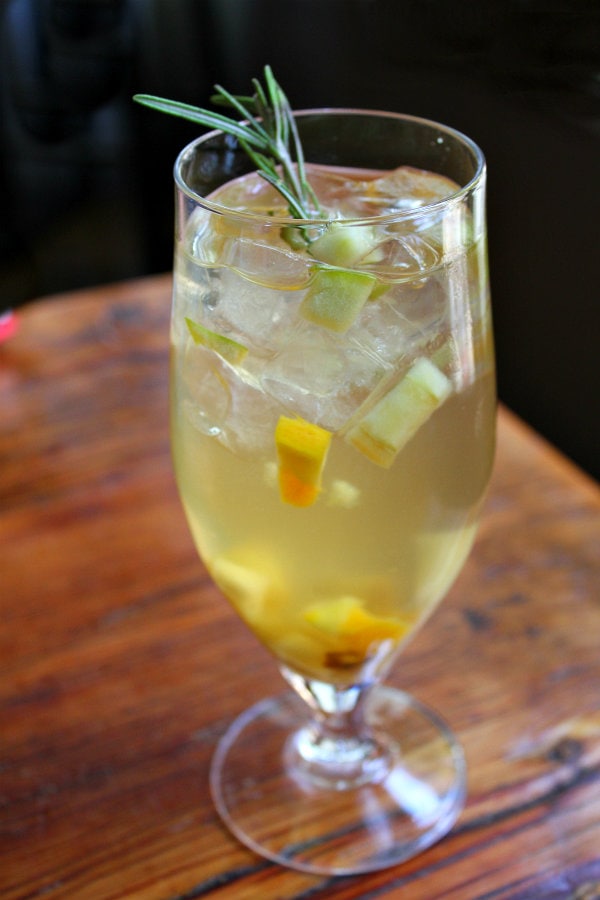 Our Philadelphia dinner was at Amada Tapas Restaurant (a short walk from the Omni). We enjoyed this Sangria Blanco and sampled a bunch of the tapas too. I recommend it for a fun and delicious place to eat, but it's pretty expensive to order tapas (it adds up quickly… just like when you go to a sushi place for dinner!) The food was great though. I especially loved the Cana de Cabra cheese with fig & cherry marmalade, the Albidongas (lamb meatballs w/ shaved manchego) and the Bocadillo de Lechon (braised pork sandwich with broccolini, pickled guindillas & fig mustard).

Back at the Omni Hotel the morning of our departure, we had the opportunity to meet the crepe chefs (the Omni is known for their crepes!) They demonstrated how to make the crepes (it looked pretty easy, actually) and had a variety of fillings for us to try.


I'm usually a sweets kinds of person all the way when it comes to crepes, but the savory version- Philly Cheesesteak- crepe was my favorite! Also sampled- Nutella with cherries and cream, and banana with caramel and cream. Is this a good time to mention that our hotel had a really good gym too? We DID use the gym. At least once. I promise.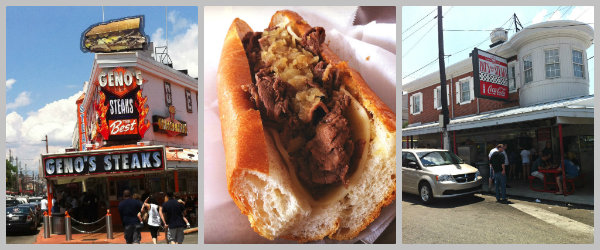 On our way out of Philly to continue on our road trip, we had one more mission to accomplish: checking out the two most famous cheesesteak places in Philadelphia- Geno's and Pat's. These were a cab-ride from our hotel, and they are directly across the street from each other.
Geno's Steaks was started by Joe Vento back in 1966. He figured that if he was going to sell a steak, he had to be where they were already eating them….at the "X" shaped intersection of 9th & Passyunk in South Philadelphia. Joe learned the cheese steak business from his father who in the early 1940's opened "Jim's Steaks". In 1966, Joe started "Geno's" with $6.00 in his pocket, 2 boxes of steaks and some hot dogs.
Pat's was founded by Pat Olivieri in 1930. Pat had a modest hot-dog stand at the base of the famous Italian Market in South Philadelphia. One day he decided to have something quite different for lunch, so he sent for some chopped meat from the butcher shop. He cooked the meat on his hot dog grill, placed the meat onto an Italian roll, and dressed it with some onions. Just as he went to take a bite, a cab driver who ate a hot dog everyday asked what he had there. Pat said that it was his lunch. The cabbie insisted that Pat make him one. "Hey…..forget 'bout those hot dogs, you should sell these." The steak sandwich was born. As the years passed, both employees and customers alike demanded change…cheese was added.
We meant to try both places, but we ordered from Pat's and were completely stuffed by the time we were done with that cheesesteak. We'll have to hit Geno's next time. The cheesesteak- it was awfully good, and it's an experience I recommend.
A couple of notes:
*You have to know exactly what you're going to order as soon as you get to the window. There is no mumbling around saying, "let's see… what do I want?" No questions asked or anything. The place is mad busy, and they want to take the orders as quickly as possible. Don't upset them!
*Both places are open 24/7. So if the mood for a cheesesteak strikes at 3:17am on Tuesday AM, you've got a place to go.
If you'd like to read about the rest of our cross country road trip, here are the links:
Part 1: San Diego to Houston
Part 2: New Orleans, Alabama, Florida
Part 3: Charleston
Part 4: Washington DC
Disclosure: Thanks to the Omni for providing one night in the Independence Park location for my family to lie our heads. All opinions shared here are my own.