My family hangs out in Boston's South Shore every summer for a few weeks, and this year we thought that
*

driving

*
from San Diego to Boston might be fun. Here was our route: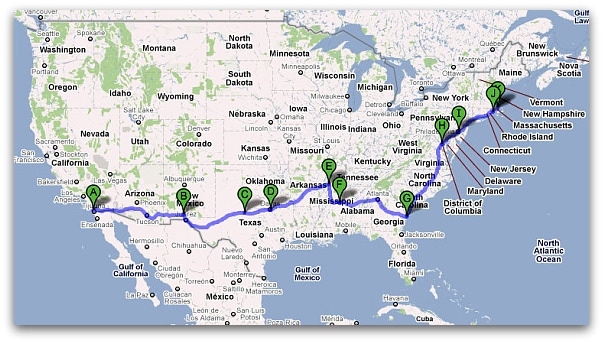 We stuffed our car with the essentials (clothes, beach gear, cooking supplies & a dual-screen dvd player), and headed to Boston. Perhaps you saw us on the road?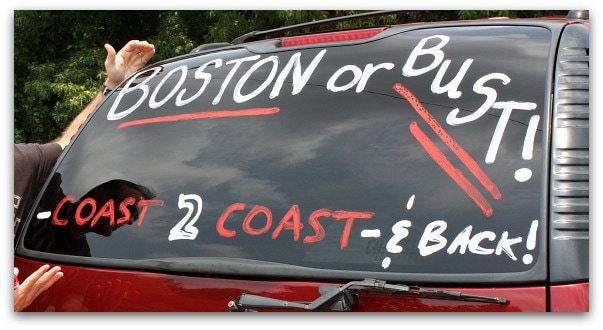 From San Diego we headed through Arizona and into New Mexico. Lots of desert & not much to look at. Our first stop was Las Cruces, NM. We frolicked in the indoor pool and ate at a fabulous authentic Mexican restaurant- El Comedor. Excellent steak fajitas, and cheap prices too.
From there we headed to Abilene, TX. It was fun to watch the landscape change into more farmland and oil-digging areas, though not all that exciting through TX either. I was really hoping to get some good, local fare in Abilene, but I'm sad to report that we were directed to eat at a Texas Roadhouse by the front desk at our hotel. They didn't know of any good restaurants. My son was excited about cracking peanuts at TR and throwing the shells on the floor, but the ribs and pork chops were just okay… and definitely not authentic. The next morning, we got these waffles in the hotel (Texans are clearly proud of their state 🙂 )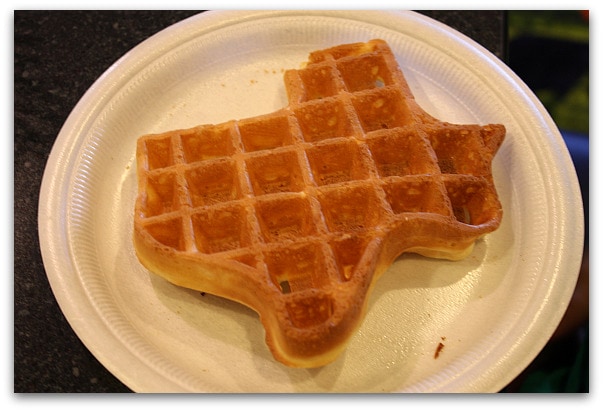 Next up was Dallas, where we promptly went to a Sonic to get burgers and Cherry Limeade. We stayed with friends and had such a great time at their house that we didn't go out and get any good local fare in Dallas. About all I can say about Dallas is that it was a BIG city and it was freakin' HOT. Wish we'd been able to carve out more time for exploring.  My husband dragged us to Waffle House for breakfast (nostalgic for him, but not a very good place to grab good eats, for sure).
Since my husband is a huge Elvis fan, we drove up to Memphis next. We stayed with friends on Mud Island (a beautiful place). Our friends made sure that I left with a bottle of Captain Rodney's Scotch Bonnet Pepper Boucan Glaze. Can't wait to try this stuff! (My husband had already been to Graceland but wanted to share the experience with my son and me. I'm not an Elvis fan myself, but it was cool to see. Again, HOT in Memphis. We grabbed breakfast at this fabulous place:  Arcade Restaurant, where many famous people have dined.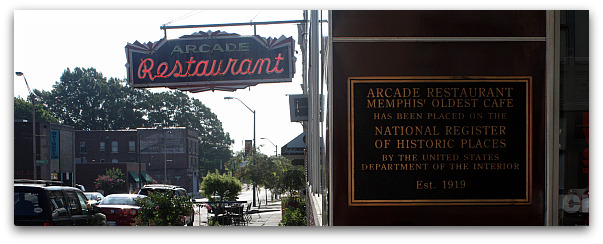 I had some unbelievable Sweet Potato Pancakes and my husband decided to try what any good southerner might have for breakfast: Biscuits & Gravy with Grits and Eggs.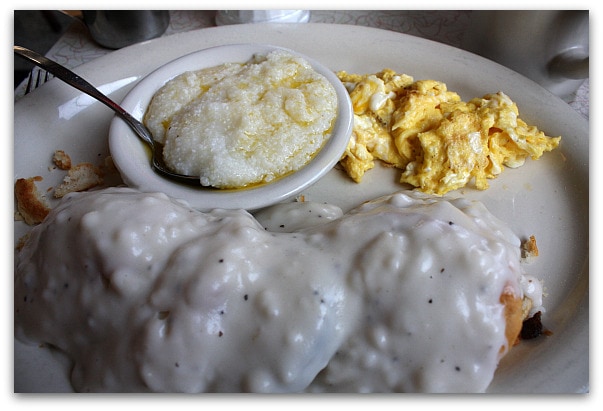 Maybe we're just used to eating some lighter fare, but this breakfast was just way too much. And it was our first time trying grits. These were served with butter, and they were…icky…just icky.
From Memphis, we headed down to Starkville, Mississippi. We caught up with some dear old friends and ate dinner at Mugshots. It was a recommendation from Twitter friend OxfordFalls, and we thank him for that. Fantastic burgers and fries at Mugshots.
We realized on the drive from Mississippi to Savannah, that we had entered beautiful country… trees everywhere and interesting sights. Loved hearing the accents of people at service stations and elsewhere. We passed by Talladega Speedway in Alabama. We ate at Shane's Rib Shack near Atlanta (a chain), but we thought the bbq was pretty darn good there.
My family dropped me off in Savannah, where I was going to be working for 5 days. I ate one fancy dinner at Elizabeth's on 37th– very good food and a unique atmosphere (old house). Be prepared for an expensive dinner though. Exploring Savannah by myself, I found a great cupcake bakery- Mabel Francis Potter's Cupcake Emporium– where I tried their red velvet with cream cheese…and I think the other one was a yellow butter cake. I enjoyed the red velvet best- moist w/ good frosting too!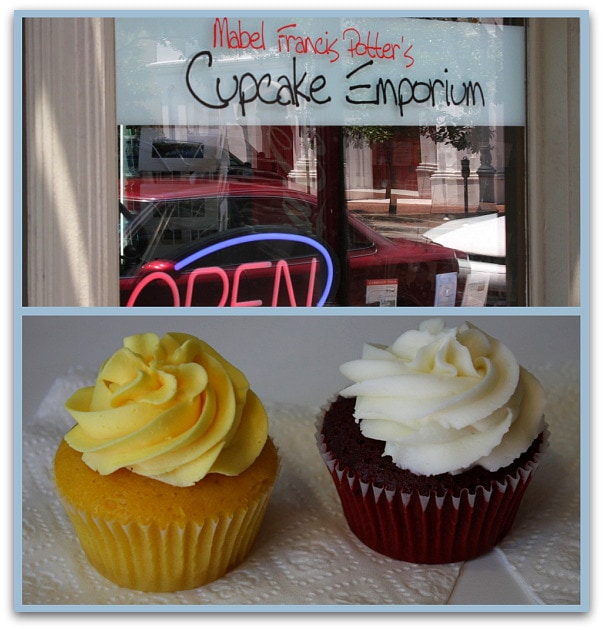 The reason for my visit to Savannah was to work with the Real Women of Philadelphia & Ms. Paula Deen. Paula was just as she appears on TV- so sweet and Southern and full of Y'alls 🙂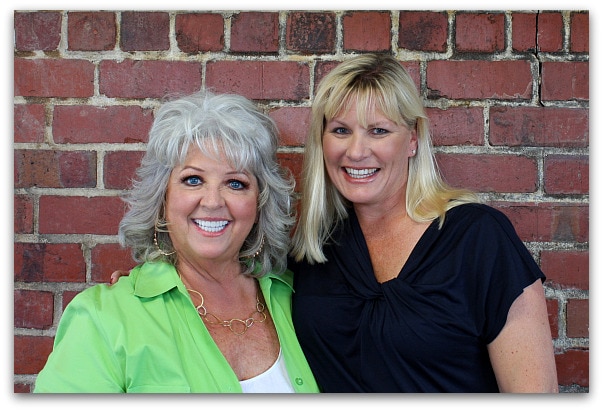 We hung out all day together and chatted extensively about anything and everything. Lots of recipe chat. I judged the RWoP Cook Off with Paula, her Aunt Peggy, and Robin (from Kraft). It was set up "Top-Chef" style, with the contestants up front, us sampling food at the table and providing feedback as we tasted. The whole thing was filmed to be viewed on the internet. Looks like I'm pretty seriously judging this one 😉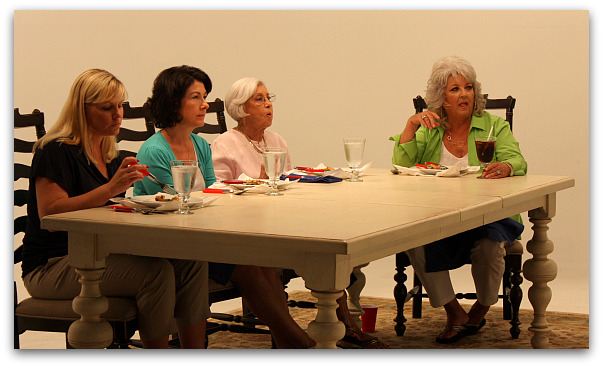 Here I am with the four women who won the RWoP Cook-Off: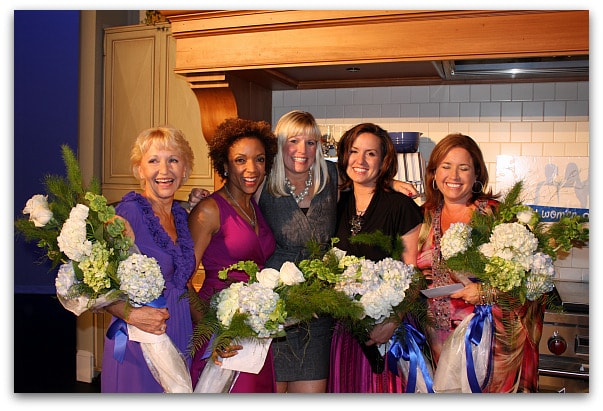 I had the chance to tour Savannah with all of the contestants. We raided Savannah Sweets (and came back to the hotel with a ton of pralines, fudge and taffy!)  We stopped by Polk's Fresh Market, which was a little place full of nice produce and local Savannah treats. I bought fried peanuts (weird), praline toffee (sticky), pecans, corn grits and some fantastically juicy Georgia peaches. This place is worth a stop if you happen upon it.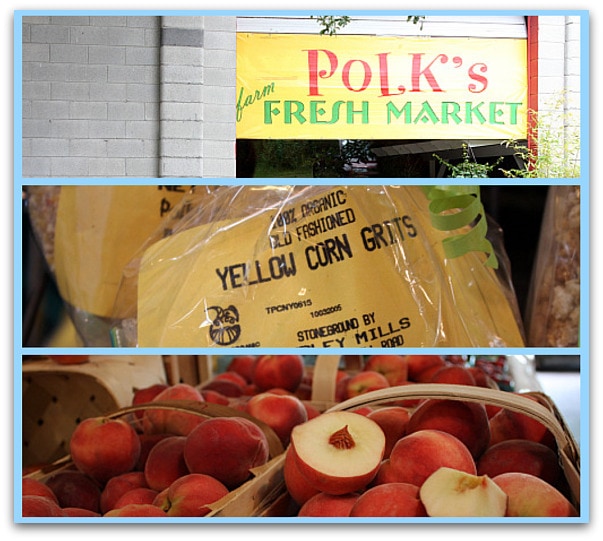 We were shuttled to Paula's Brother's restaurant for lunch: Uncle Bubbas. I had bbq'd oysters and some other assorted deep-fried appetizers (deep fried pickles were not so good). It was my first time ever trying real Southern Sweet Tea (too sweet for me!) I ordered Shrimp & Grits, which was good… but much too heavy to have more than a dozen bites. The Key Lime Pie for dessert was pretty darn delicious.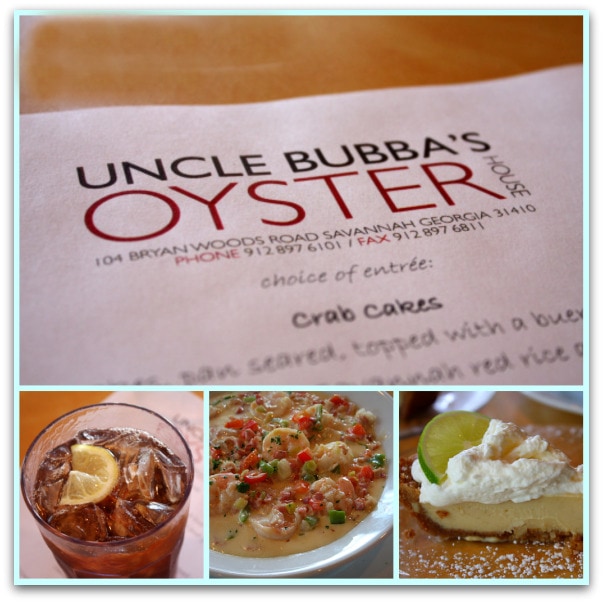 I didn't have the chance to eat at Paula Deen's restaurant, but we were taken to her old house, which is the cooking studio where her shows are filmed. Here are some shots of the house, the indoor kitchen (this should look familiar if you watch her show!) and the outdoor kitchen (I was drooling over this) and the riverfront behind her house. It was a gorgeous place.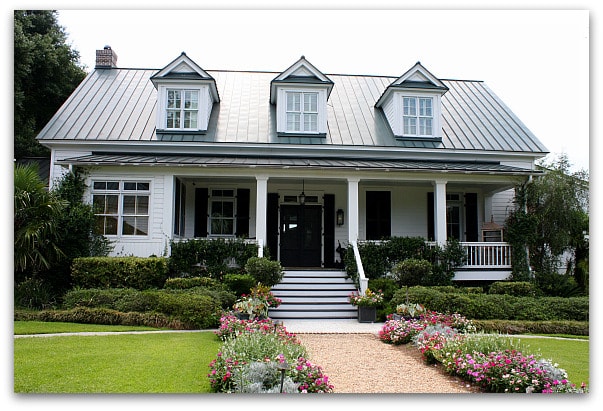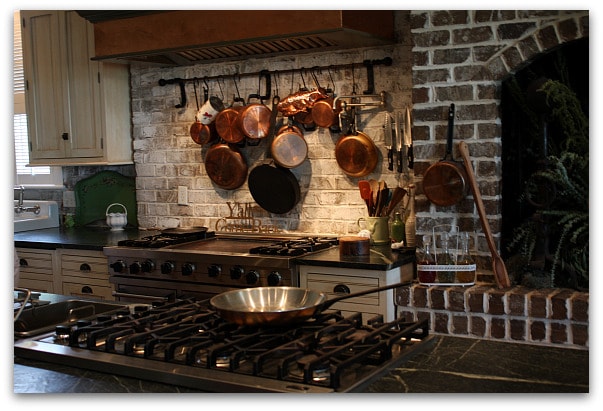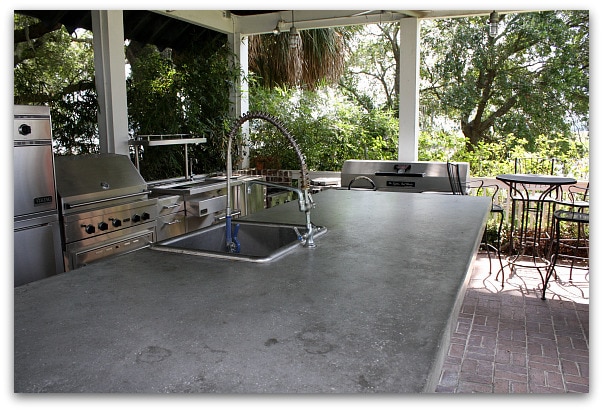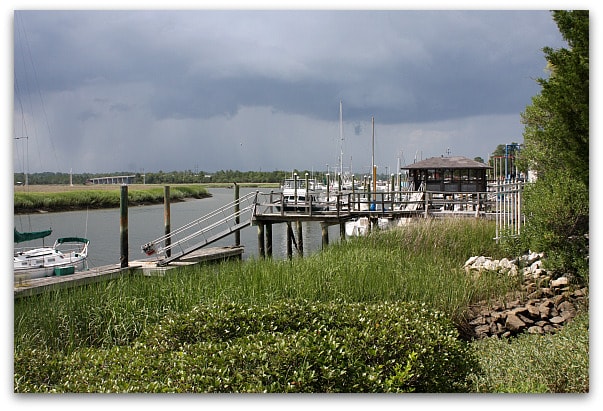 Before we left Savannah, Mandy and I managed to squeeze in a visit to the Back in the Day Bakery, where we had these amazing treats…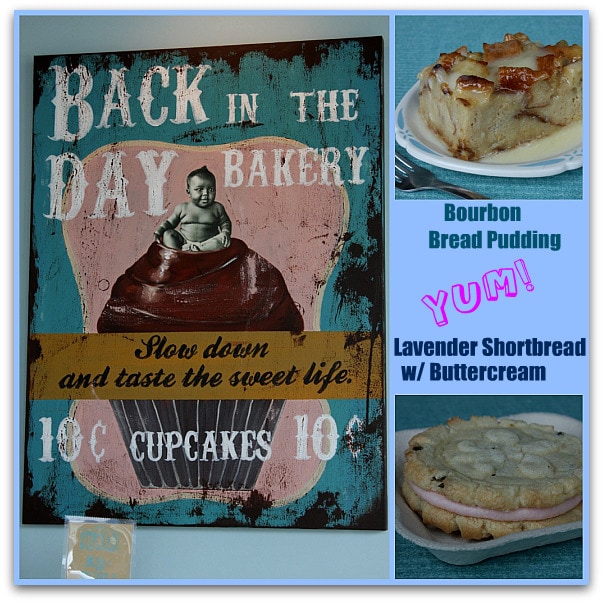 I mentioned before that my husband and son dropped me in Savannah- while they drove on to see D.C. and Gettysburg. I flew up and met them in Philadelphia, PA– where we stayed for just a night. We met a friend in Phoenixville, PA and ate at a little place called Bistro on Bridge. I thought the appetizers there were excellent (Caprese on baguette, prosciutto-wrapped asparagus and many flavors of wings too). I had a flank steak salad for dinner that was outstanding.
We then headed to Seekonk, MA for one quick night. There, we found a pretty good steak & seafood sort of place: The Old Grist Mill Tavern. I stuck with appetizers- lobster-stuffed mushrooms (wow!) and lobster bisque (because when you're in MA, you've got to have lobster, right?) The salad bar was just okay. The atmosphere of the place had a cool downhome vibe, and there was a river with a ton of ducks alongside the restaurant that my son was very excited about.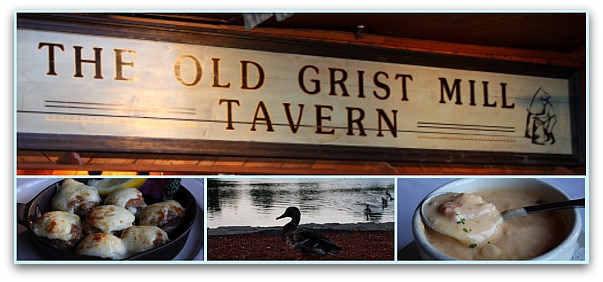 Our final destination across to the Eastern coast was Boston's South Shore, a fabulous little community of beach houses where we stayed put for three weeks to hang out with a sea of relatives and great beach house neighbors. And ate quite a LOT of lobster 🙂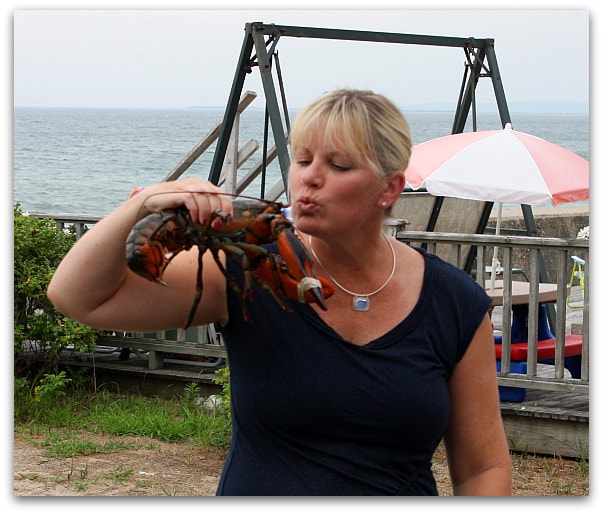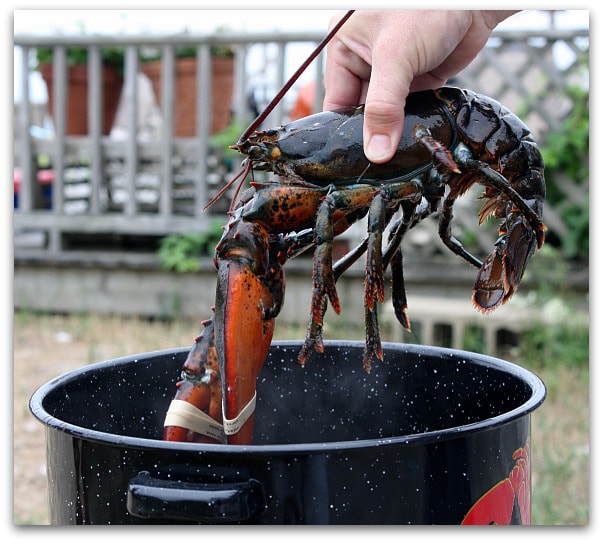 In the South Shore, we ate at our usual favorite places– Haddad's for lobster rolls and good, fried seafood, Arthur & Pats for amazing breakfasts such as frittatas and chocolate waffles, and The Fairview Inn for a nice dinner date out (lunch is too expensive there though). 
Couple of things we learned on this leg of the trip: 
1.  There is a Subway at every single rest-stop you see. It became kind of a joke after a while.
2.  And don't put burned out coals/ash in a paper bag on a wooden deck. We learned that the hard way when coals that we were sure had burned out– weren't. They smoldered for 20+ hours (unbeknownst to anyone) and eventually caught the bag and the deck on fire at 4am.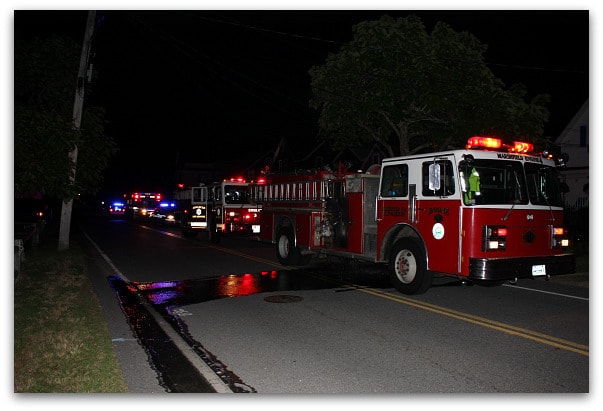 I woke to a crackling sound, which turned out to be the side of the house catching on fire.  We scooted out of the house quickly, with nothing but ourselves.  Luckily, my husband saved the day– he was able to grab the neighbor's hose and get the flames out before it engulfed the old, wooden beach house. The firefighters finally arrived and were there for over an hour making sure that there weren't hidden embers. It turned out to be fairly minimal damage, and we were thankful to have saved the house… and that we were all ok–and that the owners had insurance. We were able to re-enter the house and finish our vacation. Big-time lesson learned.
It was a great trip across… we took about 12 days (and just over 4,000 miles in the car) to reach our destination. Would have liked a little more time to explore the cities we stopped in and visit some food places that were recommended to me (it's tough to do it all!) We took a much longer time to explore on the way back to San Diego– on a more Northern route, which I'll be sharing sometime soon!