Yesterday was a pretty amazing day in this crazy life of mine.  It started with a feature on the front page of the food section of the San Diego Union Tribune.  I opened up the paper to see a HUGE photo of me and my son in our kitchen preparing artichokes.  Such a fun memory we'll get to share!  Then I had lunch with a very good friend from college, and while we were at the restaurant… our hair stylist of the last 25 years called the restaurant and paid our tab (how sweet is that?!)  Because of the article in the paper, I had phone calls, emails and texts streaming in all day, connecting me with friends I hadn't talked to in years.  It was a neat day indeed.  So let's celebrate with cookies.  No, cupcakes.  Okay, let's compromise with both:  Dark Chocolate- Oatmeal Cookie Cupcakes!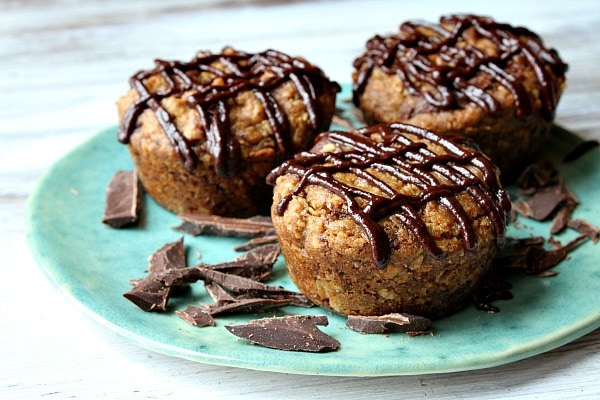 These are best described as an oatmeal cookie dough that is studded with dark chocolate chunks and baked into cupcake tins.  Why not, right?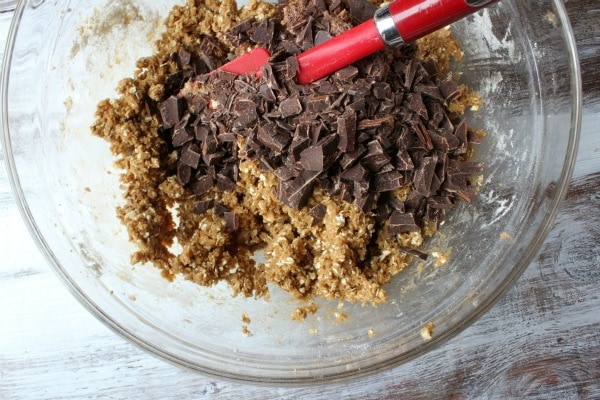 I used a big chunk of Scharffenberger dark chocolate and chopped it into bits, but you can certainly use any sort of chocolate you'd like (or even chocolate chips).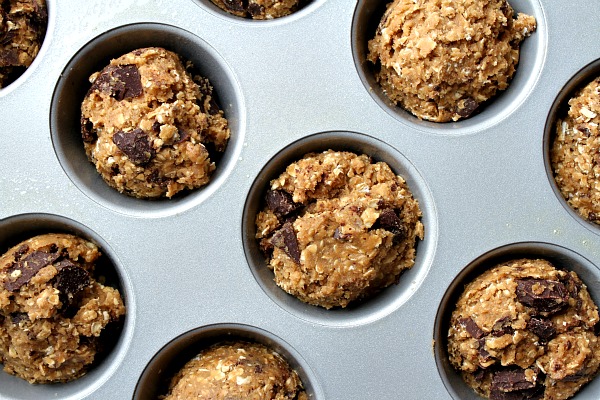 You can stuff the cupcake tins pretty full (I used an ice cream scoop to make things easy).  You'll be able to fill 16 of them.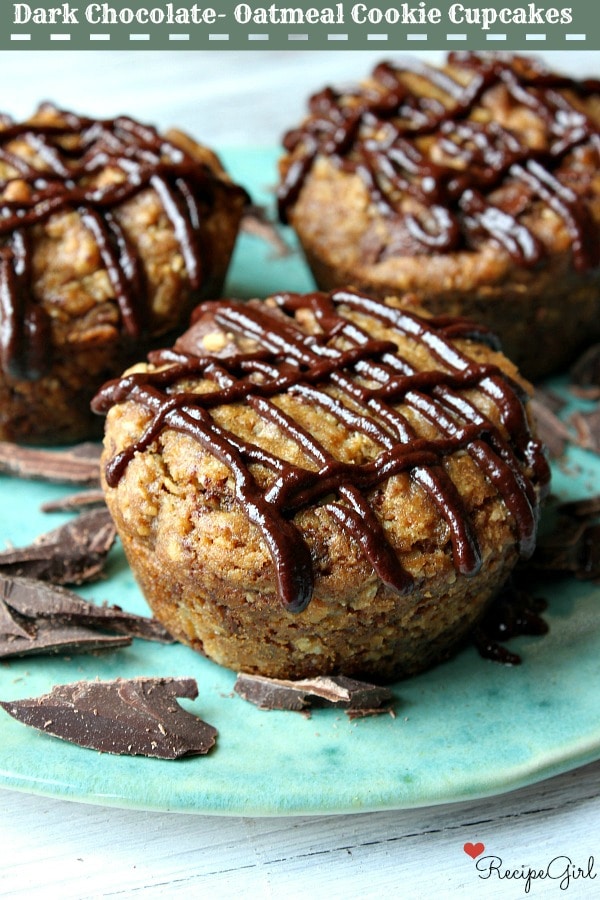 They bake up like a giant cookie.  In fact, it's kinda-sorta a nice, secret ploy to be able to eat a couple of cookies in one dessert.  A drizzle of chocolate ganache on top is the right way to finish it off.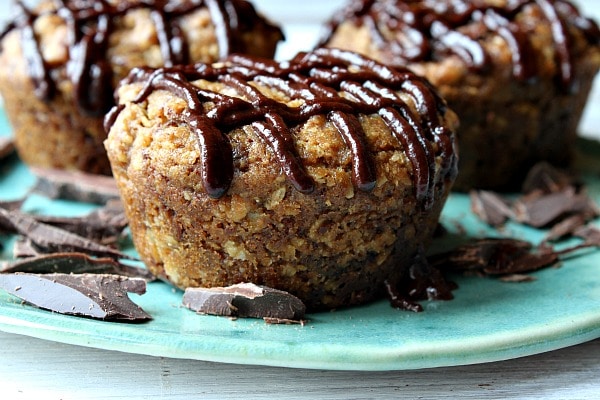 It's not a soft cookie.  It's more like a crunchy cookie cupcake.  They freeze well… just place them in zip baggies and defrost at room temp when the mood for a cookie cupcakes strikes.  Like now.
Cheers to good days- I hope you're having one of those good days too!
P.S. Have you picked up a Recipe Girl Cookbook yet?  I think it might make quite a nice Mother's Day gift, if you're still in the midst of a brain-freeze on what to buy for Mom (or wife… or grandma… or ?)  It's starting to pop up at Barnes & Noble stores and other bookstores too, and online through Amazon, Barnes & Noble and Indie Bound.  I hope you love it as much as I do!
Dark Chocolate- Oatmeal Cookie Cupcakes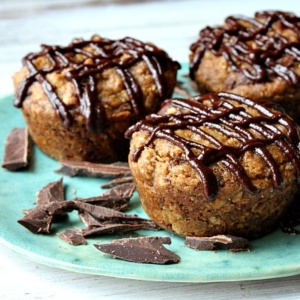 Yield:
16 cookie cupcakes
Prep Time: 25 min
Cook Time: 15 min
Ingredients:
COOKIES:
1 1/2 cups All Purpose Gold Medal® Flour
1 teaspoon baking soda
1/4 teaspoon salt
1 1/2 cups packed brown sugar
1 cup (2 sticks) salted butter
2 teaspoons vanilla extract
1 large egg
2 cups quick-cooking oats
6 ounces dark chocolate bar, chopped into chunks (or use chocolate chips)
GANACHE (optional):
2 ounces dark chocolate bar, chopped into chunks (or use chocolate chips)
1/2 tablespoon cream (whipping cream or heavy whipping cream)
Directions:
1. Preheat the oven to 350 degrees F. Spray 16 muffin tins with nonstick spray.
2. In a medium bowl, whisk together the flour, baking soda and salt. Set aside.
3. In a large bowl, use an electric mixer to mix the sugar and butter until well-combined. Mix in the vanilla and egg. Then mix in the flour and the oats. Stir in 6 ounces of the chopped chocolate. Scoop the batter into the prepared muffin tins, filling each almost full. Bake 15 to 18 minutes, or until the cookie cupcakes are fairly well set and no longer squishy when touched. Remove the cookie cupcakes from the oven and let them cool completely. My best method for removing them cleanly from the pan is to refrigerate the cupcakes in the pan until cool, then use a sharp knife to edge the cookies out of the tins.
4. If you're adding the ganache, combine the chocolate and cream in a small bowl and microwave just until hot. Stir until the chocolate is melted and smooth. Carefully spoon the ganache into a zip baggie, snip a small hole in the corner of the bag, and drizzle ganache onto each cookie cupcake. Store the cookie cupcakes in a single layer in a covered container at room temperature (or in the freezer).