For my neighborhood BBQ last weekend, I wanted to serve up some fresh strawberries with whipped cream and pound cake (a strawberry shortcake kind of dessert).  Since I've never, ever, EVER been a fan of the ridiculous, bland-tasting, icky cake they sell in grocery store bakeries, I was bound and determined to make my pound cake homemade.  It was the night before my BBQ, and I was in need of a cake that was actually going to turn out okay… one that wouldn't sink or overflow its pan or be dry and inedible.  I was really happy to come up with this version, which I've properly dubbed as The Easiest Pound Cake Recipe Ever.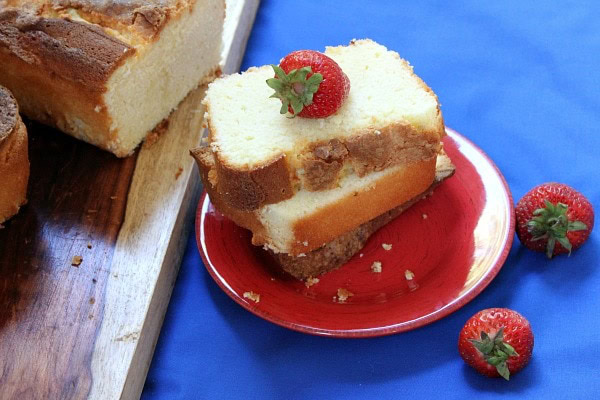 It's easy because it's a mix-and-bake kind of recipe, you don't have to pound the pan on the counter to release air bubbles, and you don't need any special kind of pan either.  In this recipe, the cakes are made in two 5×8-inch loaf pans.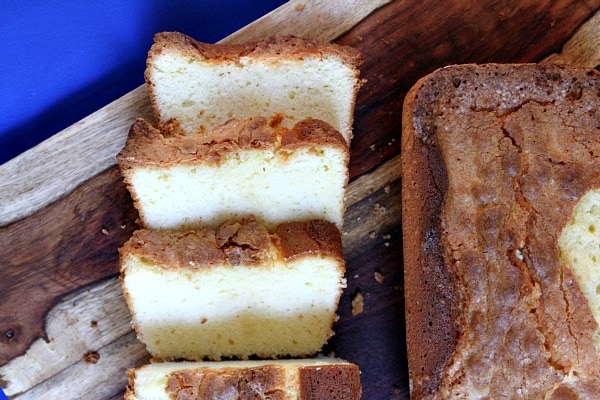 And it's perfectly delicious because there is CREAM CHEESE in the recipe.  The cakey part is rich and delicious, and the top of the cake has a crust that you want to peel off and devour.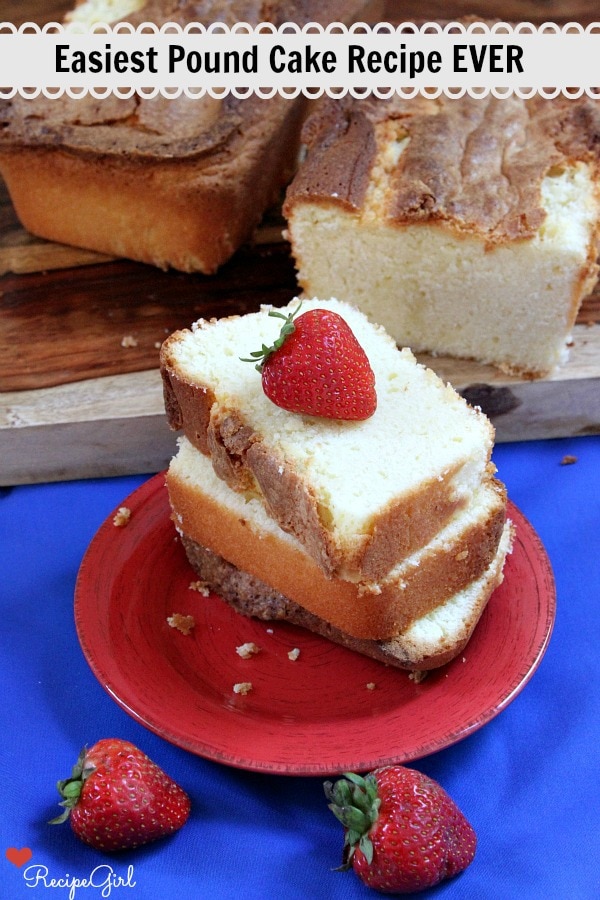 This recipe conveniently makes two cakes.  Eat one now and freeze one for later (or eat both now!)  It's nice to have one in the freezer as an "emergency dessert"… when people are stopping by at the last minute and you don't have anything to offer them!  Pull this out of the freezer and serve it with fresh fruit and freshly whipped cream.  I always keep heavy cream for whipping in my refrigerator in the summer (it has a pretty long shelf life).  And fruit is abundant in my house all year long, but especially in the summer.  It's an easy dessert to pull-off, even if you aren't a baker or if you aren't too terribly skilled in the kitchen.  I'm tellin' ya… it's the Easiest Pound Cake Recipe Ever!
Easiest Pound Cake Recipe Ever
Yield:
2 loaves (about 16 slices)
Prep Time: 15 min
Cook Time: 1 hour 15 min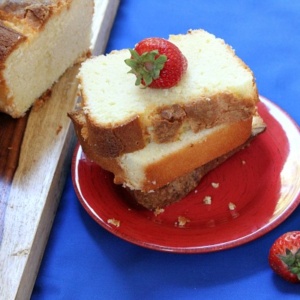 Ingredients:

1 1/2 cups (3 sticks) unsalted butter, softened
One 8-ounce package cream cheese, softened
3 cups granulated white sugar
1 1/2 teaspoons vanilla extract
1/2 teaspoon salt
6 large eggs (see Tips)
3 cups sifted cake flour (sift, then measure)- see TIPS below if you don't have cake flour on hand

Instructions:

1. Preheat oven to 325 degrees F. Spray two 8x5-inch loaf pans with nonstick spray (best to use "baking spray," if you have it).

2. In a large bowl, use an electric mixer to cream the butter, cream cheese and sugar until light and fluffy. Add the vanilla and salt. Add the eggs, one at a time, and beat after each addition. Gradually add the flour, 1 cup at a time.

3. Divide the batter between the prepared pans. Bake 60 to 75 minutes or until it tests done. Toothpick inserted in the middle should come out clean. Let the cakes cool completely before slicing. If you'd like to freeze the cake, wrap in plastic wrap, then wrap in foil and freeze until ready for use (up to 2 months).

Tips:

*Here's a LINK to show you HOW TO MAKE CAKE FLOUR, in case you don't want to buy it or you don't like to have it on hand.  It's super easy to make at home- using just flour and cornstarch.
*I live at 6,000 feet. The only modification I make to this recipe at this elevation is to use extra large eggs. If you live below that, you can follow the recipe as written. If you live above that elevation, HERE'S A WEBSITE that has some tips for cooking at higher elevations.