Oh gosh, I'm so happy to be sharing a new favorite pancake recipe with you! > FLUFFY PEANUT BUTTER PANCAKES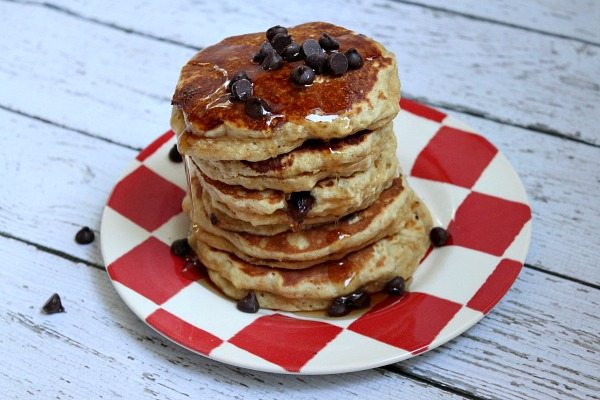 This is one of those, "Hey Mom, it's Sunday AM and it would be really, really nice of you to make us pancakes for breakfast!" kind of recipes.  The best thing about pancakes is that they're pretty versatile.  I mess around with my best base recipes all the time to create new twists.  This one is for peanut butter lovers.  If you're into the whole peanut butter + chocolate thing (like my boys), then you can certainly sprinkle in some chocolate chips too.  These were last Sunday's pancake breakfast treat!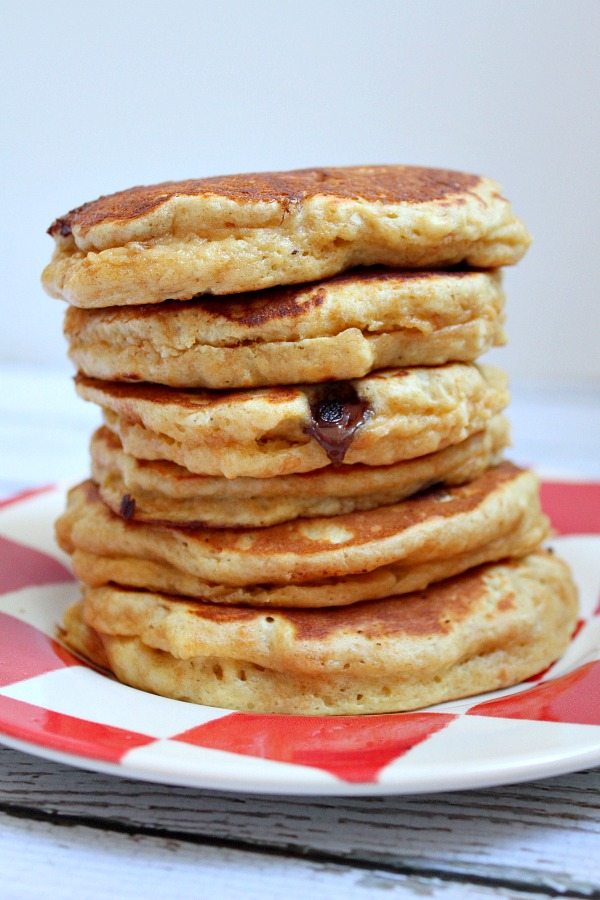 See that major fluffy factor?  These guys seriously puff up and remain puffy even after cooling a bit.  That makes them quite filling.  You don't need a stack this big, for sure!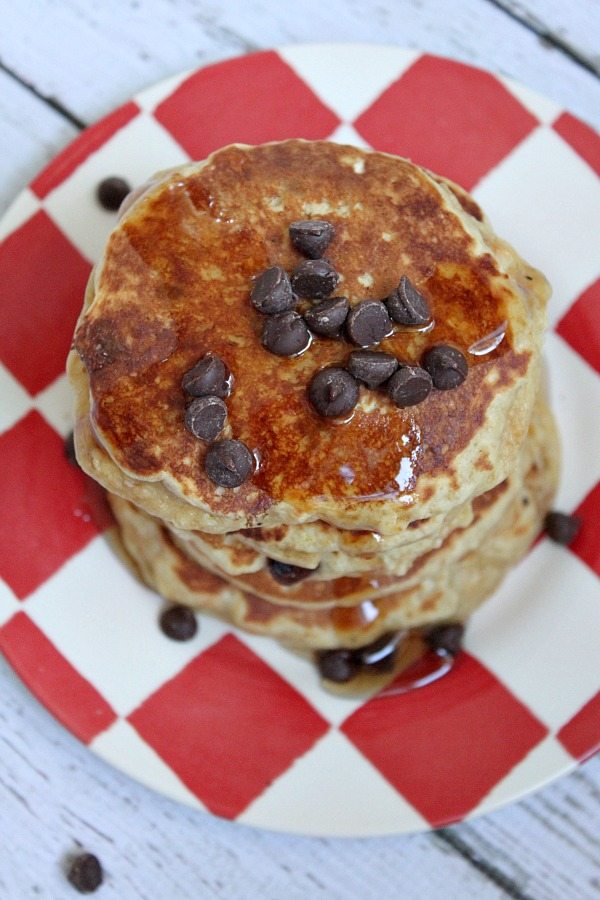 Extra chocolate chips anyone?  Always a good thing.  Unless you don't like chocolate, of course.  Then it's not such a good thing.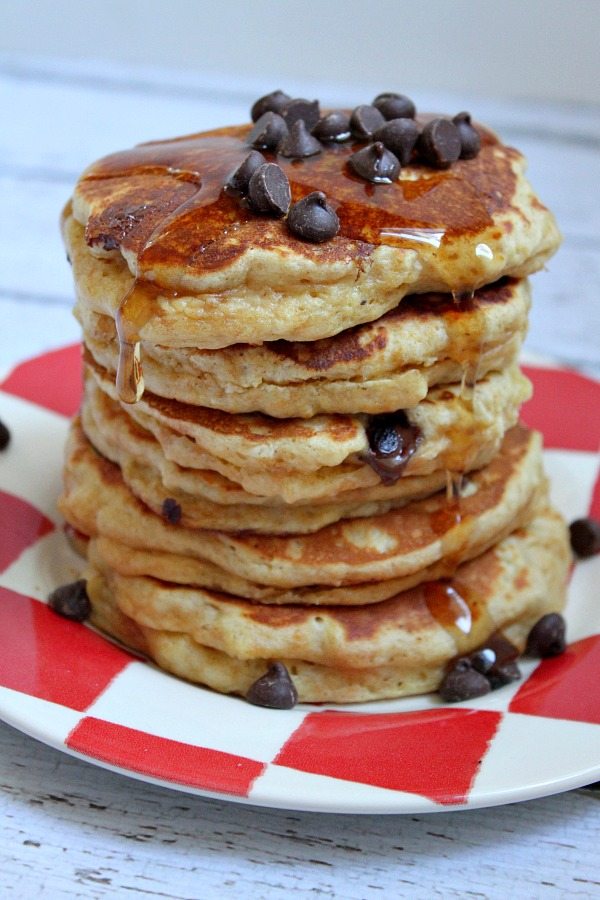 Drizzles of warm maple syrup work perfectly with peanut butter pancakes.  My boys were very appreciative of this new pancake creation.  Their review:  "We loved these fluffy pancakes with a hint of peanut butter flavor.  They were a nice variation of the regular old plain pancake.  When will you be making them again?"
I'd say they were a hit!  Will you be trying them this Sunday for your family?
Fluffy Peanut Butter Pancakes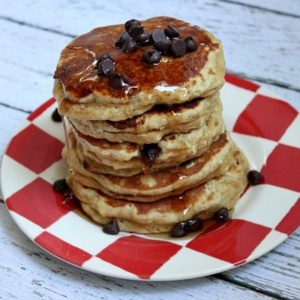 Yield:
Six 4-inch pancakes
Prep Time: 10 min
Cook Time: 12 min
Ingredients:
1 cup all-purpose flour
1 tablespoon granulated white sugar
1 teaspoon baking powder
1/2 teaspoon baking soda
1/2 teaspoon salt
3/4 cup buttermilk
1/3 cup creamy peanut butter
1 large egg
1 teaspoon vanilla extract
chocolate chips (totally optional)
warmed maple syrup, for serving
Directions:
1. In a medium bowl, whisk together the flour, sugar, baking powder, baking soda and salt.
2. In a separate, larger bowl, whisk together the buttermilk, peanut butter, egg and vanilla. Whisk until peanut butter is broken up and mixed well into the other liquids. Stir in the dry ingredients and mix just until moistened. Don't mess with the batter beyond that.
3. Heat a large skillet or griddle to medium heat. Coat with nonstick spray or a little bit of butter. Spoon about 1/3 cup of batter onto the heated pan and spread gently into a circle (I like to use a spring ice cream scoop- it's the perfect size). If you're using chocolate chips, sprinkle a few on top of the batter. Cook until bubbles begin to appear on the surface and the edges are dry. Flip and cook the other side until golden brown and cooked through in the middle. Repeat with remaining batter. Serve with syrup.
Tips:
*If you do not have buttermilk in your refrigerator, here's a quick fix > Measure 3/4 cup milk into a bowl. Add 1 tablespoon white vinegar. Let it sit for 5 minutes. This "soured milk" is a perfect sub and quick-fix for buttermilk.
*If you are allergic to peanut butter, try another nut butter in its place.