Today, I'm sharing a Gettysburg Hotel Review in Gettysburg, Pennsylvania: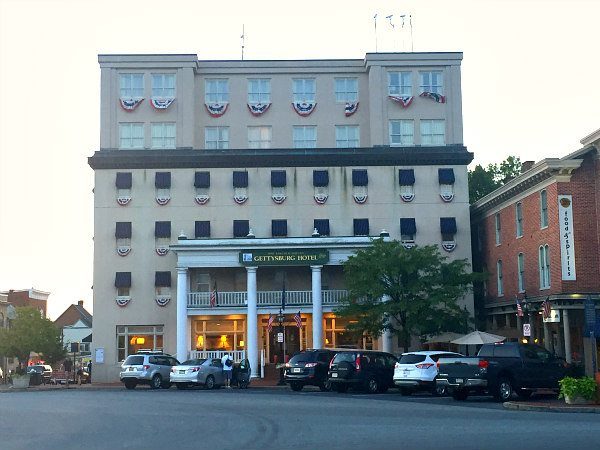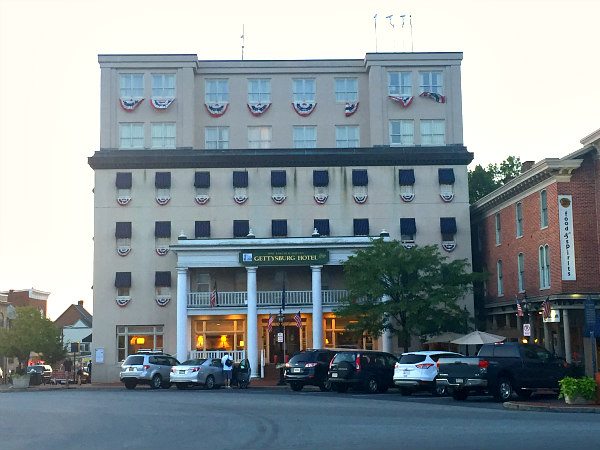 This past summer, we were on the East Coast for three weeks.  We spent a couple of weeks in the South Shore of Boston (as we do every summer), and then we traveled south to let my son participate in a lacrosse tournament.  The tourney was at Gettysburg College in Gettysburg, Pennsylvania… so we did some research, asked around and settled on staying at the historic Gettysburg Hotel – established in 1797!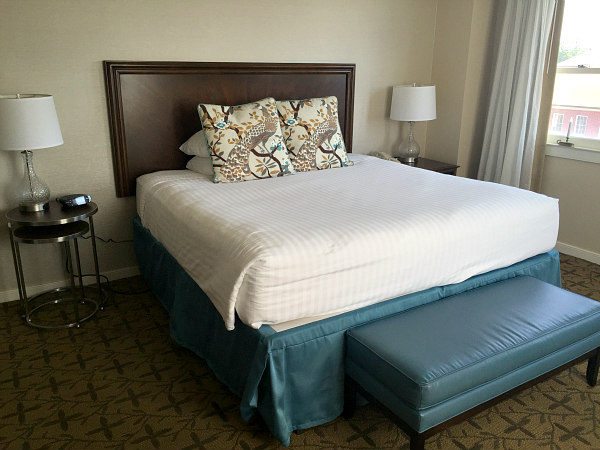 The hotel had recently been renovated.  Our room was clean, spacious and quiet.  The wifi connection was strong.  The bed was very comfortable.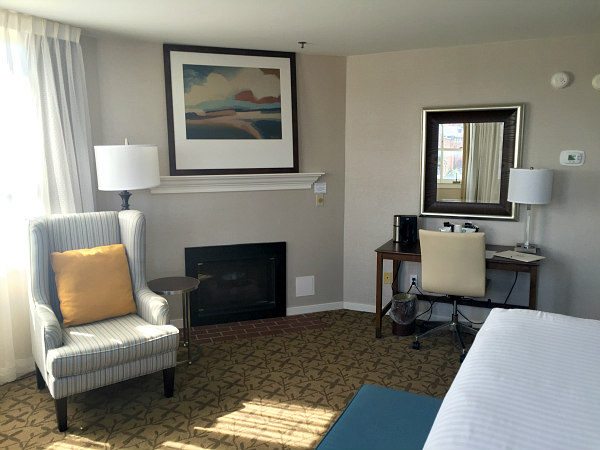 That cozy fireplace would be awesome to fire up during a winter stay at this hotel.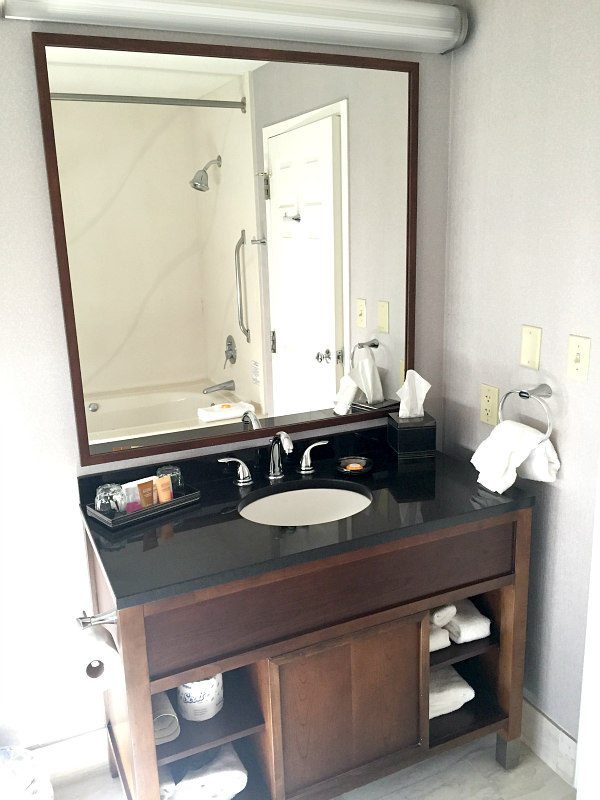 Here's a peek at the bathroom.  The only thing I didn't care for in the room was that there was a jacuzzi tub… which was a little difficult to step in and out of.  I'd ask for a room with a regular tub for older folks, or if you tend to be unstable on your feet.  Plus, I had jacuzzi tubs for years in two of my houses and never used them.  Not a big deal, but some people might enjoy them!
This was the view from our room- right smack-dab in the center of town!  We loved that.  Being able to walk to restaurants, shops and even the Gettysburg battlefield makes this a prime location to stay.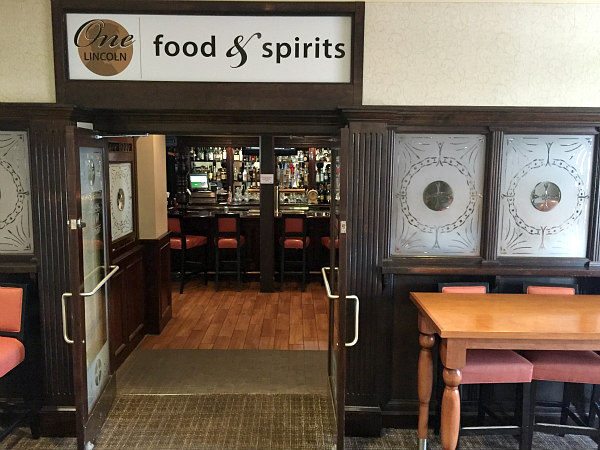 Although we did not have a chance to dine at the restaurant in the hotel:  One Lincoln Food & Spirits,  it was packed every time we walked by- apparently a pretty popular place to eat in town.  A few things on their dinner menu:  three onion soup with provolone, gruyere and French bread croutons, Maryland crab macaroni & cheese, stuffed breast of chicken with mushroom risotto and pan gravy and much more.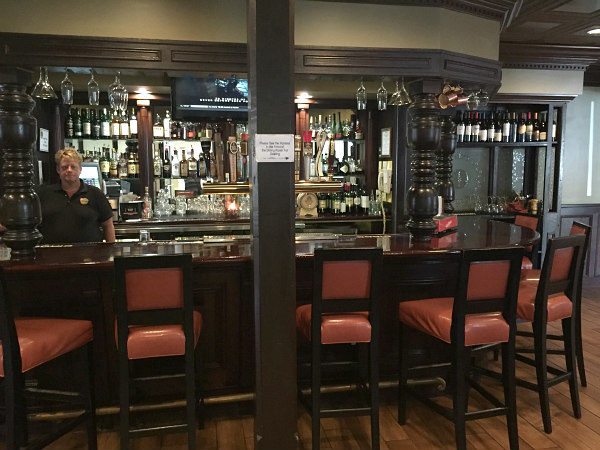 We did visit their bar and enjoyed some excellent appetizers. The bartender even made me my own custom drink based on my favorite things!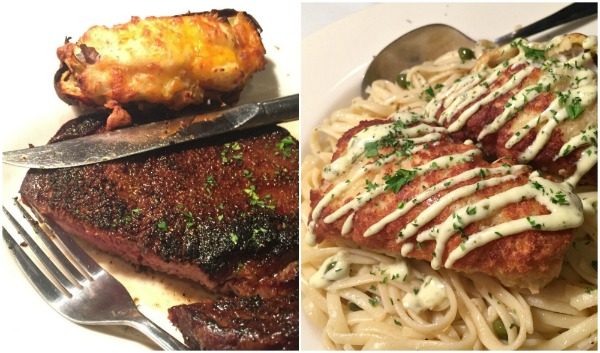 On the first night, we chose to dine at a restaurant that was recommended by a friend of ours:  Blue Parrot Bistro.  The food was decent but nothing special.  I'd say it's a good restaurant, but it's definitely not fancy or gourmet.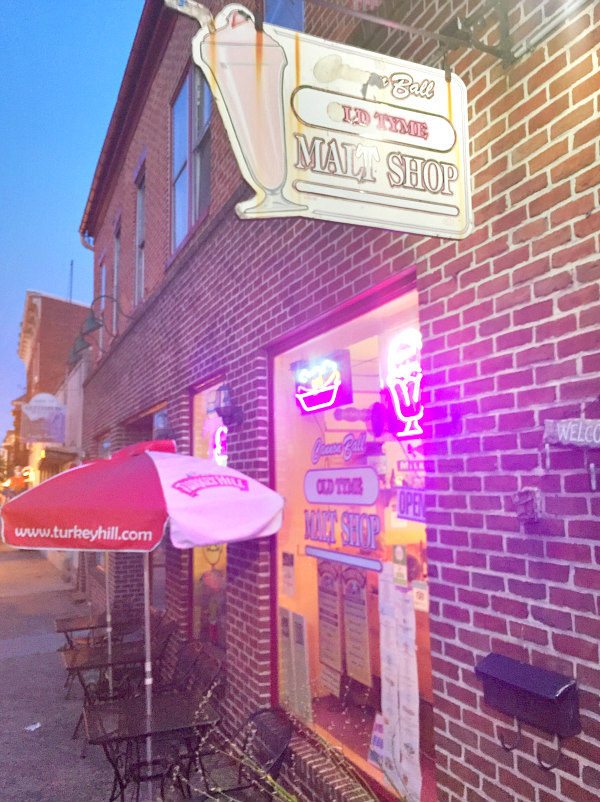 This little malt shop is just around the corner from the hotel.  It's the perfect stop for dessert at the end of a long, hot day!  Gettysburg generally has super hot weather in the summer.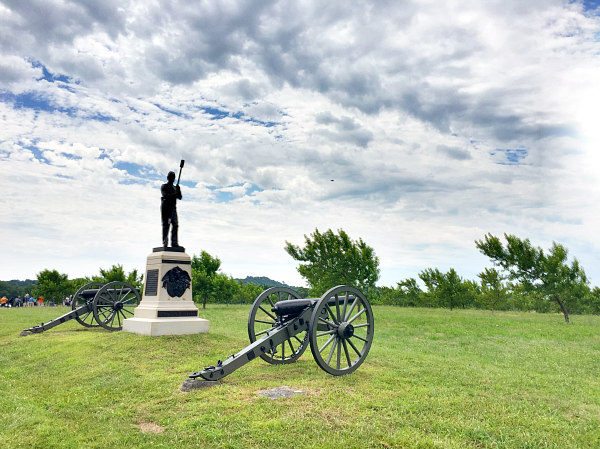 We were pretty busy with the lacrosse tournament while we were there, but we did get a chance to get a peek at the Gettysburg National Park/Battlefield and monuments.  It's definitely a must-see for everyone.  You can also visit the Gettysburg Museum and Visitor Center, displaying Civil War artifacts, and the Gettysburg National Cemetery, where a memorial marks the site of Abraham Lincoln's 1863 Gettysburg Address.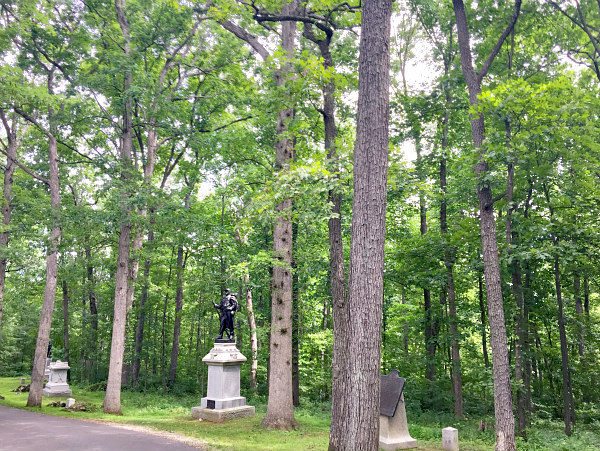 Some history for you:  The Battle of Gettysburg was fought July 1-3, 1863 by Union and Confederate forces during the American Civil War.  The battle involved the largest number of casualties during the entire war- 46,000 to 51,000.  On November 19, President Lincoln used the dedication ceremony for the Gettysburg National Cemetery to honor the fallen Union soldiers and redefine the purpose of the war in his historic Gettysburg Address.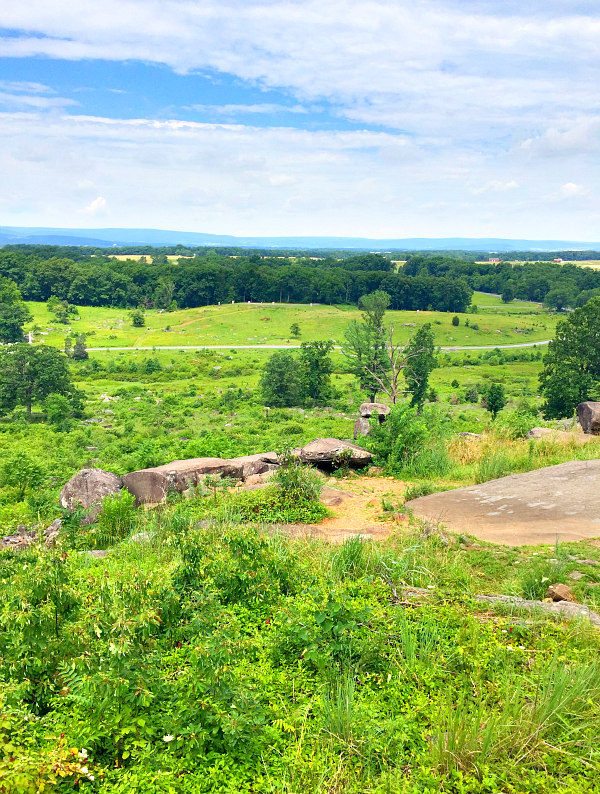 It's truly surreal to stand on top of this hill (Little Round Top) and gaze down at the beautiful valley… and realize this was the site of one of the bloodiest battles ever.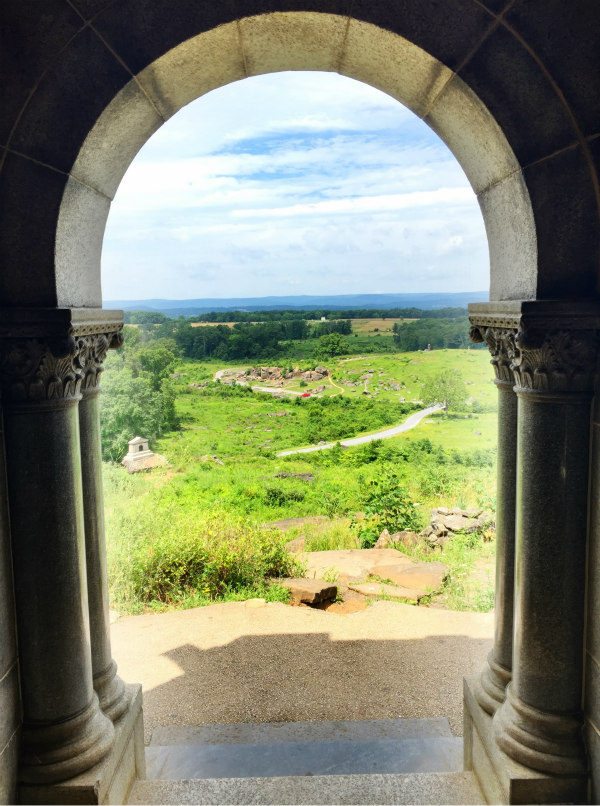 There are thousands of monuments all over this preserved property.  Visiting the battlefield- now a protected national park- was a tremendous experience in learning about this tragic battle in our nation's history.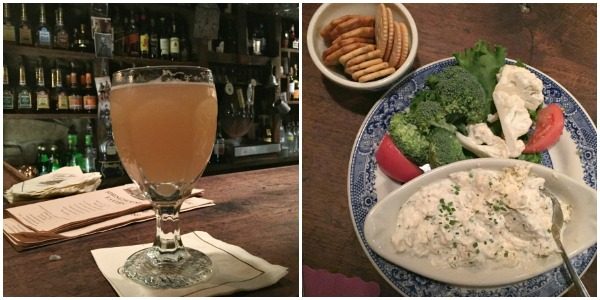 This place is a must-visit if you're in Gettysburg:  The Dobbin House Tavern (est. 1776).  We dropped in for a beer and some crab dip.  It gets very busy, so if you are dining there then it is best to secure a reservation.  If you're dropping in, it's best to get there right when it opens because a rather long line will form outside… depending on the time of year.  The bar is underground- totally cool atmosphere and old-time clothed bartenders.  Also: check out the secret underground railroad slave hideout.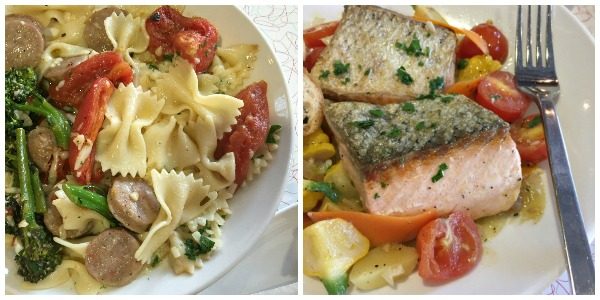 The best dinner we had while in Gettysburg was at Food 101.  This is a small restaurant that I'm going to call a "hidden gem."  The menu is small and wonderful, and it changes often.  They do not take reservations, so you just have to take a chance that they'll have a spot open.  It's BYOB with no corkage fee, so bring your favorite booze with you!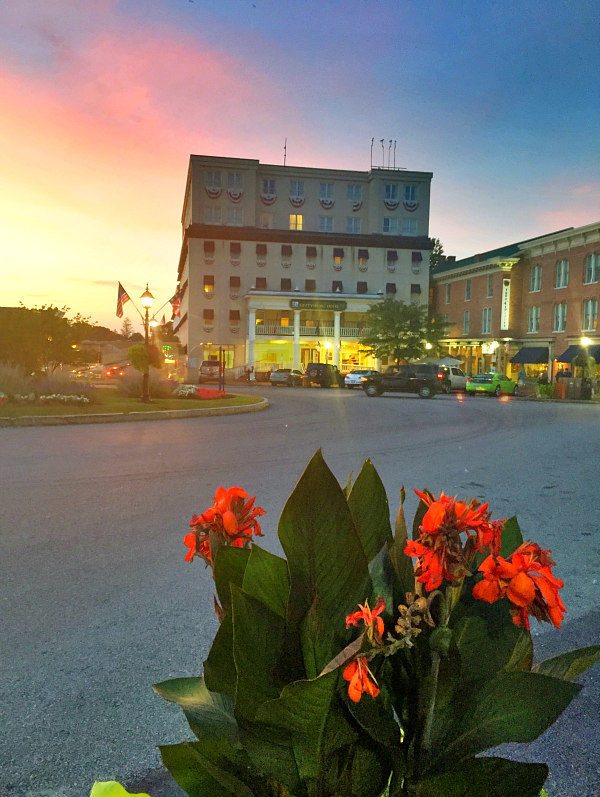 We really enjoyed our time in Gettysburg and our stay at the Gettysburg Hotel.  The hotel was in the perfect location for getting around to nearby attractions, the parking was easy, and we loved the fact that we could walk to so many restaurants.  OH, and I almost forgot… stop by Mr. G's Old Fashioned Ice Cream Shop before you leave town- YUM.  Add Gettysburg to your Bucket List!
Here are a few more suggested restaurants to try while in Gettysburg:
Hotel Information:  Gettysburg Hotel~ One Lincoln Square, Gettysburg PA 17325
Phone: 717-337-2000 ~ website:  http://www.hotelgettysburg.com/
Disclosure:  The Gettysburg Hotel was able to offer me a press rate during our stay with them.  All opinions shared about this hotel (as always) are my own.