Gingerbread Cupcakes with Pumpkin Frosting
This recipe has been featured in a post on The Recipe Girl blog: Kid Friendly Halloween Recipes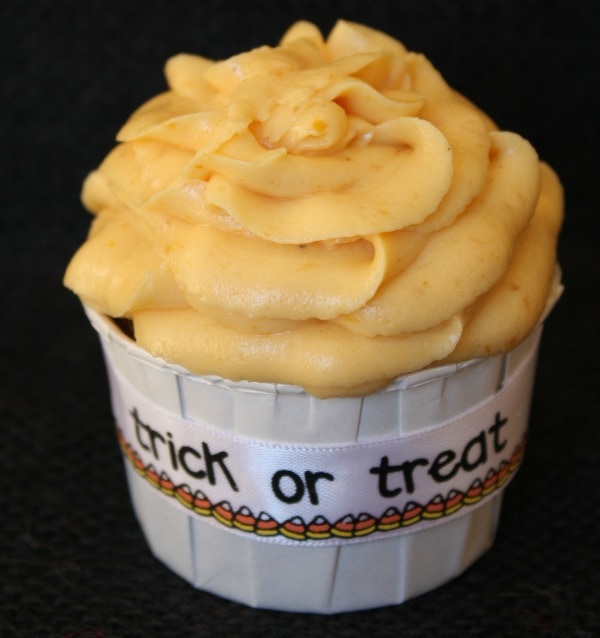 Yield: 24 mini cupcakes or 12 regular-sized cupcakes
Prep Time: 25 min
Cook Time: 20 min
Gingerbread Cupcakes w/ Pumpkin Frosting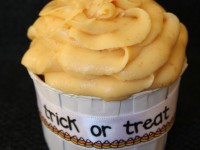 Ingredients:
CUPCAKES:
5 tablespoons unsalted butter, softened
1/2 cup granulated white sugar
1/2 cup unsulfured molasses
1 large egg
1 large egg yolk
1 1/4 cups all-purpose flour
1 tablespoon Dutch process cocoa powder
1 Tablespoon ground ginger
1 teaspoon ground cinnamon
1/2 teaspoon ground allspice
1/2 teaspoon ground nutmeg
1/4 teaspoon ground cloves
1/4 teaspoon salt
1 teaspoon baking soda
1/2 cup hot milk
FROSTING:
One 8-ounce package of cream cheese, softened
1/4 cup canned unsweetened pumpkin purée
1/4 teaspoon ground nutmeg
1/2 teaspoon vanilla extract
3 1/2 cups powdered sugar (more if you prefer to pipe the frosting on instead of spreading)
Directions:
1. Preheat oven to 350 degrees F. Line muffin tins with cupcake liners. Spray cupcake liners lightly with nonstick spray.
2. Cream butter and sugar with electric hand mixer. Add the molasses and the egg and egg yolk.
3. Sift together the flour, cocoa powder, ginger, cinnamon, allspice, nutmeg, cloves and salt. Dissolve the baking soda in the hot milk. Add the flour mixture to the creamed mixture and stir until just combined. Stir in the hot milk mixture. Pour the batter evenly into cupcake papers.
4. Bake for 20 minutes or until slightly springy to the touch. Allow to cool a few minutes in the pan and remove to a rack to cool.
5. In a large bowl, mix frosting ingredients with electric hand mixer. Spread onto cooled cupcakes, or pipe on with a piping bag and a tip.
Tips:
*To make things even easier, purchase a boxed gingerbread mix, prepare the cupcakes and frost w/ the homemade pumpkin frosting (these cupcakes will be better than the boxed mix though!)
*If your frosting is too thin, add more powdered sugar. If it's too thick, add more pumpkin puree.
Comments