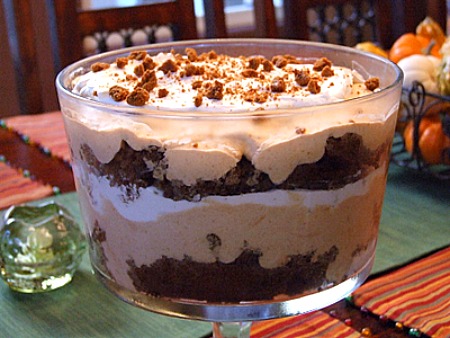 Pumpkin- Gingerbread Trifle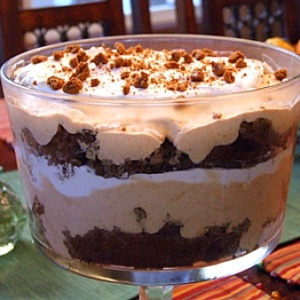 Festive for Thanksgiving or Christmas!
Yield:
12 to 14 servings
Prep Time:40 min
Cook Time:25 min
Ingredients:
One 14-ounce package gingerbread mix
One 3-ounce box instant vanilla pudding mix
One 15-ounce can sweetened pumpkin pie filling (not puree)
1/4 cup packed brown sugar
1/4 teaspoon ground cinnamon
One 6-ounce container frozen whipped topping
1/2 cup broken gingersnaps, optional
Directions:
1. Bake gingerbread according to package directions; cool completely.
2. Meanwhile, in a large bowl prepare pudding according to package directions. Stir the pumpkin pie filling, sugar, and cinnamon into the pudding.
3. Crumble 1/2 of the gingerbread into the bottom of a trifle bowl or another medium-sized glass bowl. Pour 1/2 of the pudding mixture over the gingerbread, then add a layer of whipped topping. Repeat with the remaining gingerbread, pudding and whipped topping.
4. Sprinkle the top with crushed gingersnaps, if desired. Cover and refrigerate overnight, or serve immediately.