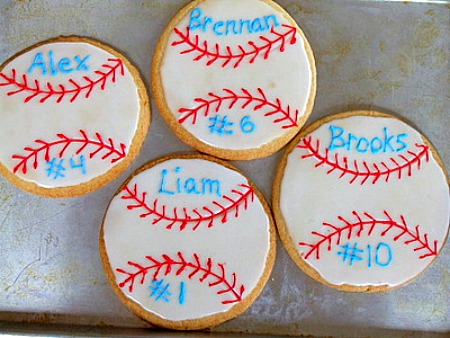 Glace Icing
Yield:
2 cups
Prep Time:10 min
Ingredients:
1 pound powdered sugar
1/4 cup + 2 Tablespoons milk
1/4 cup + 2 Tablespoons light corn syrup
2 teaspoons vanilla extract (or almond, if desired)
Directions:
1. In a mixing bowl, mix sugar and milk first. Add corn syrup just until combined. Divide (if desired) to add extract for flavor and add color as needed.
2. Ice cookies as desired. Cookies sometimes take up to 12 hours to dry completely. Once dry, you should be able to stack them without ruining the icing.
Tips:
*I like to use this icing recipe with No Fail Sugar Cookies.
*This type of icing is very forgiving- experiment with consistency. You don't want it too runny or too stiff. If it's too runny, add more sugar, too thick... add more milk.
*Remember when you add color that it is easier to put it in than to take it out!
*This icing takes a long time to dry after you put it on a cookie, but until then- it turns to concrete in seconds. Keep your containers covered until you are ready to use it.
*All of these cookie tips come from a wonderful resource: www.kitchengifts.com