It's always fun to have breakfast muffins around. These are delicious:  Glazed Strawberry Lemon Streusel Muffins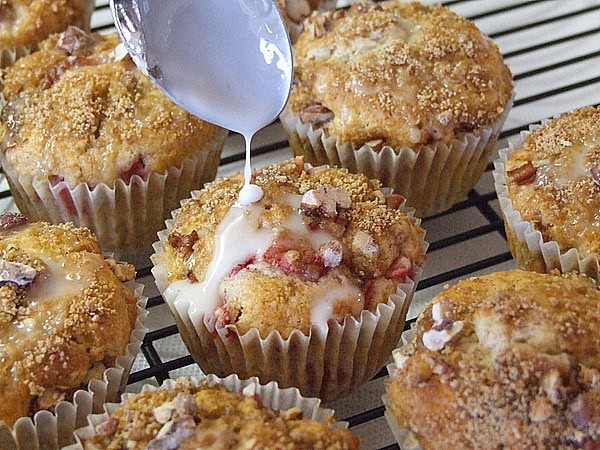 These muffins are filled with freshly chopped sweet strawberries in a cinnamony-lemony batter.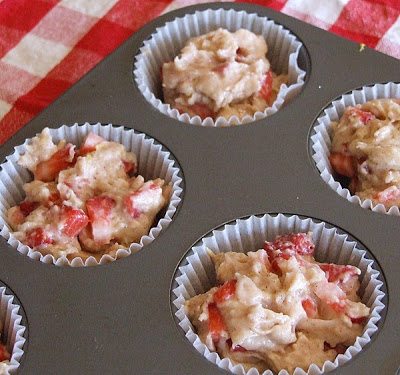 A lemon-streusel bakes into the top of the muffin.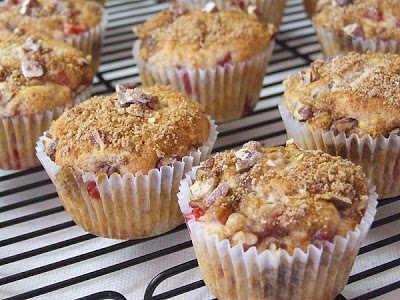 And a lemony glaze is drizzled onto the warm muffins, allowing it to soak in and create a delicious coating.
Strawberry Lemon Streusel Muffins
Nice, sweet breakfast muffin. The strawberry flavor comes through with a small touch of lemon.
Yield:
12 muffins
Prep Time: 25 min
Cook Time: 20 min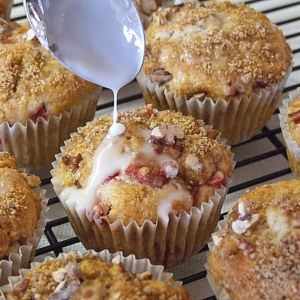 Ingredients:

LEMON STREUSEL TOPPING:
1/4 cup chopped pecans
1/4 cup packed light brown sugar
2 Tablespoons all-purpose flour
1/2 teaspoon ground cinnamon
1/2 teaspoon grated lemon zest
1 Tablespoon melted butter

LEMONY GLAZE:
1/2 cup powdered sugar
1 Tablespoon freshly squeezed lemon juice

MUFFINS:
1 1/2 cups all-purpose flour
1/2 cup granulated white sugar
2 teaspoons baking powder
1 teaspoon ground cinnamon
1/4 teaspoon salt
1/2 cup milk
1/2 cup (1 stick) butter, melted
1 large egg
1 1/2 cups fresh strawberries, chopped
1 teaspoon grated lemon zest

Instructions:

1. Preheat oven to 375°F. Paper-line twelve 2 1/2-inch muffin cups.

2. Prepare Lemon- Streusel Topping: Combine all ingredients for streusel and stir until crumbly. Set aside.

3. Prepare Lemony Glaze: Combine sugar and lemon juice in small bowl, stirring until smooth. Set aside.

4. Combine flour, sugar, baking powder, cinnamon and salt in a large bowl. Combine milk, butter and egg in small bowl until well blended. Stir into flour mixture just until moistened. Fold in strawberries and lemon peel. Spoon evenly into prepared muffin cups. Sprinkle Lemon Streusel Topping evenly over tops of muffins.

5. Bake 20 to 25 minutes or until toothpick inserted in center comes out clean. Remove from pan. Cool on wire rack for 10 minutes. Drizzle lemony glaze over tops of warm muffins. Serve warm or cool completely.