Our Gourmet Club met last weekend for another one of our fabulous dinner parties. We have 11 couples in our club and we meet for dinner once a month. This time it was our turn to host, and I chose a Greek theme. The hosts are responsible for planning the whole menu, preparing the main dish and then doling out the remaining recipes to the other couples. I know that 22 people sounds a little crazy for a dinner group, but not everyone attends every single dinner so we usually end up with fewer than 22. For our Greek party, we had 16 attending.
16 ended up being perfect- I was able to seat 8 in our dining room: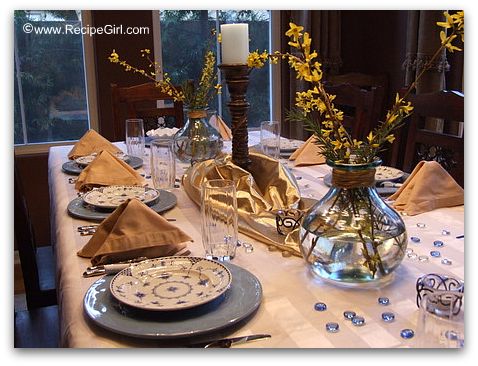 And 8 in our kitchen: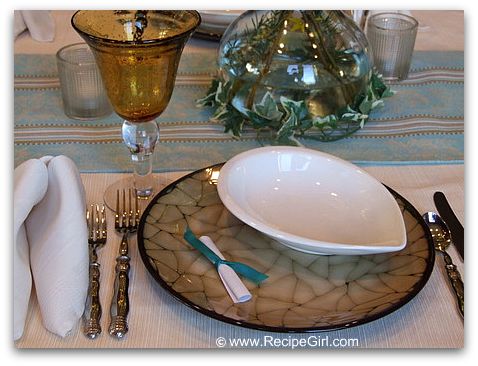 I have a bit of an obsession with buying all kinds of dishes, linens, glassware, etc. I have loads of patterns & colors, and I love to mix & match.
My husband and I fully intended to wear togas at the party… but we had some costume malfunctioning goin' on and had to throw on regular clothes at the last minute!  In keeping with the theme, we did play some rather festive Greek music.
Since there were so many recipes involved in the making of this dinner party, I'm going to share them in three posts. Today I'm sharing the drinks and appetizers. Here's what the menu looks like so far (and I'll add to it in the next post).  Each of the titles are linkable to the recipes.
Greek Dinner Party:

Cocktail:
Greek Mojitos

Appetizers:
Marinated Eggplant with Capers & Mint
Goat Cheese with Olives, Lemon & Thyme
w/ Crisp Rosemary Flatbread
Dried Fig Souvlaki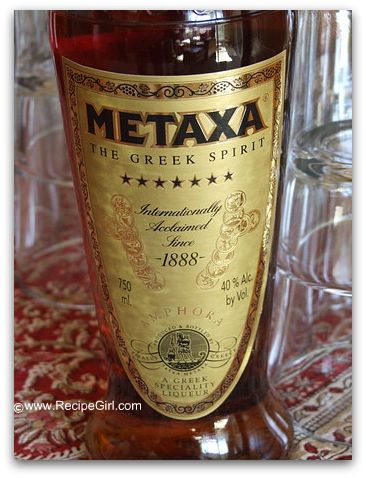 We started with the drinks.  Everyone brought plenty of wine- some actually were able to get their hands on 'Greek' wine.  I wasn't so lucky.  None of the wine shops I went to carried Greek wine.  So we served Greek Mojitos instead.  Typical mojito recipes are made with rum.  Greek mojitos are made with Metaxa (a Greek liqueur), which is much easier to find than the Greek wine!

The Greek Mojitos were good… making them as directed, they were a little sour… so my husband cut down on the lemon/lime juice a bit and they were just right- a little sweeter.
We had three appetizers- all very good: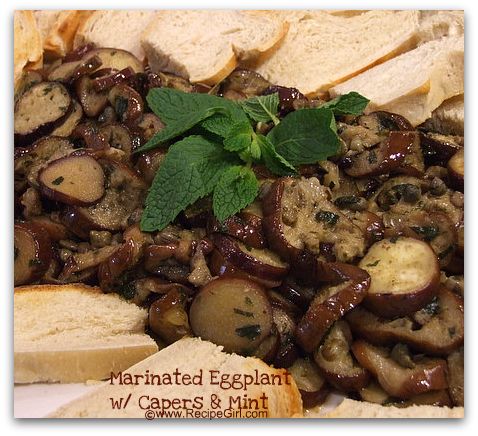 <
This one was amazing. The men were gathered around this platter gobbling it up. I heard many raves, and I thought it was excellent too. We served the eggplant with slices of toasted baguette. I wouldn't hesitate to make this for any party- no need to be Greek!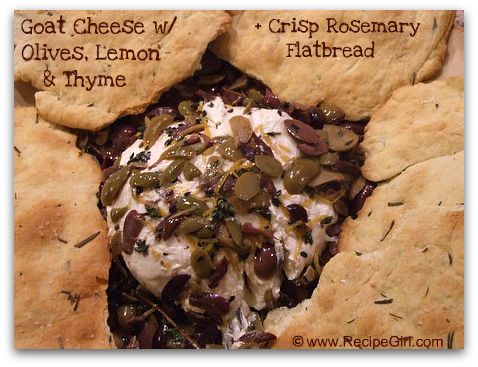 This one was super easy to make- both the goat cheese and the flatbread crackers. We kept the flatbread in big chunks, and everyone broke off their own shards to their desired size and spread the goat cheese onto the cracker. This was a delicious appetizer too, and it was impressive on the platter.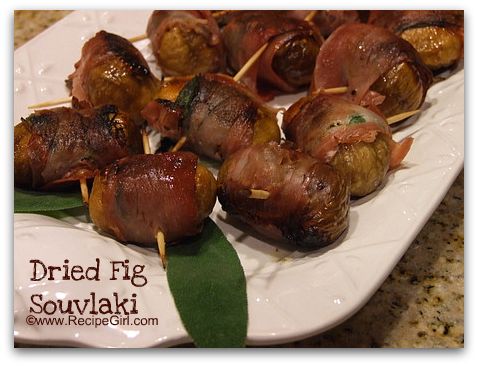 Ding Ding Ding! Although we enjoyed all of the appetizers, this one was the big winner for me. Each of us took a bite into this one and were completely surprised at the flavor & texture. These were dried figs stuffed with feta, wrapped with sage & prosciutto and then sauteed.  They were so, so good- definitely my favorite of the three.
*Click recipe titles in the menu above to see actual recipes.
For the rest of the dinner party- click through to see….
Greek Dinner Party- Main Dishes and Sides
Greek Dinner Party- the Desserts