This Harvest Vegetable and Chicken Soup with Quinoa and Bacon is my new favorite soup recipe!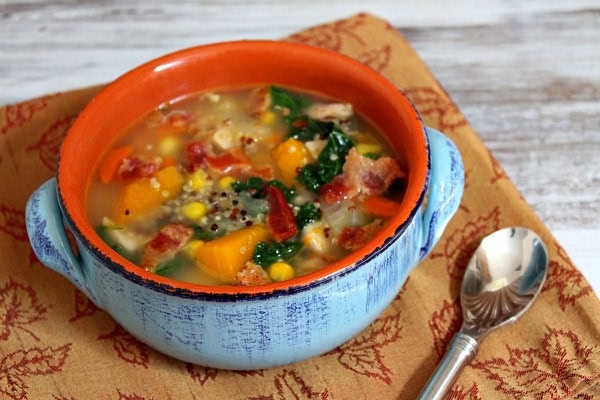 It's fall! Actually, where I live we're a little confused since it snowed in the mountains this past weekend! We had a bit of a cold front come in, and it snowed above 7,000 feet (I'm at 6,000 feet where we got rain instead). I'm hoping that means we're going to have a fantastic ski season. And I'm guessing that means that the gargantuan snowblower we just bought is going to come in handy.  I'm going to have to make sure I have LOTS of soup around to keep us warm.  I'll start with this recipe:
I used a soup recipe from the current Cooking Light and switched up a few things.  The "Harvest" vegetables included in the soup are butternut squash, carrots, corn and kale.  I love a soup that is LOADED with veggies, with a little added protein (chicken and BACON) and a sprinkle of healthy grains (quinoa).  It's healthy, and it's filling too.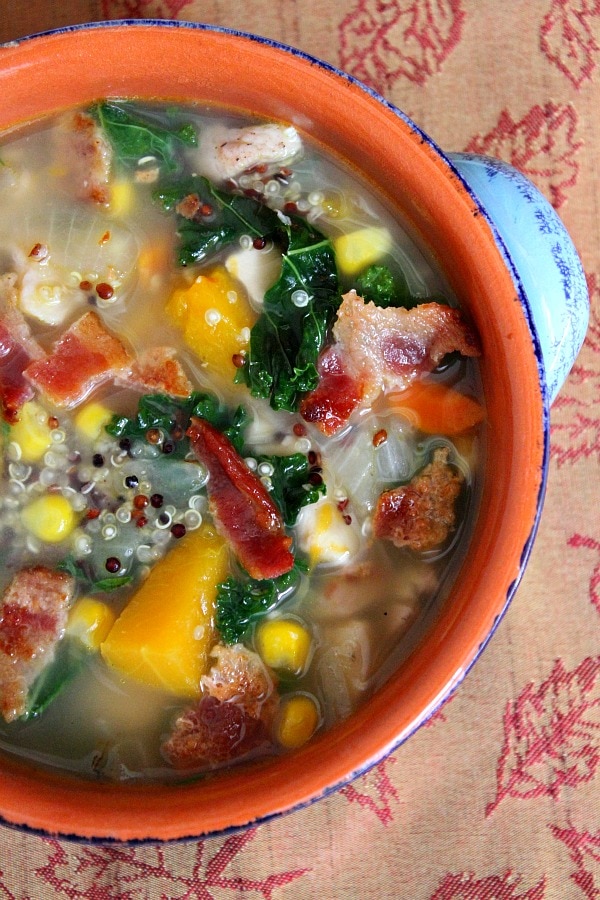 Isn't it beautiful?  It's my pretty soup.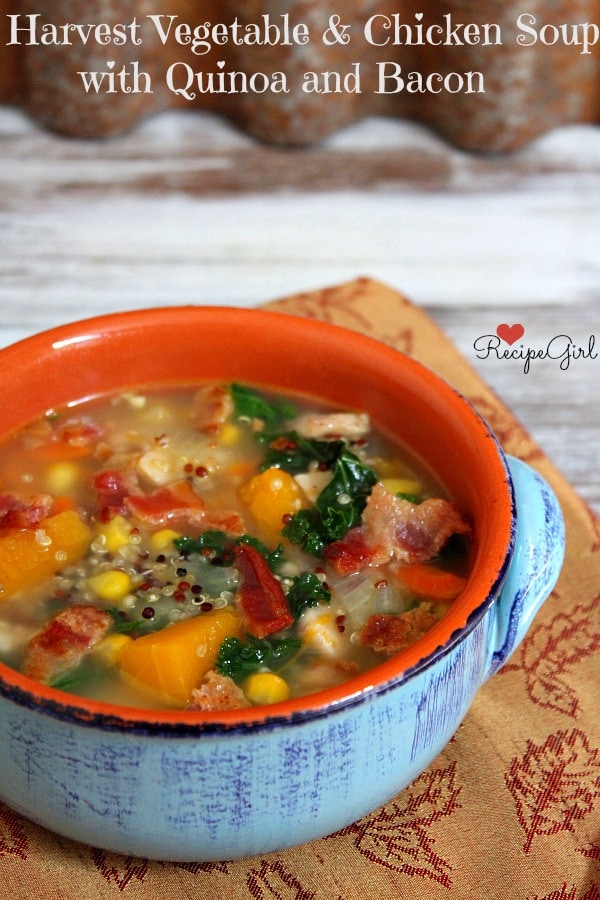 If it's already becoming soup weather where you live, I hope you'll try out this recipe very soon.  It's both comforting and satisfying.   And if you're still getting sweltering heat in your part of the world, well then you can tuck this recipe into your pocket for a cooler day.
Harvest Vegetable and Chicken Soup with Quinoa and Bacon
Yield:
6 servings
Prep Time: 1 hour
Cook Time: 40 minutes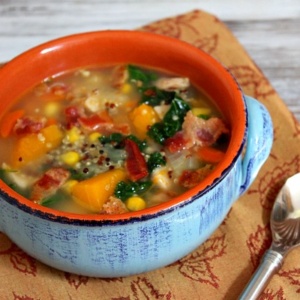 Ingredients:

4 center-cut bacon slices
1 1/2 cups chopped onion
1 1/2 cups diced butternut squash
3/4 cup chopped carrot
1 teaspoon kosher salt, divided
6 garlic cloves, minced
Cooking spray
1 pound skinless, boneless chicken thighs or breasts, cut into 3/4-inch pieces
1/2 teaspoon freshly ground black pepper, divided
6 cups low-sodium chicken broth
2 bay leaves
2/3 cup uncooked quinoa, rinsed through a fine sieve
6 cups chopped kale
3/4 cup frozen corn
2 teaspoons thyme leaves

Instructions:

Cook the bacon in a Dutch oven over medium heat until crisp. Remove the bacon from the pan, reserving 1 tablespoon of drippings (scoop out and discard the rest). Crumble the bacon and set aside.
Increase the heat to medium-high. Add the onion, butternut squash, carrot, and 1/4 teaspoon salt to the drippings in the pan; sauté 5 minutes, stirring occasionally. Add the garlic; sauté 2 minutes. Remove the mixture from pan.
Coat the pan with cooking spray. Add the chicken to the pan; sprinkle with 1/4 teaspoon salt and 1/4 teaspoon pepper. Sauté 6 minutes or until the chicken is browned and done. Stir in the vegetable mixture, chicken broth, bay leaves, remaining 1/2 teaspoon salt, and remaining 1/4 teaspoon pepper; bring to a boil.
Add the quinoa to the pan; cover and simmer for 15 minutes. Add the kale, corn and thyme to the pan; simmer, uncovered, 5 minutes or until kale is tender. Discard the bay leaves. Ladle the soup into bowls and sprinkle with bacon.

Tips:

If you are preparing this recipe as GLUTEN-FREE, just be sure to use brands of bacon and chicken broth that are known to be GF.

Nutrition:

Weight Watchers Freestyle SmartPoints per serving (recipe divided into 6 servings): 2
Here are a few more comforting soups you might enjoy: