This Homemade Marinara Sauce is tomato based with added olive oil, garlic and fresh basil. It's the perfect easy marinara sauce recipe to add to freshly cooked pasta. Watch the video showing you how to make this recipe, then scroll to the bottom of this post and print out the recipe so you can make it at home.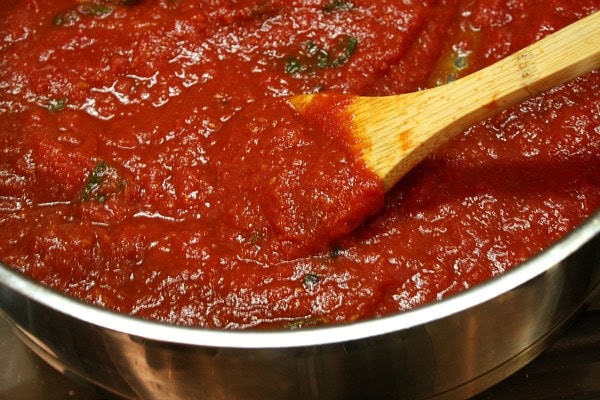 Homemade Marinara Sauce:
Soooooo, are you a jarred spaghetti sauce kind of family? Guilty here. Some jarred sauces have an off-taste, mostly too sweet due to (unnecessary) added sugar. I do have to say though that I love Classico's Tomato-Basil variety, and I use it more often than not.
But then I received Kelsey Banfield's cookbook The Naptime Chef in the mail. I flipped through her book trying to decide from the oodles of delicious-sounding recipes what I wanted to make. Since I had never made Homemade Marinara Sauce, this easy marinara sauce recipe caught my eye. It makes the house smell amazing, and it turns out to be much better than anything in the jar.
What's the difference between Marinara Sauce and Spaghetti Sauce?
Marinara sauce recipes usually involve a base of tomatoes, garlic, olive oil and basil. There really isn't such thing as "spaghetti sauce," since spaghetti is just pasta that you can add any sauce to. Many people add marinara sauce to spaghetti, and others prefer a marinara sauce with ground beef added to it.
Just 6 simple ingredients turn this recipe into 6 cups of marinara sauce. I usually use up all my sauce in just one recipe, but you can certainly use some now and the rest later! I like to make ahead in mass quantities! Here's the super-simple how-to: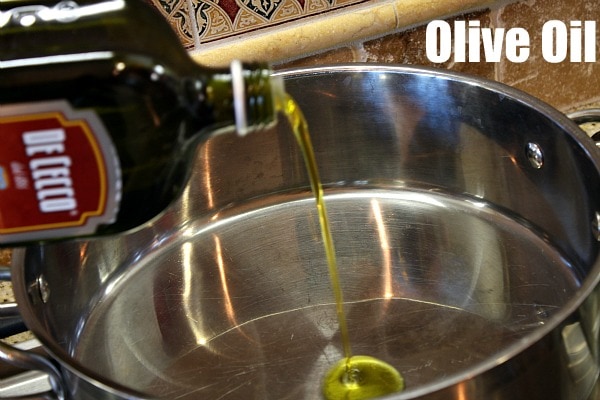 How to make Marinara Sauce:
Heat some olive oil in a pan.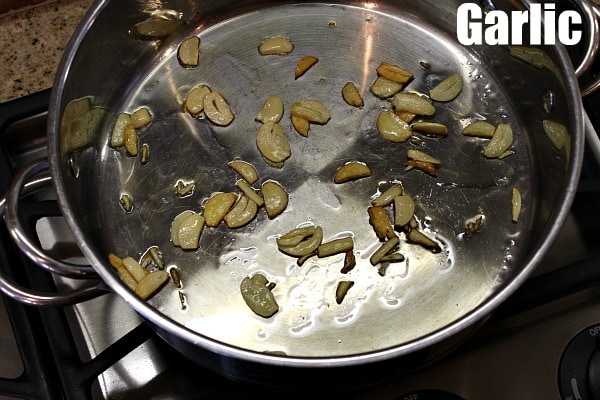 Add a bunch of sliced garlic and cook it in the oil until your whole kitchen smells of garlic and the garlic itself is golden. I have a garlic press that has a dual-chamber press and slicer, which makes slicing garlic VERY easy to do.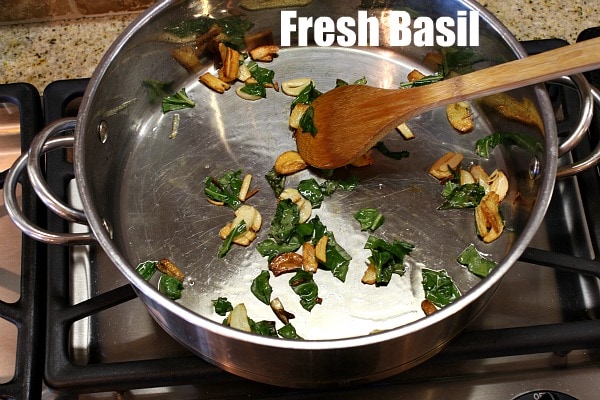 Tear apart 4 large leaves of fresh basil and stir those into the garlic in the pan.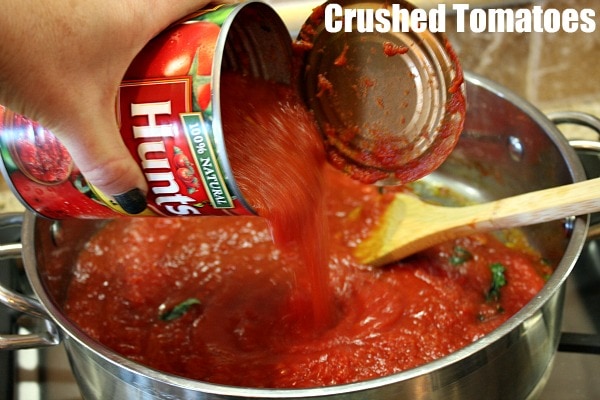 Pour in two 28-ounce cans of crushed tomatoes with their juices, and bring that mixture to a boil.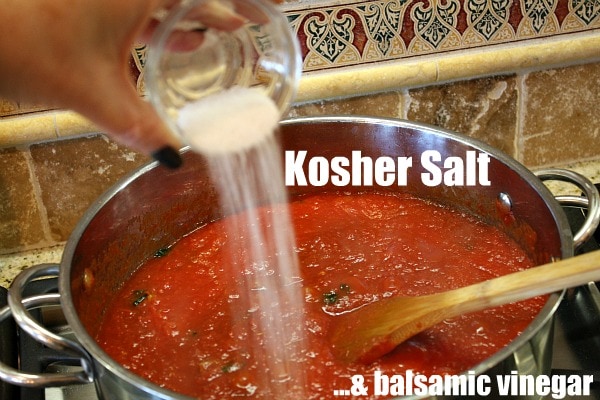 Add Kosher salt and reduce the heat to a simmer. Simmer for about 45 minutes, swirl in a couple of teaspoons of balsamic vinegar, and your sauce is done! See how easy it is to make homemade marinara sauce?
How long is Homemade Marinara Sauce good for?
To store: cool the sauce to room temperature before storing. It will keep in a covered container in the refrigerator for up to 2 weeks, and it will keep in a covered freezer-safe container for up to 3 months.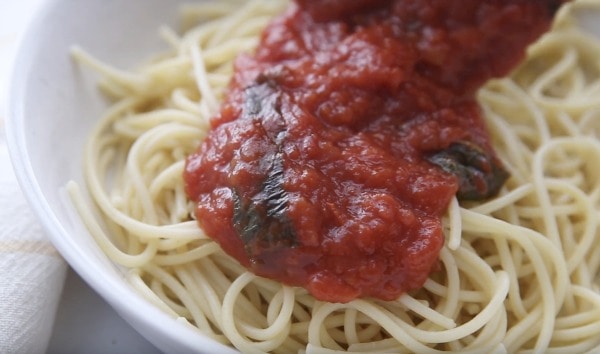 Kelsey Banfield is a fellow food blogger friend of mine, and her debut cookbook, The Naptime Chef, was released on March 12th, 2012. Kelsey has always loved to cook. When her daughter was born, time for cooking became more challenging. Kelsey began using her daughter's nap times to reinvent her favorite recipes and create quick meals, leaving her more time to spend with her family.
You certainly don't have to have any nap-age children to utilize The Naptime Chef cookbook. My son is well past nap-age (though I'd certainly love it if he took a snoozer once in a while), yet I'm excited to try the following recipes from this book: Strawberries and Cream Overnight French Toast, Caramel-Stuffed Cinnamon Muffins, Creamy Parmesan and Chive Polenta, Summer Gazpacho, Bistro Steak with Gorgonzola Sauce, Sticky Orange Drumsticks, Chocolate- Zucchini Loaf, and Uncle Will's Dirty Blondies. Everything looks so good! I'm thinking this would make a lovely gift for a baby shower too 🙂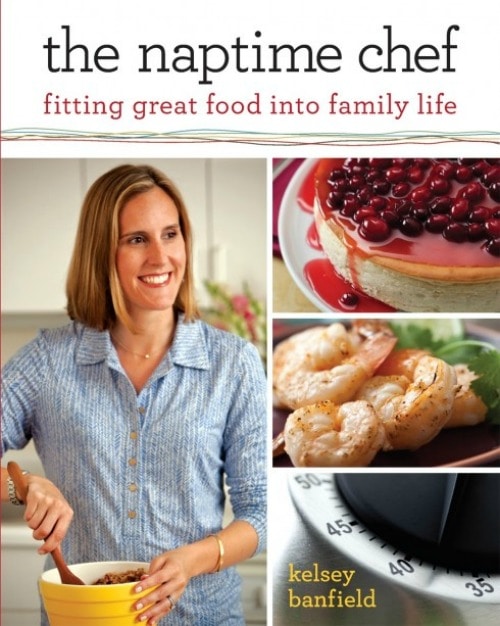 Here are a few more homemade pasta sauce recipes you might enjoy:
If you happen to be following the Weight Watchers WW plan, you will find a link to the WW Points on the recipe card below.
Homemade Marinara Sauce
This easy homemade marinara sauce is a good one to add to pasta dishes!
Recipe Details
Ingredients
1

tablespoon

olive oil

8

medium

garlic cloves,

thinly sliced

4

large

fresh basil leaves,

torn into small pieces

Two

28-ounce cans

crushed tomatoes,

with their juices

2

teaspoons

Kosher salt

2

teaspoons

balsamic vinegar
Instructions
In a large saucepan or deep skillet, warm the olive oil at low heat. Add the garlic and cook until golden, about 3 minutes. Stir in the basil.

Pour in the tomatoes with their juices, bring the sauce to a boil, and then add the Kosher salt. Reduce the heat to low and simmer 45 to 50 minutes. As the sauce thickens toward the end, stir in the balsamic vinegar. Remove the pan from heat.
Notes
To store: cool the sauce to room temperature before storing. It will keep in a covered container in the refrigerator for up to 2 weeks, and it will keep in a covered freezer-safe container for up to 3 months.
Nutrition
Serving:
1
serving (1 cup)
,
Calories:
112
kcal
,
Carbohydrates:
20
g
,
Protein:
4
g
,
Fat:
3
g
,
Sodium:
1125
mg
,
Potassium:
791
mg
,
Fiber:
5
g
,
Sugar:
11
g
,
Vitamin A:
585
IU
,
Vitamin C:
25.6
mg
,
Calcium:
97
mg
,
Iron:
3.5
mg