Ahhhh… it's Spring in San Diego. The flowers are blooming away. The days are warm enough for short sleeves. The frogs are croaking in the canyon at night, prompting begging from my 6 year old to go frog hunting in the evenings. The neighbors are beginning to put their yappy little dog outside so it can bark to no end. The vegetable garden has been planted and has already been eaten some by some sort of mysterious creature. And a nice selection of veggies (at good prices) have been making their debut at Farmer's Markets and grocery stores.
This puts me in the mood for VEGGIES! The mission: to make a nice, light, fresh pasta sauce for dinner. Bored with marinara, I searched my cookbooks for a recipe. Dianne Rossen Worthington is a cookbook author whose style I've found that I enjoy immensely. I have her cookbook, The Cuisine of California– in which I have discovered some real recipe keepers. I found what I needed within this cookbook: Red Pepper Tomato Sauce.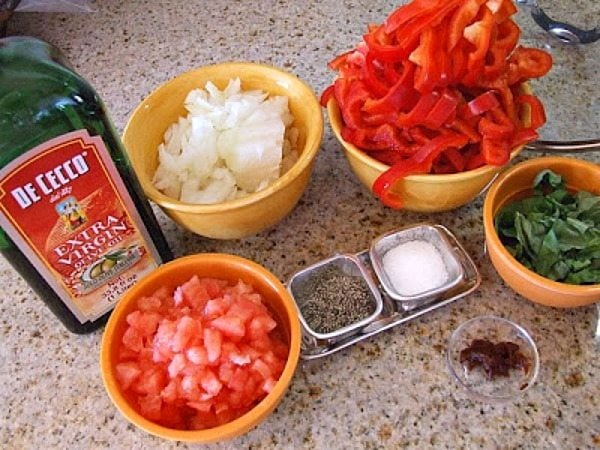 A very simple sauce, a bit of chopping and then plunging tomatoes into boiling water so that I could easily peel and seed them, and I was on my way.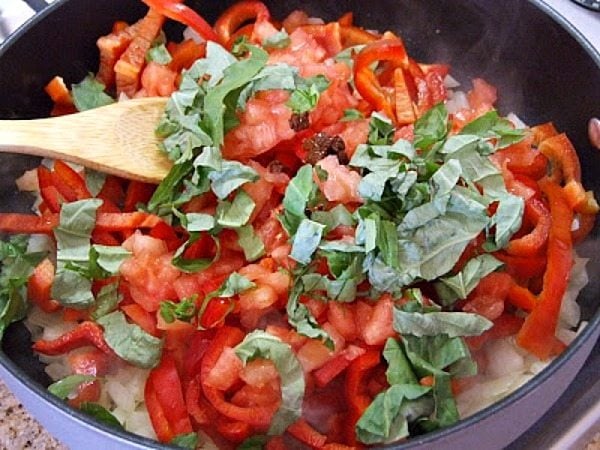 This sauce has just a small amount of chopped chiles in adobo sauce (found canned in the Latin area of your market.) This gives it just a little bit of umph of smoky, spice flavor. I honestly couldn't detect it much in the half chile that I put in. I would try a whole chile next time. Speaking of those canned adobos, it took me a while to realize that you could throw the extra chiles in little zips and freeze them for later use. This is super convenient when you only need one!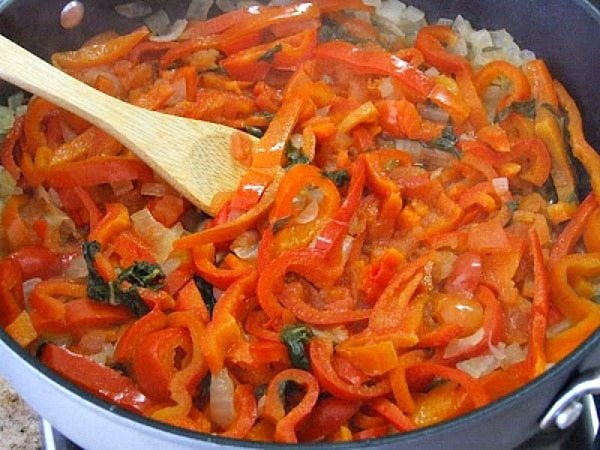 After simmering away on its own for a while, the mixture is ready for the food processor.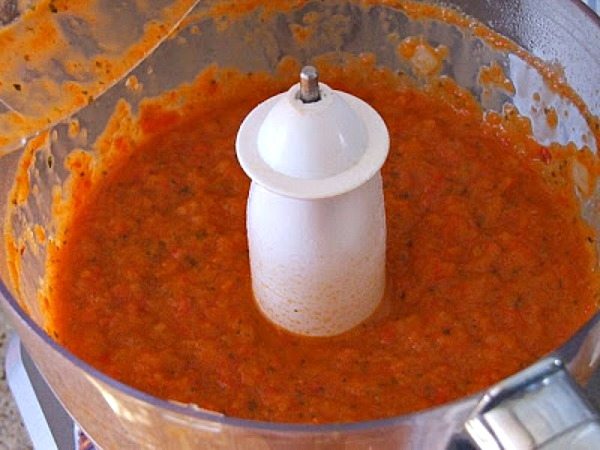 A quick whir, and the sauce is ready for pasta!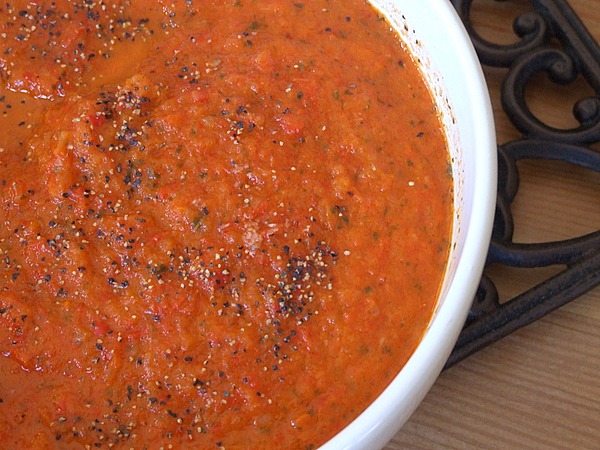 I added a good dose of kosher salt and some fresh ground pepper.
I'm off to find pasta and other veggies to accompany this delicious, fresh sauce….
Red Pepper Tomato Sauce
This sauce makes a perfect topping for your favorite pasta or fresh vegetables.
Recipe Details
Servings:
8
servings (½ cup sauce per serving)
Ingredients
3

tablespoons

extra-virgin olive oil

1

medium

onion,

finely chopped

4

large (or 5 medium)

red bell peppers,

seeded and thinly sliced

2

large

tomatoes,

peeled, seeded and finely chopped

½

whole canned

chipotle chile in adobo sauce,

coarsely chopped (add a whole one for more spice)

1

bunch

fresh basil,

coarsely chopped

salt and freshly ground black pepper,

to taste
Instructions
In a large non-aluminum saucepan, heat the olive oil over medium heat. Add onion and sauté for 3 to 5 minutes, or until softened.

Add sliced bell peppers, tomatoes, chile, and basil, cover partially, and cook over medium-low heat for about 20 minutes, or until softened. Remove from heat.

Purée the vegetables in a food processor fitted with the metal blade for about 1 minute, until the mixture is smooth with some texture remaining. Add the salt and pepper, tasting for seasoning.
Nutrition
Serving:
1
serving
,
Calories:
84
kcal
,
Carbohydrates:
9
g
,
Protein:
1
g
,
Fat:
6
g
,
Saturated Fat:
1
g
,
Polyunsaturated Fat:
1
g
,
Monounsaturated Fat:
4
g
,
Sodium:
199
mg
,
Potassium:
304
mg
,
Fiber:
3
g
,
Sugar:
5
g
,
Vitamin A:
3187
IU
,
Vitamin C:
112
mg
,
Calcium:
15
mg
,
Iron:
1
mg
Disclosure: There are Amazon affiliate links included within this post.