Today's recipe is for beer lovers… > Honey Mustard Pale Ale Chicken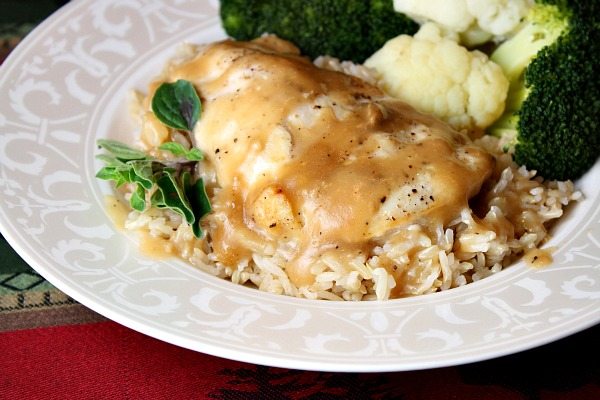 My friend Jackie Dodd is the amazing recipe creator behind a blog called, "The Beeroness."  You can probably guess what it's all about, but I'll tell you anyways… she writes about her recipe creations using craft beer.  All of the recipes on the site- from beverages to desserts to main dishes and appetizers… contain craft beer as a star ingredient.  What a fun blog, right?
Well, she's so good at it that she nabbed a cookbook contract and wrote a book called, "The Craft Beer Cookbook."  This recipe comes from Jackie's new book.  It's a simple chicken cooked in a mustard-beer sauce.  When I told my husband what I was making for dinner, he was REALLY excited.  I can only imagine how excited Jackie's husband is to have her around… cooking with beer all the time!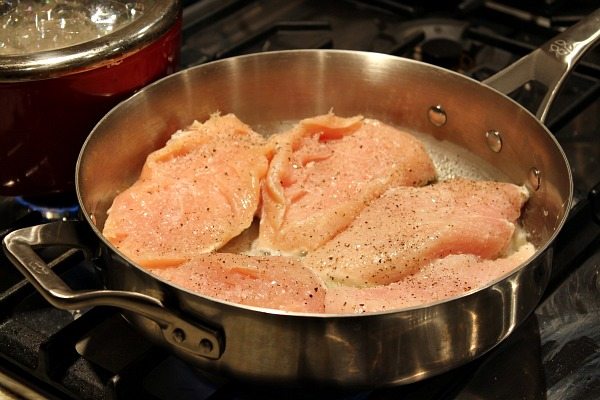 Jackie's recipe utilizes chicken thighs.  Normally I love to use chicken thighs in a recipe, but I don't buy them unless I can get them somewhere where they are good quality and not so laden with fatty pieces.  I wasn't able to use thighs in this recipe, so I opted for chicken breasts instead.  I cut them horizontally into thin pieces so they'd all be about the same size.   The chicken is seared in a small amount of butter…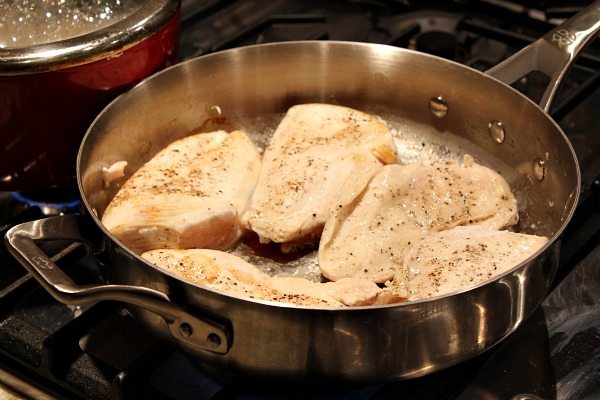 … on both sides.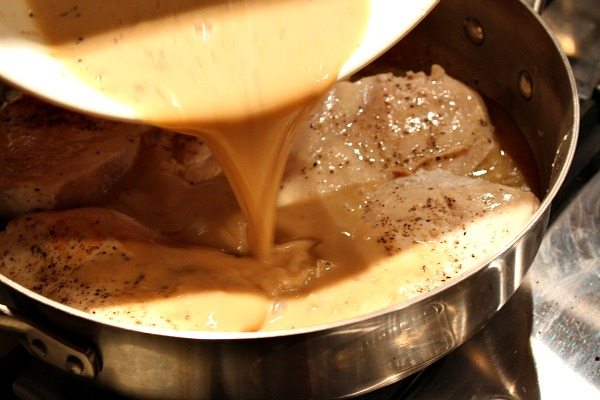 The mustard beer sauce is whisked together and then poured on top of the chicken.  Then you just put the chicken, pan and all into the oven to finish it off.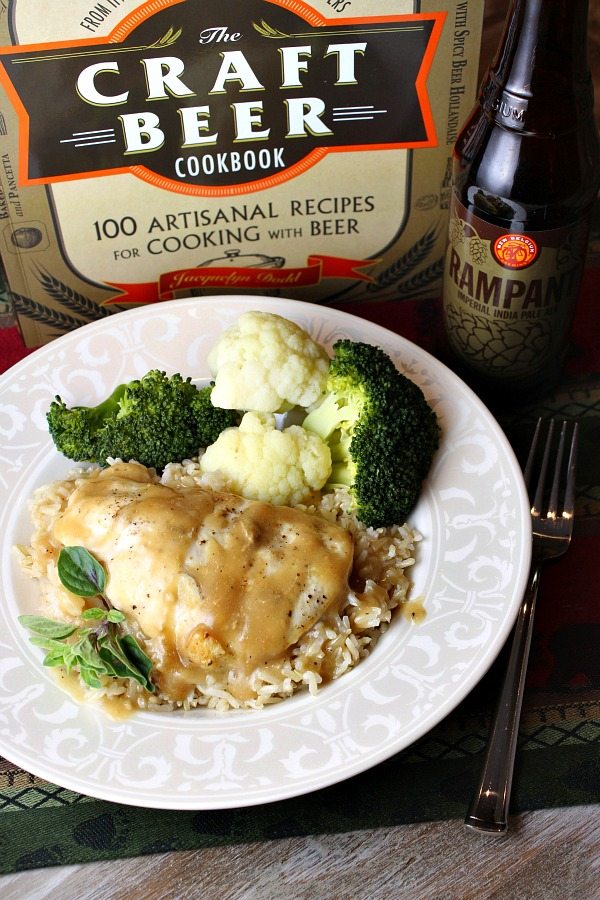 Serve it over rice with a little sauce drizzled over, add a vegetable, and serve with a beer if you'd like!  Just for the record, I'm not really a "beer person."  I'm more of a wine person, and I will drink an occasional light beer on a very hot and sweltering day.
I did really enjoy this dish though- the beer and the mustard combine to make a nice flavored sauce.  And my beer-loving husband, of course, thought it was the best thing ever. 🙂
Honey Mustard Pale Ale Chicken
Yield:
4 servings
Prep Time: 20 minutes
Cook Time: 30 minutes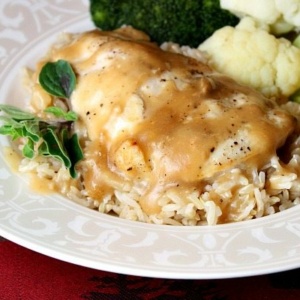 Ingredients:

1/3 cup Dijon mustard
1/4 cup honey
1/2 cup pale ale
2 tablespoons cornstarch
1/2 teaspoon pepper
1 clove garlic, minced
2 tablespoons freshly squeezed lemon juice
1 tablespoon unsalted butter
4 boneless, skinless chicken thighs (or breasts)
salt and pepper
rice, for serving

Instructions:

Preheat the oven to 375 degrees F.
Add the mustard, honey, beer, cornstarch, 1/4 teaspoon salt, 1/2 teaspoon pepper, garlic and lemon juice to bowl. Whisk together until smooth.
Melt the butter in an oven-safe skillet over medium-high heat. Sprinkle chicken with salt and pepper on all sides. Sear chicken on both sides until browned.
Pour mustard sauce over the chicken and bake until the chicken is cooked through (22 to 25 minutes).
Plate chicken over rice, if desired. Spoon desired amount of sauce over chicken.

Tips:

Weight Watchers Freestyle SmartPoints:  7 per serving (no rice)
Choosing the right beer: Look for a medium-hopped, citrusy American pale ale to find the right balance with the strong mustard notes in this recipe.
Here are a few more beer chicken recipes you might enjoy:
Disclosure:  There are Amazon affiliate links within this post.