Seriously, for the best-ever way to make fall-apart, barbecue ribs, follow these directions > How to Cook the Best Ribs in the Oven. Watch the short video showing you how to make these ribs, then scroll to the very bottom of this post to print out the full instructions so you can make them at home.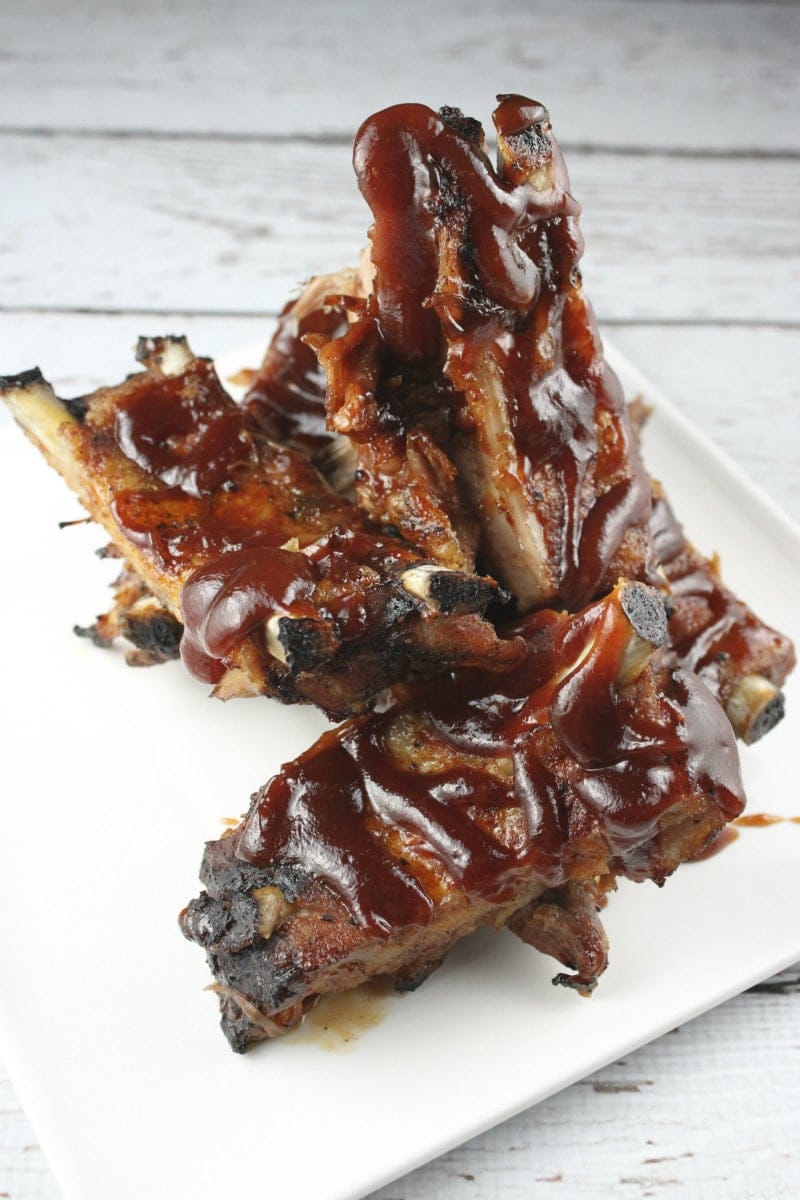 We are no strangers to barbecued ribs in our house. My son is madly in love with Sweet Baby Ray's BBQ Sauce- Original (no, this is not a sponsored message!), and he puts it on just about everything he eats. His favorite is ribs.
We often like to make them in our smoker, but since that's kind of an ordeal and takes a whole lot of prep and thinking ahead, we usually opt to make them in the oven instead. Besides, slow-baking ribs in the oven makes them turn out perfect in every way. And by perfect, I mean falling-off-the-bone-tender-perfect!
I worked for a caterer for a few years back in college, and here is how we always made the best ribs for parties… and how I make them now in my house. This is how to cook the best ribs in the oven!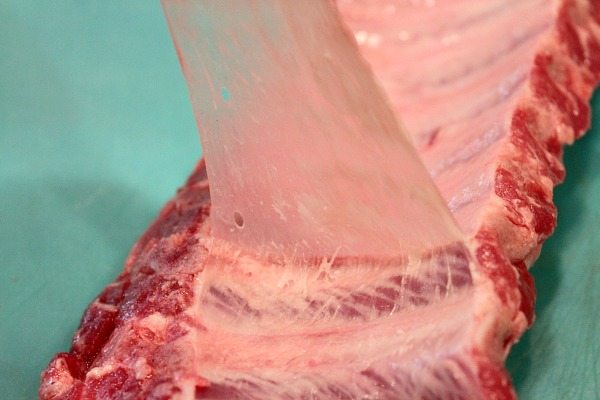 How to Cook the Best Ribs in the Oven:
First things first. There is a membrane that runs down the rib rack that you need to remove and get rid of. Don't worry, it's totally easy. Just slip a knife under the membrane, wiggle it loose from the rack and pull it to remove it.
Sometimes it's easy to grab it with a paper towel if it seems a little too slippery to pull. You don't want to leave them membrane on or it will cook into the meat and turn into a tough, leathery part of the rib. Yuck.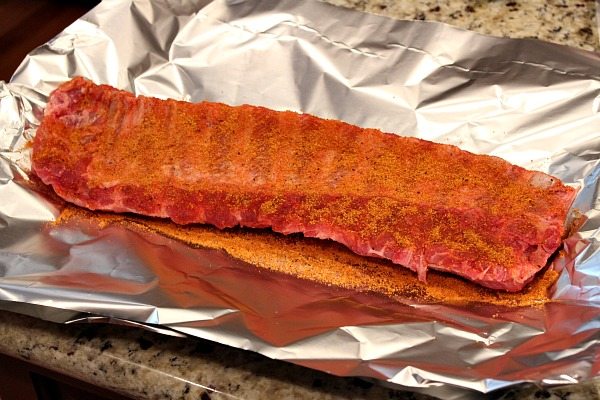 Next, lay out a couple of pieces of foil (I use the heavy duty), and place your ribs on top. Sprinkle the ribs with your favorite dry rub (you can look for those in your market's spice aisle, or you can make your own). I like to use anything that has a smoky flavor to it.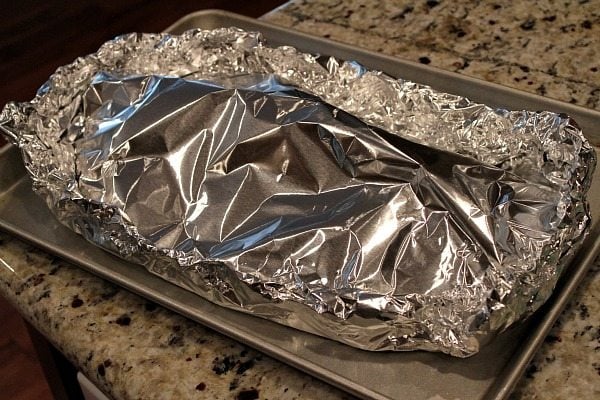 Lay a couple more pieces of foil on top of the ribs and crunch the edges together to make a big package. Do the same with your second rack of ribs. Now for the fun part- pop them into a 275 degree oven for 3 1/2 to 4 hours. Just let them be!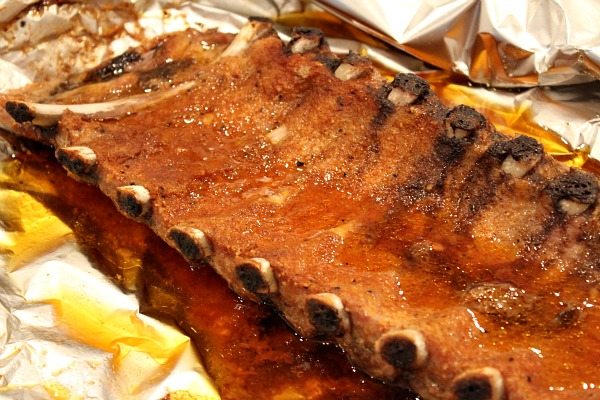 They'll come out looking like this. Remove them to a big cutting board and cut them into one or two-rib chunks.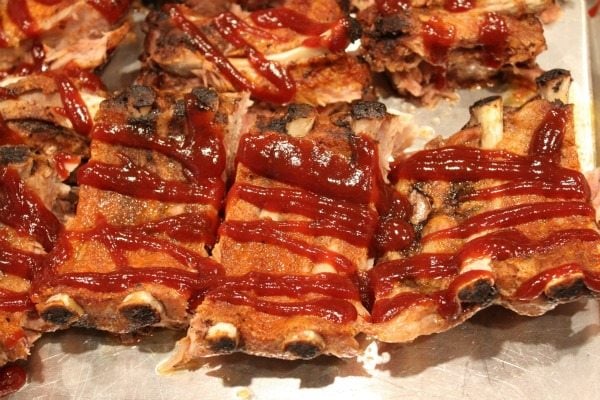 Drizzle them with your favorite BBQ sauce. At this point, you have a choice. You can pop them under your oven broiler for a few minutes to caramelize that sauce and get the meat a little crispy on the edges….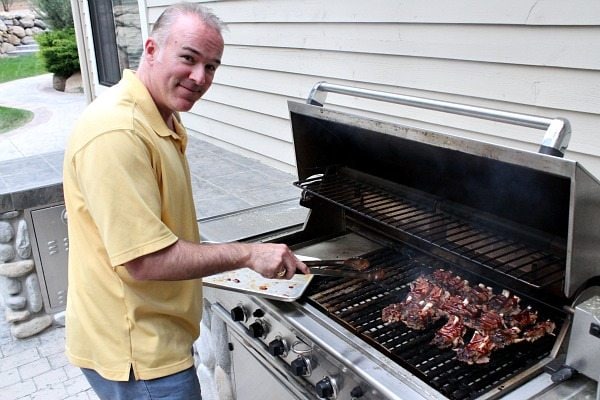 …OR you can throw them on the grill. That's my husband, Brian, making a rare appearance on my blog 🙂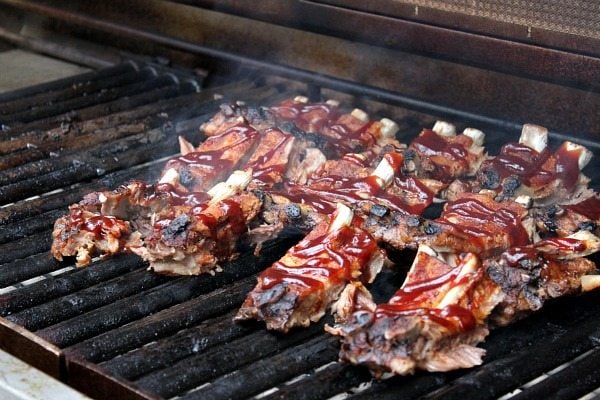 Just grill them until you get them all warmed up. That sauce will get all awesome on the ribs.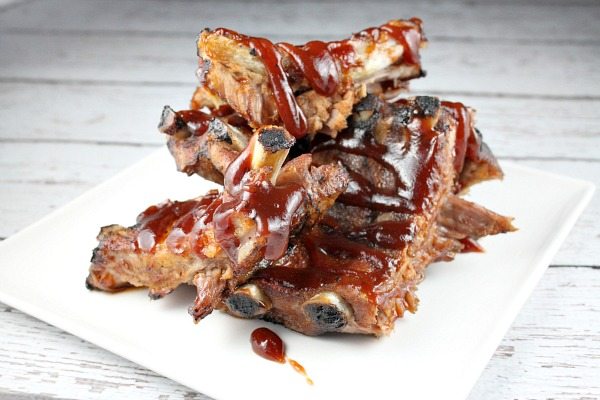 And that's it, my friends. I've shown you how to cook pork ribs in the oven, and it's fairly easy (even if you're not much of a cook). When I worked for a caterer back in college, we always slow cooked a zillion ribs this way in the oven, then brought the ribs to the parties and finished them off on the grill with BBQ sauce. It's the best way to make them, and they are always a huge hit!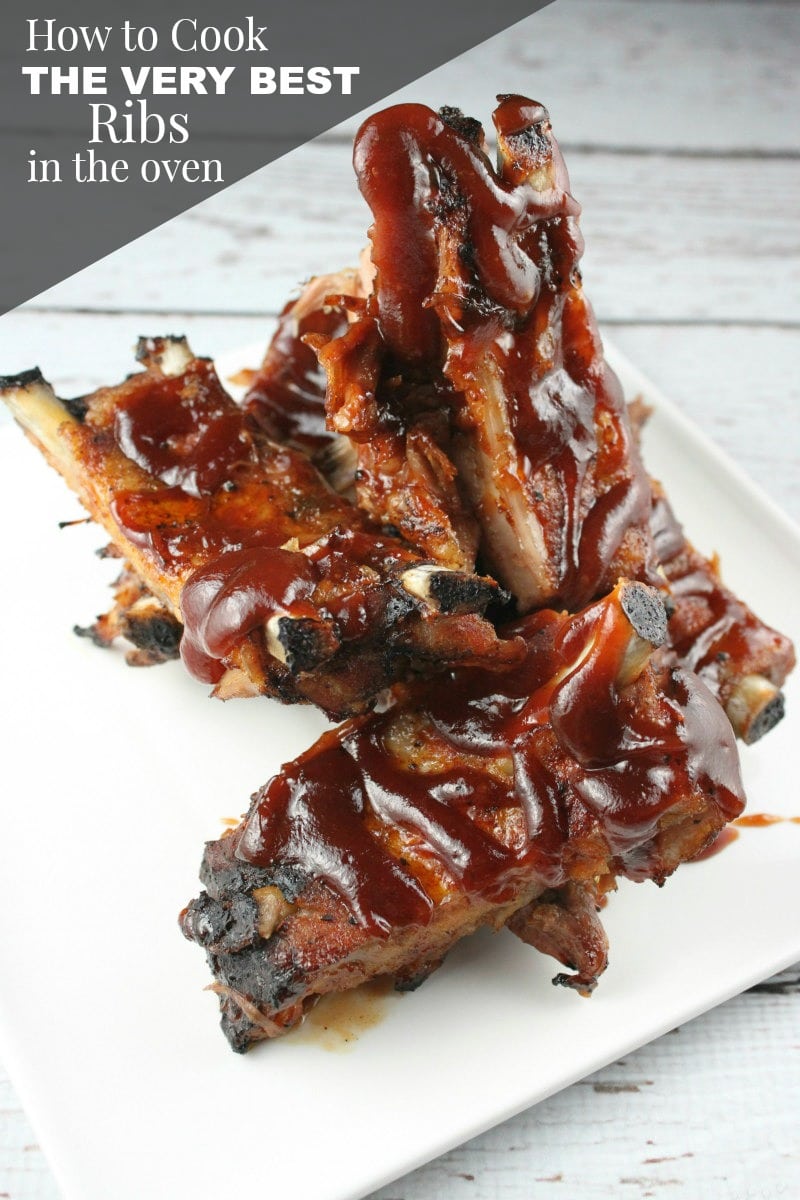 P.S. You can bake beef ribs using the same method, but they're a little larger so you may want to increase the bake time to 4 to 4 1/2 hours.
If you are looking for more recipes for ribs, you might wish to try my Slow Cooker Apple Butter BBQ Ribs or these Garlic and Oregano Pork Ribs. Slow Cooker Guinness Beef Ribs and Slow Cooker Sriracha- Cranberry Baby Back Ribs are delicious rib recipes too!
How to Cook the Very Best Ribs in the Oven
Easy method for making the best ribs ever!
Recipe Details
Ingredients
6

pounds (2 slabs)

baby back pork ribs

your favorite dry barbecue rub

(I like McCormick Grillmates Sweet & Smoky Rub)

your favorite barbecue sauce

(I like Sweet Baby Ray's)
Instructions
Preheat your oven to 275 degrees F.

Remove the membrane, or silverskin, covering the bone side of each rib rack. Slide a table knife under the silverskin anywhere along the rack. If it resists in one spot, try another. Lift and loosen it with the knife until you can grab it with a paper towel. Pull it off the ribs; it should peel away in one large sheet, but if it breaks, use the knife to restart at another section.

Place two large pieces of foil (stacked) on a baking sheet. Rub one of the rib racks with your favorite barbecue rub on both sides, then place the rack meat- side down on the foil. Place another two layers of foil on top of the rack. Pinch foil together all around the sides to create a "package." Repeat with the other rack of ribs, dry rub and foil. Place both baking sheets of ribs into the preheated oven. Bake for 3 1/2 to 4 hours, or until ribs are falling-apart tender.

Open up the rib packages, gently transfer the ribs to a cutting board and cut into one or two-rib chunks. Drizzle with barbecue sauce. You can either return the ribs to the oven at this point and place them under the broiler to get a nice, caramelized barbecue sauce on your ribs... or you can transfer them to a pre-heated grill and grill for a few minutes. Either way, they turn out fabulous.
Notes
If you are preparing this recipe as GLUTEN-FREE, just be sure to use a brand of BBQ sauce that is known to be GF.
If you leave the silverskin on, it keeps seasonings and smoke from penetrating the meat, and it cooks into a tough skin on the ribs. Some racks are sold with the silverskin already removed (usually not though), but you probably won't know this until you open the package.