In Your Face Banana Bread
This banana bread recipe has a LOT of banana in it to keep it perfect:  In Your Face Banana Bread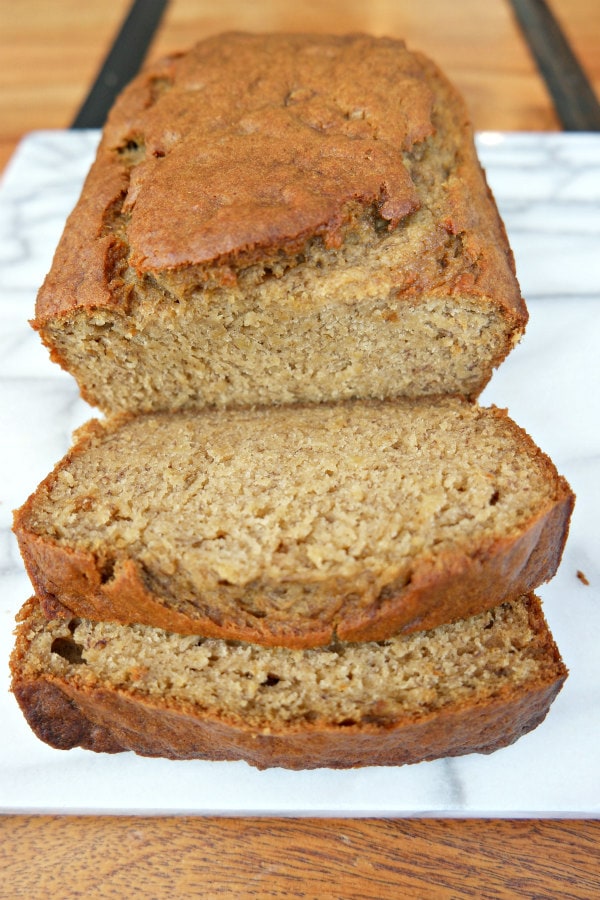 Yield: 1 loaf
Prep Time: 15 minutes
Cook Time: 60 minutes
In Your Face Banana Bread
If you're looking for a moist, dense banana bread that is full of banana flavor, this is it. Our whole family really enjoys this one.
Ingredients:
2 cups all-purpose flour
1 teaspoon baking soda
1/4 teaspoon salt
1/2 cup (1 stick) butter, softened
3/4 cup (packed) brown sugar
2 large eggs, beaten
2 1/3 cups mashed over-ripe bananas (about 5 bananas)
1 tablespoon vanilla extract
Directions:
Preheat oven to 350°F. Lightly grease 9x5-inch loaf pan.
In a large bowl, whisk together the flour, baking soda and salt; set aside.
In a separate bowl, use an electric mixer to combine the butter and brown sugar. Mix in the eggs and then the mashed bananas and vanilla until well blended.
Add the flour mixture and mix just until combined.
Pour the batter into the prepared loaf pan. Bake 60 to 65 minutes, or until a toothpick inserted in center of loaf comes out clean.
Allow the bread to cool in the pan for 10 minutes, then turn out onto a wire rack to cool completely.
Tips:
This is a banana bread recipe that is full of banana flavor. Don't skimp on the bananas though- you really do need 2 1/3 cups or it won't be any more special than an average banana bread.
You can add a little cinnamon if you'd like.
This bread tastes best the next day.
SOURCE: RecipeGirl.com
Here are a few more banana bread recipes you might enjoy:
Comments