I like to buy the medium shrimp for this recipe and serve them up as a quickly grilled appetizer at BBQ's, but you can certainly use large or jumbo shrimp and call it a main dish:  Jalapeno Lime Shrimp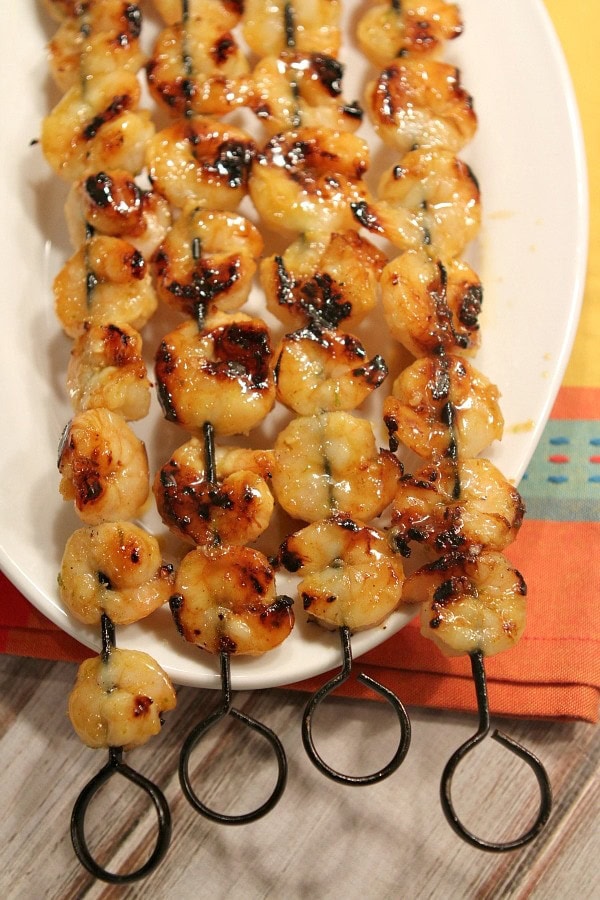 Jalapeno Lime Shrimp
Jalapeno gives these shrimp just a tiny bit of a kick in this simple marinade for grilled shrimp kebabs.  The sweetness balances it out nicely.
Yield:
12 kebabs
Prep Time: 20 minutes
Cook Time: 10 minutes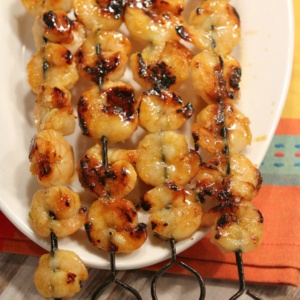 Ingredients:

4 pounds large shrimp, peeled and deveined
1 cup thawed orange juice concentrate, undiluted
2 teaspoons grated lime zest
1/2 cup freshly squeezed lime juice
1/2 cup honey
4 teaspoons ground cumin
1/2 teaspoon salt
6 cloves garlic, minced
4 fresh jalapeños, seeded and sliced

Instructions:

Combine all ingredients in a large zip bag; seal and marinate in refrigerator for 30 minutes. Remove shrimp from bag; reserving marinade. Pour marinade into a small saucepan and heat to boiling; turn off heat and let cool down.
Heat grill or broiler.
Thread shrimp onto 12 skewers. Place skewers on grill rack or broiler pan coated with cooking spray, and cook 4 minutes on each side or until shrimp are done, basting frequently with the cooled marinade.

Tips:
*You can substitute 3 pounds of skinless, boneless chicken breast or pork tenderloin, cut into 1-inch cubes, for the shrimp, if preferred. *And you can also use medium shrimp to make this recipe as an appetizer instead of a main dish.
More grilled shrimp recipes you might enjoy: