I have some fun news today! It's my birthday! Yay! And I made a Kit Kat Cake! Yum!
And I'm super happy to be able to share with you that I've signed a deal with Wiley to write The Recipe Girl Cookbook! Wahoo! It will be published in Spring of 2013. I've been working very hard writing and testing recipes for the last couple of months for the cookbook, and I have several more months of hard work ahead of me.  It'll have the similar recipe categories that you find here on the site- both every day sorts of recipes and entertaining recipes too. The vast majority of the recipes in the cookbook though will be brand-new recipes. Only a handful of recipes that are popular favorites on the site will be included in the book. And there will also be a chapter of entertaining menus! It's all so exciting and unreal and overwhelming and unbelievable!! I'm working with some amazing people to make this cookbook happen. Fun times are ahead 🙂
Let's celebrate with cake!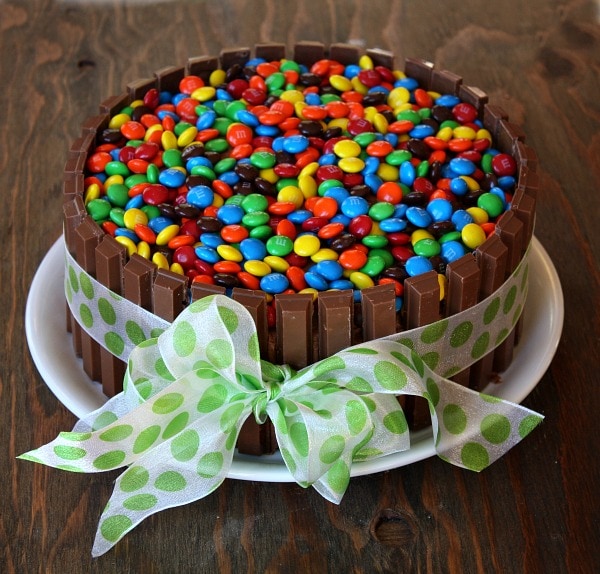 I saw this idea on the internet somewhere… surrounding a cake with Kit Kats, presenting it with a bow and topping it with M&M's. I couldn't get it out of my head, so I had to give it a shot myself.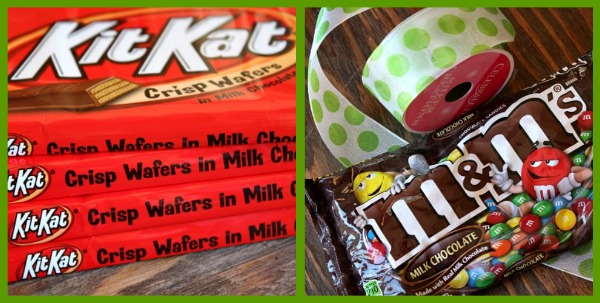 It's really very simple to make. You'll just need your favorite layer cake recipe (or a boxed mix), frosting, Kit Kat's, M&M's and ribbon.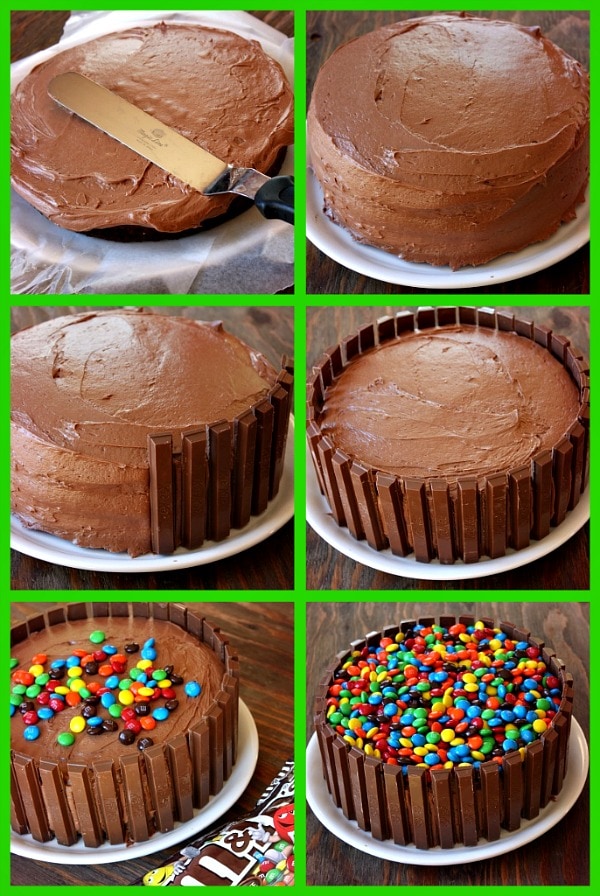 I think you'll be surprised just how incredibly easy it is to pull this off. Frost a layer cake just as you would normally do- first one layer, then add the second and frost all the way around. Then stick Kit Kat's all the way around the cake- they will just stick to the frosting. Then pour M&M's on top. That's it!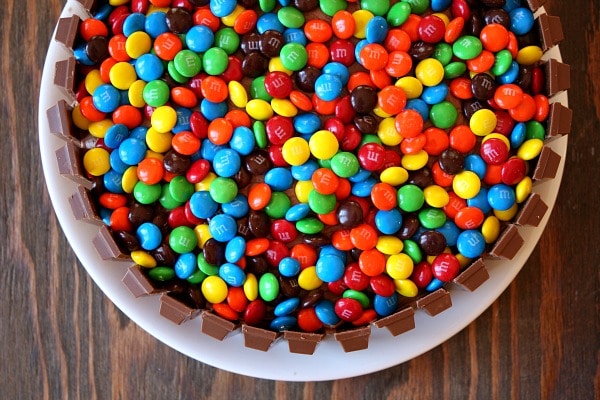 I love how the "sea" of M&M's makes this cake look so pretty. I can envision making this cake on all of the holidays where special-colored M&M's are available… red, white & green for a Christmas Kit Kat Cake… pink, white and red for a Valentine's Kit Kat Cake. The possibilities are endless!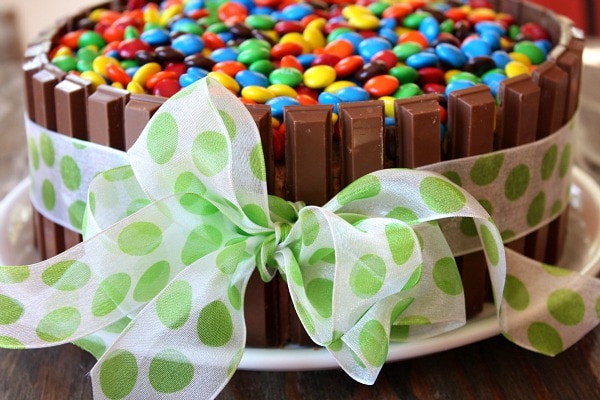 Wrap your brightest, cutest bow around the Kit Kat's.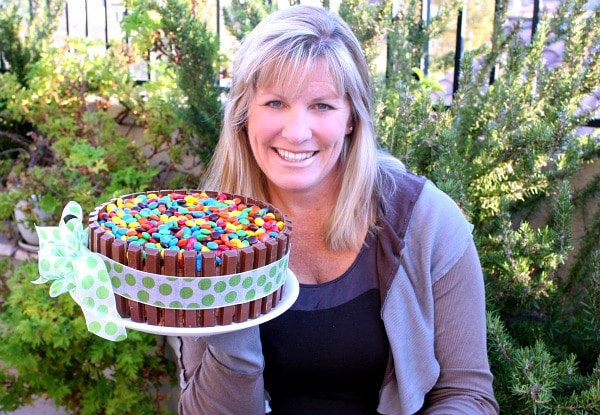 It makes a fun birthday cake.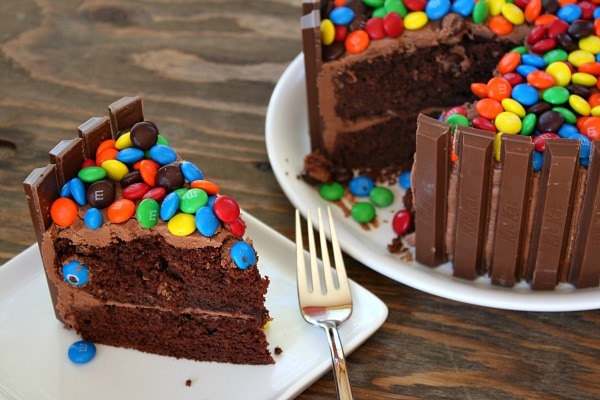 And it's delicious too!  Happy birthday to me!
When I quit teaching and debuted my recipe website back in 2006 and then added the blog in 2008, I never imagined that my life would take such a positive turn… that I would end up with a career that I love so much!  I'm actually excited to wake up everyday and get to work in the kitchen, behind the camera and on the computer.  I pinch myself every single day to make sure this is all real, and I'm so grateful to my readers for making all of this cooking and recipe stuff possible.  And now, a cookbook???  I have so many fun, new recipes to share with you in my book.  It's tough to keep them under-wraps and not share them on the blog. I can't wait!!  XOXOXO
Kit Kat Cake
This recipe makes enough for three 8-inch round layers OR two 9-inch layers + 6 cupcakes.
Yield:
10 to 12 servings
Prep Time:30 min
Cook Time:35 min
Ingredients:
CAKE:
One 18.25-ounce box of chocolate cake mix
1 cup all-purpose flour
1 cup granulated white sugar
3/4 teaspoon salt
1 1/3 cups water
2 tablespoons vegetable or canola oil
1 teaspoon vanilla extract
1 cup sour cream
4 large eggs
CHOCOLATE BUTTERCREAM FROSTING:
1/2 cup salted butter, at room temperature
3 ounces cream cheese, at room temperature
1 pound powdered sugar, sifted
1/4 cup milk
1 teaspoon vanilla extract
1 cup dark chocolate chips (or chopped dark chocolate)
DECOR:
Three 4.5-ounce Giant Kit Kat Bars (you'll need 36 Kit Kat sticks total)
One 12.6-ounce bag M&M's
Ribbon
Directions:
1. Preheat oven to 325°F. Grease and flour two 9-inch round cake pans and line a cupcake pan with 6 liners (you're going to have 6 cupcakes to munch on along with your cake!)
2. In a large bowl, whisk together cake mix, flour, sugar and salt. Add remaining ingredients and beat with hand mixer for 2 minutes, or until well blended.
3. Scoop the batter into 6 cupcake liners 3/4-full. Divide the remaining batter into the prepared round pans. Bake the cupcakes for about 25 minutes, and bake the cake rounds about 35 to 40 minutes, or until a toothpick inserted in the center comes out clean. Let the cake cool in the pan for 20 minutes, then remove the cake layers to a wire rack to cool completely.
4. When the cake is cool, you're ready to assemble. Place one layer on a serving plate, and tuck strips of waxed paper underneath the sides of the cake.
5. Prepare the frosting: In a large bowl, beat butter and cream cheese at medium speed with an electric mixer until creamy. Gradually add powdered sugar, beating at low speed until blended. Increase speed to medium, and slowly add milk and vanilla, beating until smooth. Microwave chocolate chips in a microwave-safe bowl at MEDIUM 1 1/2 to 2 minutes or until melted and smooth, stirring at 30 second intervals. Gradually add melted chocolate to mixture; beat until blended and smooth.
6. Frost the 1st cake layer. Set the 2nd layer on top of the first. Frost the 2nd layer and along the sides of the cake too. Stick Kit Kat's to the sides of the cake, leaving a very small space in between each Kit Kat (1/4-inch). Wrap a bow around the cake, securing the Kit Kat's. Fill the top of the cake with M&M's. Pull out the strips of waxed paper and discard. Use any extra frosting to frost your 6 extra cupcakes.
7. If you refrigerate the cake for a couple of hours or so, it will be much easier to cut and serve. Of course, you'll need to remove the bow just before serving.
Tips:
*You can certainly use your favorite layer cake recipe for this cake. The doctored-up cake mix recipe that is included here is actually quite good!
*You can also use a yellow cake or your favorite flavor... following the same instructions here for jazzing it up.
*Technically, you can use all of the batter in two 9-inch round pans, but it might make the cake too high to work for this recipe. You don't want the cake to stand higher than the height of the Kit Kat's- or they will not be able to act as a "fence" to hold in the M&M's.
Source: RecipeGirl.com (idea seen somewhere on the internet...)
Updated to add… Since I posted this this AM, I found a few different versions of this cake on the internet:
Made in Mel's Kitchen
Paige's Pantry
The Tipsy Hostess
And it looks like the original idea came from Cake Central?
Here's an Easter version too! So How's it Taste
And a version with fruit on top! Cake Whiz