Get ready to pucker up!  This Lemon Pound Cake bundt is full of tangy citrus flavor!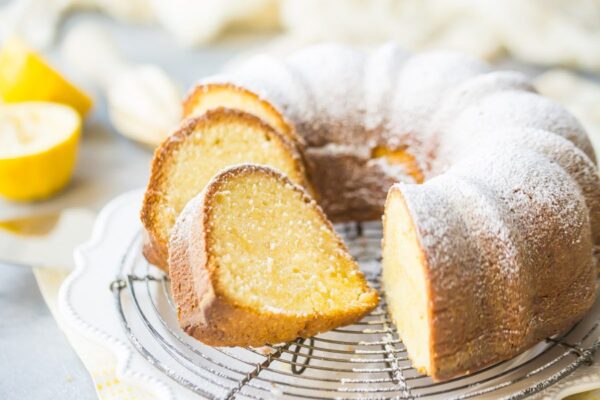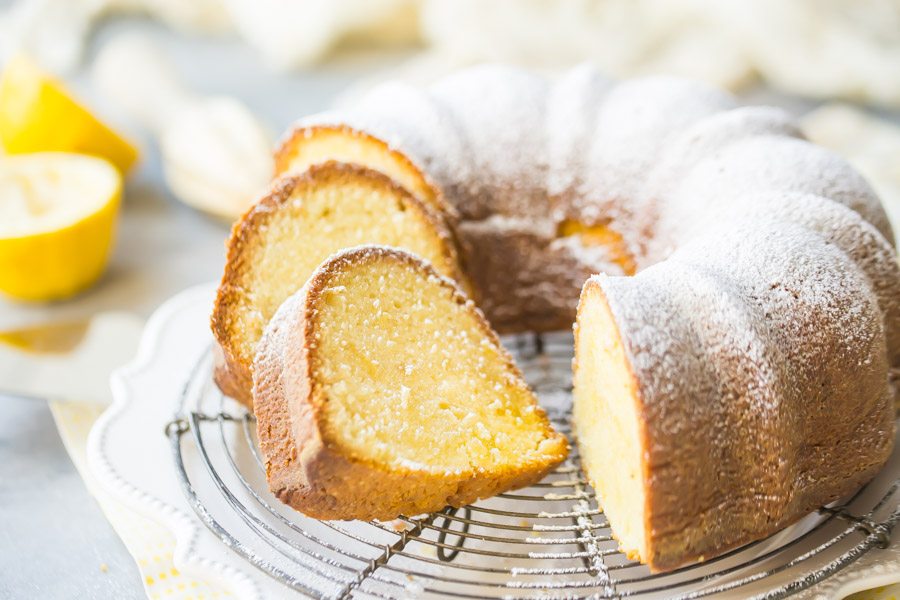 There's just something about pound cake, am I right?
So dense and buttery, it practically melts in your mouth.  I just love how simple yet delicate it is.
And it's even better when accented with bright lemon!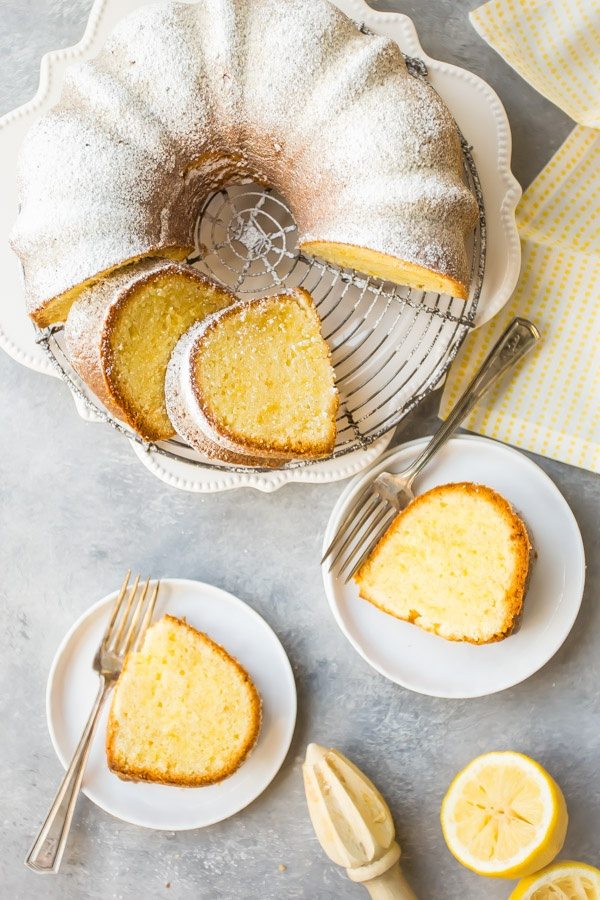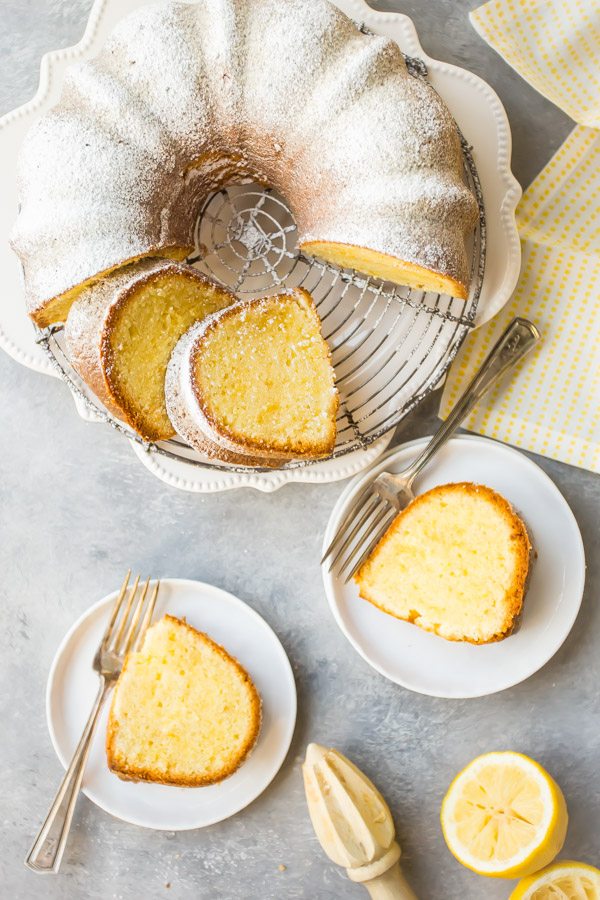 When I was creating this recipe, I really wanted it to taste like lemon.  There should be no two ways about it, when you take a bite, you want to know that it's a lemon cake!
So we are using 2 whole lemons (zest and juice), plus a couple of teaspoons of lemon extract.
The result is WOW!
Your whole kitchen will be filled with the aromas of tangy lemon and sweet butter.  And the taste is incredible!  So much sunshine-y lemon flavor.
One of my favorite things about a bundt cake is that it can really serve a crowd.  This recipe yields about 16 servings!  So it's perfect for holiday entertaining.  Everyone loves pound cake.  Everyone loves lemon.  And everyone loves a bundt cake!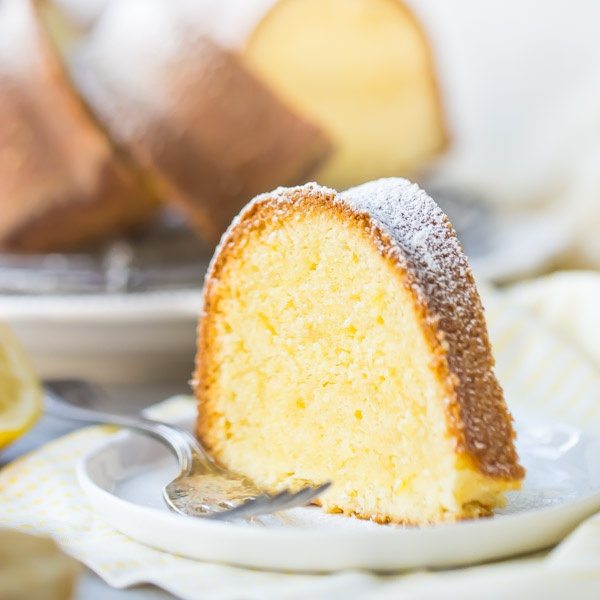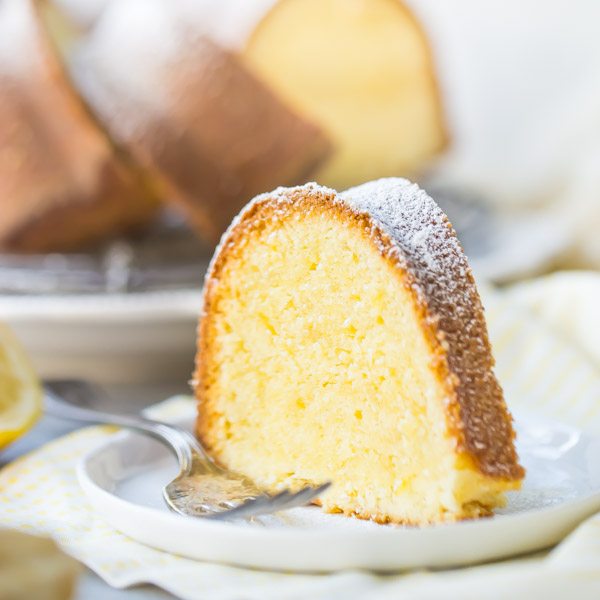 If you have any leftovers, just wrap them up nice and tightly in an airtight container.  They'll keep for a few days at room temp, or 2 weeks in the fridge.  And they're so good with a cup of tea or coffee!
Make this lemon pound cake bundt!  It will brighten your whole day!
Lemon Pound Cake
Yield:
16 servings
Prep Time: 20 minutes
Cook Time: 75 to 85 minutes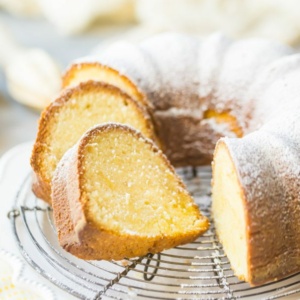 Ingredients:

2 1/2 cups (5 sticks) unsalted butter, softened
3 cups granulated white sugar
6 large Eggland's Best eggs
2 teaspoons lemon extract
zest of 2 lemons
juice of 2 lemons
3 cups cake flour
2 teaspoons kosher salt
powdered sugar, for garnish

Instructions:

Preheat the oven to 350 degrees F, generously mist a 10-cup bundt pan with non-stick spray, and dust with flour.
In a large bowl with an electric mixer, cream the butter and sugar together on medium-high speed until pale and fluffy (3 to 5 minutes).
Beat in the eggs, one at a time, until incorporated.
Scrape the bottom and sides of the mixing bowl with a silicone spatula, then add the lemon extract, lemon zest, and lemon juice, mixing on medium speed until smooth.
Add the flour and salt, mixing on medium speed until just barely incorporated.
Transfer the batter to the prepared pan, and bake for 75 to 85 minutes, or until a bamboo skewer inserted in the thickest part of a cake comes out clean or with a few moist crumbs.
Cool in the pan for 30 minutes, then invert onto a wire rack to cool completely.
Dust with powdered sugar, for garnish
SOURCE: RecipeGirl.com
Here are a few more citrus recipes you might enjoy: