I'm excited to share with you my latest London Hotel Review: The Montague on the Gardens.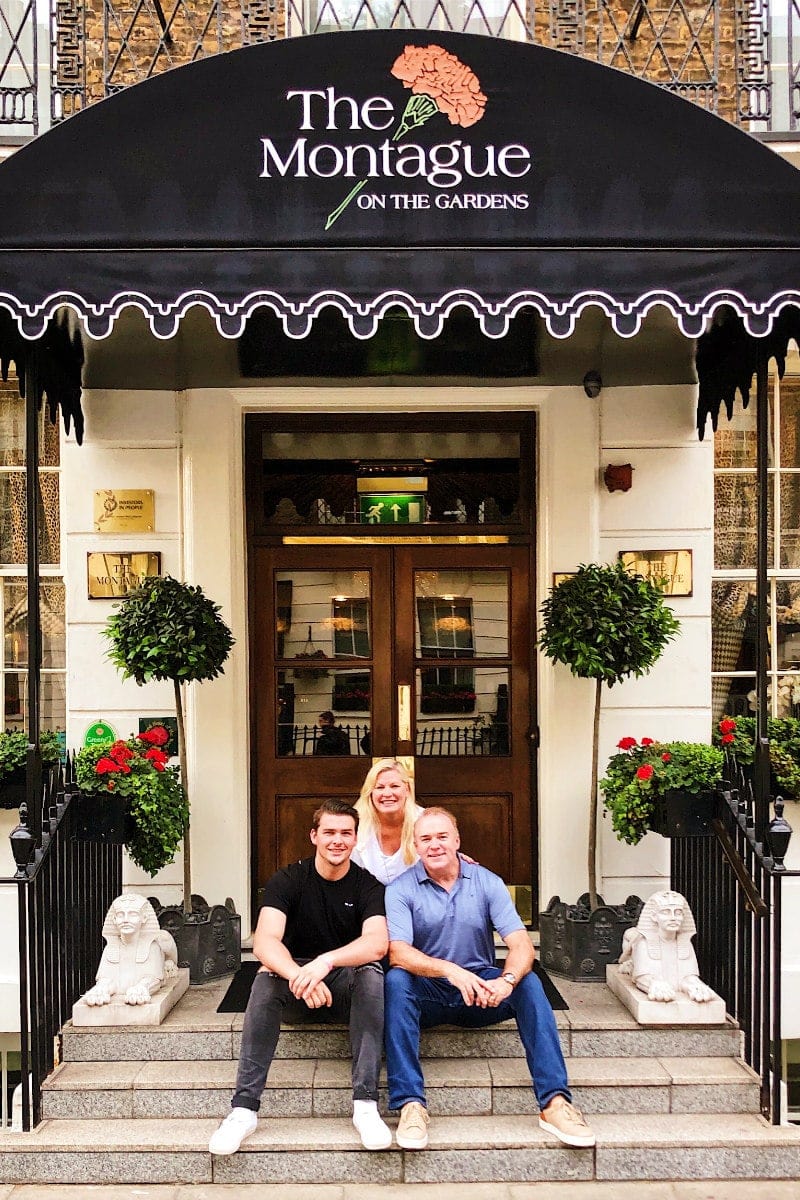 Earlier this summer, my family and I traveled on a two week adventure in Europe. It was a trip I had wanted to plan since our son would soon be heading off to college- time to spend together as a family. On our itinerary: London, Paris, Rome and Barcelona. Our first stop was London- for three nights. We chose The Montague on the Gardens hotel for our lodging, which is located in the Bloomsbury section of London (near the British Museum).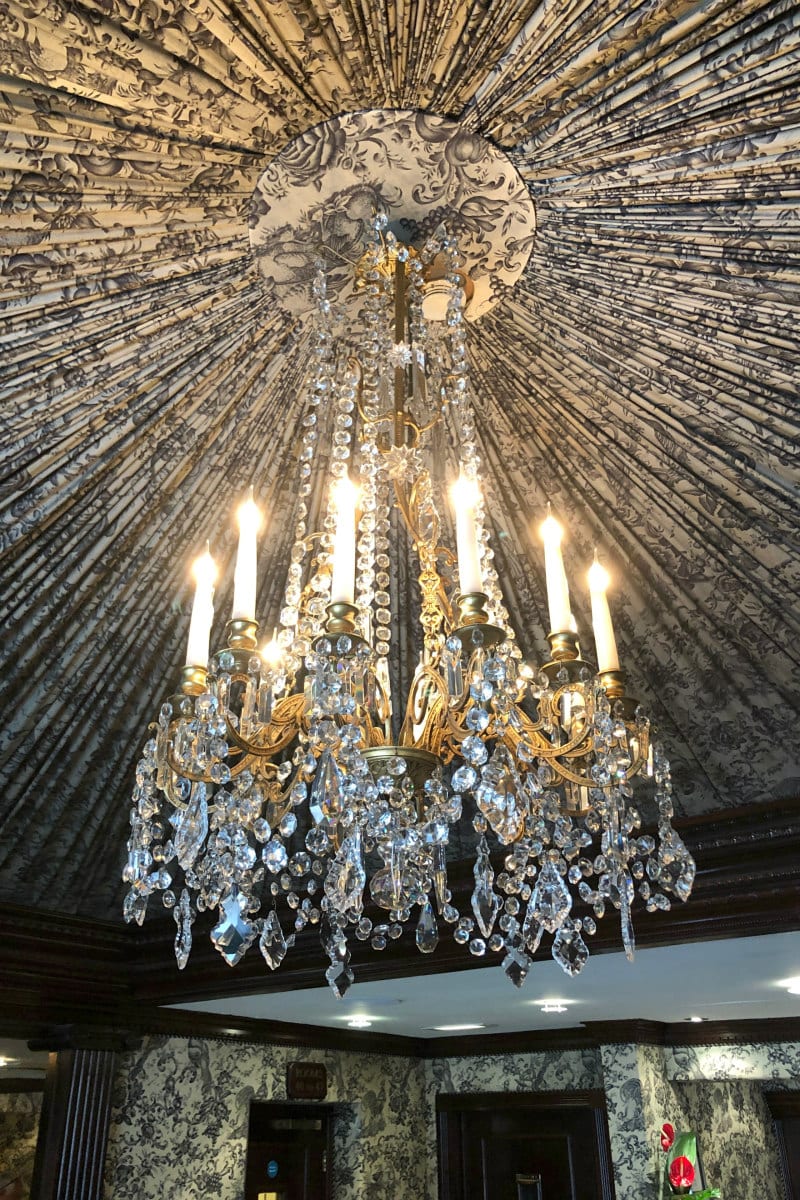 The Montague on the Gardens is a traditional Georgian townhouse hotel- full of charm.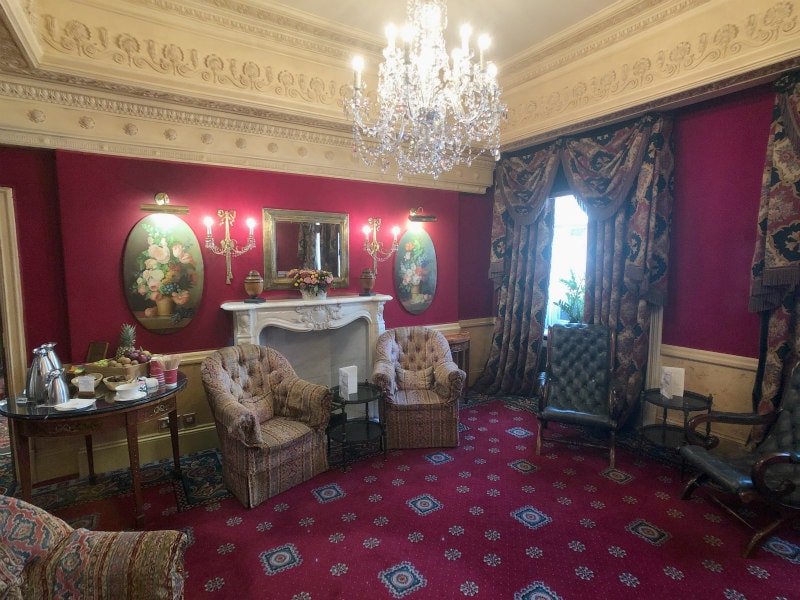 It feels very much like a luxury hotel too– with a ton of comfortable, elegant touches: fabric and paneled walls, fancy furnishings, the draperies and carpet and the offerings around the lobby (reading materials, coffee station, etc).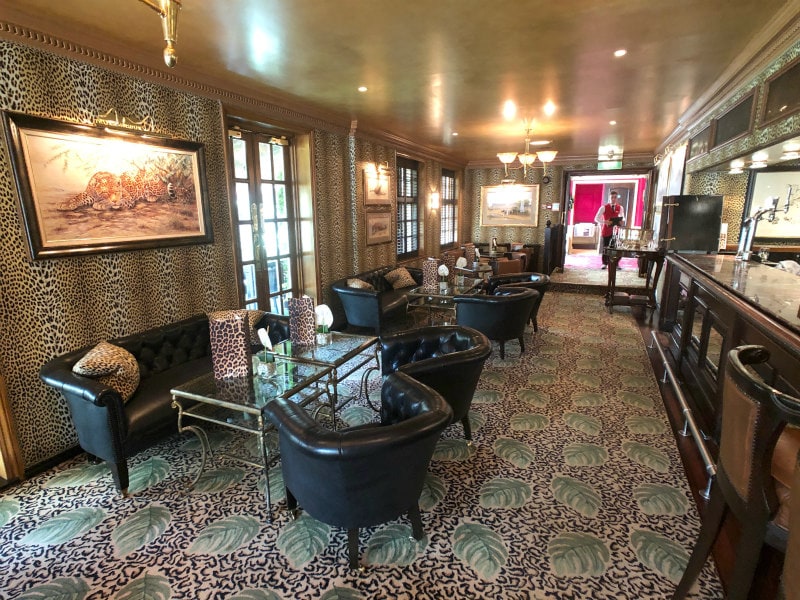 Food and Drink offerings at The Montague at the Gardens:
The Leopard Bar: a very chic British bar with South African furnishings. The bar offers food and drink, and there is live music offered every night but Sunday.
The Blue Door Bistro: the hotel's restaurant. Offers extensive breakfast options, light lunches and a dinner menu too.
The Cigar Terrace: an outdoor terrace overlooking the gardens. You can purchase and enjoy cigars here, as well as cocktails and snacks.
In the summer, there is an area that overlooks the gardens where the hotel creates a pop-up Beach Bar– complete with sand, surfboards and cocktails served in coconuts. This same space in the winter turns into a Ski Lodge– complete with pine trees, falling snow, reindeer, ski racks, cozy blankets, mulled wine and hot chocolate cocktails.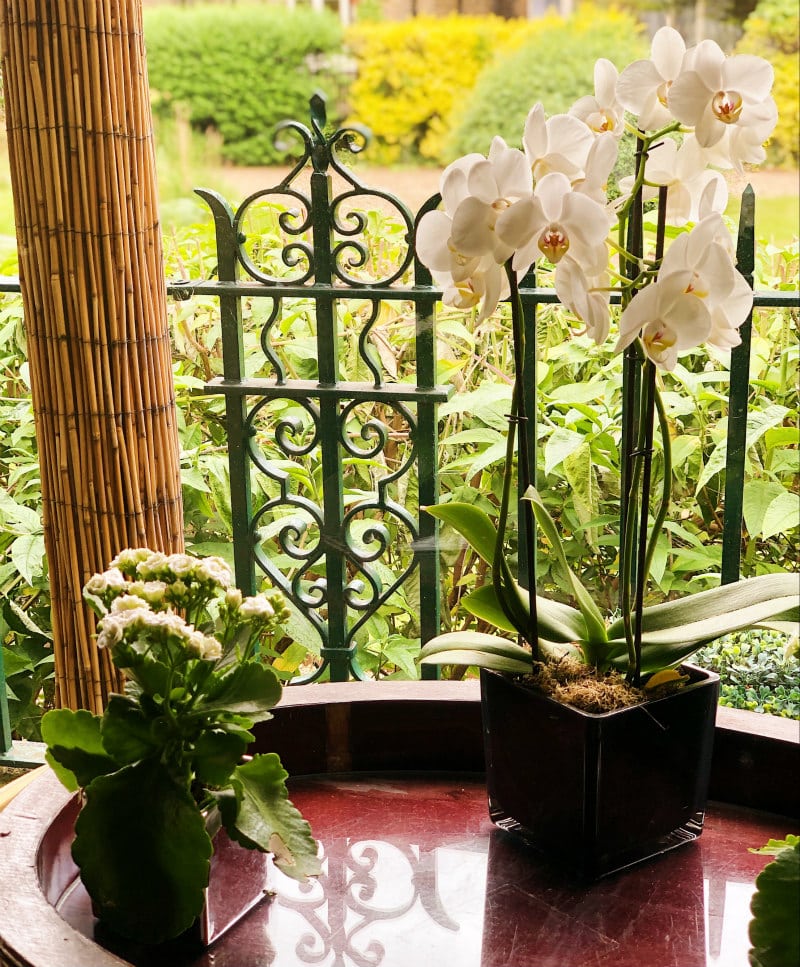 The Garden Terrace:
This is a beautiful area that overlooks the gardens behind the hotel. You can dine in this area for lunch, have a cocktail, and Afternoon Tea is offered daily here too.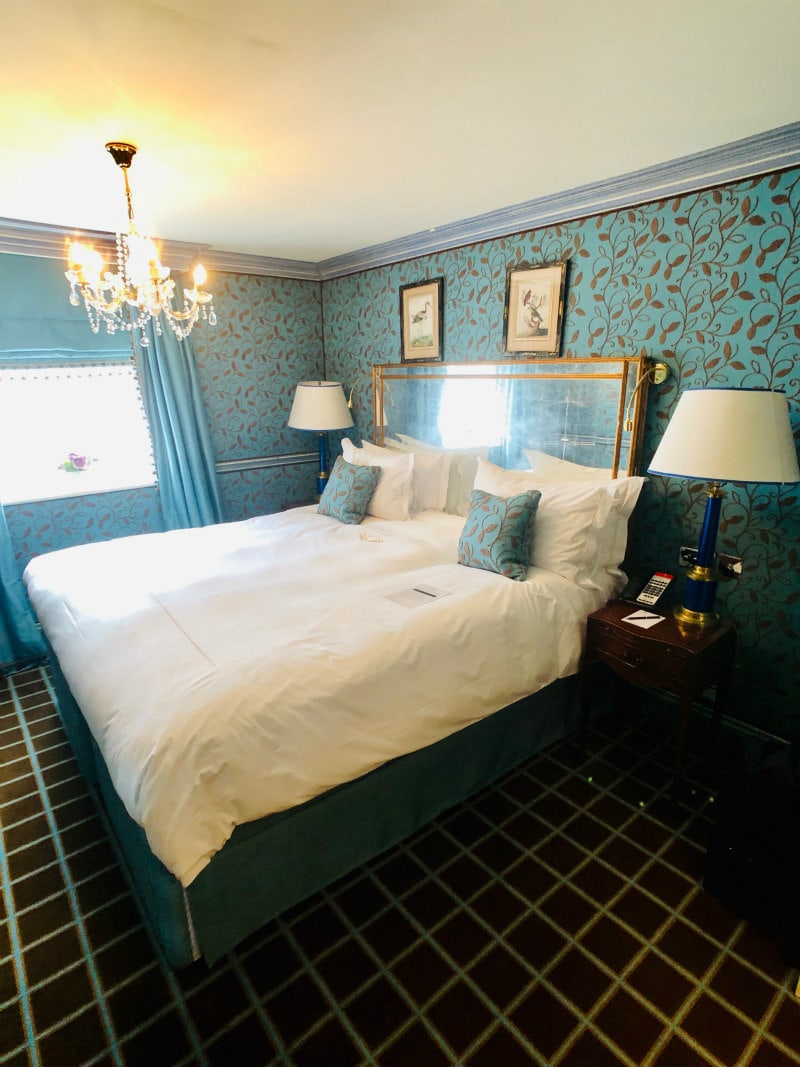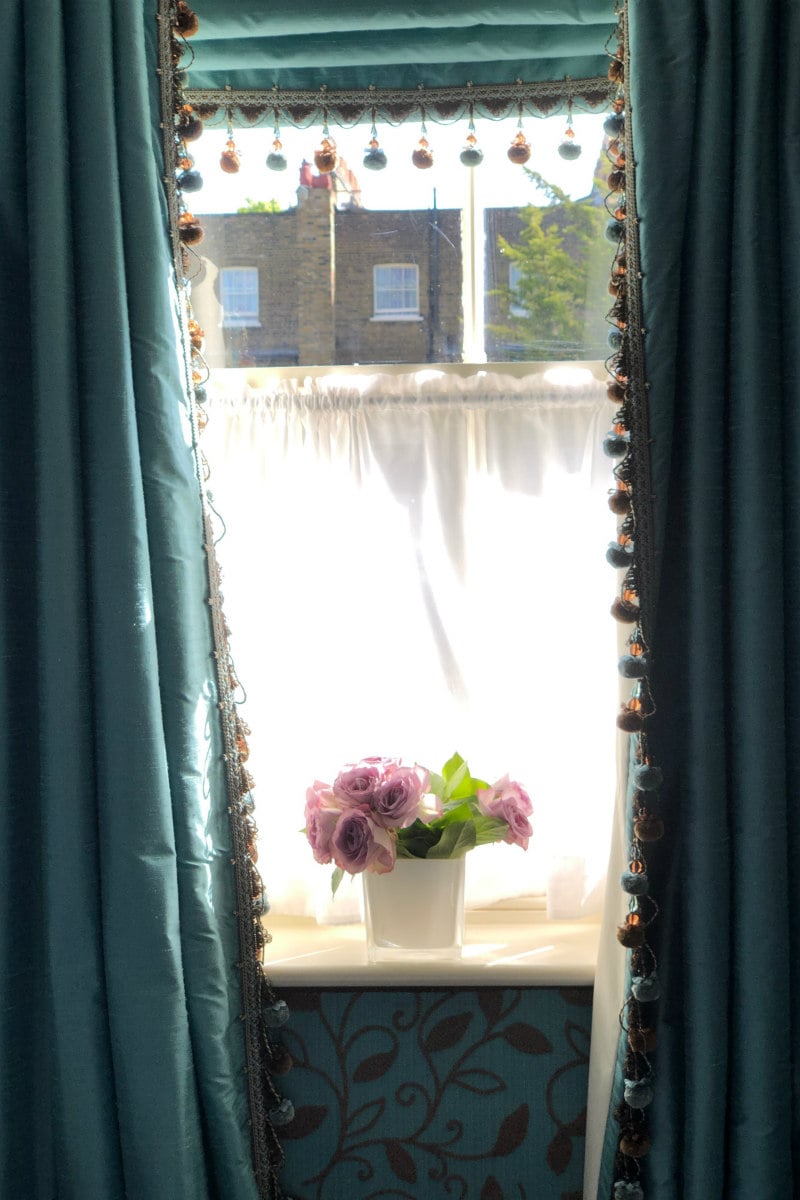 We stayed in a split-level suite, which was very comfortable for us traveling with our 18 year old. We had this gorgeous, garden-facing room. As you enter the suite, the bedroom is located down a flight of stairs. We loved that it was away from the bathroom and tucked away to give us privacy and a quiet space.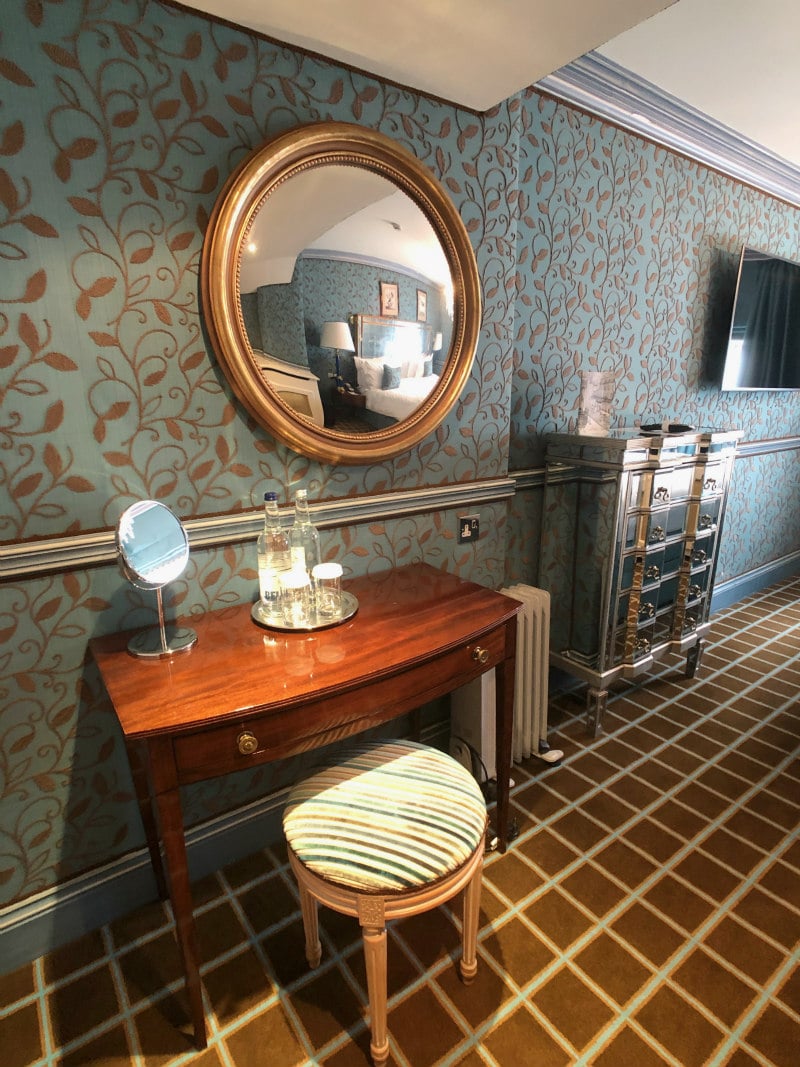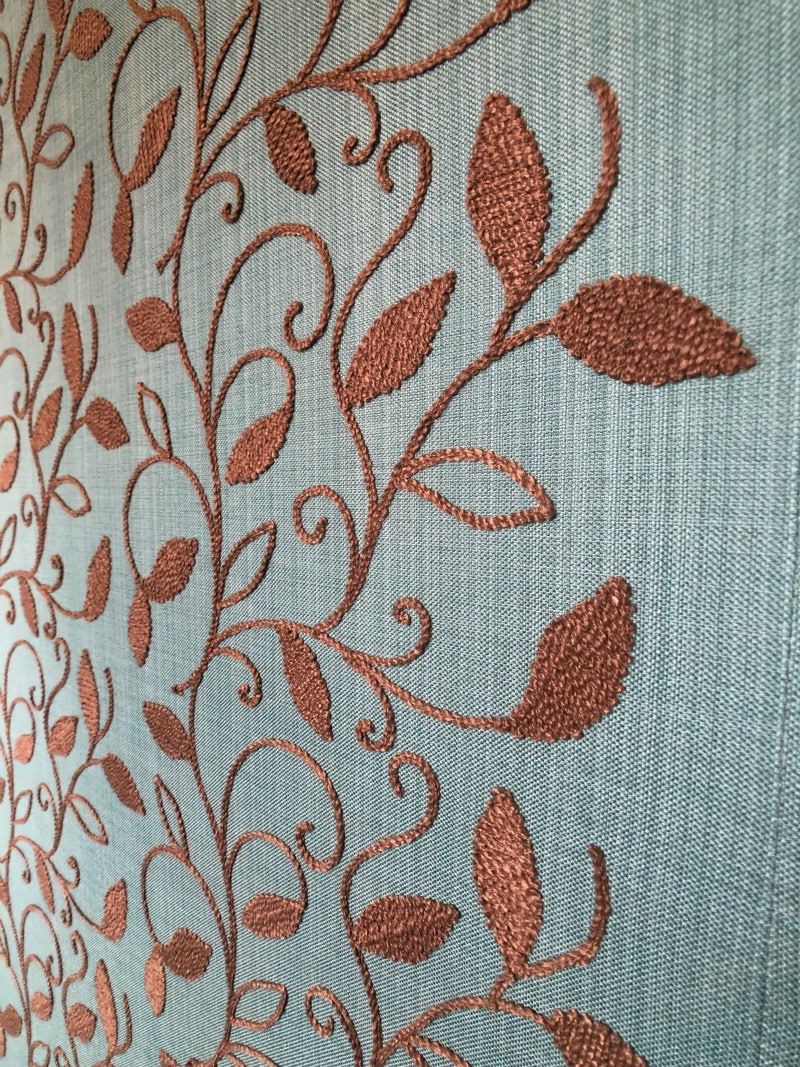 The rooms were beyond anything I've seen before. The hotel decorators clearly paid a ton of attention to detail. Fabric with intricate woven patterns adorned the walls. The touches of adding a functional, mirrored dresser and sitting area are on point. Crown molding, heavy draperies, crystal chandeliers and a cozy bed were all welcome sights to see.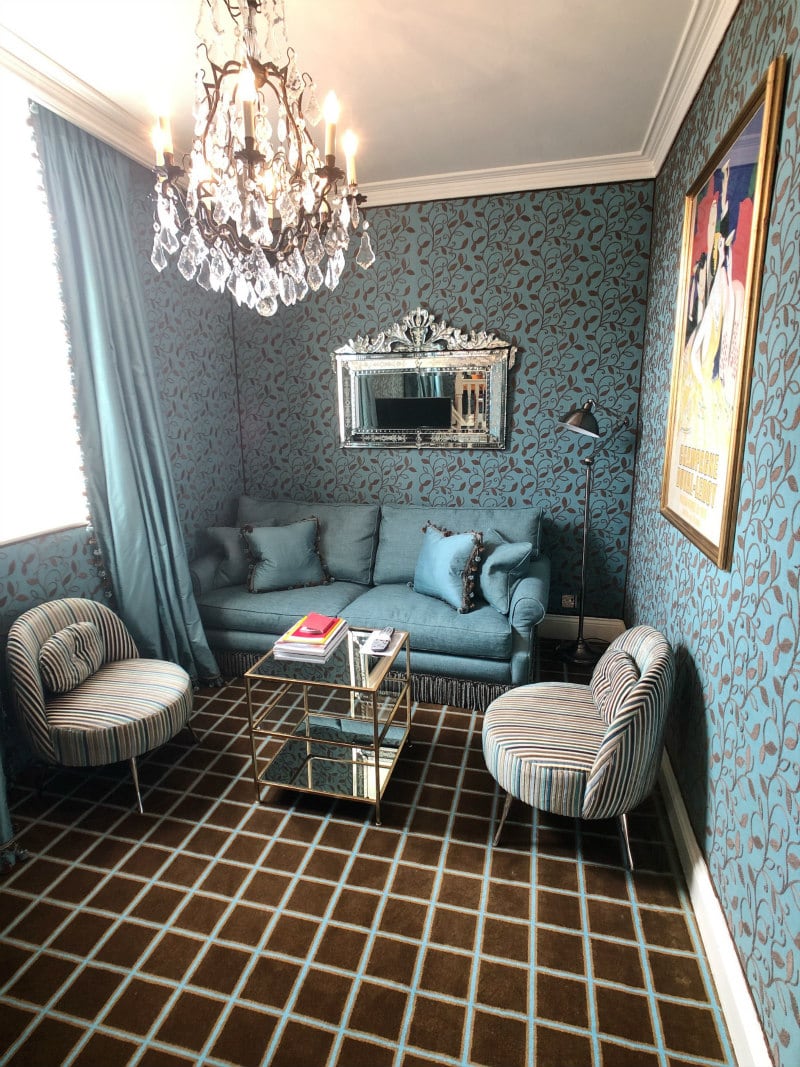 On the next level (the entry level), was this just-as-elegant sitting area. Our son slept on the pull-out sofa bed. He had his privacy too since there was a door to this room.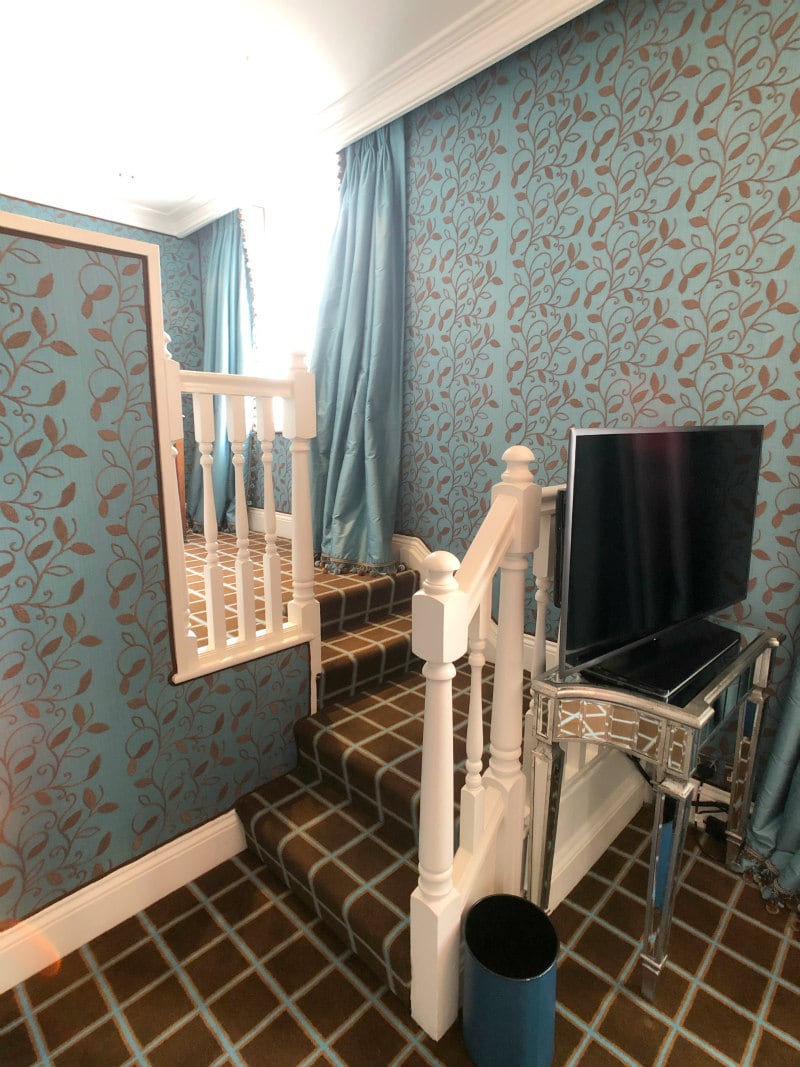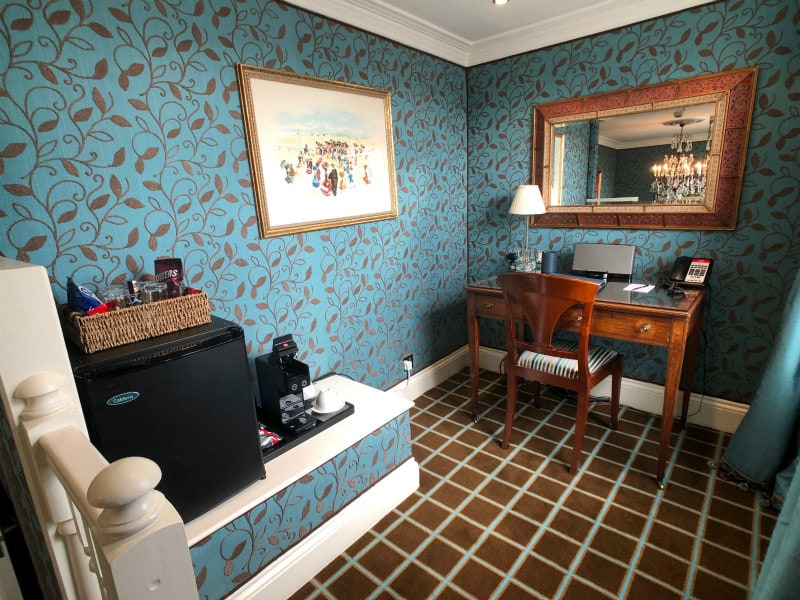 Up a few steps from the sitting room was a little mini bar and desk area. We didn't really use this part of the suite at all, but it's nice to have if you were going to stay there for a longer amount of time and needed a work space.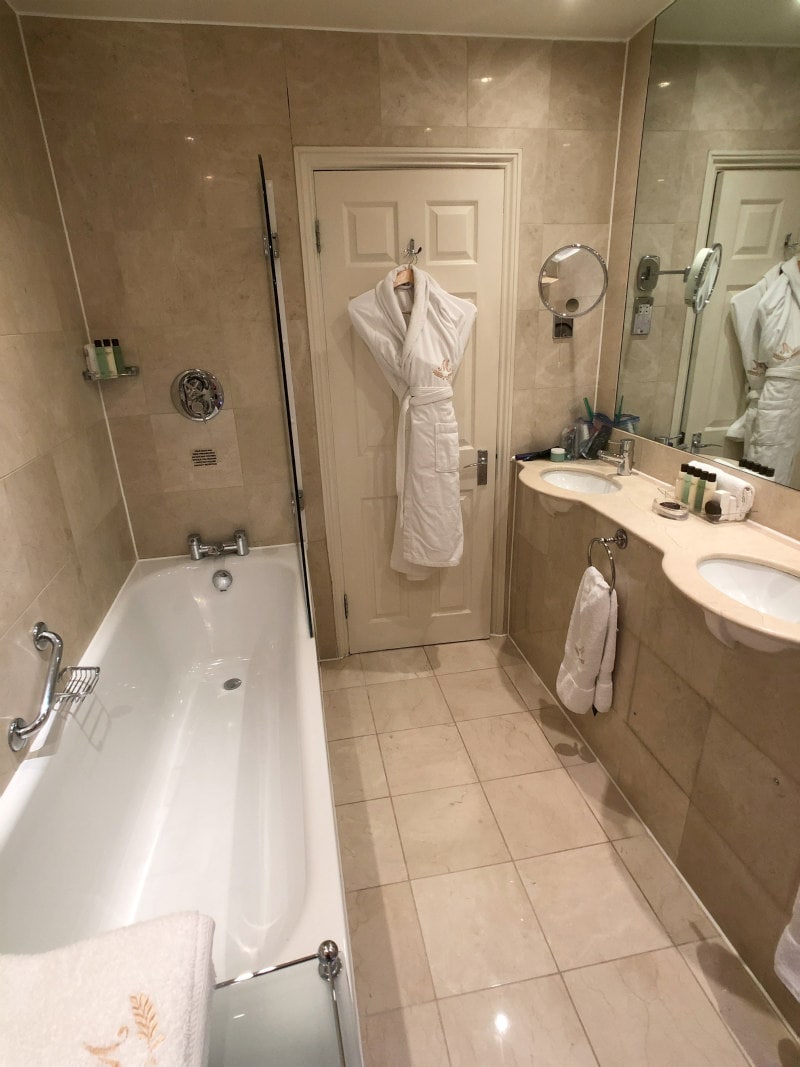 The bathroom (on the entry level) was incredibly large. Plush robes, bidet, and heated towel racks included!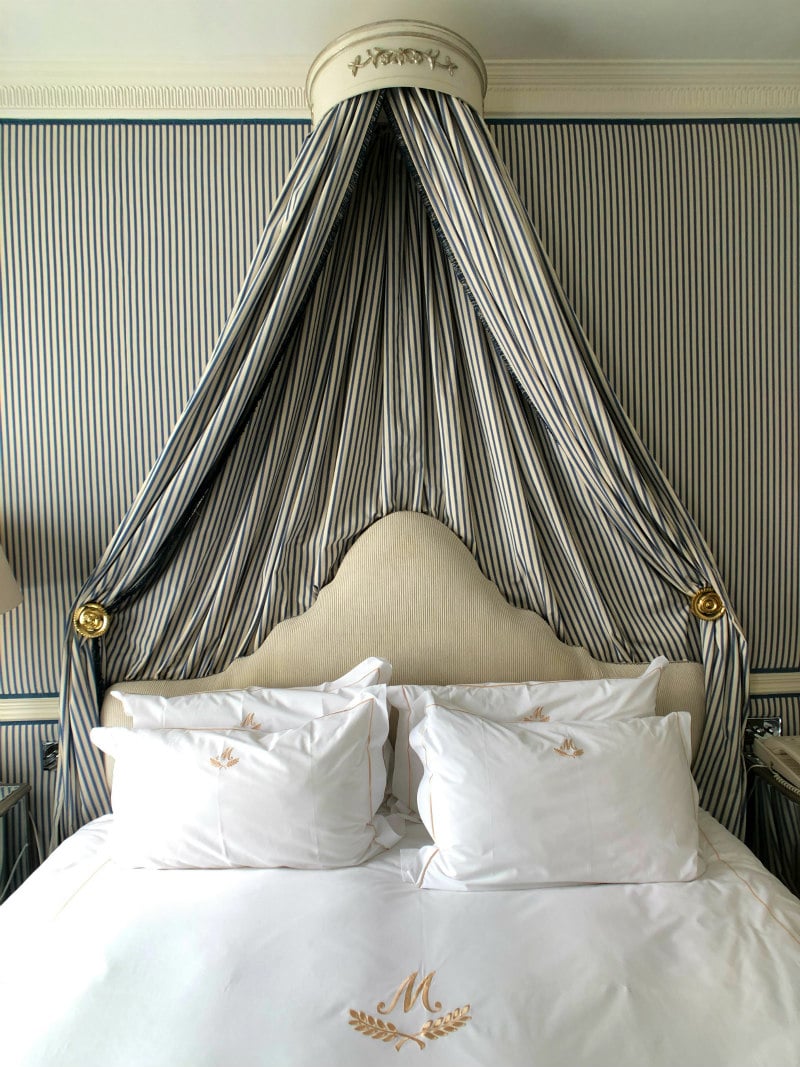 Here's a peek into another room at the Montague on the Gardens- more of a traditional queen bed room- just as cute and elegant as the larger room we stayed in!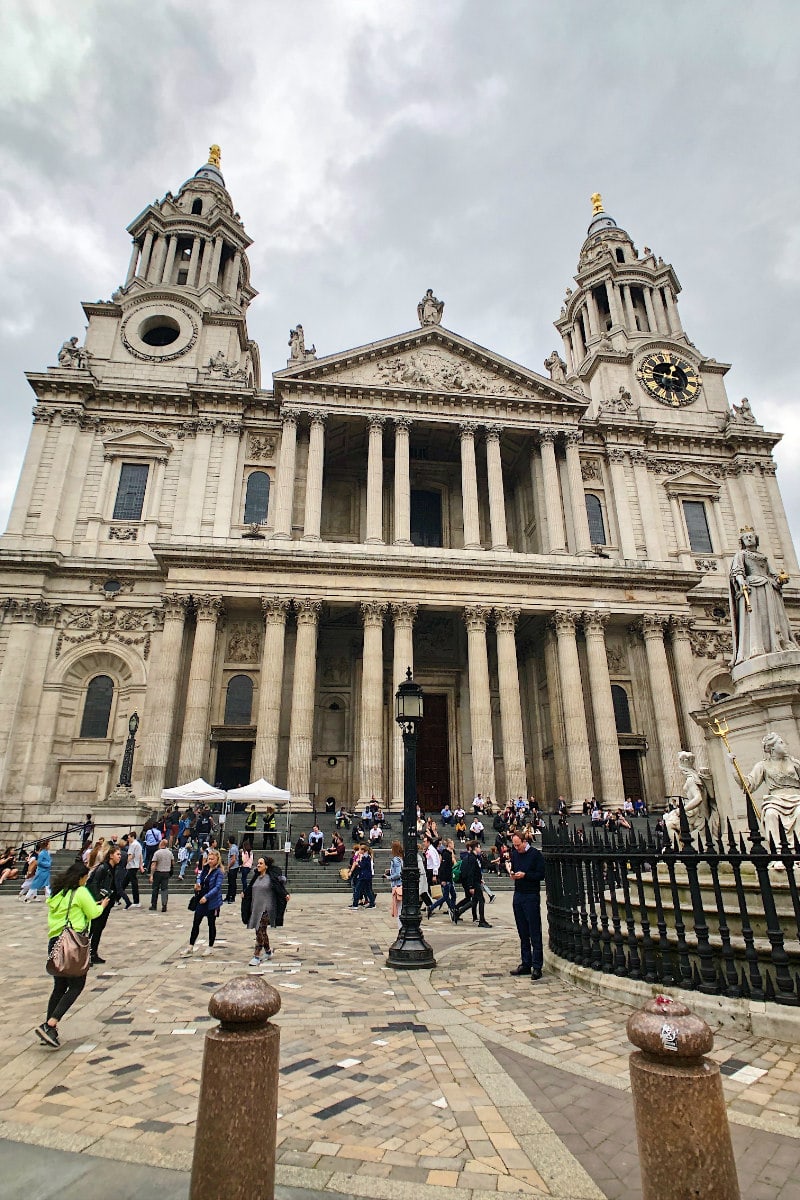 Another thing I loved about staying at this hotel was the location. It was pretty walkable to so many areas around London. If you're vacationing in Europe, plan to walk a lot. It's just what you do! In fact, we purchased a day pass for the Hop On/Hop Off bus and it was a complete waste of money. We found it to be too crowded to actually get on any of the buses, and it was much quicker to walk where we needed to go and hop in a taxi when we needed to. St. Paul's Cathedral was 1.4 miles from The Montague on the Gardens. It took us about 25 minutes to walk there, which was great because we loved looking at the surrounding neighborhoods and shops along the way!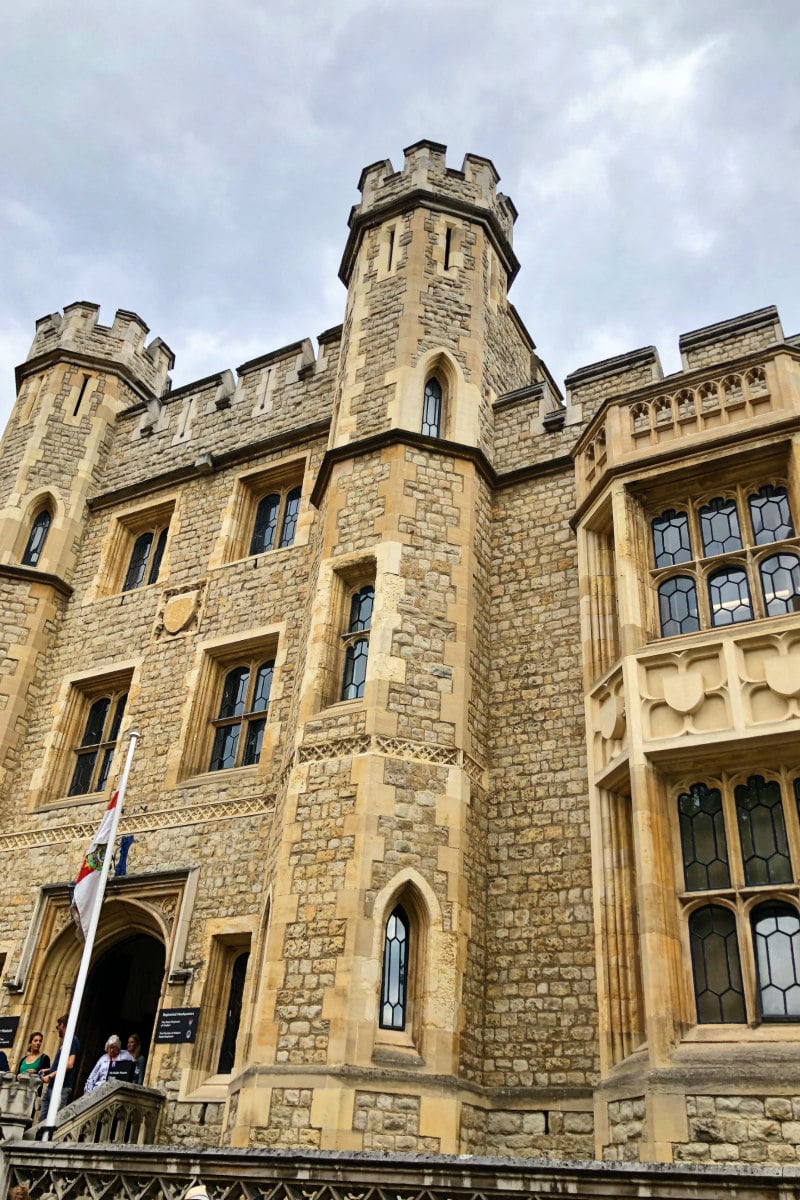 From St. Paul's Cathedral, we took a quick taxi ride to The Tower of London. We paid the admission into the Tower of London, and we were quickly disappointed. Once you enter, there are lines for everything. Long lines. Maybe we hit it on a crowded day, but we weren't into waiting in line. We walked around and only stayed about 1/2 hour.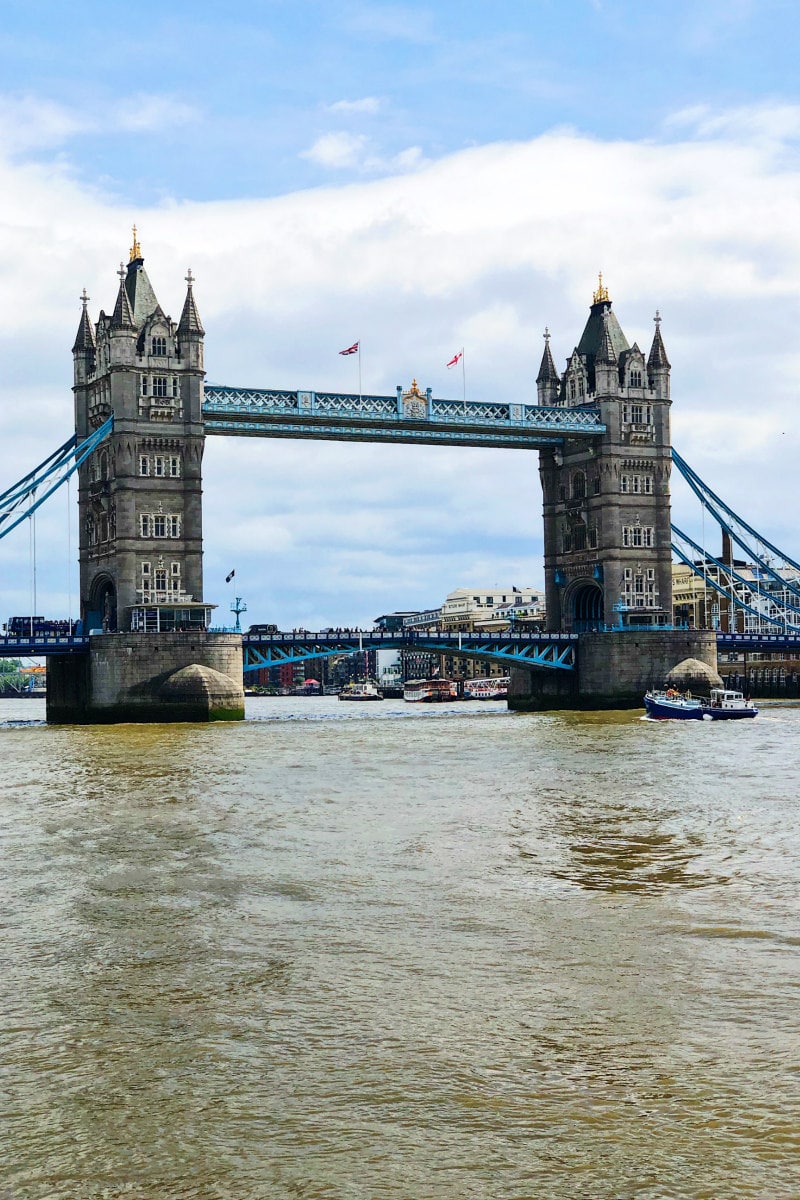 The Tower Bridge is totally worth seeing! It's so pretty, and the views from the grounds of The Tower of London are great.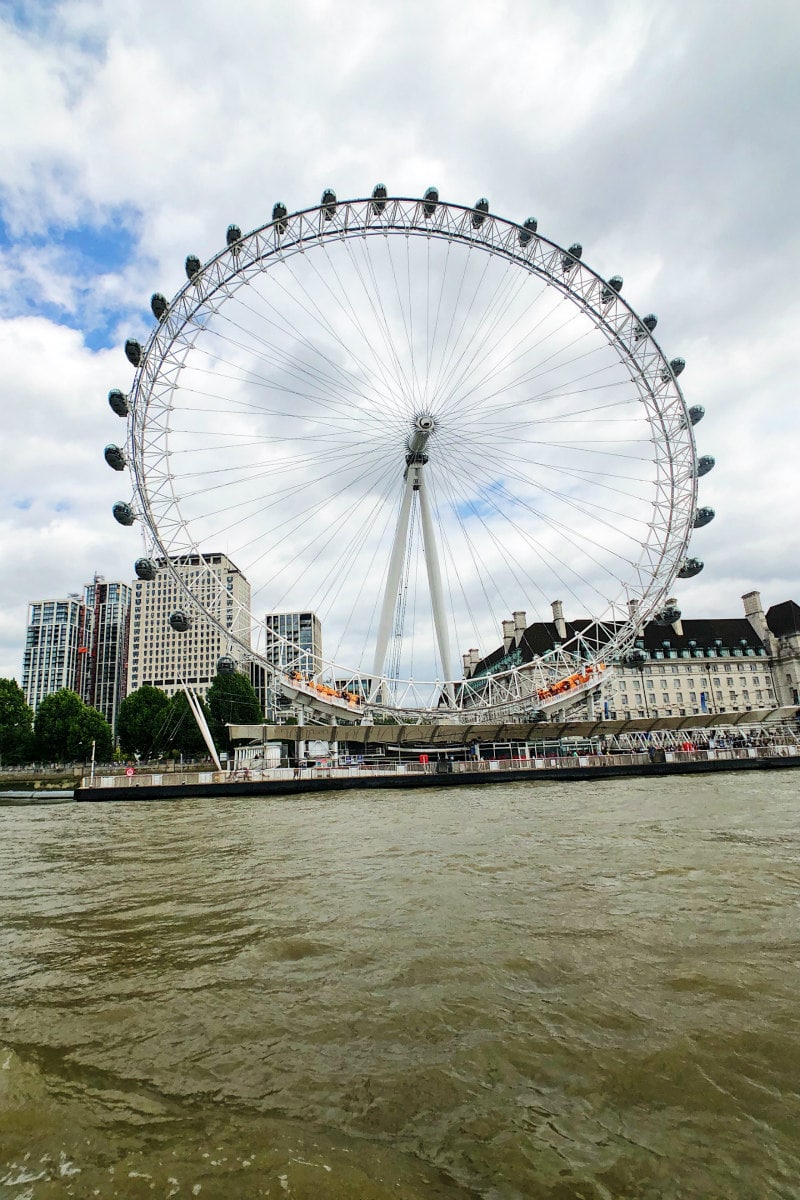 We hopped on a ferry near the tower and took it down the river. It was a nice ride, and we were able to get a good look at The London Eye from the boat.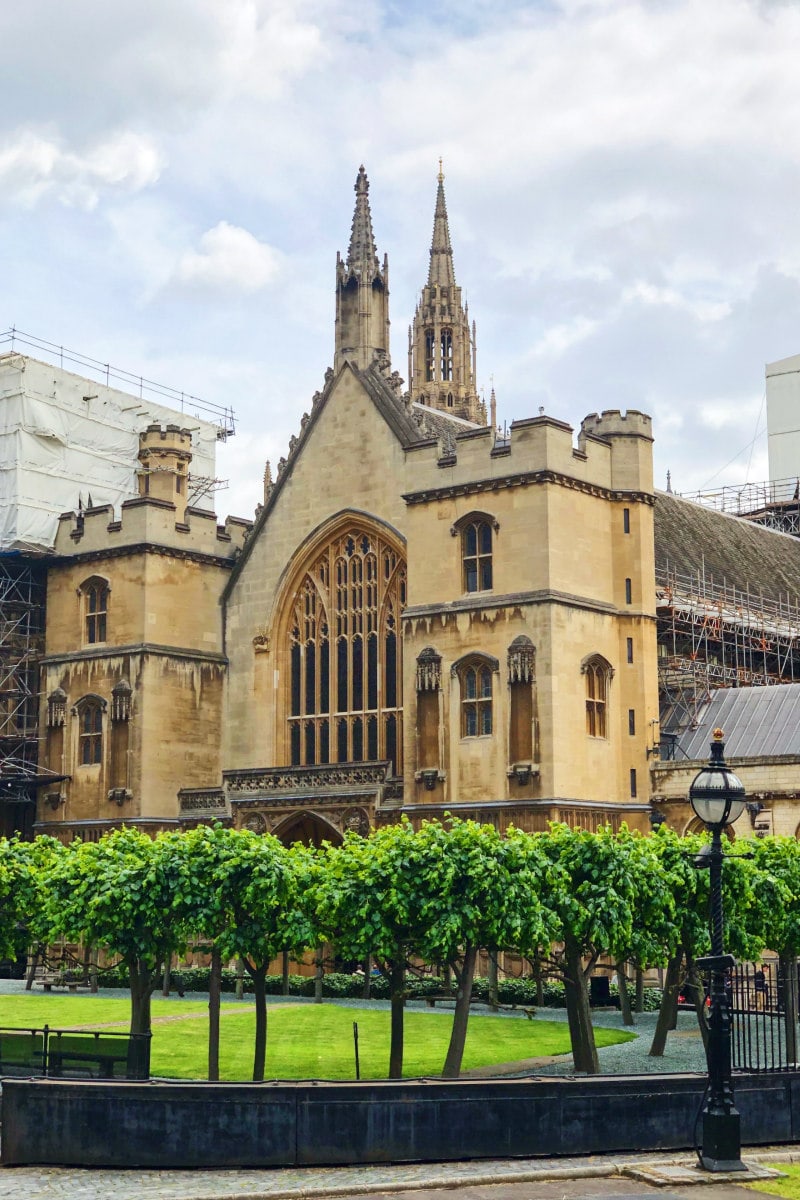 Off the boat, we walked to Westminster Abbey and took photos from the outside. It was under construction, as you can see.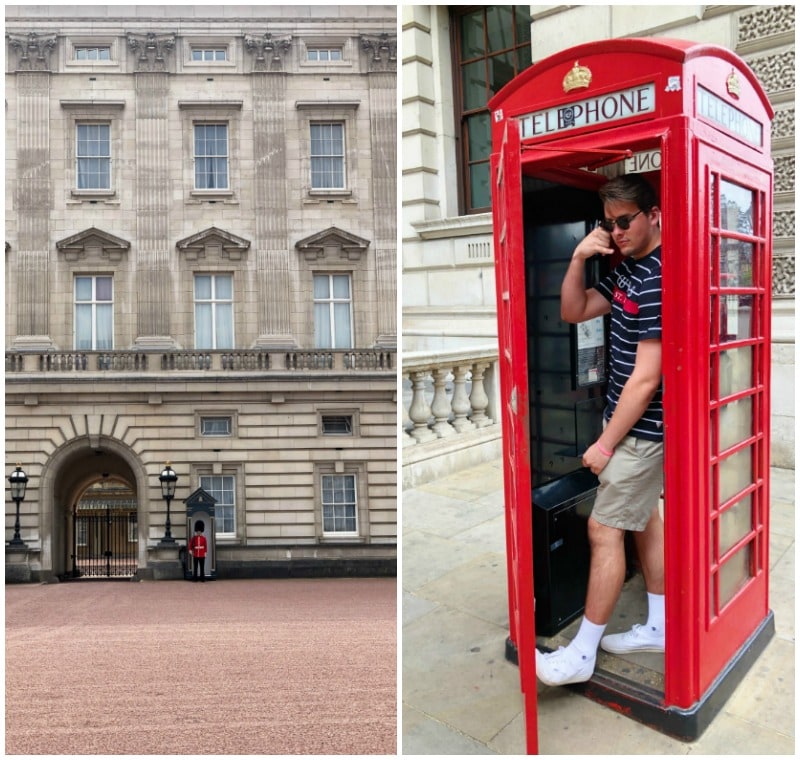 And then we walked to Buckingham Palace. There was no changing of the guard, but we did see the guards marching back and forth. I've been there before when it was changing of the guard, and it's worth seeing if you can plan for it. Look online to find out what days/times that takes place if you're visiting London.
Our favorite area of London to visit on this trip was Shoreditch. It's a hip, artsy area with an eclectic dining scene, and we ended up going to Shoreditch twice! Dirty Bones was a good place to stop for a cocktail- kind of a craft cocktail kind of bar. And I highly recommend Dishoom for some really great Indian food. There are a ton of great Indian food restaurants in London, and we had an amazing eating experience at this one!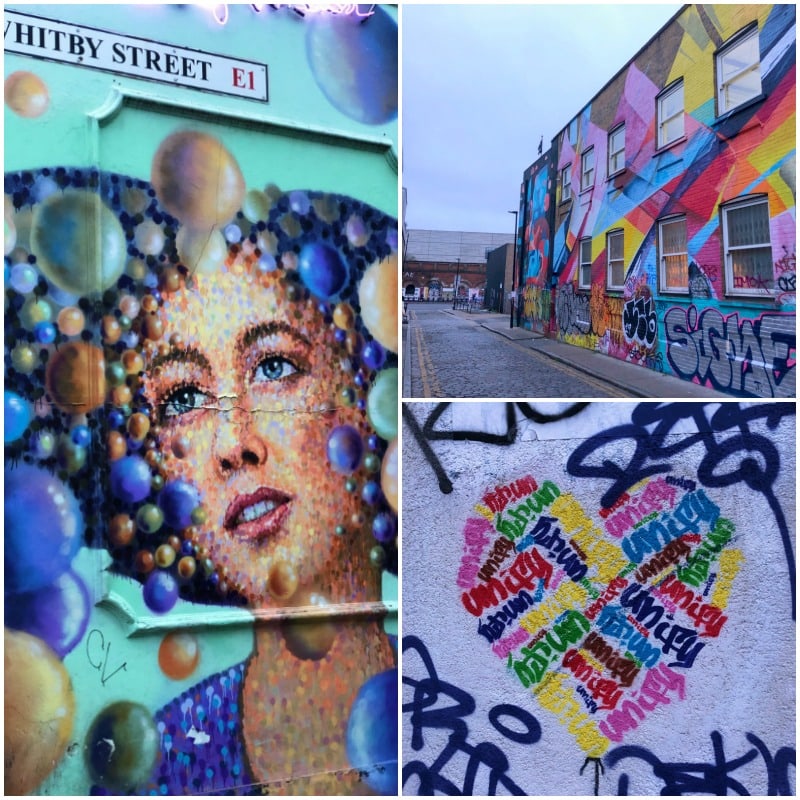 Shoreditch is covered with lots of really well-done graffiti art.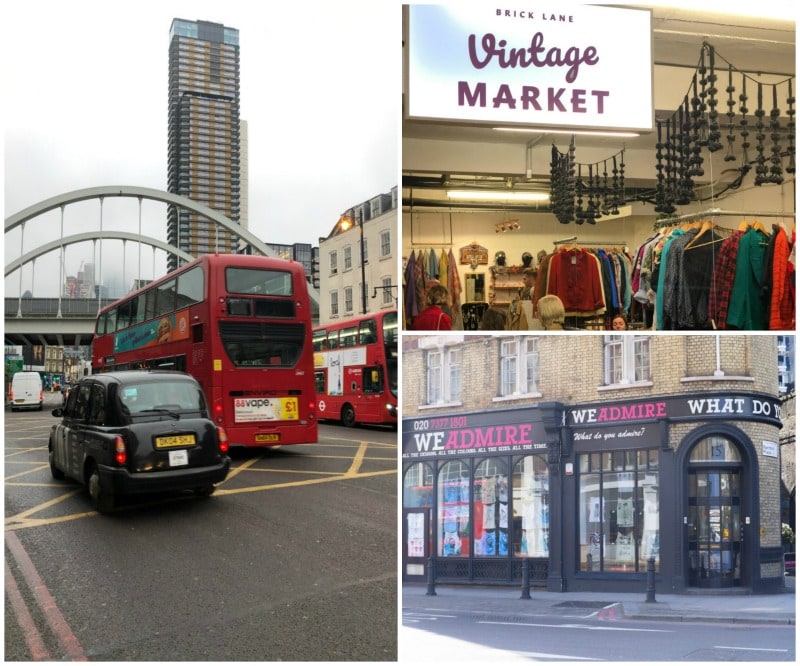 It's also home to many vintage markets and interesting shops, so my son and I spent a day shopping there. We especially enjoyed visiting We Admire- a T-shirt shop. They carry custom-made, really light-weight t-shirts with designs on them of things that you might admire (people, music, science, cars, hobbies, etc.) You can also have your own designs made. We bought three t-shirts there!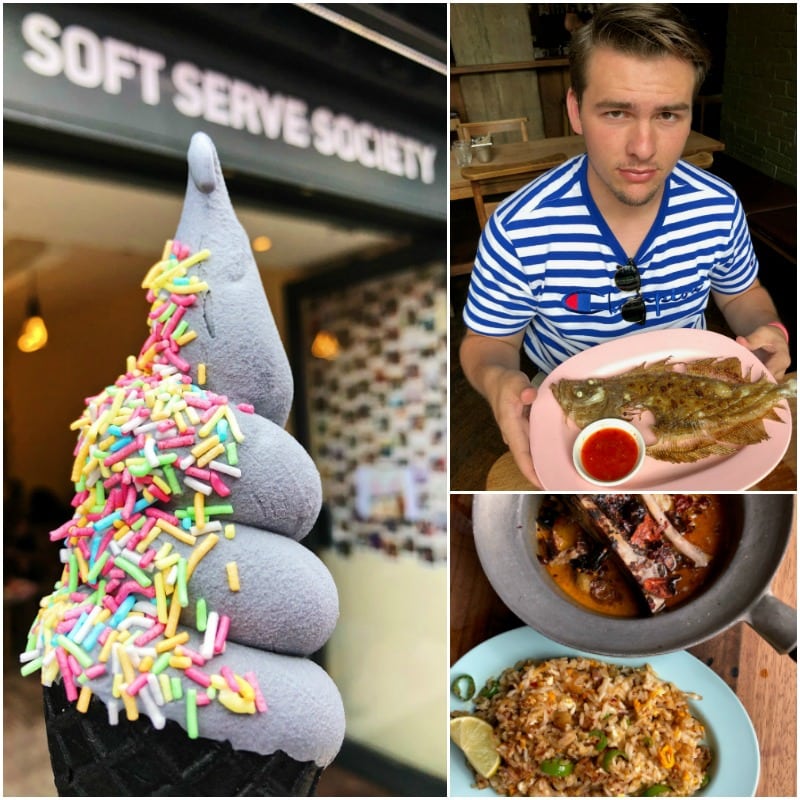 Not to miss: Soft Serve Society charcoal ice cream (so good). We also tried a Thai Barbecue place that was decent but with a limited menu. My son ordered fish, which he was brave enough to eat even when it was delivered to him with head and bones and all!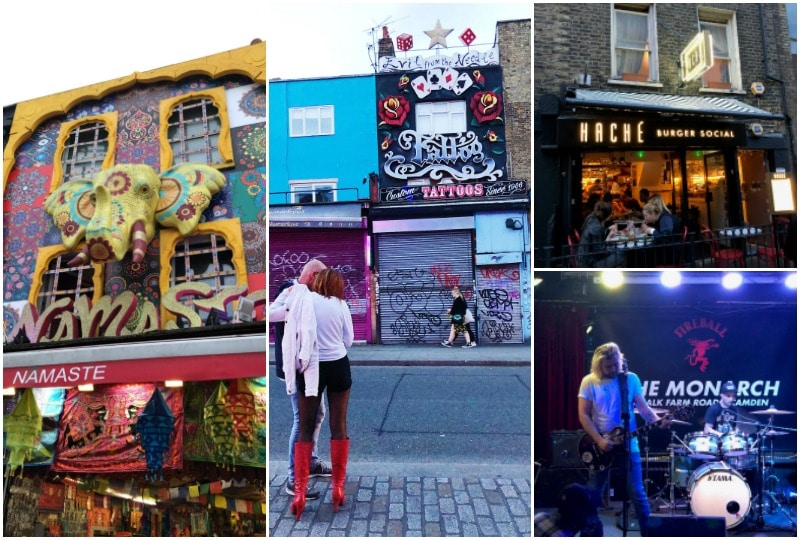 Another super cool district to visit in London is Camden- an area full of teenagers, tourists and punks. It might not be for everyone, but we thought the vibe was funky and the people-watching was good. We ate at Hache Burger Social (amazing) and then walked to a couple of clubs to watch live bands. I'd say if you're into live music, it's a fun place to check out.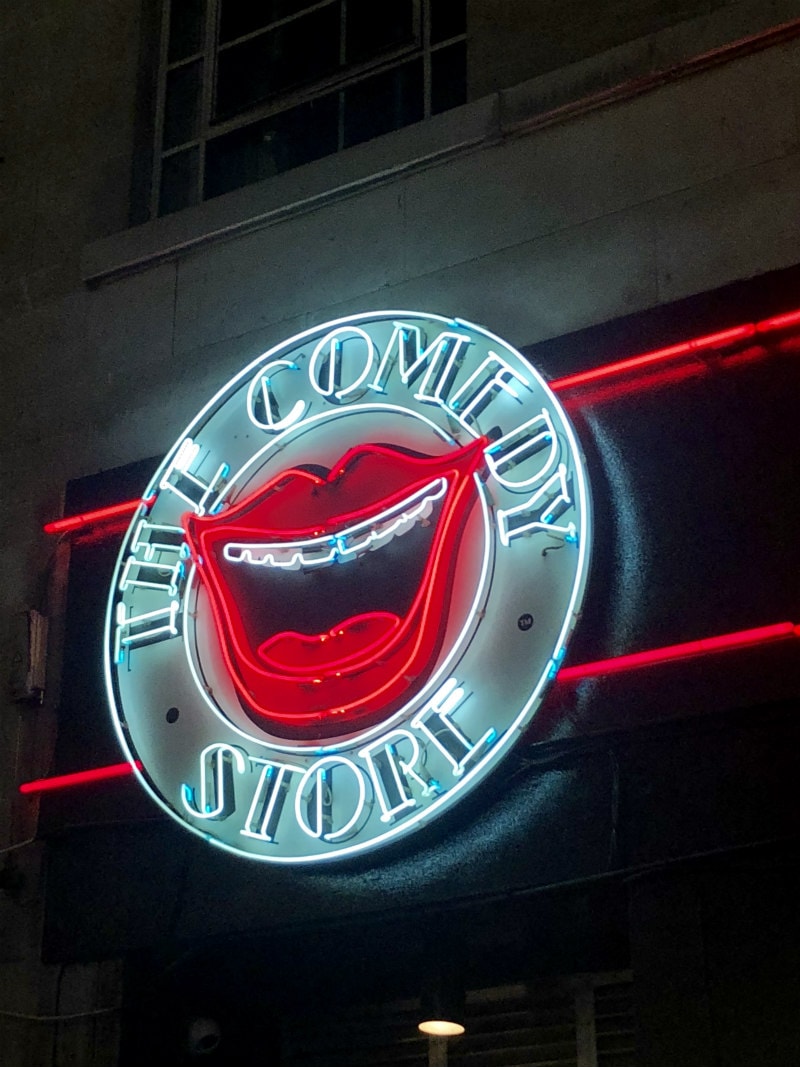 The Comedy Store is also a super fun night activity to experience in London. We went on a night when there were about 5 different comics featured. I like that since you get to experience many comedic styles instead of just one. It was fabulous, and we had some good family laughs.
We did a lot of shopping in London (our son loves the designer stores) but only bought a few, selective items. It's worth noting that if you like the designer stores, the prices will be much better on those store in Paris or Rome (which are both heavily discounted over USA prices).
Theater is another must in London. We didn't experience it this time in London since our son wasn't into it, but it's definitely something to consider. Moulin Rouge was suggested to us but we didn't get around to doing that either. And I really wanted to go to the Borough Market near the London Bridge- next time! There are so many things to do in London. It's a city that must be visited many times to properly experience it all.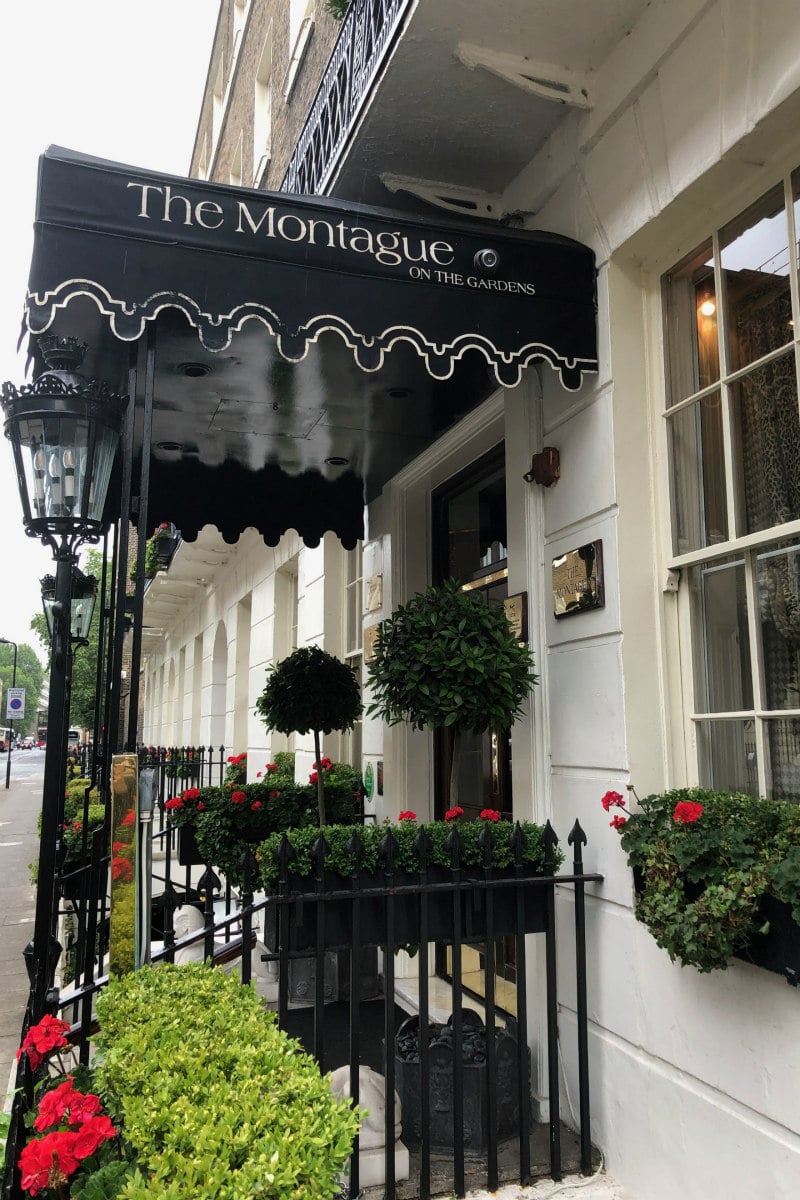 We loved our stay at The Montague on the Gardens, and we'd recommend it without hesitation to anyone who is visiting London. It's grand, it's in a great location, we loved our room and the food/drink offerings, and the service is impeccable.
Hotel Information:
Website: The Montague on the Gardens
15 Montague Street, London, WC1B 5BJ
Telephone: +44(0)20 7637 1001
Email: bookmt@rchmail.com
Fun note: I was in London a few years ago and had a very unique "Downton Abbey" experience. Check it out here: Highclere Castle and Downton Abbey- Behind the Scenes.