This recipe has been featured in a post on The Recipe Girl blog: Magic in the Middles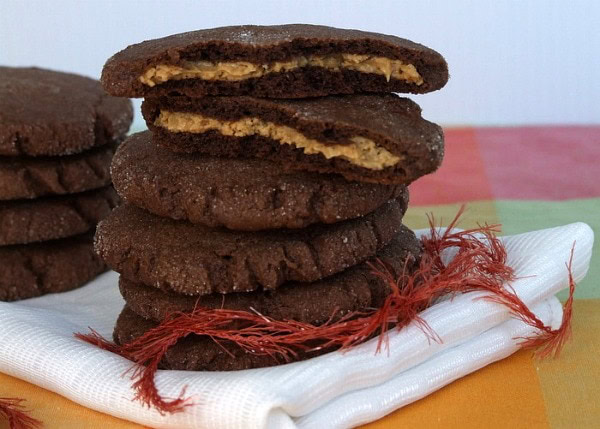 Magic in the Middles
A classic cookie... people always love the peanut butter "magic" hidden inside!
Yield:
About 26 cookies
Prep Time: 35 min
Cook Time: 8 min
Ingredients:

DOUGH:
1 1/2 cups unbleached all-purpose flour
1/2 cup unsweetened cocoa powder
1/2 teaspoon baking soda
1/4 teaspoon salt
1/2 cup granulated sugar (plus extra for dipping)
1/2 cup brown sugar, packed
1/2 cup (1 stick) unsalted butter
1/4 cup smooth peanut butter
1 teaspoon vanilla extract
1 large egg

FILLING:
3/4 cup smooth peanut butter
3/4 cup powdered sugar

Instructions:

1. Preheat oven to 375°F. Lightly grease (or line with parchment) two baking sheets.

2. Prepare dough: In a medium bowl, whisk together flour, cocoa, baking soda and salt. In another medium bowl, beat together sugars, butter, and peanut butter until light and fluffy. Add vanilla and egg, beating to combine, then stir in dry ingredients, blending well.

3. Prepare filling: In a small bowl, stir together peanut butter and powdered sugar until smooth. With floured hands, roll the filling into 26 one-inch balls.

4. Shape cookies: Break off about 1 Tablespoon of the dough, make an indentation in the center with your finger, and press one of the peanut butter balls into the indentation. Bring the dough up and over the filling, pressing it closed; roll the cookie in the palms of your hand to smooth it out. Repeat with remaining dough and filling.

5. Dip the top of each cookie in granulated sugar and place on prepared baking sheets about 2 inches apart. Grease the bottom of a drinking glass and use it to flatten each cookie to about 1/2-inch-thick.

6. Bake cookies for 7 to 9 minutes, until they're set. Remove them from the oven and cool on a rack.

Tips:

*These cookies freeze well. They would travel well too.
*Don't try to use natural peanut butter for this recipe. It just won't work very well.