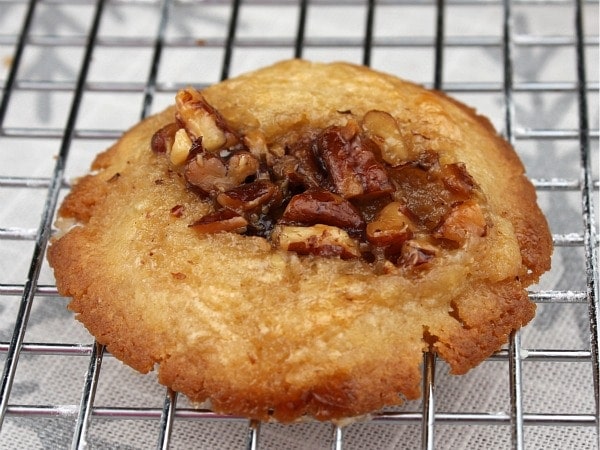 Caramel- Pecan Sticky Bun Cookies
These crispy little cookies have a center filling reminiscent of a caramel pecan sticky bun.
Yield:
3 dozen
Prep Time: 35 min + chilling time
Cook Time: 22 min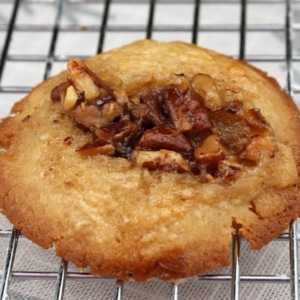 Ingredients:

COOKIES:
1 cup butter, at room temperature
1/2 cup granulated white sugar
1/2 cup dark corn syrup
2 large egg yolks
2 1/2 cups all-purpose flour

FILLING:
1/2 cup powdered sugar
1/4 cup butter
3 Tablespoons dark corn syrup
1/2 cup pecans, toasted and chopped
1 large egg white, slightly beaten

Instructions:

1. In large bowl, beat 1 cup butter and sugar until light and fluffy. Add 1/2 cup corn syrup and egg yolks; blend well. Stir in flour; mix well. Cover with plastic wrap- refrigerate 1 hour for easier handling.

2. In small saucepan, combine powdered sugar, 1/4 cup butter, and 3 Tablespoons corn syrup; bring to a boil. Remove from heat. Stir in pecans. Refrigerate at least 10 minutes.

3. Preheat oven to 375 degrees F. Lightly grease cookie sheets or line w/ parchment or silpat mats.

4. Shape dough into 1 1/2-inch balls. Place 2 inches apart on greased cookie sheets. Bake for 5 minutes. Remove from oven. Brush tops of partially baked cookies lightly with egg white. With small spoon, carefully scoop about 3/4 tsp. of the filling in the center of each cookie; pressing down slightly.

5. Return to the oven and bake an additional 6-9 minutes, or until light golden brown.

6. Cool for 2 minutes and then remove from cookie sheets. Cool completely.

Tips:

*To toast pecans, preheat oven to 400 degrees F. and place pecans on small baking sheet. 5 minutes in the oven should be enough to get them a little bit toasted. Much longer than that and they'll start to burn!