These Lemon Gumdrop Cookies are a lemony cookie with a surprise candy gumdrop baked into the middle!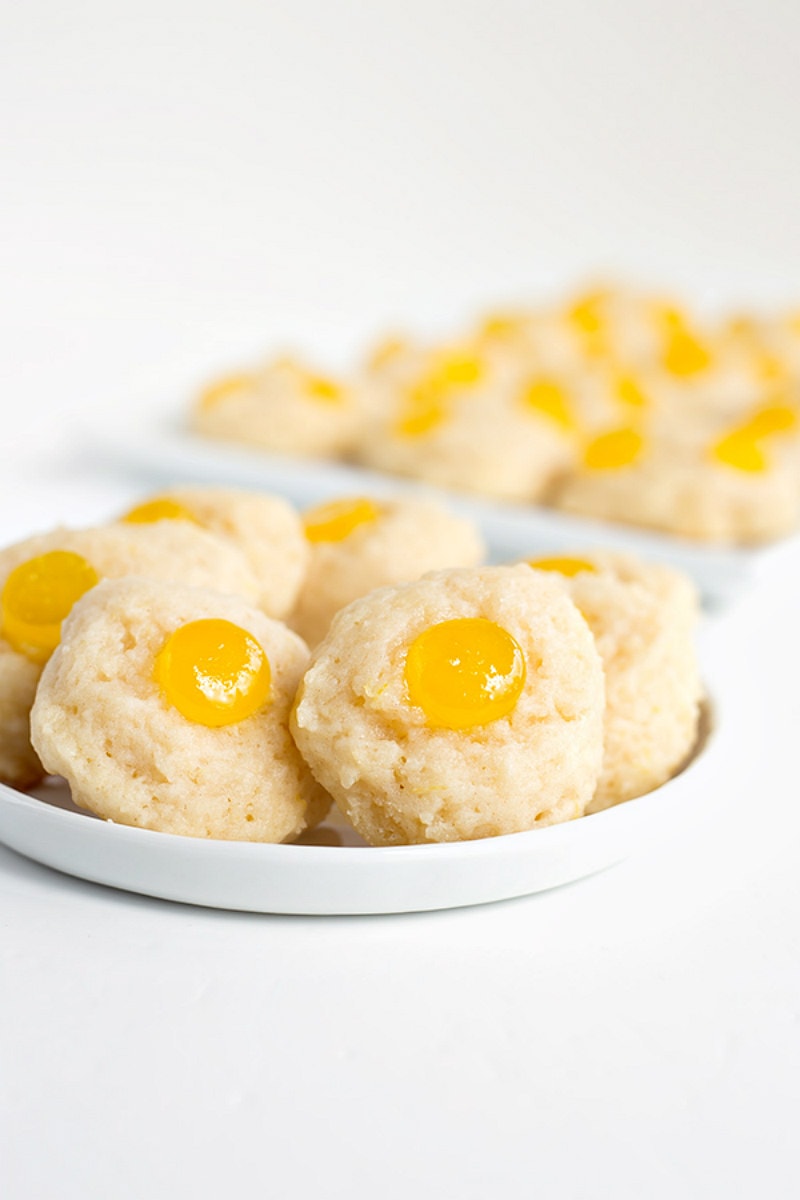 If you're in the middle of holiday baking, you might consider adding these Lemon Gumdrop Cookies to your list. They're a soft and cakey cookie with a tangy and refreshing lemon flavor. A slice of a lemon gumdrop is placed right in the middle of the cookie.
Where do you find Lemon Gumdrops?
Look for gumdrops in the candy aisle of your market. I don't believe you can find a bag of "only lemon" gumdrops, so you'll just have to buy a big bag (or several smaller bags) and pick out the yellow ones. They're usually pretty inexpensive. You'll need 14 yellow gumdrops since you'll be slicing each gumdrop into three pieces. I have ideas for what to do with all of the other colors you'll have left over, so read to the end of this post for those recipes!
Are gumdrops the same as spice drops?
Spice drops are gumdrops that are flavored with a little bit of spice. They're very similar, but they're not the same. You can use lemon spice drops for this Lemon Gumdrop Cookies recipe, if you'd like.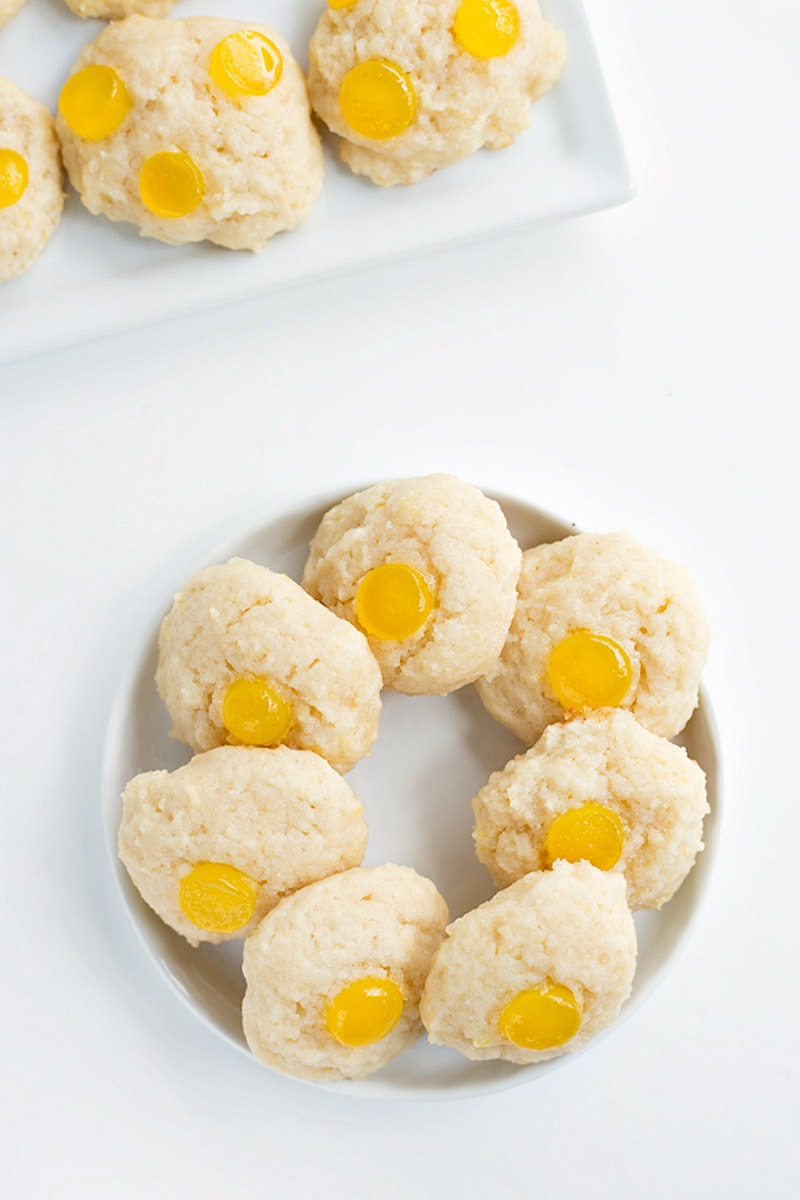 What's the best way to store Lemon Gumdrop Cookies?
I'm a big fan of baking cookies for the holidays and storing them in the freezer until you need them for gifting on cookie platters or just for putting out on a tray for relatives and friends. These are fine to freeze for up to three months. Place in an airtight container, and separate layers with wax paper.
If you'd like to store Lemon Gumdrop Cookies at room temperature, they'll be fresh and good for up to 3 days. Store them the same- in an airtight container. Separate layers with wax paper.

Lemon lovers, I'm with you. You'll need 3 to 4 large lemons for these Lemon Gumdrop Cookies- 1/3 cup of lemon juice for the cookies, and then two more tablespoons of lemon juice for the glaze. But if you have a lemon tree and you happen to have loads of lemons, you might want to make more lemon recipes!
Here are more recipes using lots of lemon juice: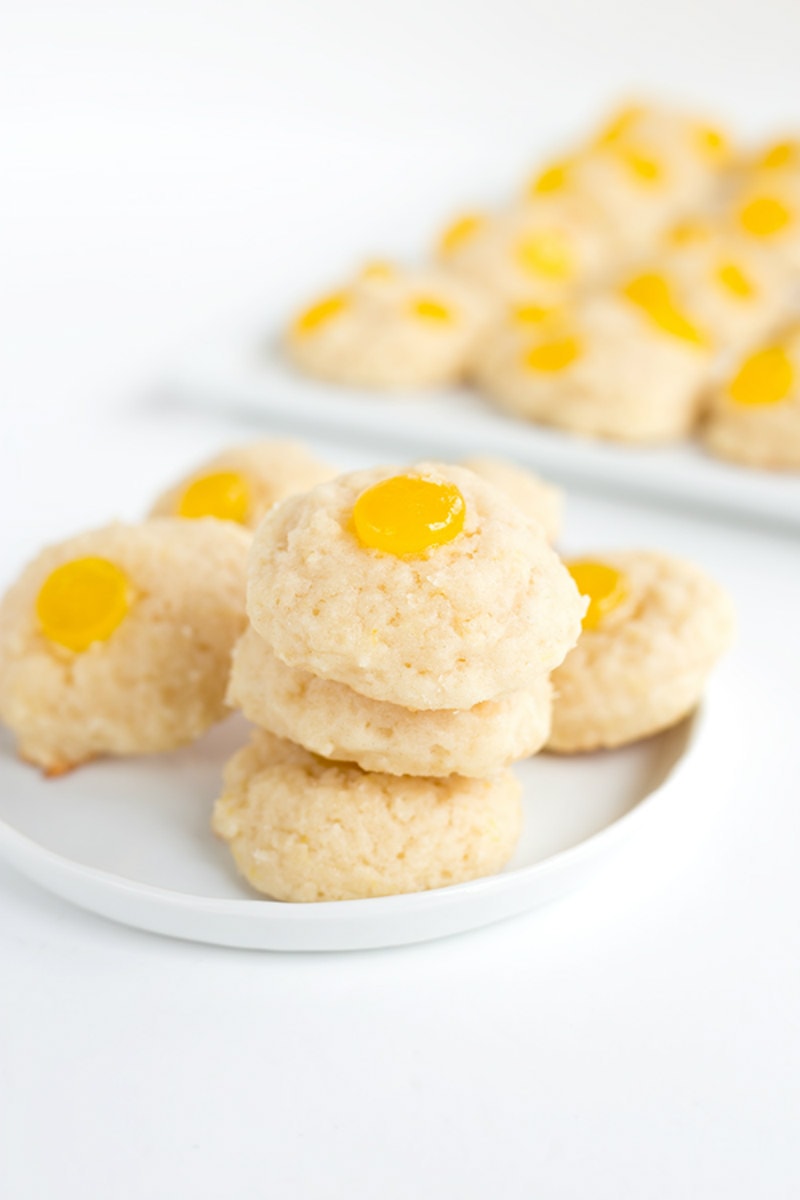 Why should you try these Lemon Gumdrop Cookies? It's kind of a unique cookie recipe that doesn't look like the rest of the cookies you're probably making for the holidays. That means it'll be one of those cookies that will stand out and have people remarking, "What are these fun cookies?!" I really love them. And they're really not just for the holidays either. These are pretty lemon cookies that would be nice to make any time of year.
What can I do with the leftover gumdrops?
If you're looking for ways to use up leftover gumdrops (since you used all of the lemon gumdrops and now you have a bunch of other colors laying around), check out these recipes for Gumdrop Cake, Gumdrop Fudge and Gumdrop Cookies. All of these recipes turn out such pretty sweet treats! Gumdrops are great!
Lemon Gumdrop Cookies
These lemony cookies are studded with lemon gumdrops!
Recipe Details
Ingredients
COOKIES:
1/2

cup (1 stick)

butter,

at room temperature

3/4

cup

granulated white sugar

4

teaspoons

finely grated lemon zest

1/2

teaspoon

baking powder

1/2

teaspoon

baking soda

1/8

teaspoon

salt

1

large

egg

1/2

cup

sour cream

1/3

cup

freshly squeezed lemon juice

2

cups

all purpose flour

14

yellow gumdrops,

each cut into thirds (or more, as desired)
GLAZE:
1/4

cup

granulated white sugar

2

tablespoons

freshly squeezed lemon juice,

warmed a little bit
Instructions
Preheat the oven to 375°F. In a large bowl, use an electric mixer to beat the butter at medium speed for 30 seconds. Add the sugar, lemon zest, baking powder, baking soda and salt. Beat until combined, scraping the sides of the bowl occasionally. Beat in the egg, sour cream, and lemon juice until combined. Beat in as much of the flour as you can with the mixer. Stir in any remaining flour.

Drop the dough by slightly rounded tablespoons 3-inches apart onto an ungreased cookie sheet. Gently press one piece of gumdrop into the center of each cookie. Or if you prefer, you can chop up the gumdrops and put a few pieces on top of each.

Bake 10 to 11 minutes, or until the tops are firm. While baking, prepare the lemon glaze. In a small mixing bowl stir together the sugar and warmed lemon juice. Transfer the baked cookies to a wire rack. Brush the tops of the warm cookies with lemon glaze. Let the cookies cool.
Notes
*To store, place the cookies in layers separated by waxed paper in an airtight container; cover. Store at room temperature for up to 3 days or freeze for up to 3 months.
You'll need 3 to 4 large lemons for this recipe.