A nice, hearty stew with great flavor.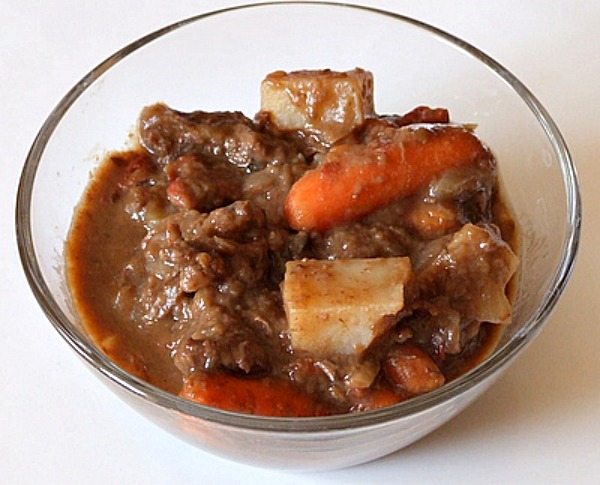 Mahogany Beef Stew with Red Wine and Hoisin Sauce
Yield:
6 servings
Prep Time: 45 min
Cook Time: 1 hour 30 min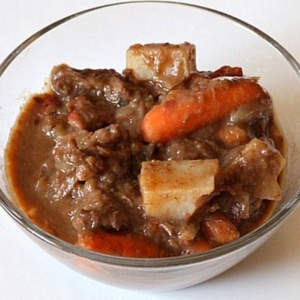 Ingredients:

4 tablespoons extra-virgin olive oil
3 1/2 pounds boneless beef chuck roast, trimmed, cut into 2 1/2-inch pieces
3 1/2 cups chopped onions
2 cups cabernet sauvignon
One 14.5-ounce can diced tomatoes with Italian herbs, undrained
1/2 cup hoisin sauce
2 whole bay leaves
1 pound slender carrots, peeled and cut diagonally into 1-inch lengths
1 tablespoon cornstarch mixed with 1 tablespoon water
2 tablespoons chopped fresh parsley

Instructions:

1. Heat 2 tablespoons oil in heavy large pot over high heat. Sprinkle meat with salt and pepper. Add meat to pot; sauté until brown on all sides, about 10 minutes. Push meat to sides of pot. Reduce heat to medium; add 2 tablespoons oil to pot. Add onions; sauté until golden brown, about 15 minutes. Mix meat into onions. Add 1 cup wine, tomatoes with juices, hoisin sauce, and bay leaves. Bring to a boil.

2. Reduce heat to low, cover pot and simmer 45 minutes, stirring occasionally. Uncover, increase heat to high; boil until sauce is slightly thickened, stirring occasionally, about 15 minutes longer. Reduce heat to medium, add cornstarch mixture and simmer until sauce thickens, stirring occasionally, about 8 minutes. Discard bay leaves. Season stew with salt and pepper. (Can be made 1 day ahead. Cool slightly. Chill uncovered until cold, then cover and keep refrigerated. Bring to simmer before serving, stirring occasionally.) Transfer stew to large bowl. Sprinkle with parsley; serve.

Tips:

*Hoisin sauce is available in the Asian food section of most supermarkets.
*Save time (and tears) by chopping the onions in a food processor.