I'm excited to share with you the final reveal for my Master Bathroom remodeling project!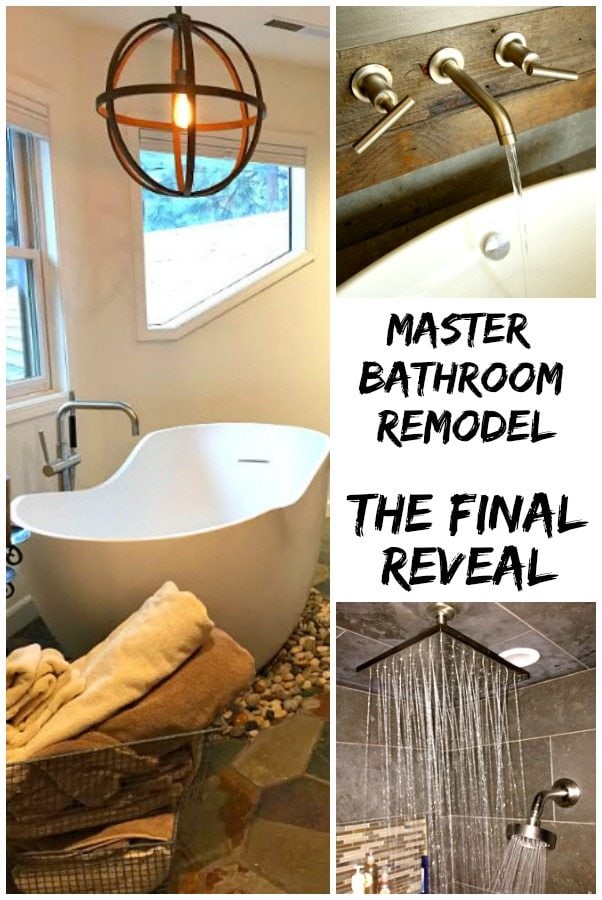 As you may recall from my previous posts: Master Bathroom Remodel (beginning) and Master Bathroom Remodel (Progress), this was a major project. The entire bathroom was torn out and re-done with all new everything. It took 6 months from start to finish! Here's an extensive peek at what the end result looks like…
Left-view entrance… and the closet: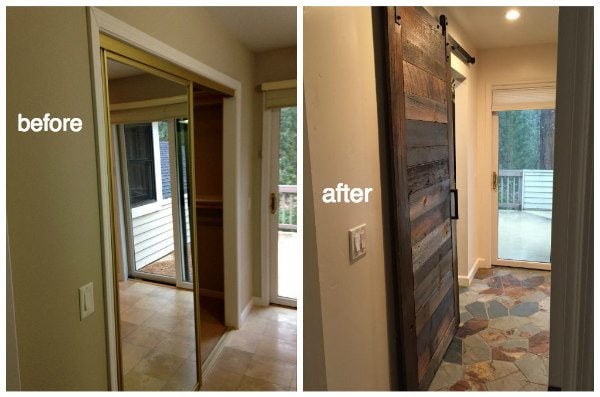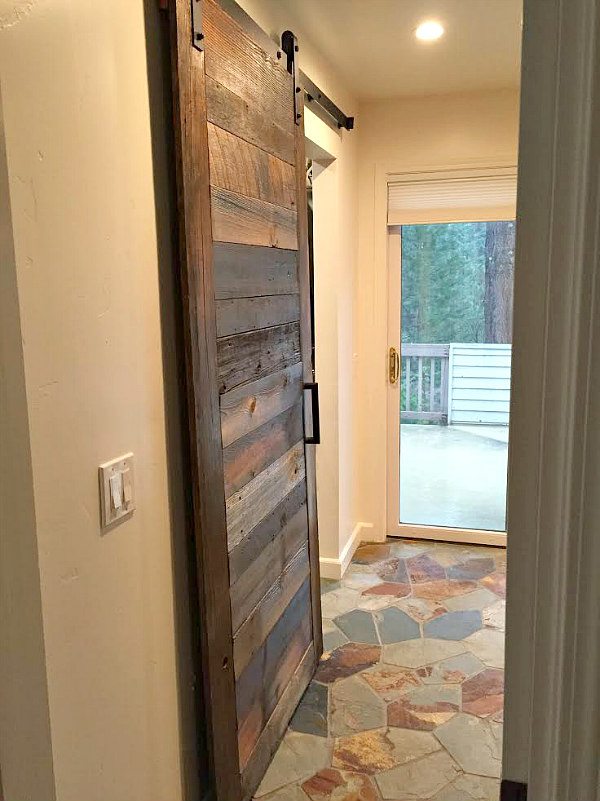 We were very excited to get rid of the gold-rimmed sliding door for the closet and replace it with a barn-wood sliding door. Our designer located some barn wood locally and we had our contractor build the door. It's one of our favorite parts of the new bathroom!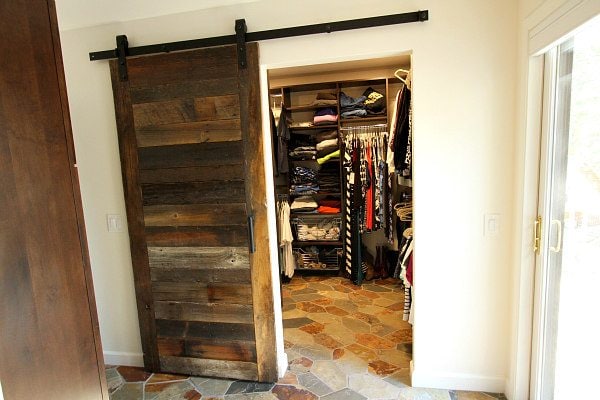 The barn door slides back and forth from that top rail. We had a solid wall built behind the door you see there, so when it slides to the right you see a wall.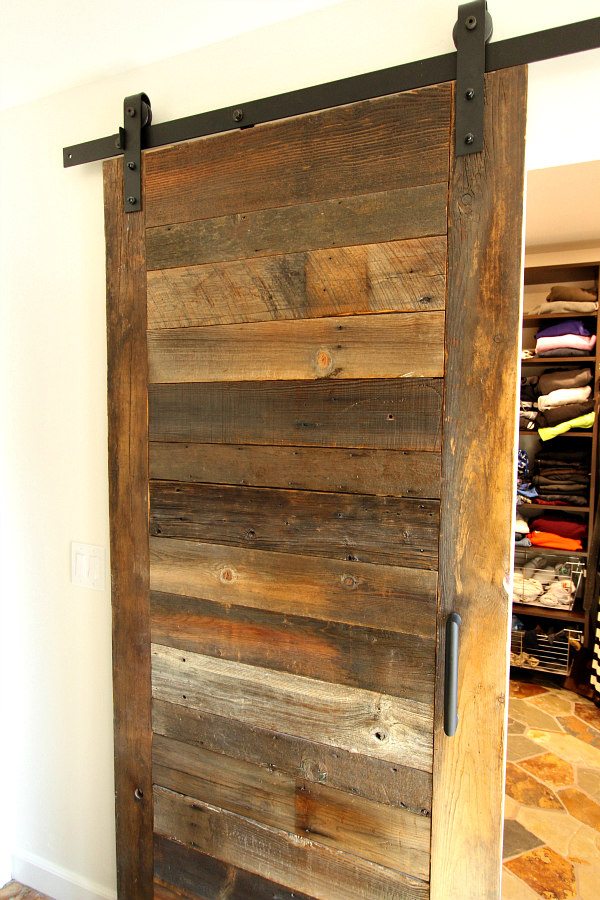 We used black wrought iron for the slider and handle of the door. You can see closer up here that there is a rather rustic look to the old barn wood. It was sanded, assembled and then stained.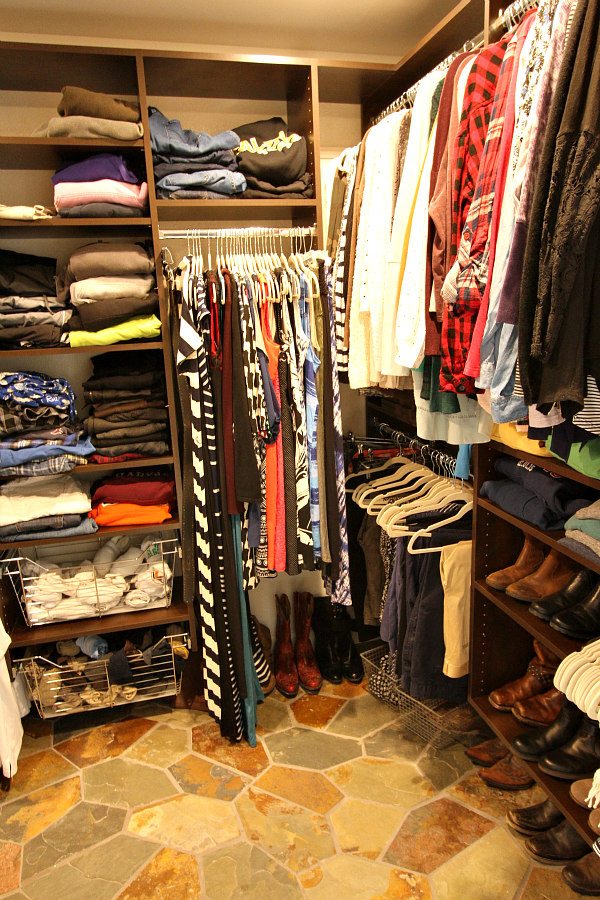 Here's a peek into my side of the closet. I fought back on working with a closet company, but my husband insisted on making it awesome. I'm SO GLAD we did. We found a local company that was way more affordable than some of the more well-known closet companies. We both went through our clothes and shoes and downsized A LOT. I love the little sections and shoe shelves. Everything is so organized!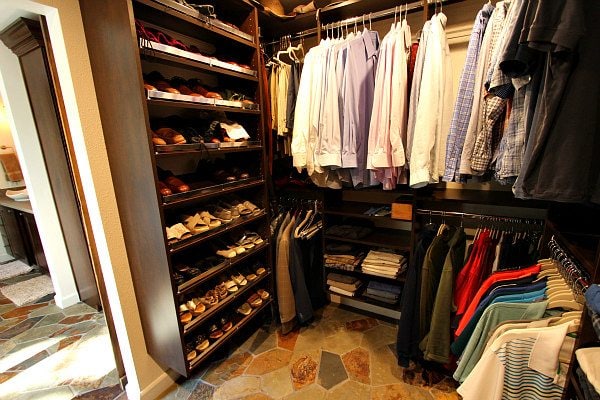 And this is my husband's side of the closet. We share the large shoe shelf- it was built onto the back of the new wall that was created by removing the old closet door.
Looking our from the closet toward the rest of our new bathroom…
The fantastic new bathtub area: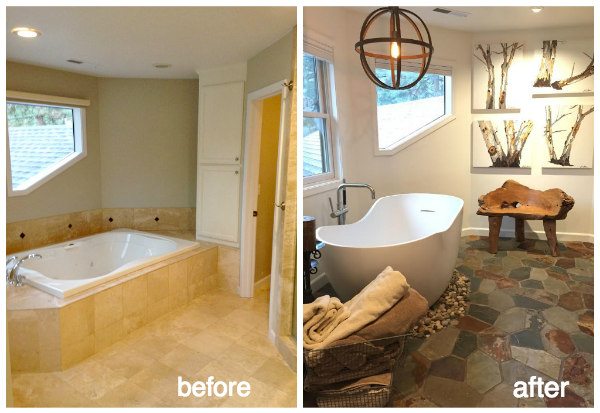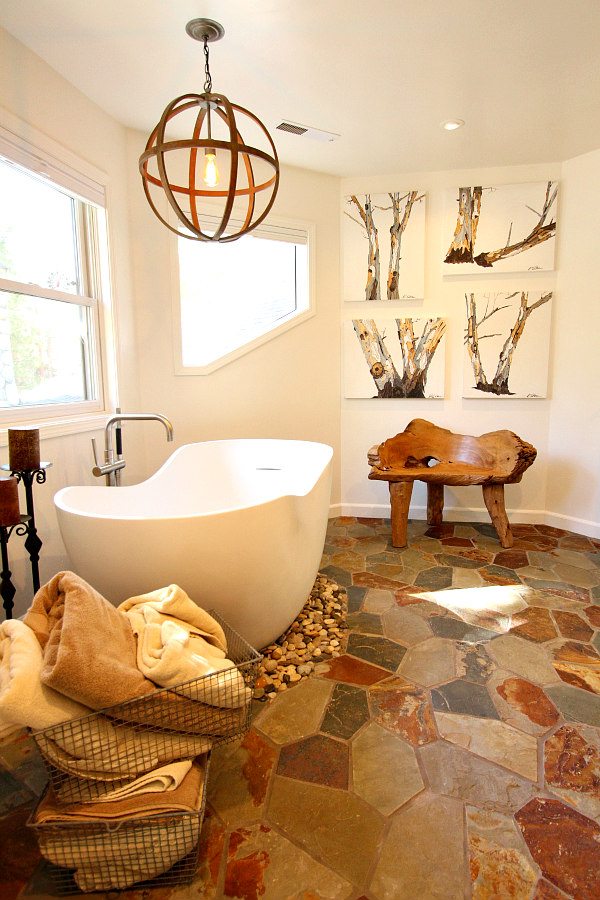 Of course, this is our favorite part of the bathroom. The (old) jacuzzi tub took up this entire area. We had plenty of room to replace it with a stand-alone bathtub, and we were able to create a sitting area too!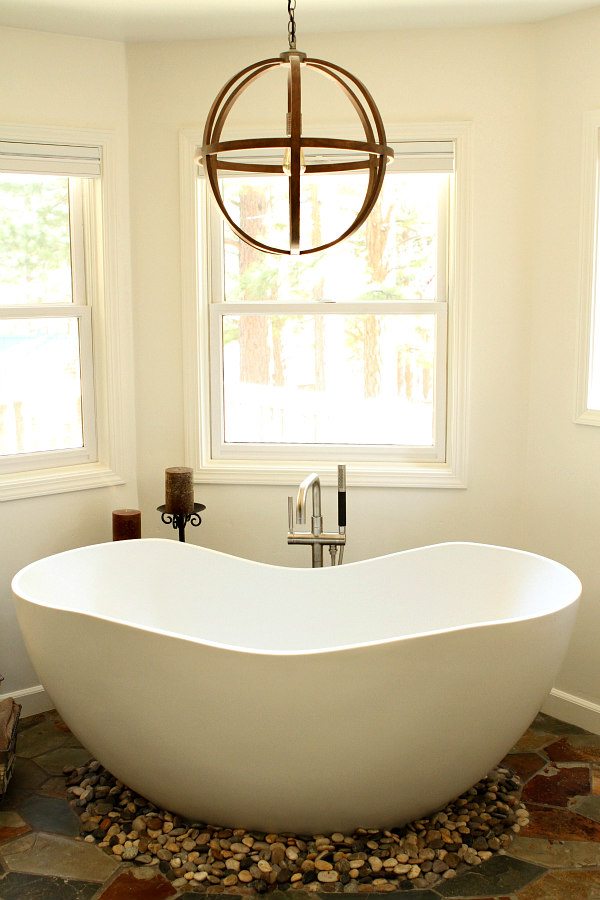 The bathtub we chose from Kohler is absolutely glorious. It's the centerpiece of the bathroom, and it adds so much comfort and eye-candy.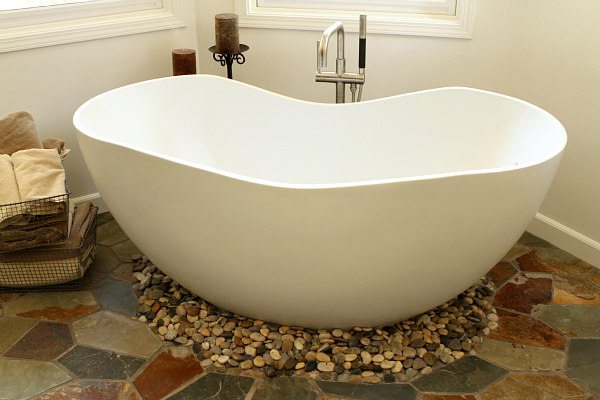 We looked at all of Kohler's bathtubs many, many times before finally settling on this one: the Abrazo Cast Acrylic Freestanding Bath with a Center Toe-Tap Drain. I love the shape of it. It adds interest and jazzes up our otherwise rustic decor. Also… note the river rock surrounding the tub. This was our designer's idea, and we love it!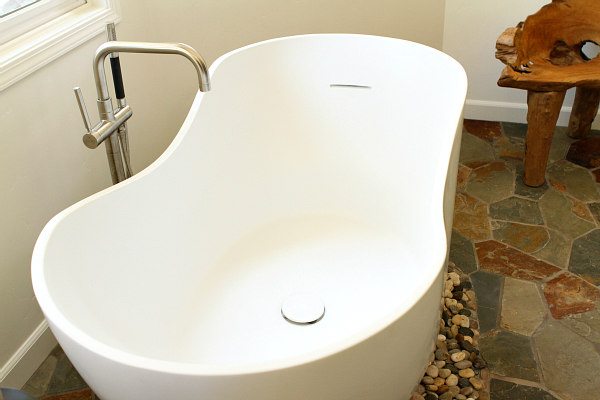 The tub is the perfect size for either one person or two! A bubble bath in here looking out toward the forest behind us is awesome.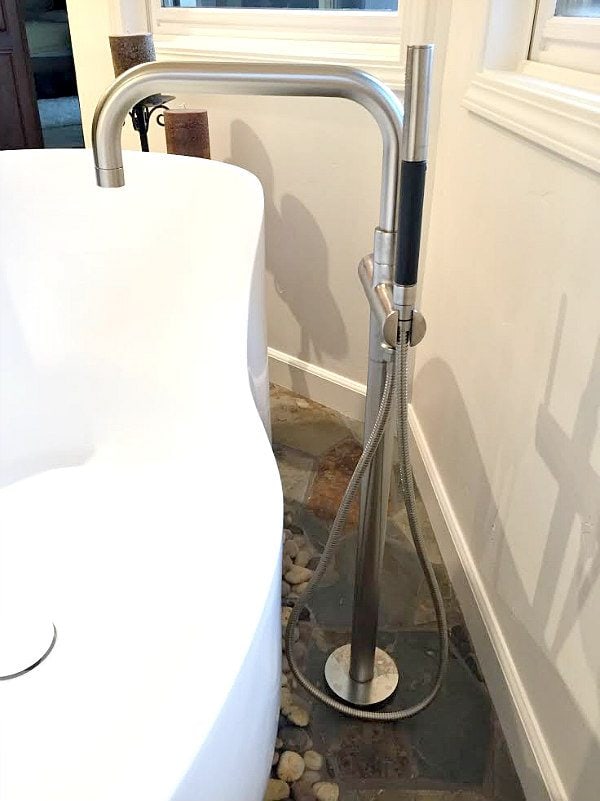 We wanted sleek and simple plumbing fixtures. We chose the Purist floor-mount bath filler with handshower. The handshower is a cool feature. Imagine taking a bubble bath and having a hand-held feature to wash all of the bubbles off of your body before stepping out of the tub! It's also great for washing your hair while bathing.
The nice, new toilet: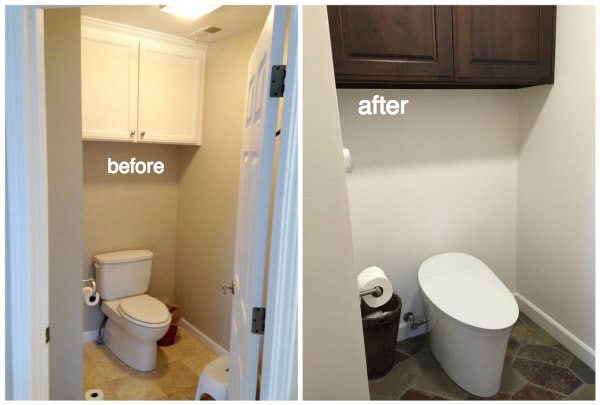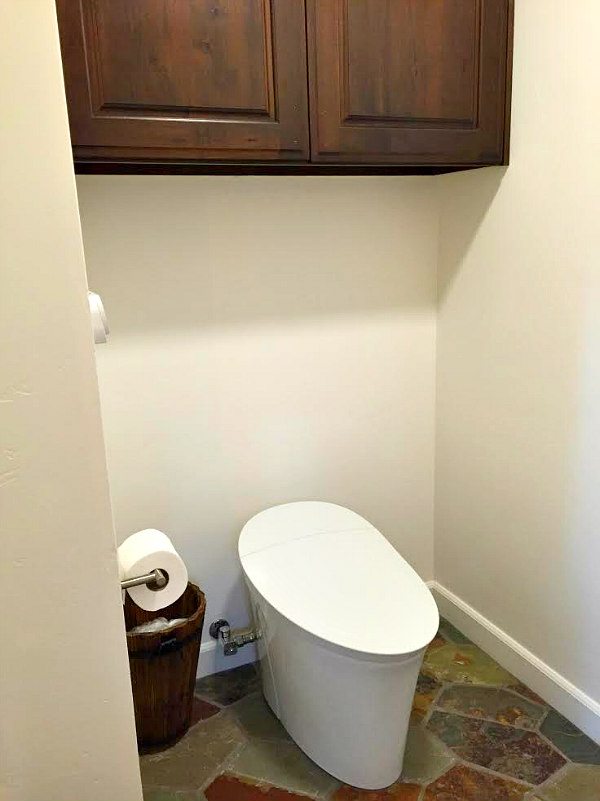 And now I have to tell you all about our new toilet! The old one was low to the ground…with a wiggly seat we could never fix and a moldy tank that seemed to run all the time… it was time for a new toilet. I didn't have big opinions on the toilet so I let my husband choose. He chose Kohler's Veil one-piece skirted elongated dual-flush toilet with integrated bidet technology. What does that all mean?
Well, it means that this is pretty much a rockstar toilet. The seat rises by itself as you approach the toilet, the seat is HEATED, there is bidet technology if you desire to use it, and as you leave the toilet… the lid closes, flushes for you and it sprays a little deodorizer too! You might also notice that there is no tank. If you get up in the middle of the night to use the toilet, there is a little light on that helps you find it in the dark.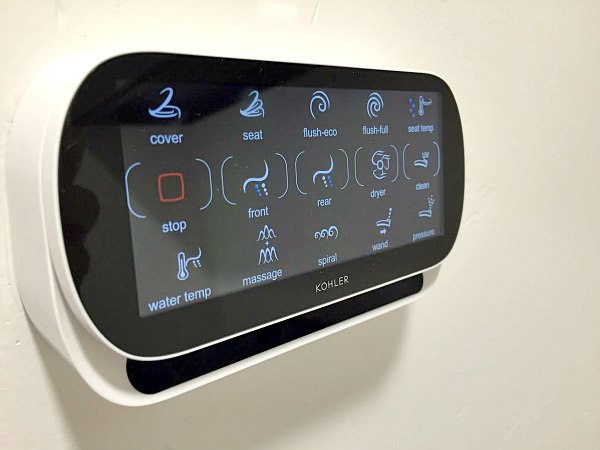 There's a digital pad mounted on the wall so you're able to access all of the controls (there is no lever on the actual toilet for flushing). There are many more features for this toilet– I found a video on YouTube sharing the Kohler Veil toilet technology if you want to learn more.
The shower!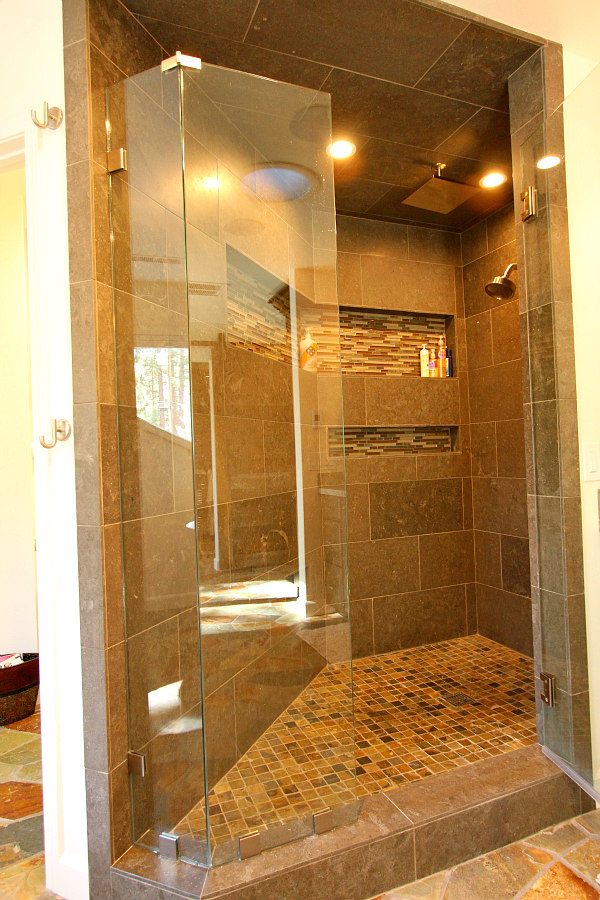 On to the shower! We tore everything out here and started over too. Previously, there was a frosted door with the same tile that had been used throughout the whole bathroom. Now we have solid glass panels which allows the tile and nice, new shower fixtures to be on display. It's also just a much cleaner look.

There were two very difficult things going on with our old shower.
It was near impossible to shave my legs and there was nowhere to put the shampoo and soap. In the new shower, we had nooks built-in for holding shampoo and soap… and the little one toward the bottom is a nice place for me to rest my leg and shave!
My husband once broke his leg… and we did not have a feasible set-up for allowing him to shower. We didn't have enough room in the shower to create a built-in seat, but there is enough room to bring in a seat if needed. More about this one below…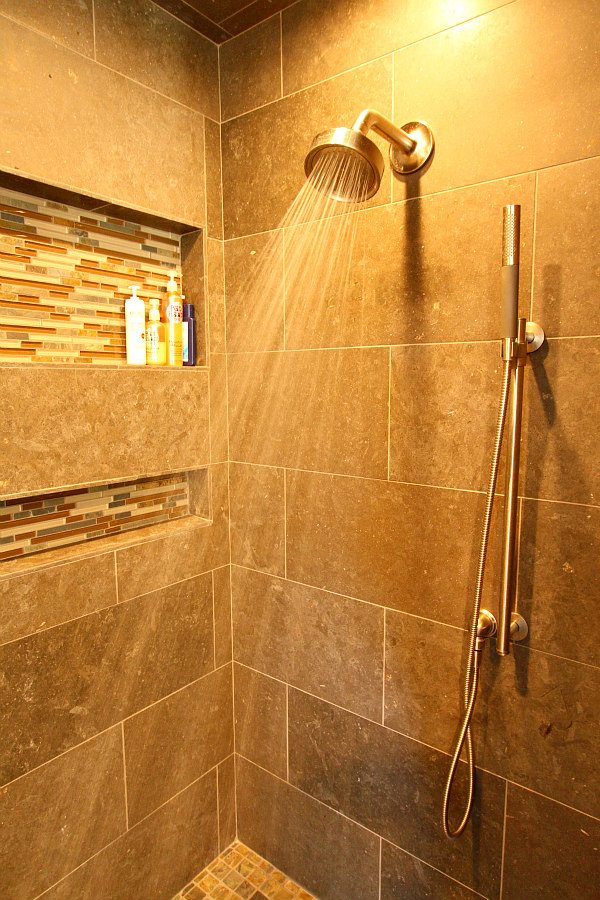 We put in all new plumbing features from Kohler: the Purist 2.5gpm single-function wall-mount showerhead with Katalyst air-induction spray…. AND their Hotel handshower kit.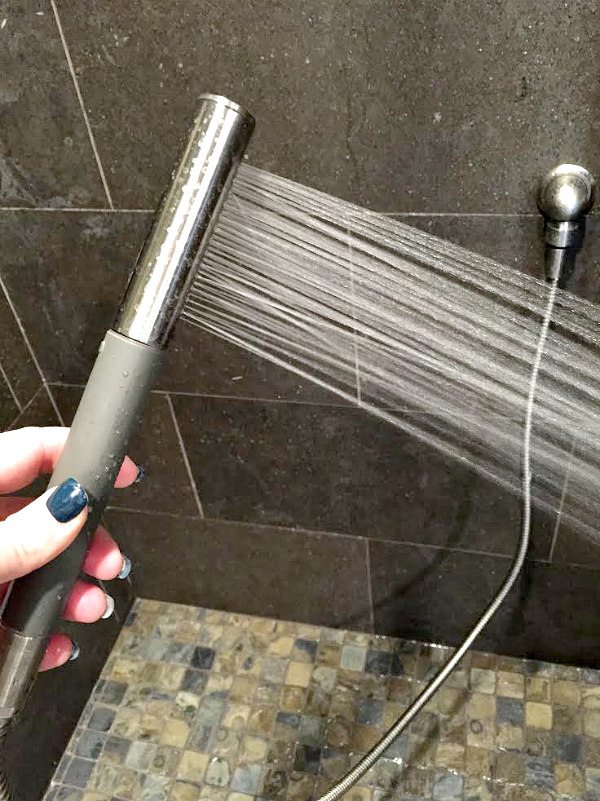 It's the handshower kit that helps with the "broken leg" problem mentioned above. It's one of those things you never think about, but it's so helpful to have a hand-held shower feature if you are ever injured and/or physically limited. It also happens to be helpful when you are shaving your legs, getting to those "hard to reach" places, and cleaning the walls of the shower!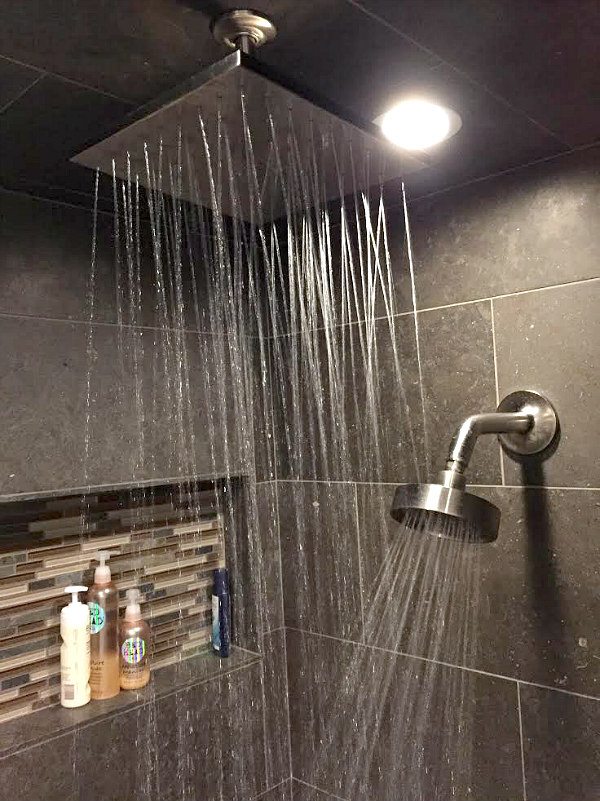 And here is the feature of the shower that we were super excited to add- a rain shower head!! I had used these in hotels a few times, but I never imagined we'd have one in our own house. We chose Kohler's contemporary square rainhead. We love it!! I don't use the rainhead every time I take a shower… but it feels like I'm in a spa every time I turn it on and let my face just get showered on. So relaxing!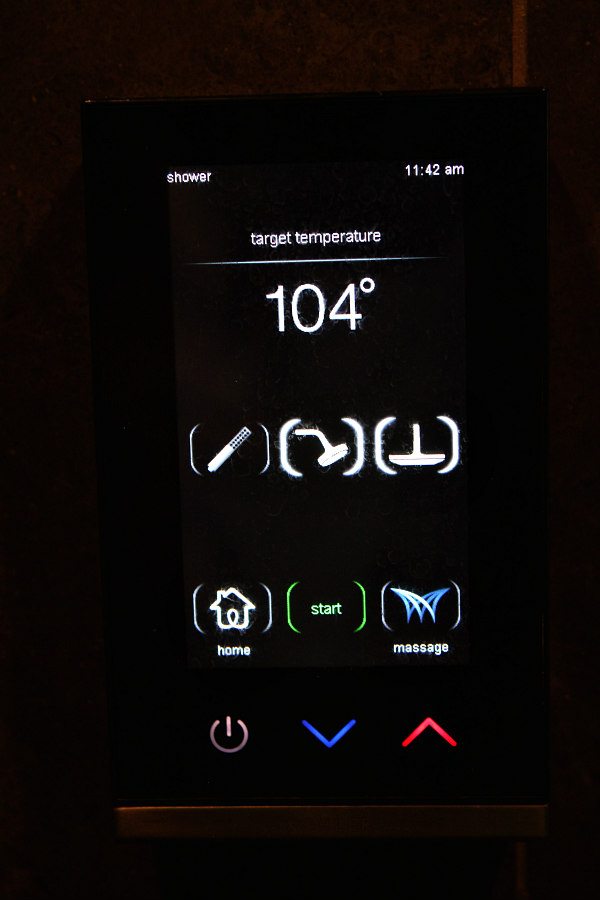 A mounted (DTV) digital control display on the wall allows you to adjust which shower features you want to use- one or two… or all of them at the same time! You can also control the temperature here. There are no actual knobs in the shower to control the shower functions- it's all digital!
The vanity and sinks: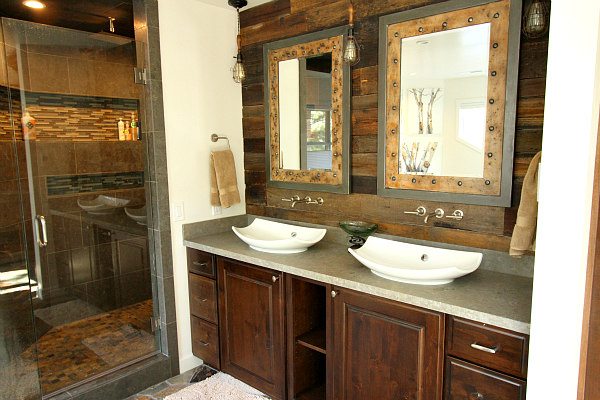 Again, we just tore this part of the bathroom out and completely started over. We added some drop down rustic lights, new vanity and vanity top, new sinks, and new plumbing fixtures!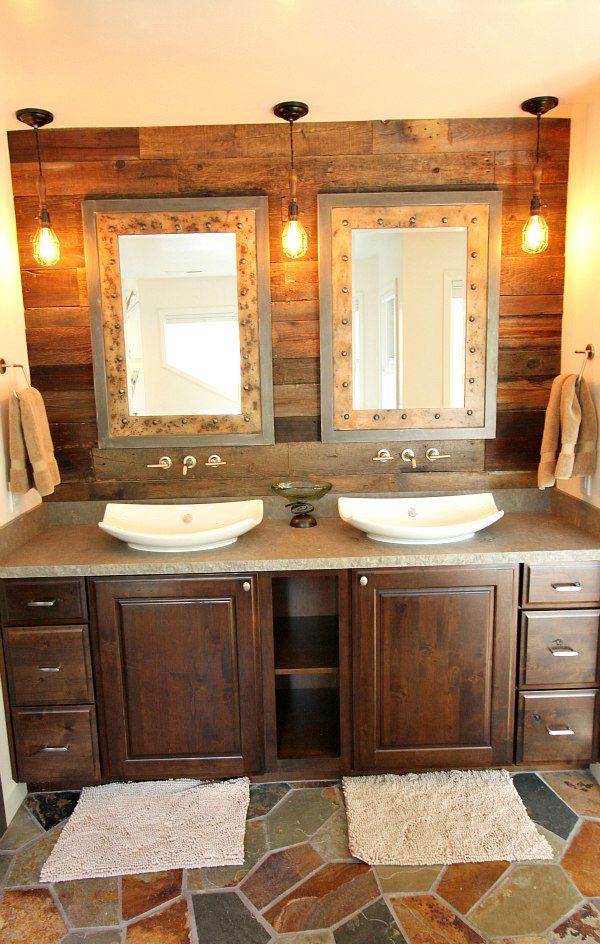 We also took off the mirror (the old one covered the wall), and covered the back wall with barn wood and two individual mirrors.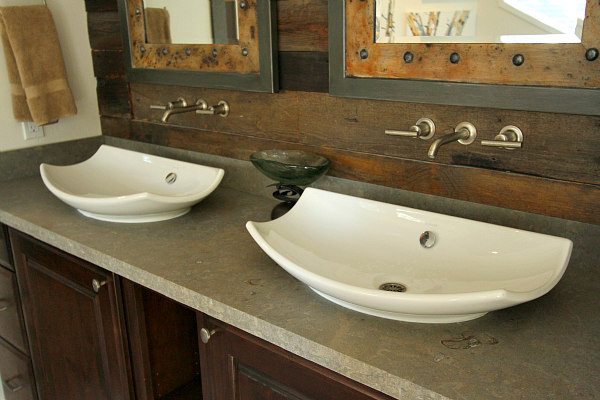 As I mentioned in the last post, we really wanted to try having vessel (above counter) sinks. We chose Kohler's Leaf Vessel Above-Counter Bathroom Sinks. We like the unique shape of the sinks. They're just really pretty.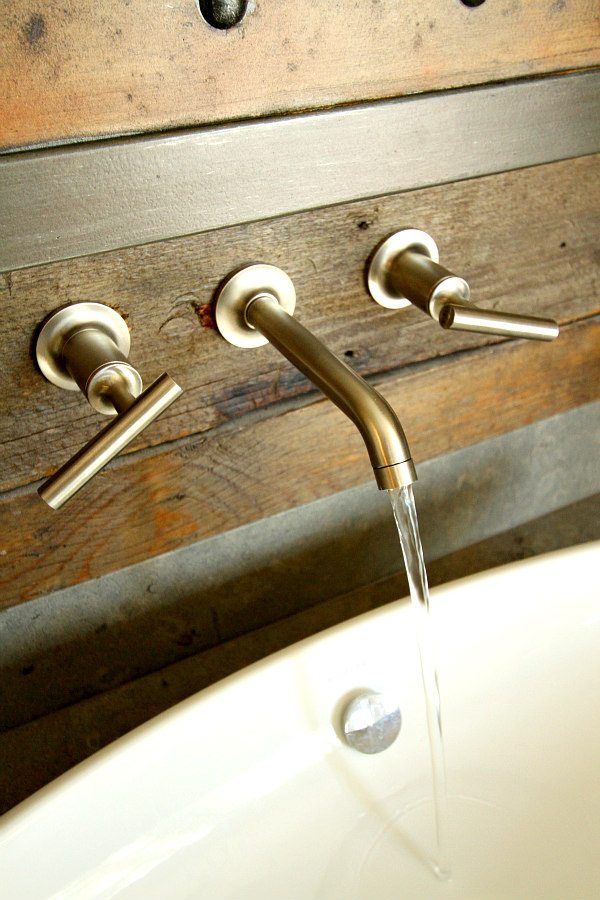 Because the sinks were going to sit on top of the counter, we thought it would be cool to have the plumbing for the sinks to come out of the wall. We chose Kohler's Purist Wall-Mount Faucets with Lever Handles. Again, we wanted a clean look. These match the clean look of the plumbing fixtures we chose for the bathtub. All of the plumbing fixtures we chose were in the Vibrant Brushed Nickel finish.
Ye old make-up vanity area… and right-view entrance: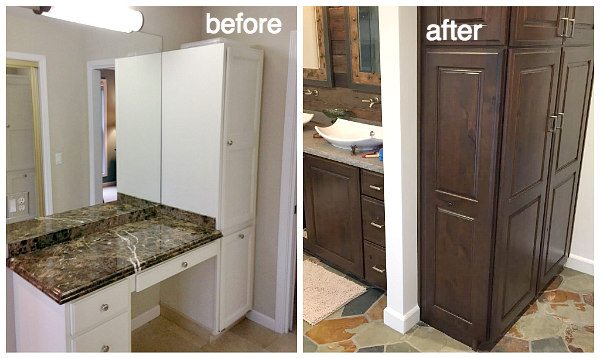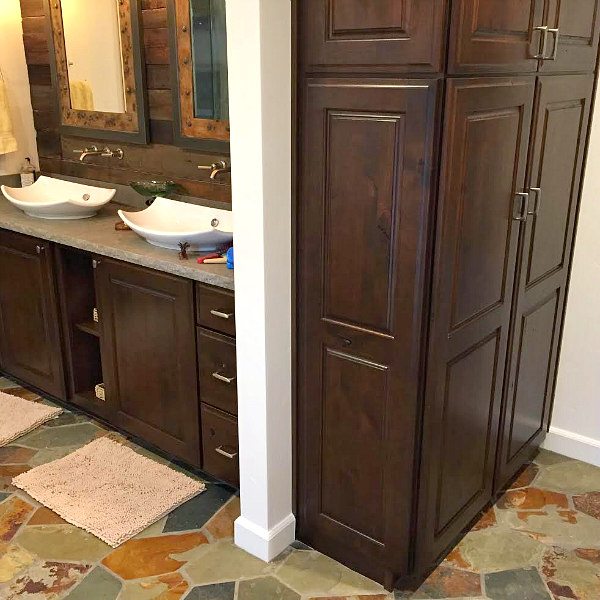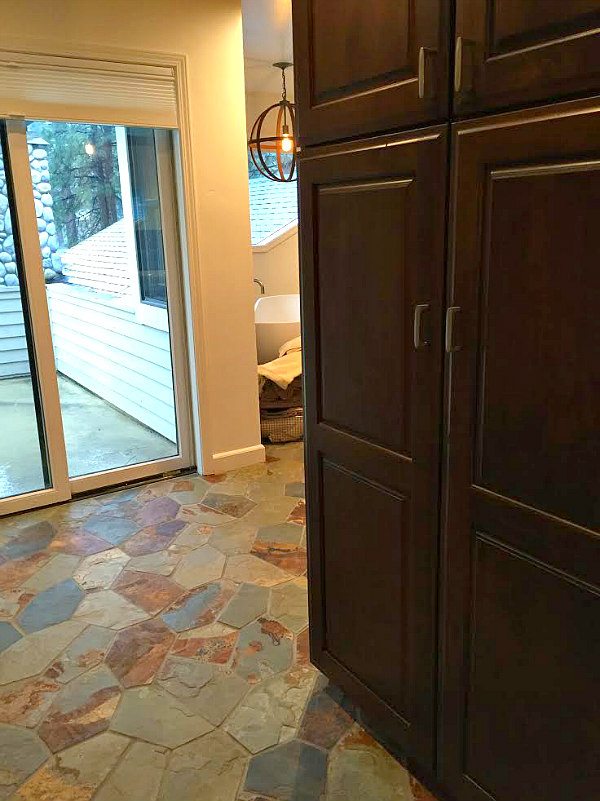 In this part of the bathroom remodel, we made a very good decision: we took out this extra vanity/mirror area that we never used… and we shortened the wall space to provide a more open entrance to the bathroom. It makes the bathroom feel HUGE now. And we love this large floor-to-ceiling pantry that we added too.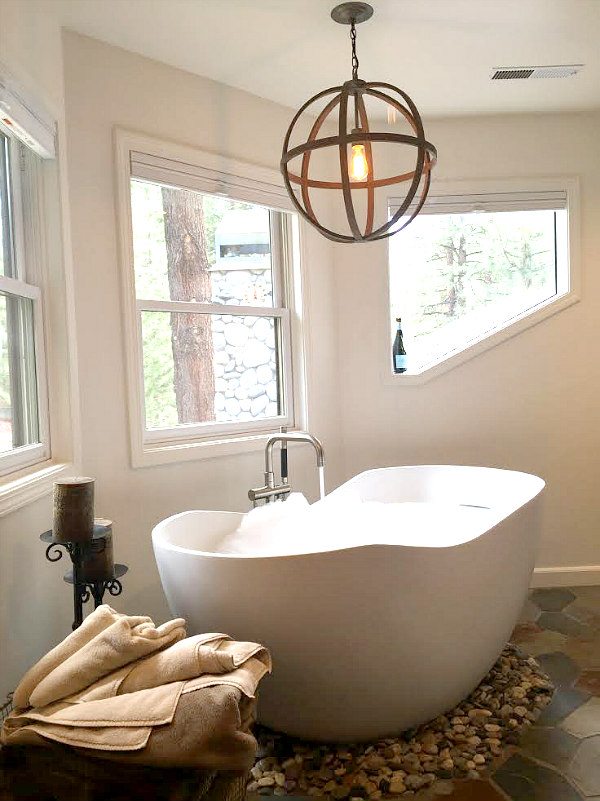 So do we love our new bathrooom?!! Well, I really don't think we could love it any more than we do. It's our favorite room in the house now. And I think we accomplished what we set out to do (enjoy our new bathroom… and to increase the value of our house).
Next Saturday I'll be sharing one final post… on all of the accessories and details of the bathroom- brands we chose for the mirrors, lights, tile, stone, towels, racks, etc… in case you see things you like and you'd like to know where to find them. Hope you have been enjoying our series of posts on our master bathroom remodeling project!
Disclosure: A big thank you to Kohler… who we partnered with on selections of all plumbing related fixtures. We love them all so much!