I'm wrapping up the sharing of my Master Bathroom Remodeling Project by sharing all of the details of the things we chose to incorporate in the bathroom– fixtures, tile, design pieces and Kohler products.  Here is the series of posts written about this project- in case you are interested in going back and seeing all of the before/after pics, etc:  Master Bathroom Remodel, Master Bathroom Remodel: Progress, and Master Bathroom Remodel: the Final Reveal.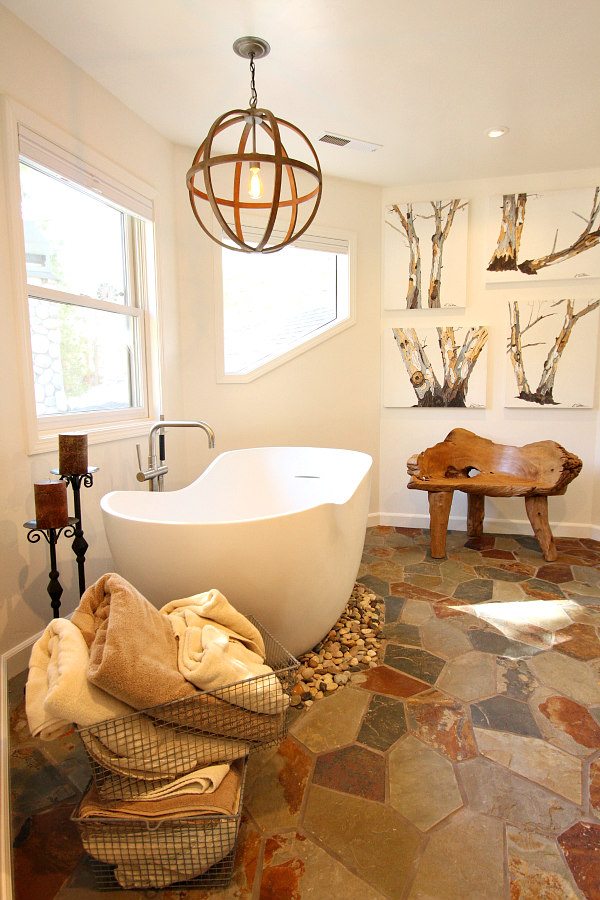 This is my favorite view of our new bathroom.
We knew we wanted to put a bench in this corner because my husband likes to have a place to sit and put his socks on in the morning!  Initially, the contractor was going to BUILD a bench out of barn wood into this area.  When they finished tiling, we decided we liked the clean, spacious look of it too much to build anything in.  So we scrapped that idea and decided to add a rustic bench.  Oddly enough, we had this bench in our living room… and it turns out it was just the right size and color to put in this space.  The brand of the bench is Uttermost– they have some nice things.  We found it in a rustic furniture store near us… but I bet you could find out who carries this brand in your area, if you're interested.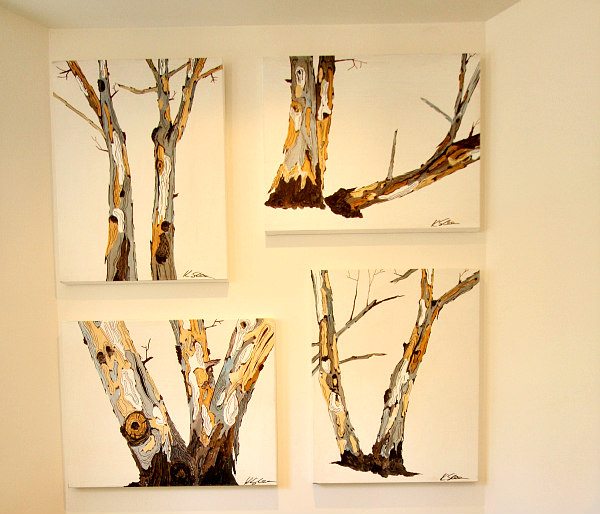 Our designer chose this grouping of pictures for this area– knowing we'd have a large, blank wall here.  She found them on Etsy: Shoa Gallery.  It looks like they sell a lot of neat stuff.  The set we ordered is the Very Large Wall Canvas Prints Tree Trunk Art Work.  It's crazy how nicely these fit into this spot.  They match the bench AND the trees in the prints have the same colors that are in our floor.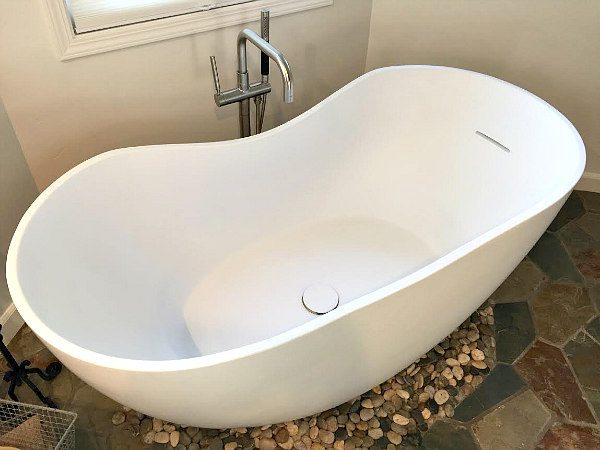 We absolutely adore our hip and cool Kohler bathtub: Abrazo Cast Acrylic Freestanding Bath with a Center Toe-Tap Drain.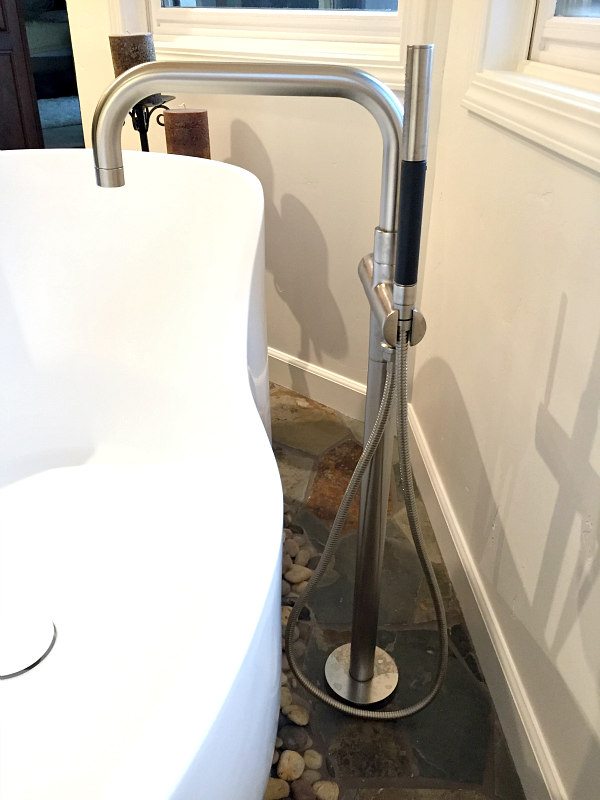 And the plumbing for the bathtub is sleek and pretty- also by Kohler:  we chose the Purist floor-mount bath filler with handshower.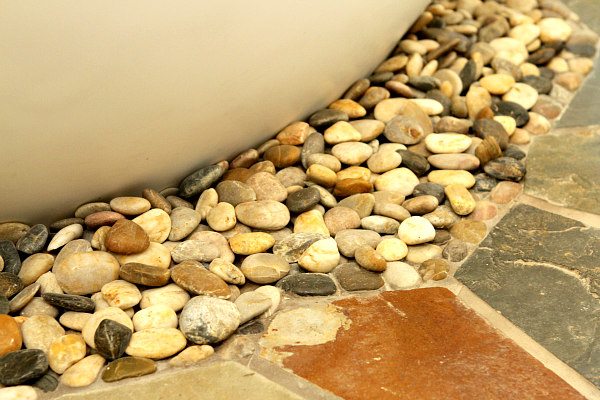 The "river rock" surrounding the tub is called Pebble Tile.  It came attached to netting, and we had our tile guys remove it from the netting to be able to stack it around the tub.  Most of it is secured with an adhesive, but there are a few floaters to keep things looking natural.  If you lived in a very dusty area, this might not be a good choice… but it's fine for us.  A damp rag run over the top keeps it all clean.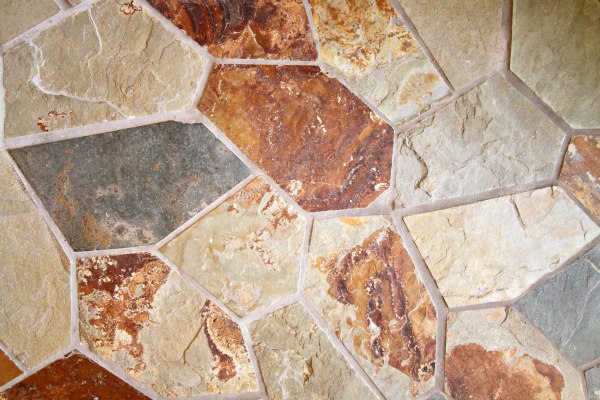 Our floor choice was Slate Butterscotch random.  It's sold attached in mesh pieces, but of course your tile guys have to cut the edges to fit.  This is non-traditional for a bathroom but we LOVE IT.  It looks great with everything else we picked out.  And it really makes the bathroom quite unique.  Remember… we live in the mountains and there is a bit of a rustic theme going on in our house.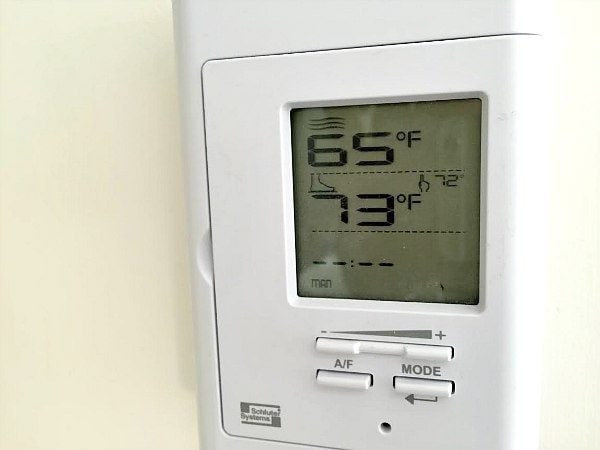 One of our best decisions (my husband's idea) was to put in heated flooring.  Our old tile was FREEZING when you walked on it.  We had Ditra Heat floors by a company called Schluter put in… and it's wonderful.  In the middle of winter, the floors are warm.  The temperature is adjusted by a little control panel on the wall.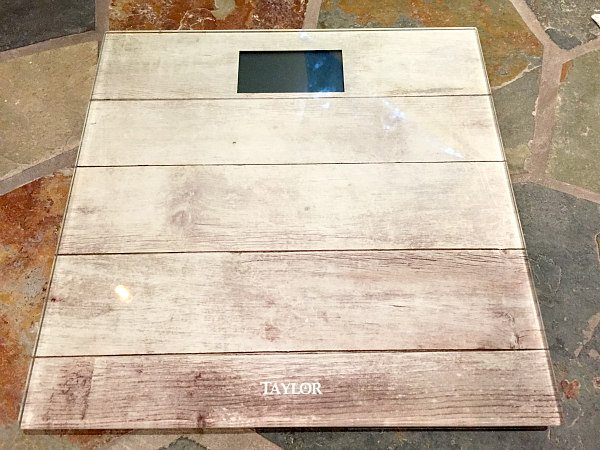 A fun accessory:  a photo realistic wood-paneled scale by Taylor.  Taylor offered to send me one of these to see how it would look in our new bathroom.  It's perfect for our design!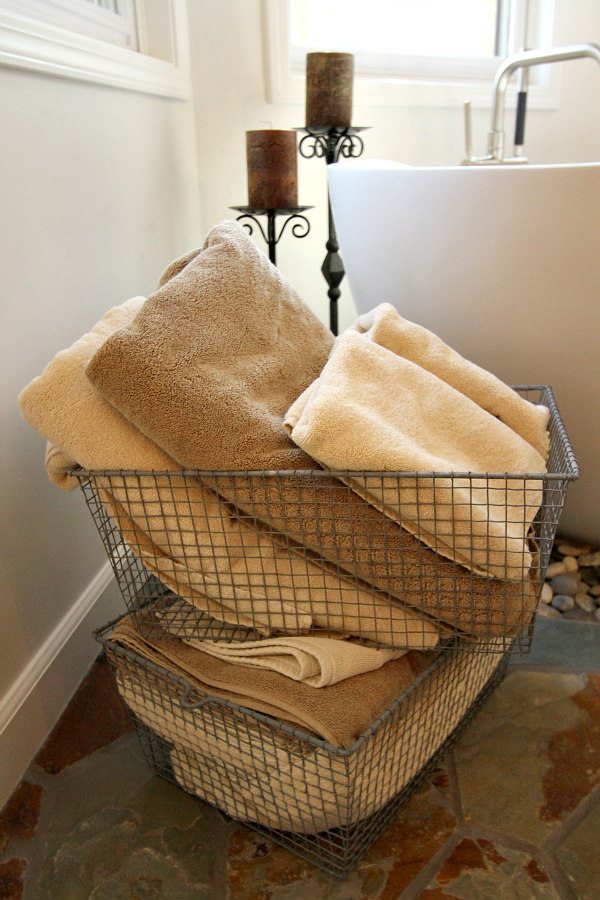 My husband and I have always had very long conversations about towels.  We have never been happy with any towel we've ever bought or ordered.  They don't dry… they stink… they're not absorbent… there's always something!  This time around we ordered a (very expensive) round of new towels from Restoration Hardware.  We ordered their Turkish Towels, which we are very happy with… they are absorbent and thick and wonderful.  The mistake we made was that we ordered a couple of "bath sheets," which are the GIANT towels.  We've never had those before and they're just TOO BIG.  We like the regular-sized bath towels much better.  We also ordered these Pool Locker Baskets to store the towels in.  They were pretty expensive, but we do love the way they look.  I saw a similar style at Target recently… The candles and candle holders you see behind the tub- I bought at a local store that was going out of business.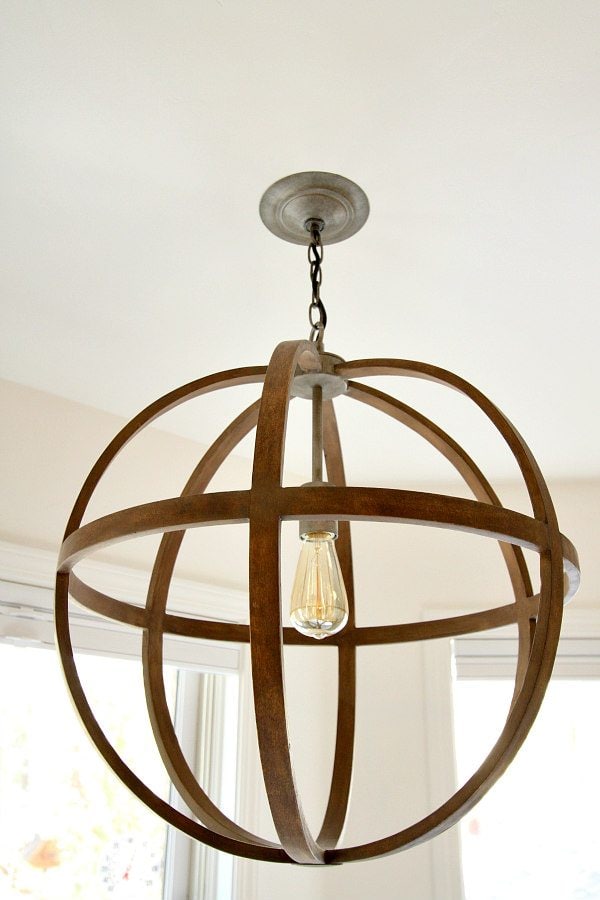 Our designer found our chandelier for us.  We wanted a round chandelier to place above the bathtub.  This one is perfect with our design:  the Braden Pendant Light from Crate and Barrel.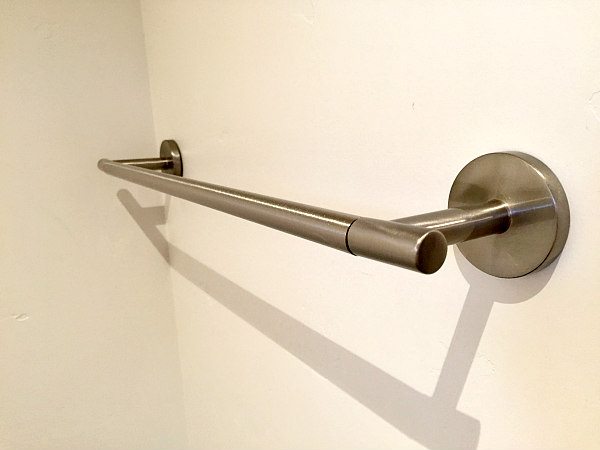 I'm not a fan of having towel racks around the bathroom, so we opted for hooks next to the shower for our two bath towels… and a single rack for our shower mat that is kind of hidden around a corner.  We visited Home Depot for the towel rack, toilet paper holder, hooks and all of the drawer pulls and cabinet knobs.  The brand we chose: Liberty Hardware
The rockstar of all toilets:  Kohler's Veil one-piece skirted elongated dual-flush toilet with integrated bidet technology.  There is so much happening with this toilet that is awesome. Check out my last post for the full description.  The toilet features are all managed by a digital display on the wall.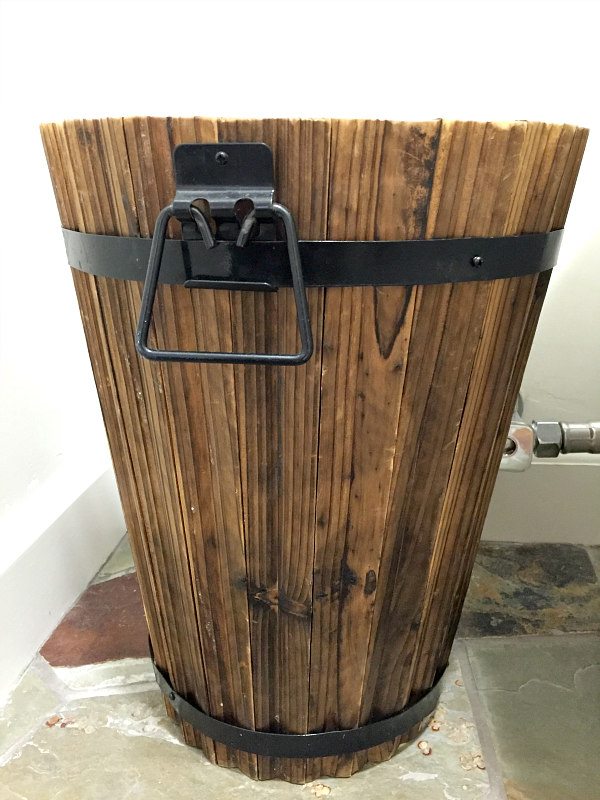 I picked up this wooden trash can at a local store that was going out of business.  Perfect!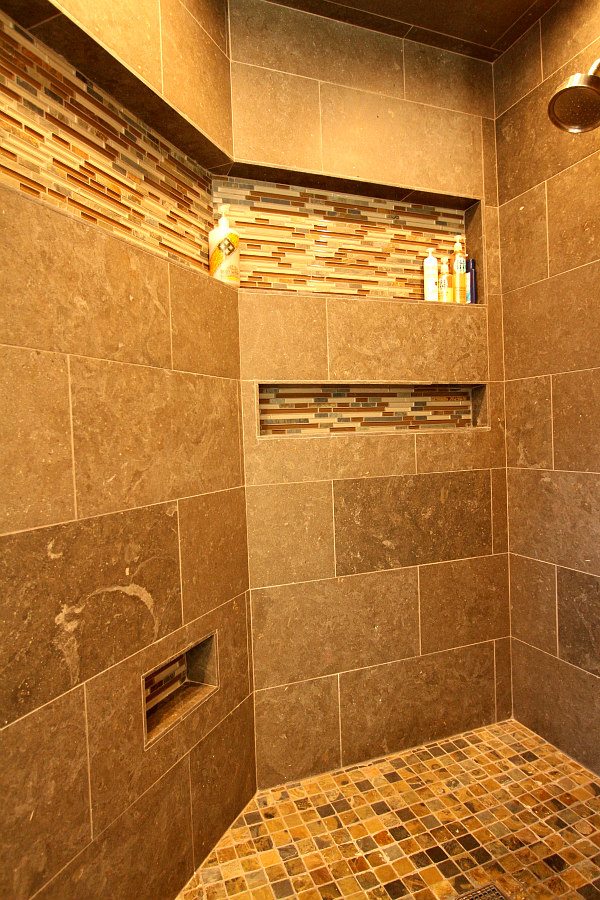 The details for the shower — the walls of the shower were done in Nova Blue Honed Limestone Tile.  It's tough to get the color just right to share with you in the photograph taken.  I was a little worried when this started going in that it was going to be too dark.  It turns out that I really love it!  It feels like a spa when I take a shower… cozy warmth from the darker tile.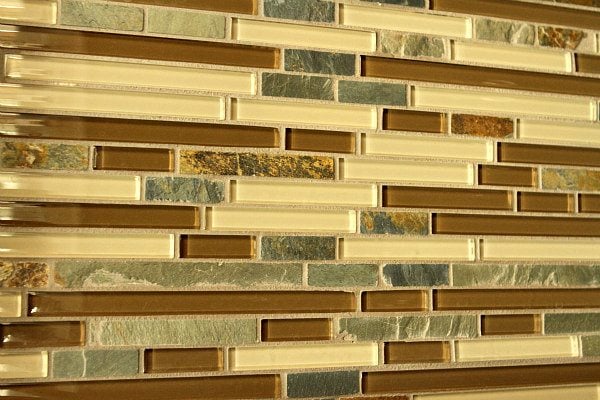 Inside the nooks, we put in Glass & Slate Winterscape Mosaic Netted Tile.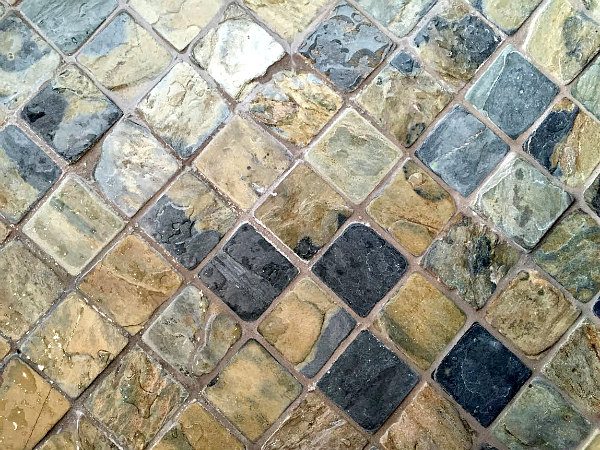 Tile choice for the flooring:  California Gold Tumbled Slate Mosaic Netted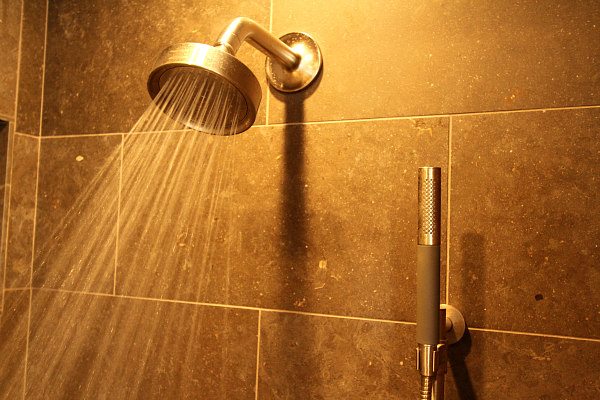 These are two of the pieces of a trio that we chose for our shower from Kohler:  the Purist 2.5gpm single-function wall-mount showerhead with Katalyst air-induction spray…. AND their Hotel handshower kit.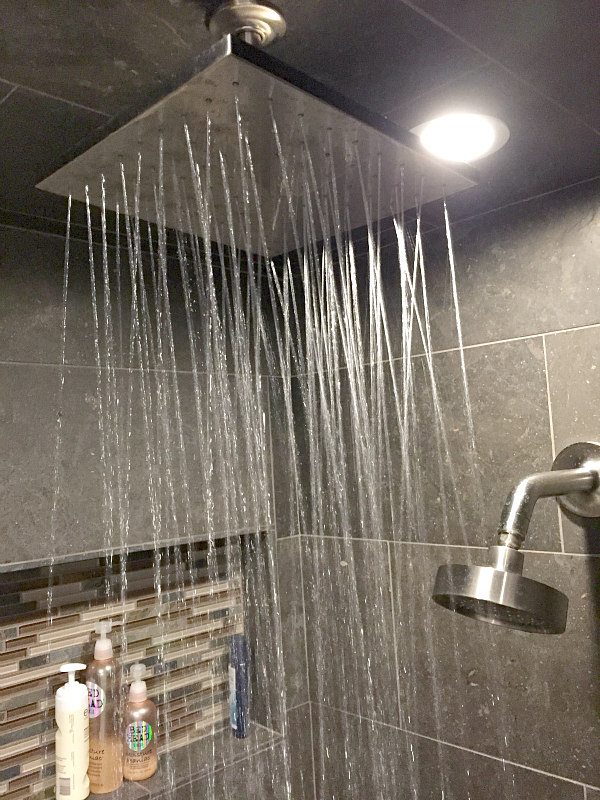 And this is Kohler's contemporary square rainhead.  It's really nice having the option of three different water features in your shower- a luxury indeed!  All of the water features are managed by a digital display on the wall of the shower.
And now for the vanity portion of the bathroom….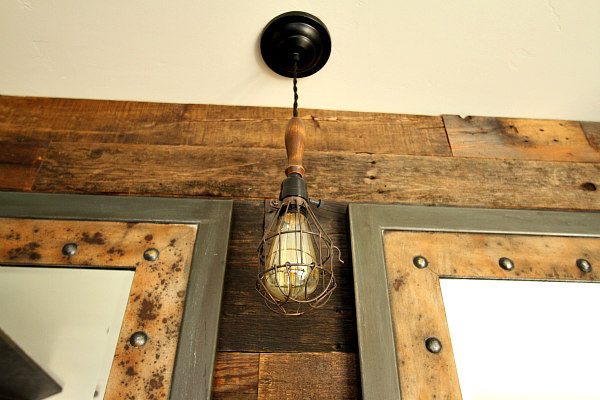 The pendant lights we chose are from Creative Co-op.  My designer was able to order them for me directly through the company, but it looks like Wayfair carries this brand and has many similar styles.  Contact me if you are interested in this particular pendant, and I can put you in touch with my designer.  She has a relationship with the company.
We searched high and low for mirrors that would look good in this new bathroom.  It's seriously difficult to find rustic-style mirrors that aren't over-done in rustic-style… and most of the mirrors out there are either too fancy or too plain.  We found one of these at our local rustic furniture store (Reno-Tahoe Rustic), took it home to try it out… and ended up ordering two.  These are perfect with our design.  The brand is "Crestview Collection."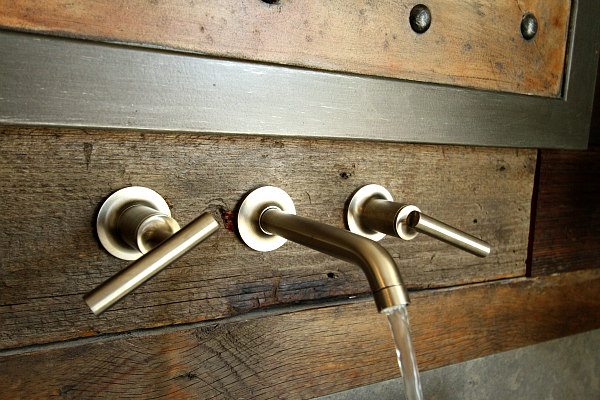 I mentioned in my last post, that we wanted to do something a little different for our faucets– I love it when they come out of the wall!  We chose Purist Wall-Mount Faucets with Lever Handles by Kohler.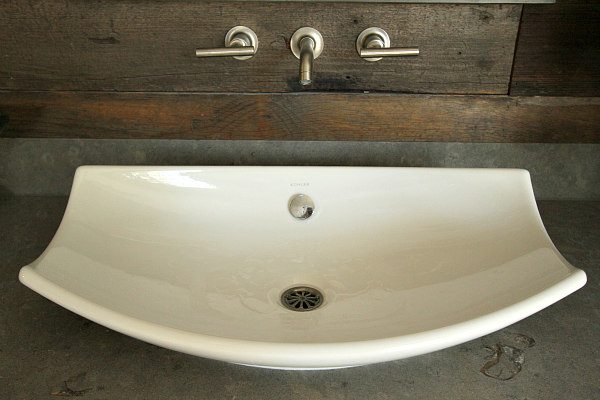 Our sinks by Kohler:  We chose Leaf Vessel Above-Counter Bathroom Sinks.  I was terrified that the water would splash out of the sink when I wash my face, etc… but it's all good.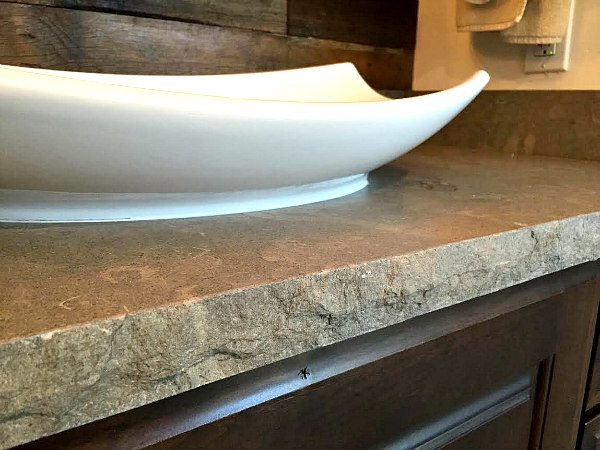 Our vanity top:  a limestone slab with a chiseled edge (the chiseled edge was extra $$$… our guys had to chisel it).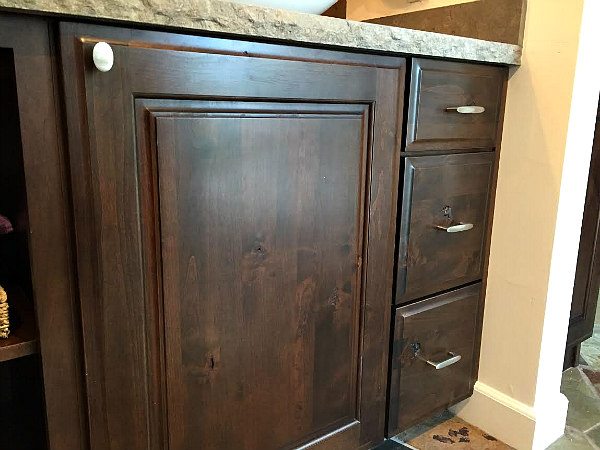 The cabinets we chose:  Omega Cabinetry Dynasty Series.  We really didn't want to spend a lot of money on the cabinets… but we found that the lower-end cabinets "looked" lower end.  These have a slightly rustic feel to them with some knotted wood in the design. We made the tough decision to invest more in a better product. Glad we did- we love our vanity and cabinetry!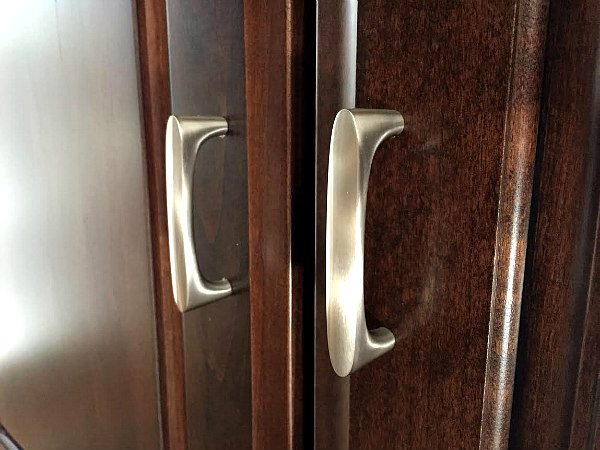 Again… the cabinet pulls and knobs are from Home Depot:Liberty Hardware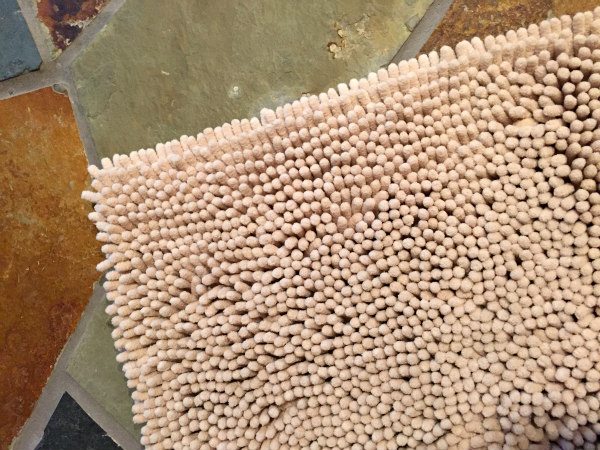 Floor rugs from HomeGoods!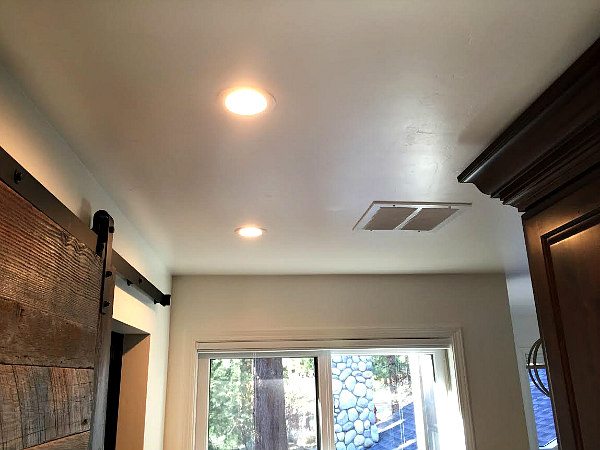 Our old can lights in the ceiling were replaced with recessed LED lighting.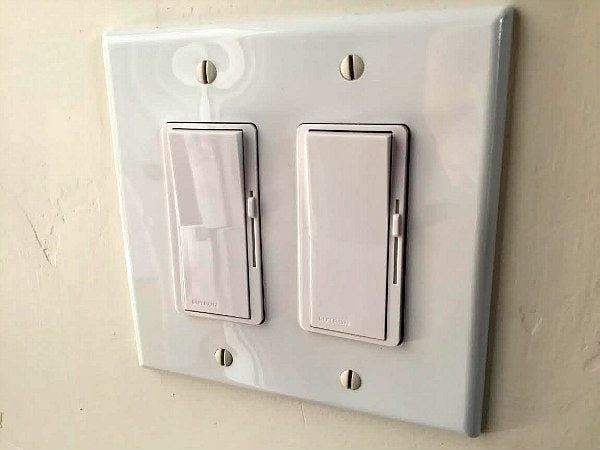 All of the lights in our bathroom have dimmer controls!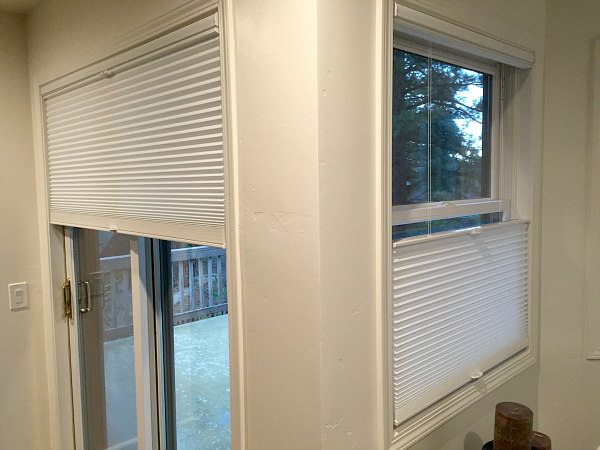 We struggled with deciding on window coverings too.  Window coverings are EXPENSIVE!  Finally, we decided on Hunter Douglas blinds… the ones that you can pull down or up as you'd like.  We generally keep them completely up most of the time.  They were worth the money.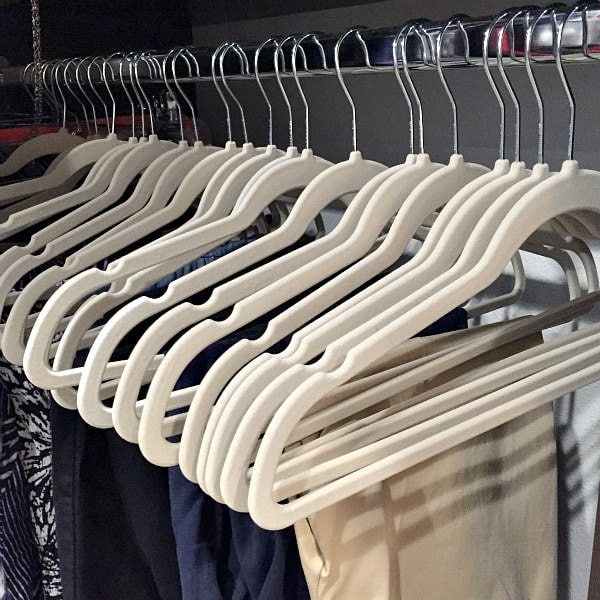 In our newly designed closet, I wanted to order matching hangers for the entire closet (yes, I'm a little OCD at times).  I ordered these from Amazon:  Home-it 50 Pack Velvet Clothes Hangers- Ultra Thin, No Slip.  I really like them.  I've had the velvet hangers before… and the ones I've had break so easily.  I haven't had any problems with these.  Our closet is full of them now.  My husband was like, "How many hangers did you buy?!?!"  🙂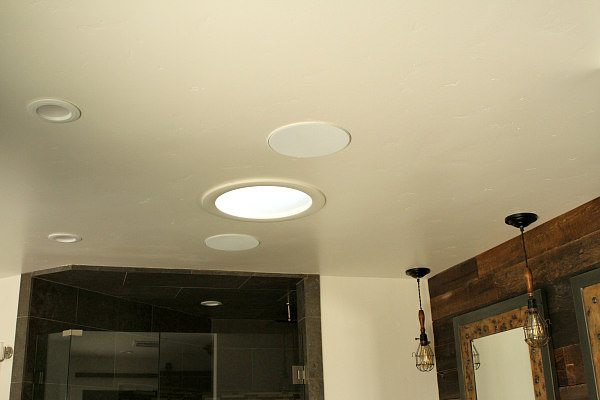 And now for the decision in our bathroom that was the biggest waste of money:  the solar tube (by a company called Velux).  I've heard of people having solar tubes installed that bring in a ton of light to the room– so much so that you don't have even turn on the light.  Not so in our bathroom.  It brings in a little bit of light, but not enough to warrant the cost of putting it in. #fail  That's the only thing we did in our bathroom remodel that we regretted spending money on!
10 TIPS FOR THOSE WHO ARE CONSIDERING A REMODEL
Get at least three bids on your project.  The bids will likely come in all over the place.  Get recommendations from people you know — who have already had experience in using these contractors.
It's a good idea to work with a designer if you don't really have a knack for putting things together.  It can be more reasonable than you think.
Make sure you're working with a contractor or a designer who is able to draw out the remodel to scale– this shouldn't be a problem if you are working with professionals.
Have your contractor give you a realistic date for when the project will be completed and a realistic price.  Include an "overdue penalty" in your contract– for every day the contractor is working on the project beyond the quoted completion date, $100 (or an agreed-upon figure) comes off the amount you owe.  Keep an eye on the quote as the project is progressing to make sure the cost is not floating well-above what you agreed upon.
Know what you want.  There is nothing worse than starting the project and being delayed because you haven't made big decisions.
Take thorough BEFORE photos… DURING photos… and completion photos.
Make sure ALL of the items you've ordered are in your hands before your contractor begins demolishing the area that is being remodeled.
If you have ordered tile, take a peek at ALL of the pieces to make sure there aren't pieces that may have an errant mark on them that you'd like left out.
Go over the finished project with a fine-toothed comb.  Have others look it over too.  Don't be afraid to let the contractors know if there are bits and pieces that need to be touched up or replaced.
NEVER pay the contractor the complete balance until you are completely satisfied with the project.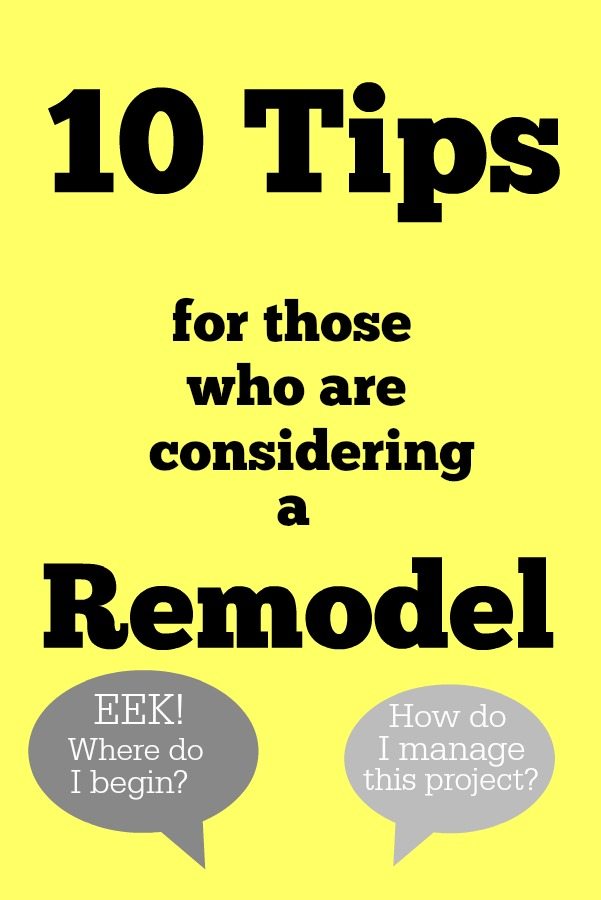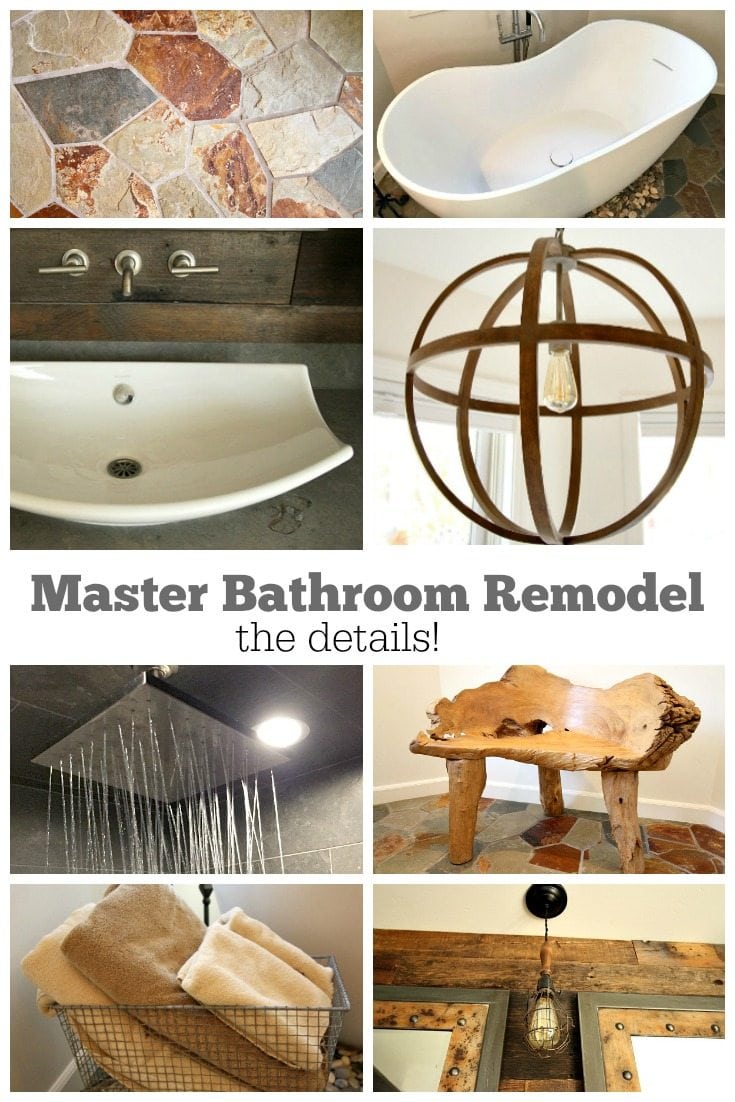 Disclosure:  We partnered with Kohler on the selection of their products from their company.  Thank you Kohler- we love them all!  We did not work with any of the other companies mentioned.