I'm excited to finally be able to share this with you- our Master Bathroom Remodel. My husband and I are always looking ahead to selling our home someday… trying to add value wherever we can. Big selling points when potential buyers are looking at homes to buy are the kitchen, the master bedroom and the master bathroom. Our master bathroom was quite dated, so we chose to invest in making it awesome. Some of you have been watching the transformation on Snapchat (find me there @RecipeGirlLori), but I'll be writing a series of posts on the whole thing to share with all of you. It was a MAJOR remodel… about one year from start to finish, so it's a relief to be done with it all- especially since we were displaced from our bedroom to a portable bed in my husband's office for three months!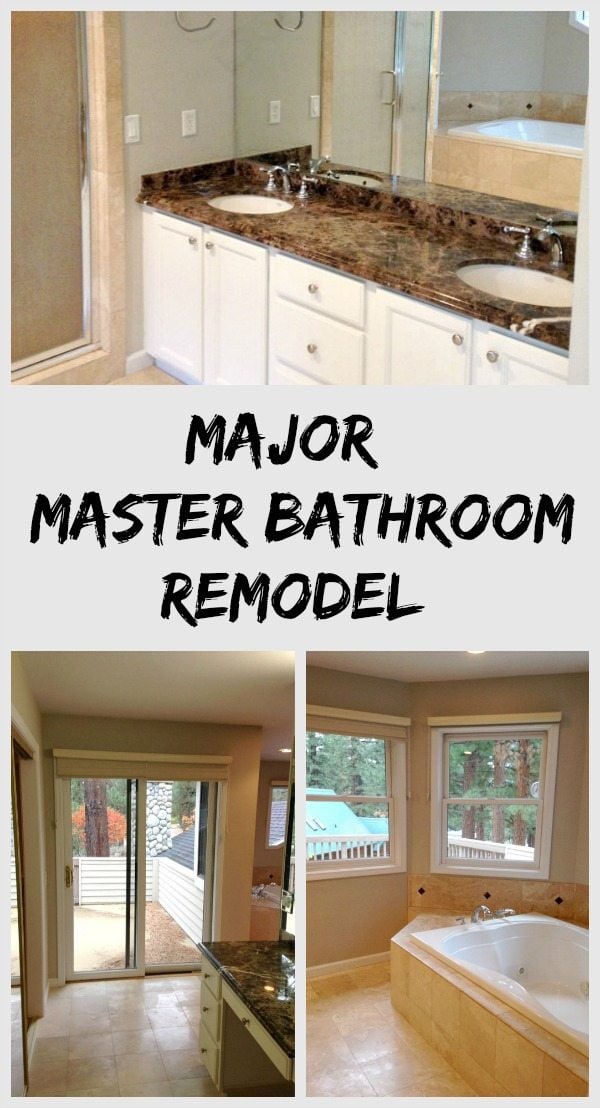 We began interviewing contractors around March of 2015. After many meetings hashing out the same details over and over again, we finally settled on a contractor and got on his schedule- which meant that work wasn't to begin until October 2015. The wait was agonizing but it gave us a chance to work with a local designer and shop around for tile and cabinets, etc. We decided to partner with Kohler on everything that was plumbing related- bathtub, sinks, faucets, shower, and toilet. I've always loved their products, so being able to incorporate them into our new bathroom was exciting! Today I'm sharing all of the "before" photos to explain what we wanted to change.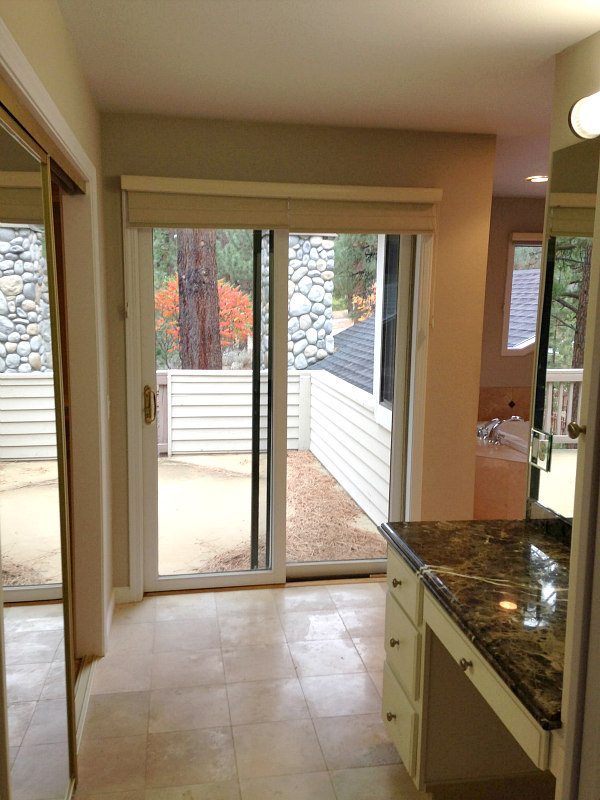 Here is what it looked like (before) entering our master bath. There was some pretty basic tile (very cold to walk on), a small vanity area on the right with minimal storage area and an annoyingly bright light. A walk-in closet with a mirrored door is on the left.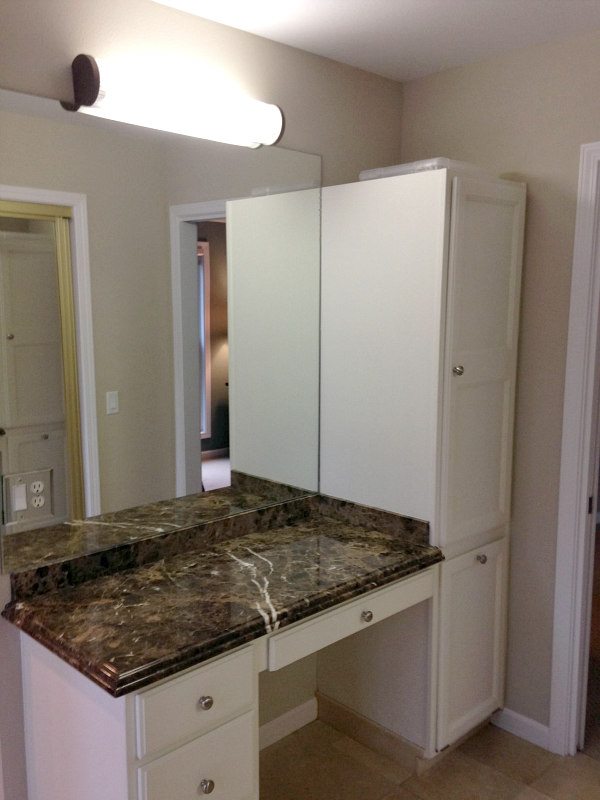 I always viewed this vanity area as wasted space. I don't sit down to apply makeup, and it was just an ugly part of the bathroom. We wanted more storage in this area instead… and we wanted to cut into this wall to open up the bathroom a bit more too. Because we live in the mountains, it was time to transition to more rustic-style wood cabinets. And we were thinking about a rustic-style in general for the bathroom.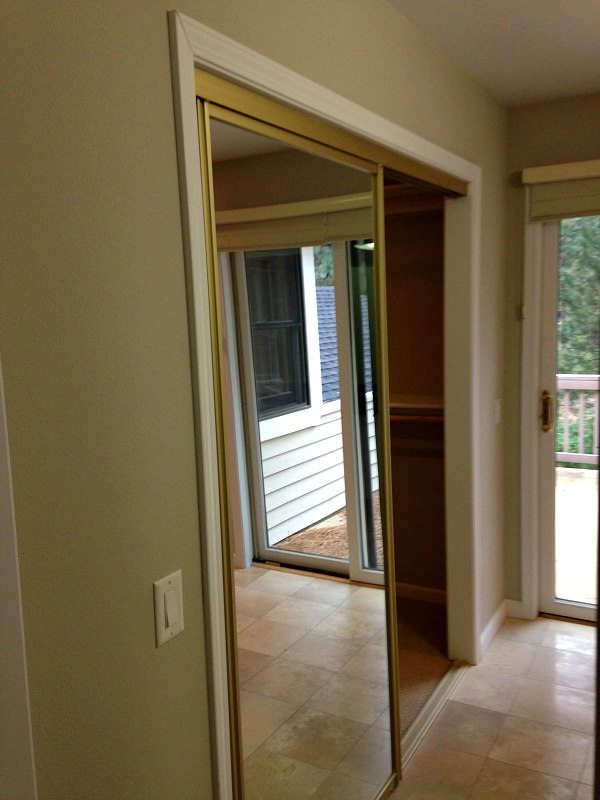 The mirrored slider had a very 80's look to it… gold-rimmed and all! I can't wait to show you what we decided to do instead. I'll make that one a surprise!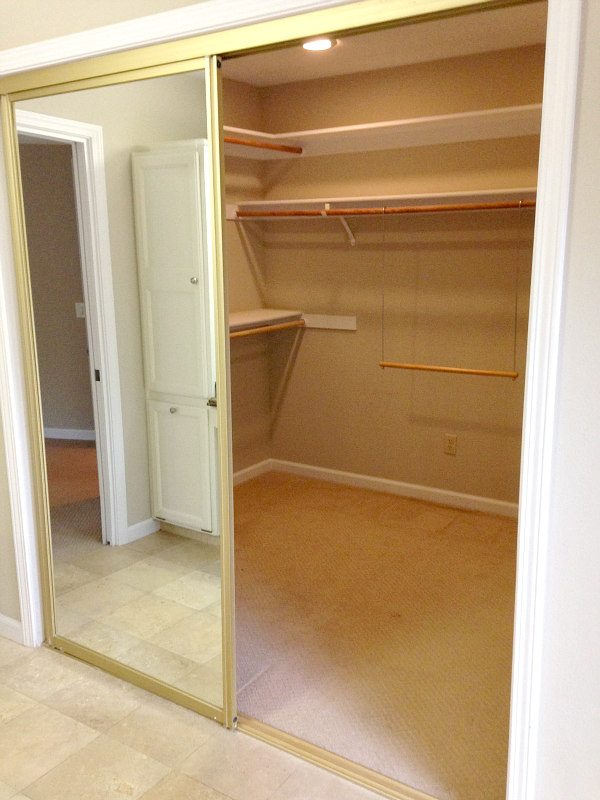 We have one walk-in closet for the two of us. It's really not very big, but we make it work (by going through our clothes quite often and making donations to charity). I didn't really want to spend money on having the closet done but my husband talked me into it. He basically told me that we couldn't do all of these awesome things to the greater part of the bathroom and ignore the closet. We needed to do it all!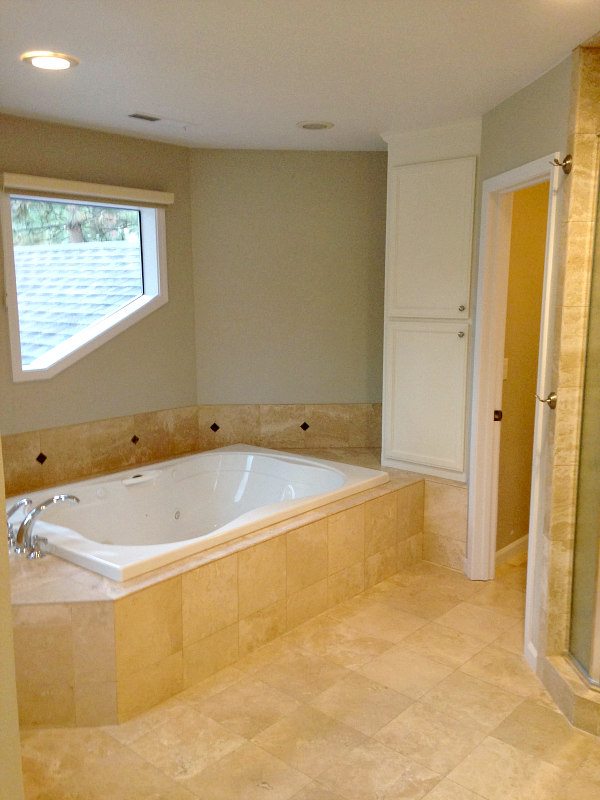 And here is the most wasted space of the entire bathroom- the jacuzzi tub. While a jacuzzi tub might SOUND nice, it definitely wasn't nice. It took up a ton of room, and in order to have enough water to take a jacuzzi… you had to use up most of the hot water. I also didn't like the overuse of this golden tile. We have a very odd-shaped bathroom, so they managed to put a storage space in the corner there… but we decided to take that out too and utilize the space in another way.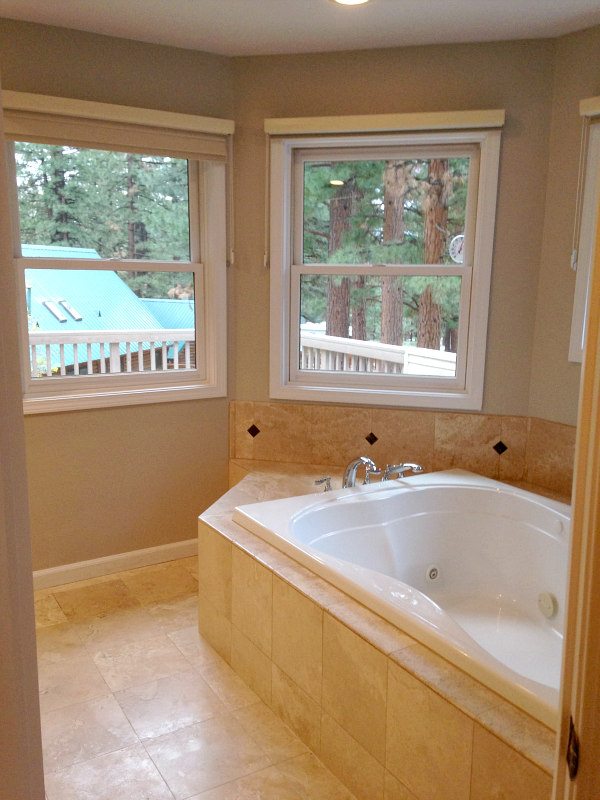 With the jacuzzi tub taken out, we'd be able to utilize the space under the windows here for a gorgeous Kohler freestanding bathtub. We wanted to be able to take a bath and look out the windows at the tall pine trees on our property.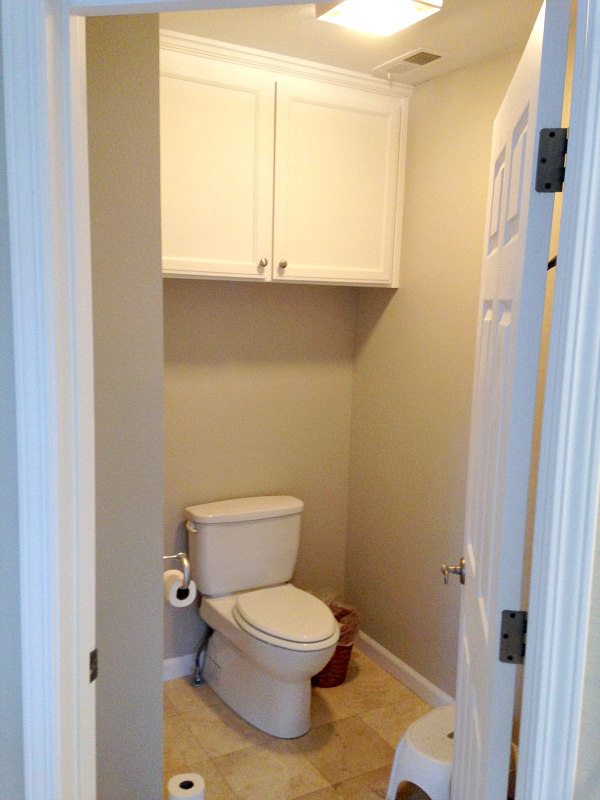 A new toilet was definitely in order. This one was low to the ground and never really functioned well. My husband inserted his opinion on this one too and wanted to look for a "really cool toilet." Fortunately, Kohler definitely has some "really cool" toilet options to choose from!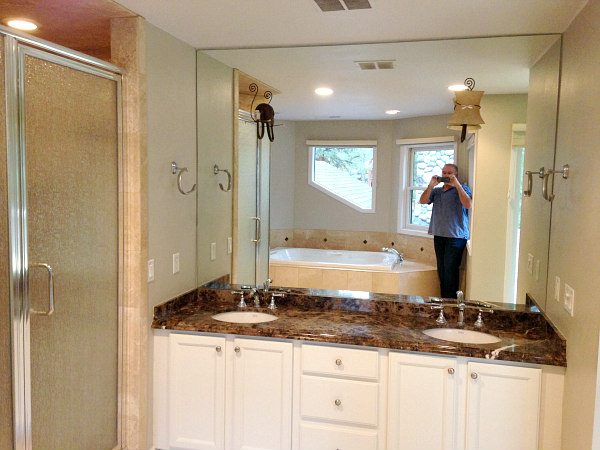 And finally, this was our double vanity sink area. It was time to update it to a taller counter-height (my husband hated having to bend over so much to try and shave), we wanted to do away with the large mirror and replace it with a more interesting background and two single mirrors, and the lighting (falling apart) needed updating as well. To the left, you see the shower with an old-style door. The inside of the shower area was more of that golden tile that made up the flooring and bathtub area. We had a lot of choices to make for this part of the bathroom: new sinks (did we want drop in sinks or above-counter sinks?), what sort of faucets did we want for those sinks, and what kind of shower set-up we wanted too.
Oh, and selecting the tile for the floor and the shower and the vanity top… and the cabinetry! There is so much work that goes into choosing everything involved.
I'll be writing posts the next few Saturdays- sharing the progress along the way and the final photos of the remodel! I hope you enjoy following along…