We're so happy with our Scottsdale Home Remodel. We've been at this home remodeling project in North Scottsdale, Arizona for months… and the Living Area is now complete and ready to reveal! We gutted the entire living area and started from scratch, so ahead you'll see all the before and after photos. Enjoy!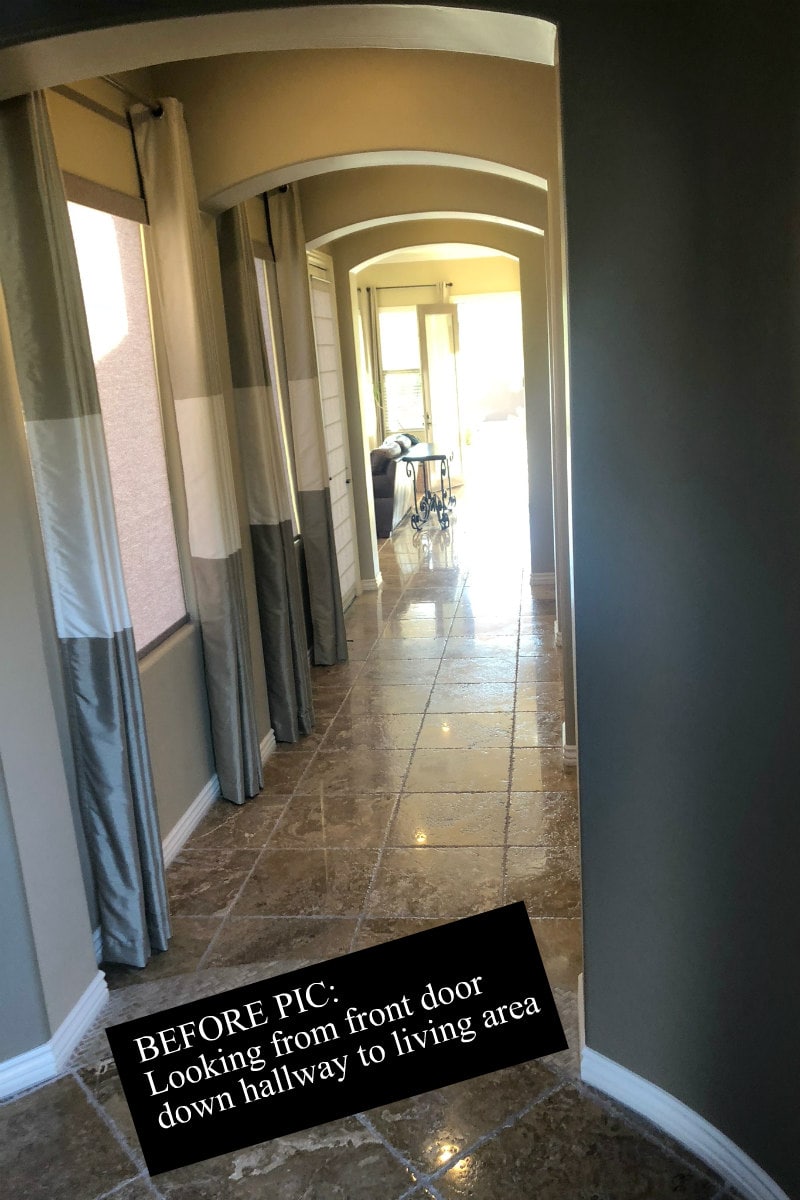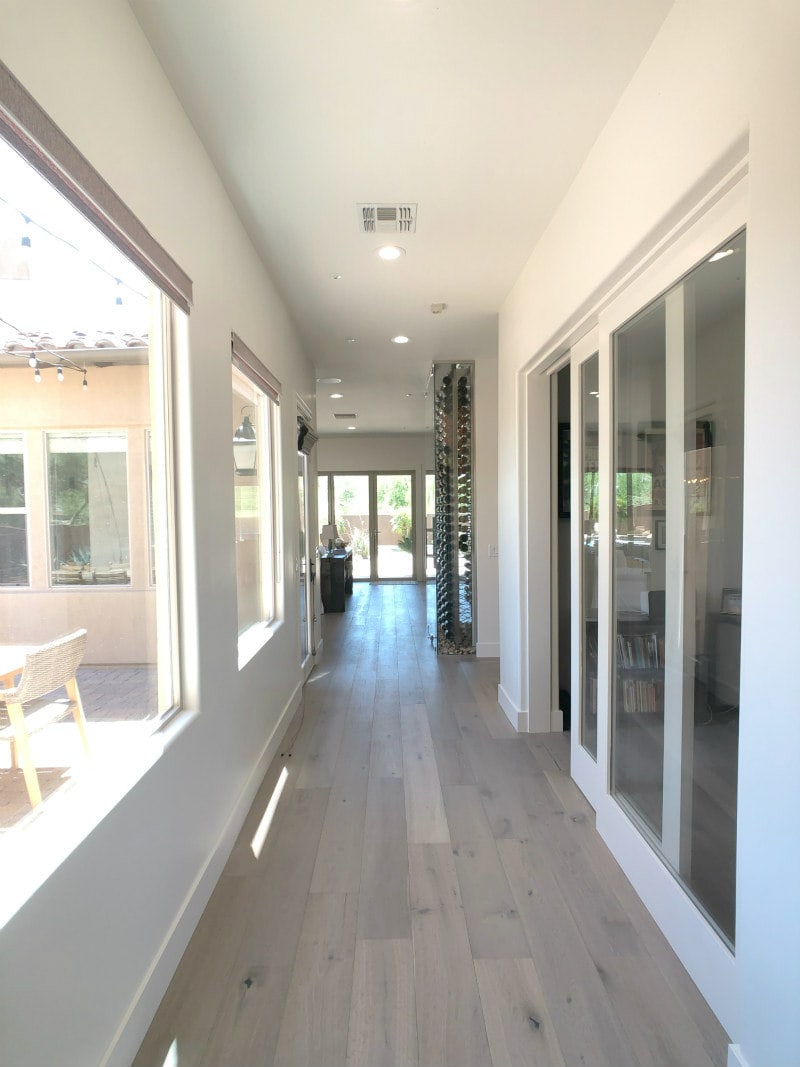 The Entry to the Home:
This the entry to our home. Note the tile flooring in the "before" photo. I know some people might like the tile, but we opted to take it out because we really wanted all wood floors. The tile was very shiny and just not our style at all. Metro West Wholesale is the company we ordered our wood flooring from. We chose French Oak "Moda" from the Mediterranean Collections by California Classics, and we love it! It has a nice feel on your feet, it doesn't scratch easily (we have a dog!) and it's light in color.
In the first photo you'll note all of the arches and decorative wall jut-outs down the hallway. This really closed in the hallway and made it seem small. By taking out all of those decorative features, we've really opened up the hallway and created a nice, light and bright entry. The drapes on the left weren't necessary. We have shades there instead. In the before pic– I'm sorry you can't see this, but there is an office on the right that had two sets of double doors. We took those out and put in glass sliding doors, which makes the office a much more functional space with a lot more light.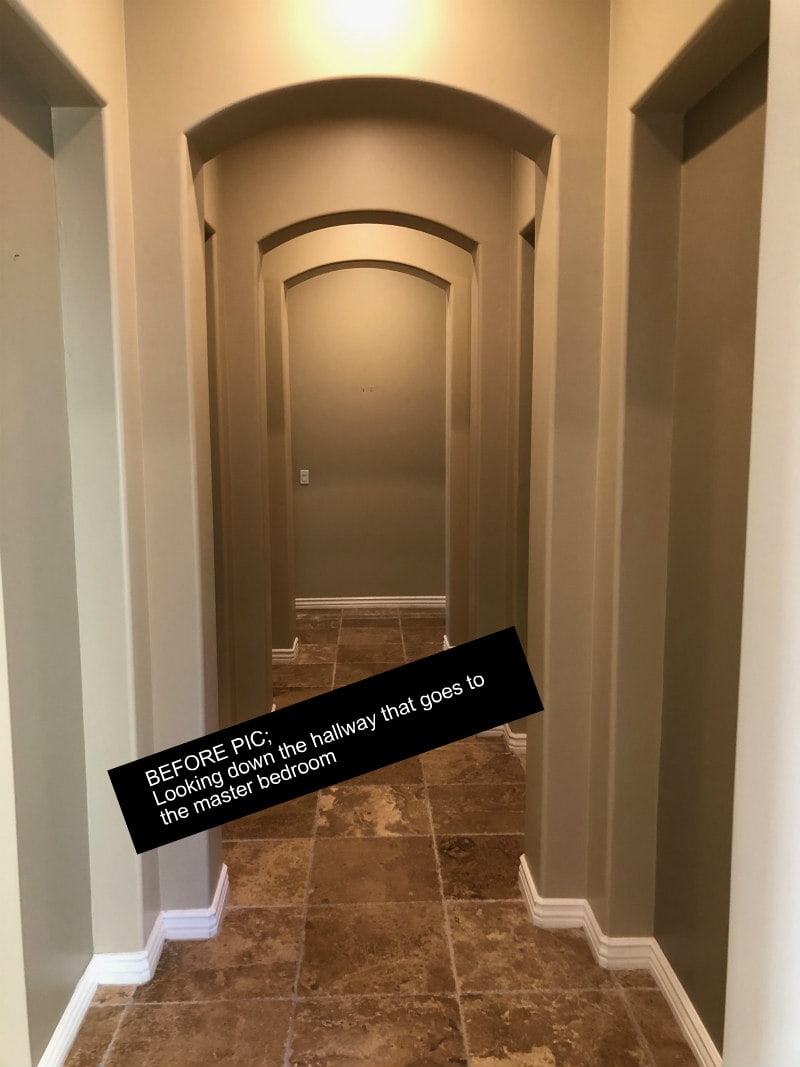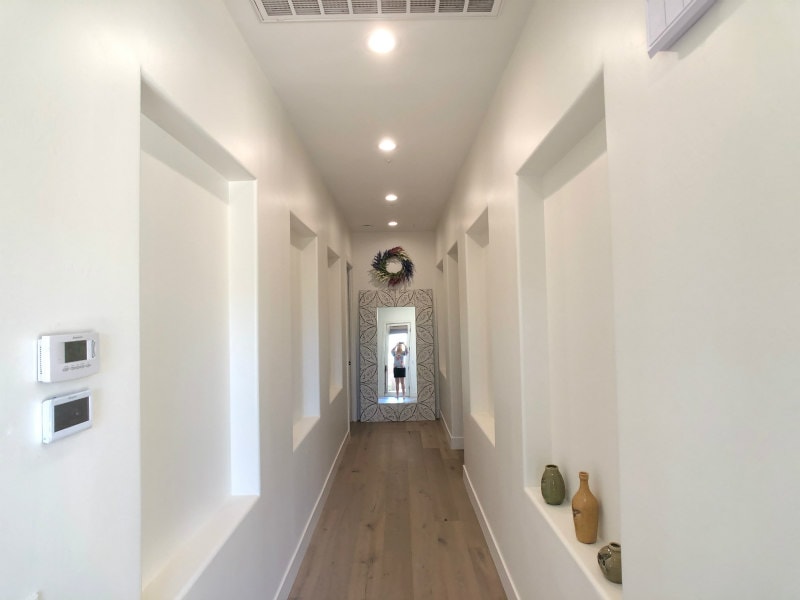 Hallway to the Bedroom:
There's a pretty dramatic difference between the before and after photos here. Again, we took out the arches and the decorative jut-outs. The result is a much wider hallway and a very tall ceiling all the way down. We replaced all of the incandescent lighting in the home with LED lighting. I still need to figure out what to do with the nooks in the hallway. I'm thinking I'll probably do some photo collections in each nook. I might paint the backgrounds of the nooks a light gray and use white framed photos. What do you think?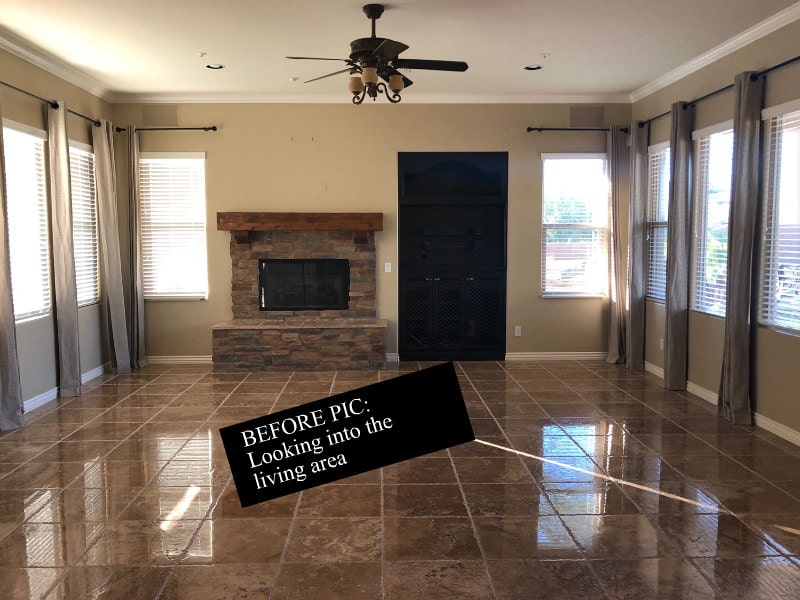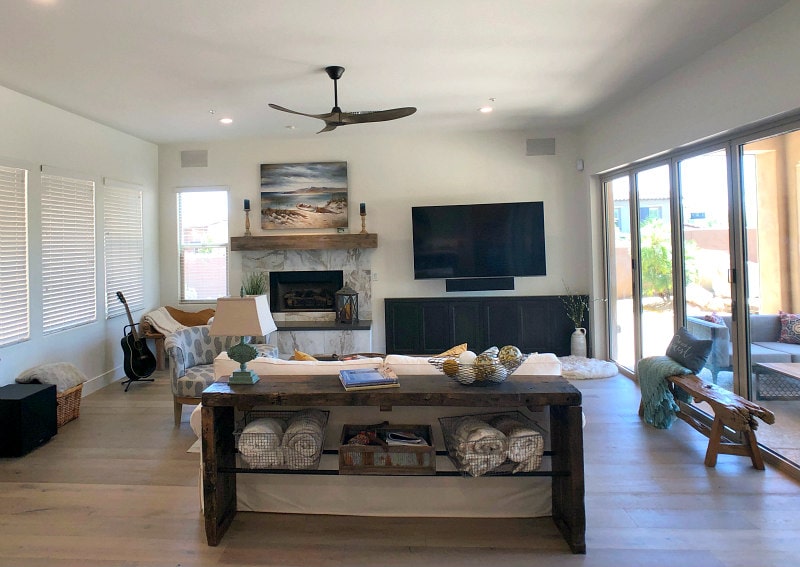 The Main Living Area:
Our goal for this space was to create a comfortable and functional area that had a lot of light. Note the back wall and the right side wall. We put in a new fireplace and mantle. And we drywalled over one of the windows on the back wall to create space for a larger TV. We had cabinetry put in under the TV to house AV equipment (used Cabico Cabinetry for that). The windows on the right came out, and we put in a floor-to-ceiling fold-out glass wall by NanaWall Systems.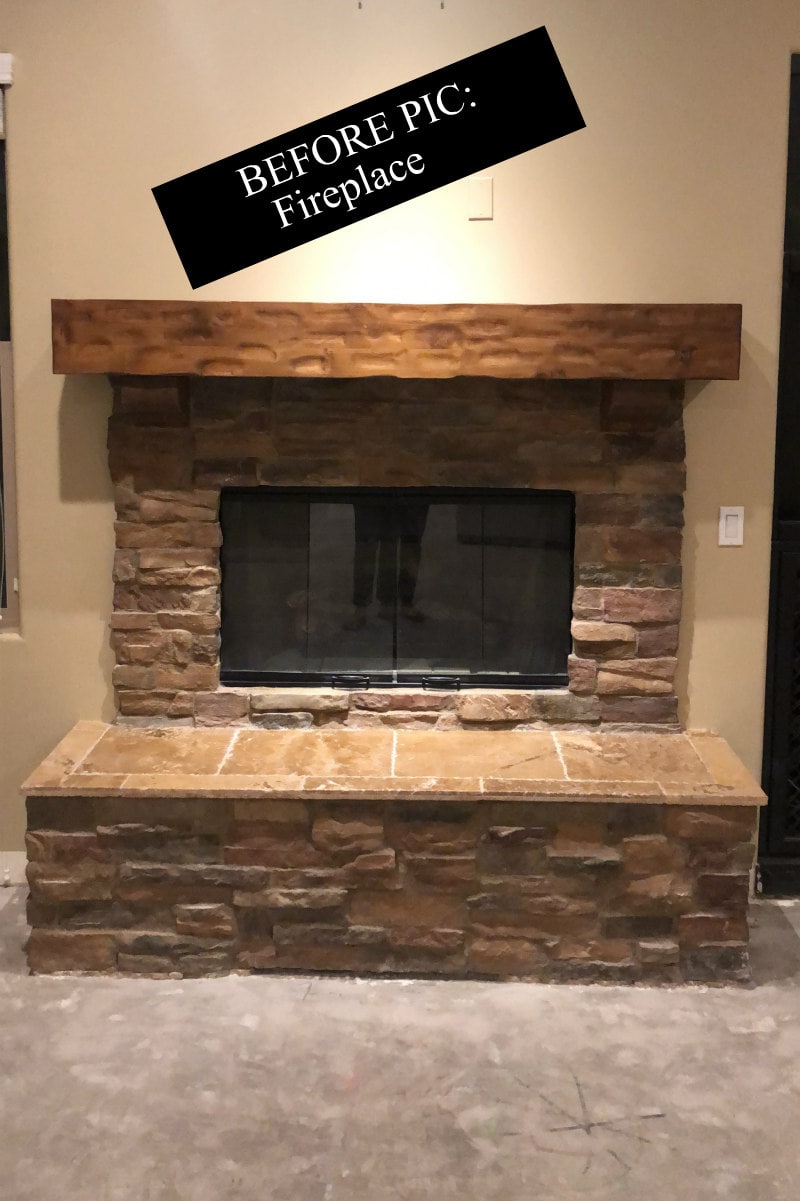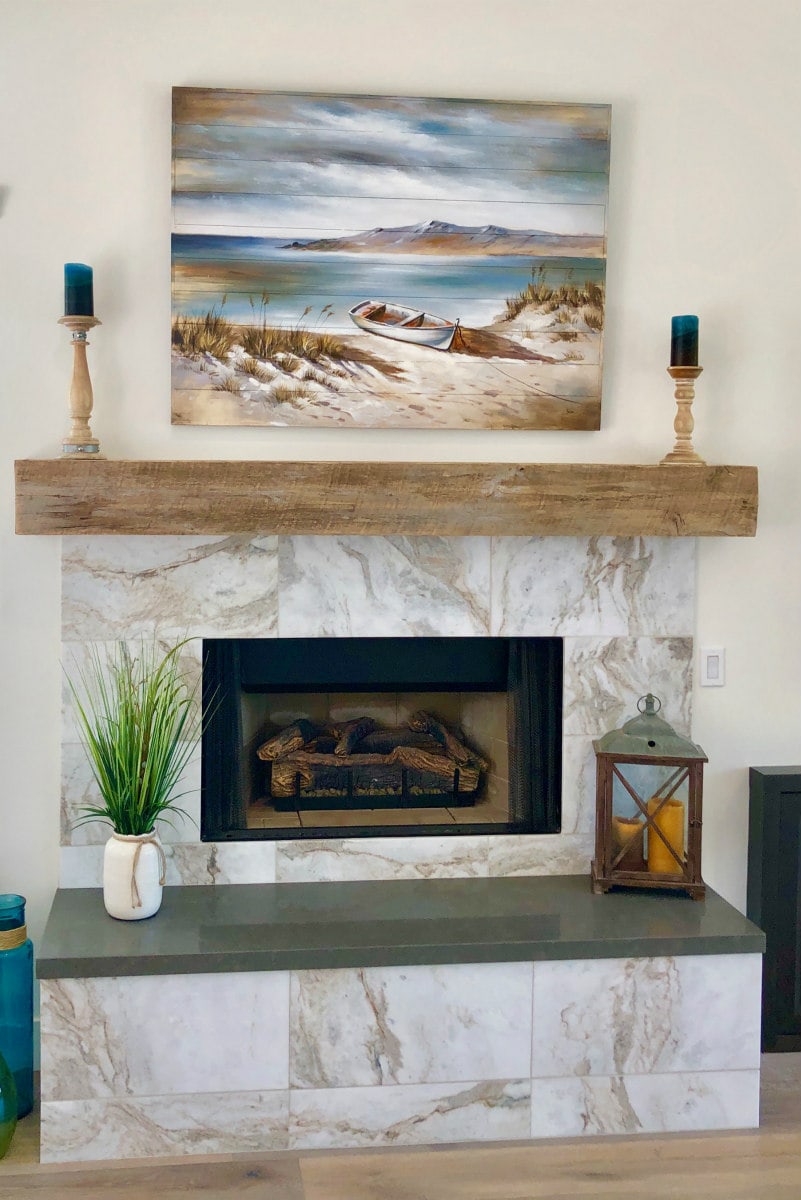 The Fireplace:
The "before" fireplace was nice in its day, but it wasn't going to match the light and bright theme we were creating for the house. We consulted with Leslie Paige Interiors on what we should do with the fireplace. She helped us pick out Leathered Marble from Cactus Stone and Tile. The hearth is a remnant of quartz that our tile guy had leftover in his tile yard. And the mantle is a rustic piece of reclaimed wood that our contractor picked out for us. I'm so happy with the new fireplace. It's so pretty!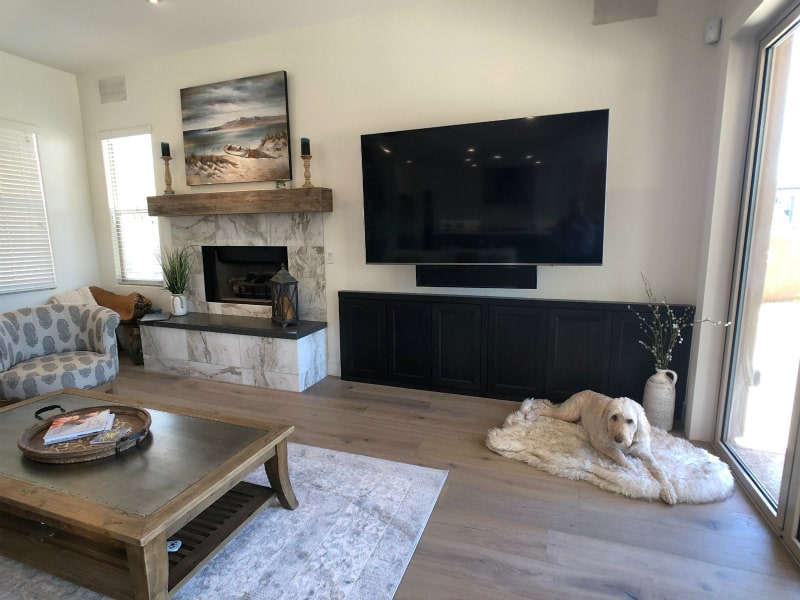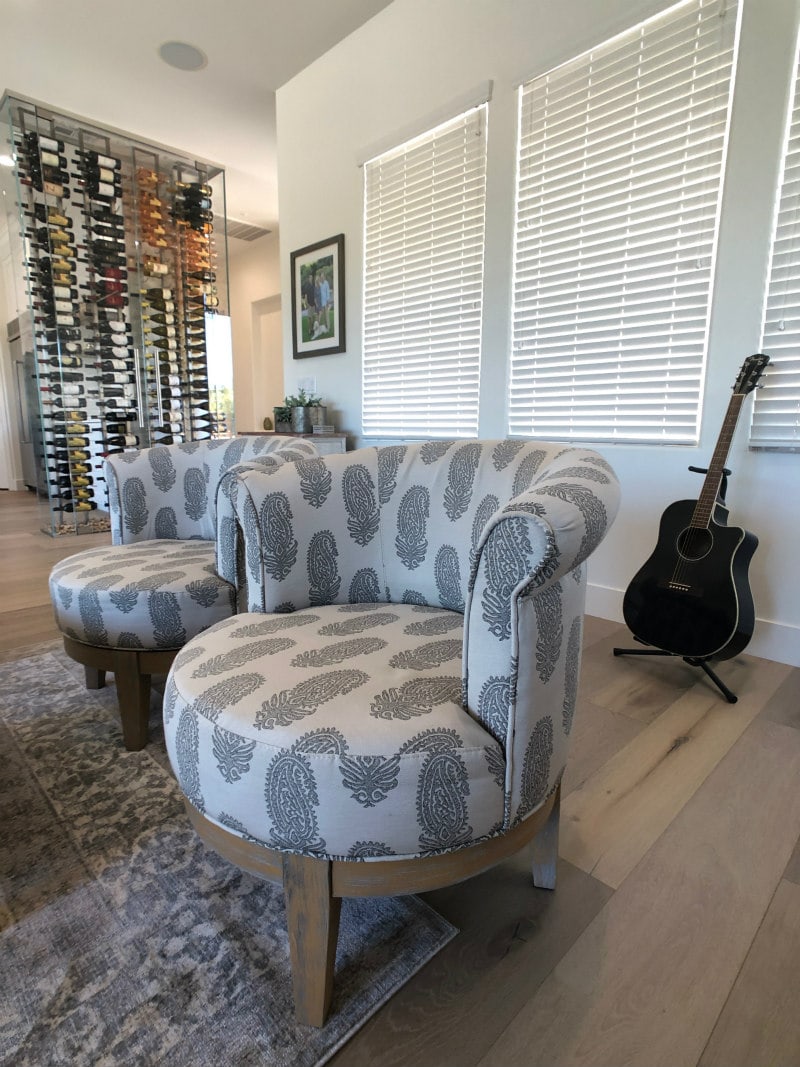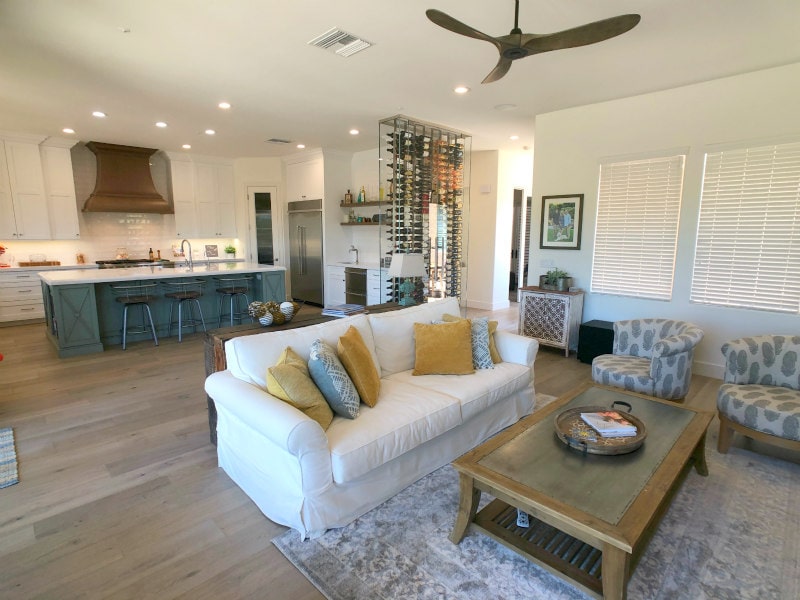 The Furnishings:
Since we were renting a furnished home in Scottsdale while this home was being remodeled, we were able to start from scratch with our furniture. We were able to take our time and really pick out what we wanted. The couch is a slipcovered sofa from Pottery Barn. It's very comfortable, and it's good for napping. I was nervous about getting such a light color (Brushed Canvas Natural), but I'll be able to wash the slipcover when needed… and our dog isn't allowed on the couch! The two Gray and Cream chairs are from Wayfair.com. They swivel, and they were very easy to put together. The area rug is also from Wayfair- it's a simple pattern that has mostly gray tones in it. It's so hard when you order things online because you never know what you're getting… but the quality of both of these purchases is really nice, and both the chairs and rug were perfect for the space. The coffee table and sofa table are both from Potato Barn, a local unique furnishings place in Scottsdale. We filled in some of the smaller furnishing and decorative items by shopping at The Furniture Lady, Pier One Imports and Homegoods.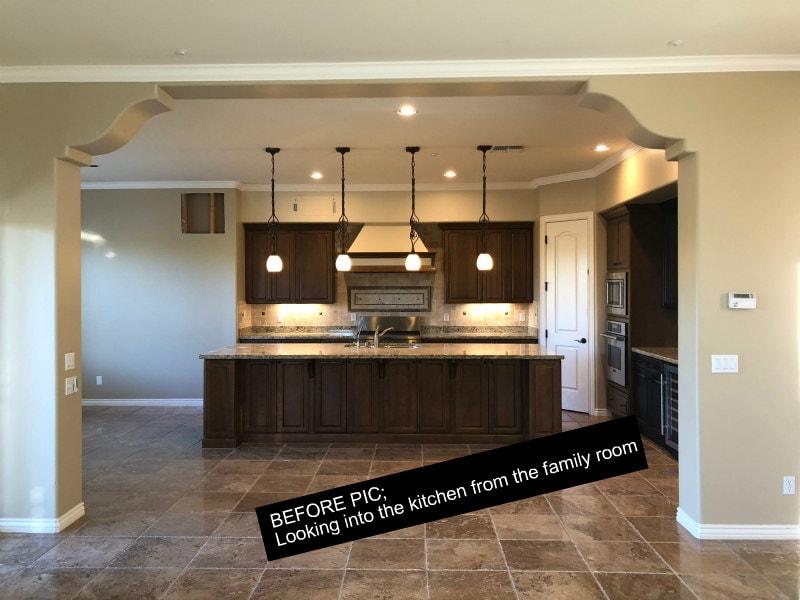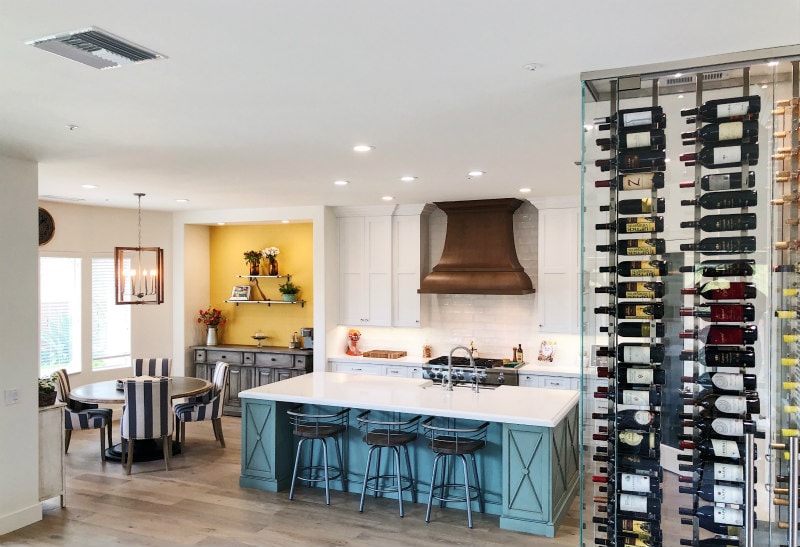 Looking into the Kitchen from the Living Area:
If you'd like to see the details on our complete kitchen remodel, I wrote all about it here: Scottsdale Kitchen Remodel: The Final Reveal. We worked with McKenzie Architectural Kitchens in Scottsdale to create this amazing new kitchen! They helped us with the complete layout of the kitchen- choosing the perfect cabinetry (Cabico) and a ton of design features that make the kitchen functional and perfect. Innovative Wine Cellar Designs created our floor-to-ceiling refrigerated wine wall. We love our new kitchen!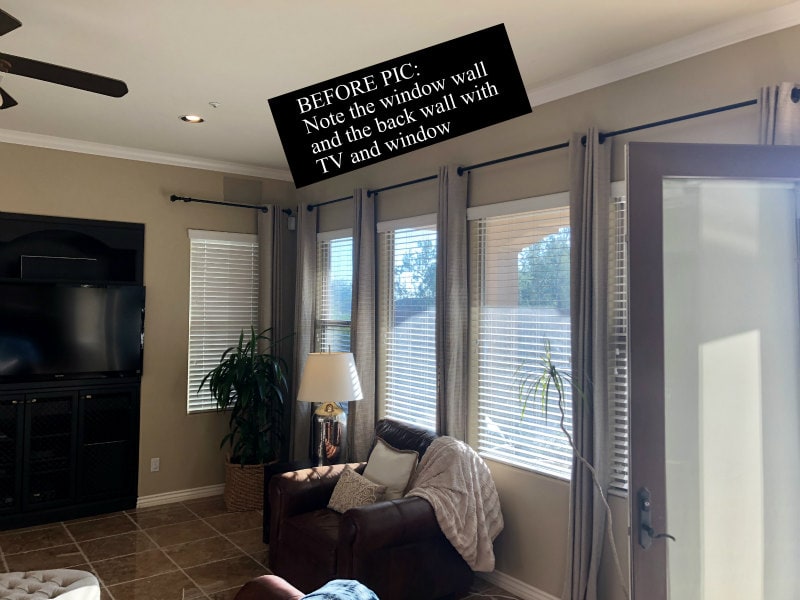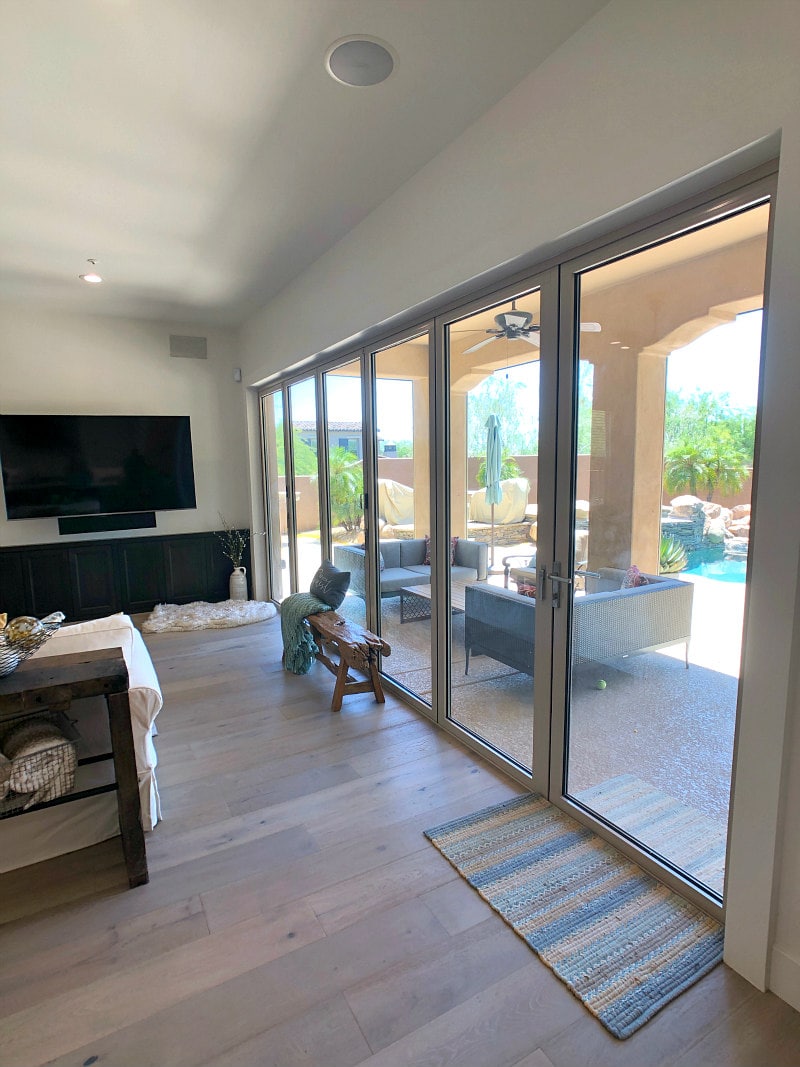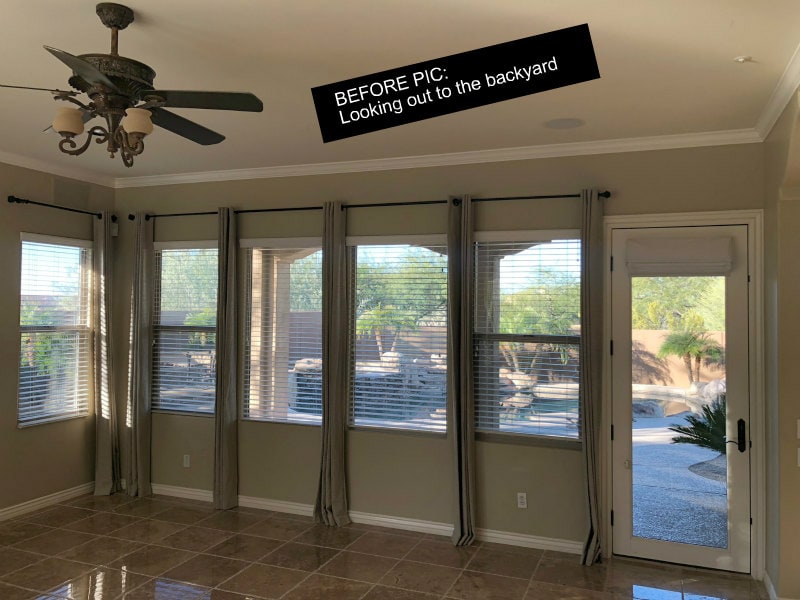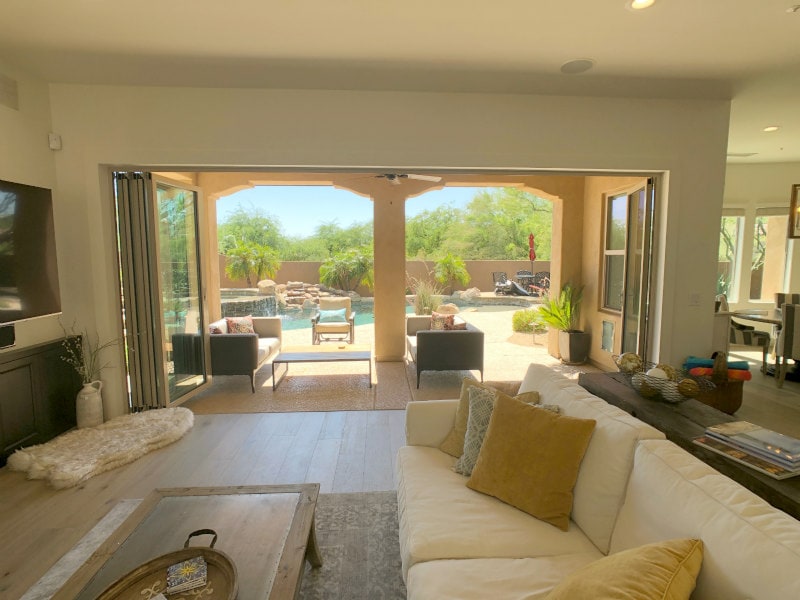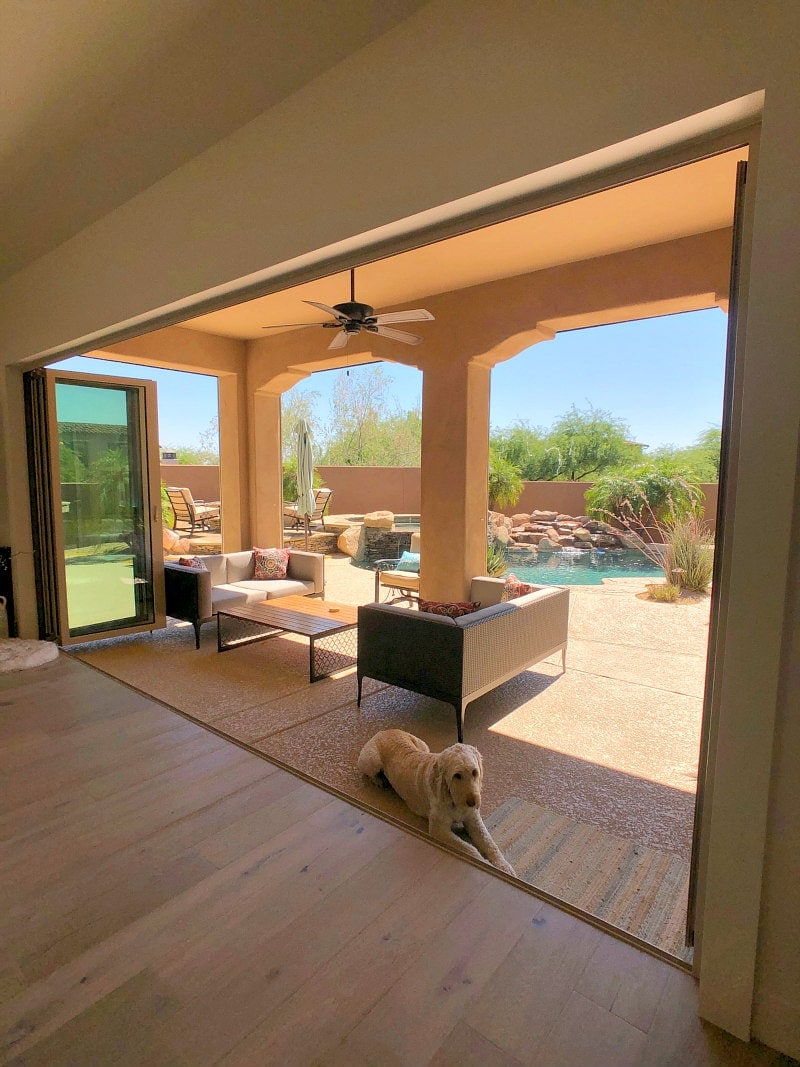 The Glass Wall:
The folding glass wall designed and manufactured by NanaWall Systems is a really great feature that we're so glad we invested in. When the weather isn't so hot, we can open up the glass wall completely, and it opens up our living space so much. The glass doors are super easy to operate and quick to open. It's especially great for entertaining because we are opening up our smaller living area to create a larger space. We can also turn our TV the other way and sit out on our patio furniture to watch TV! This is one feature that I will put in every home I own from here on out. It's so fabulous!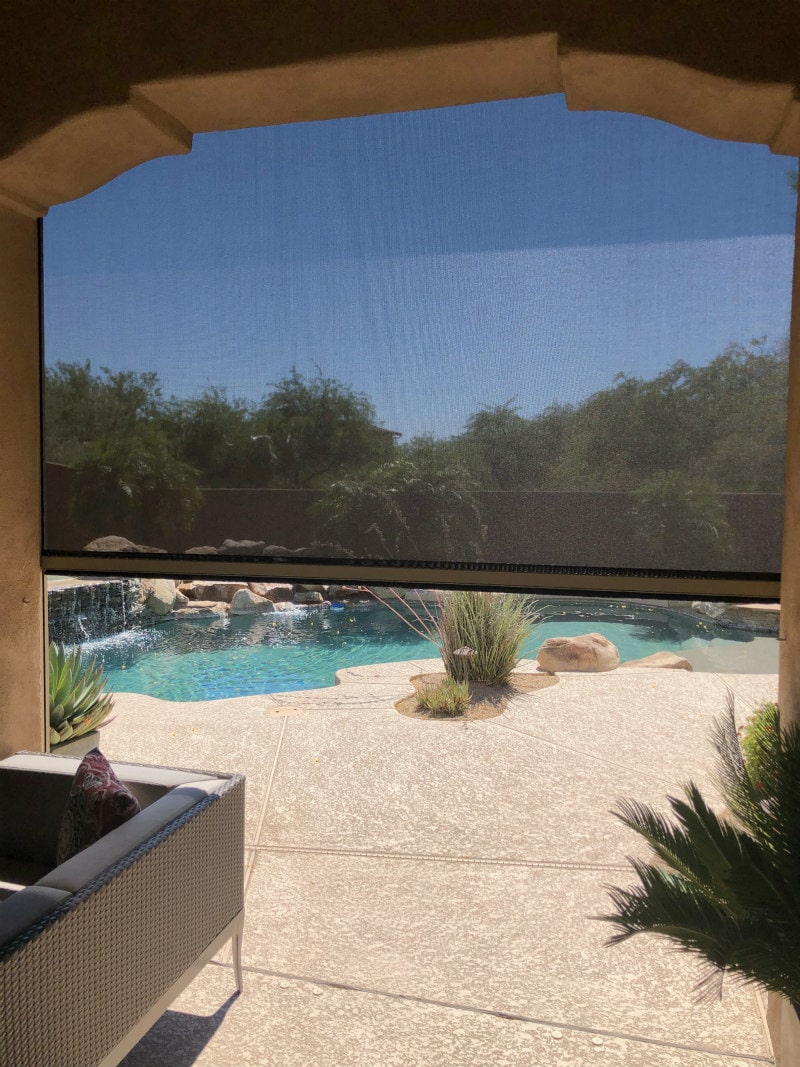 Power Sun Shades for the Patio:
This was the final thing we invested in for the new house, and we had them installed just prior to the extreme heat of summer (thank goodness!) We had three power shades installed from Superior Sun Solutions in the exterior of each of our three patio arches. The screens are three separate units with a motor that lowers the screens all the way to the ground (there are side tracks). It actually serves to create a screened in patio that feels like an additional room of the house when the weather permits us to open up our folding glass doors. The screens themselves block heat (keeping our living area cooler) while still preserving a majority of the outward-looking view. It also provides significant UV protection for our wood floors and furniture. There is a remote that we use to control the screens individually or all together. We're very happy we put these in!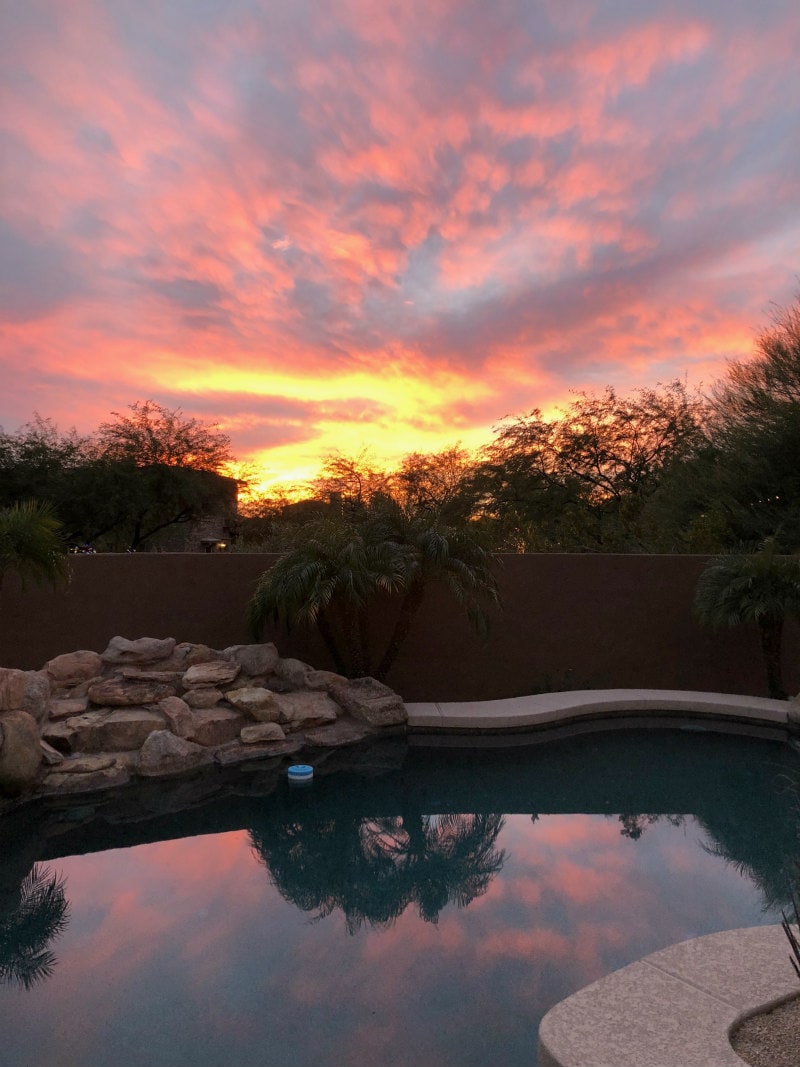 This is the sunset view we have from our back patio. I think we're going to be very happy here in our empty-nester home! Thanks for following along on this extensive remodel. I'm still putting the finishing touches on our Master Bedroom and Bathroom, and I'll be sharing the final reveal on those sometime in the coming months.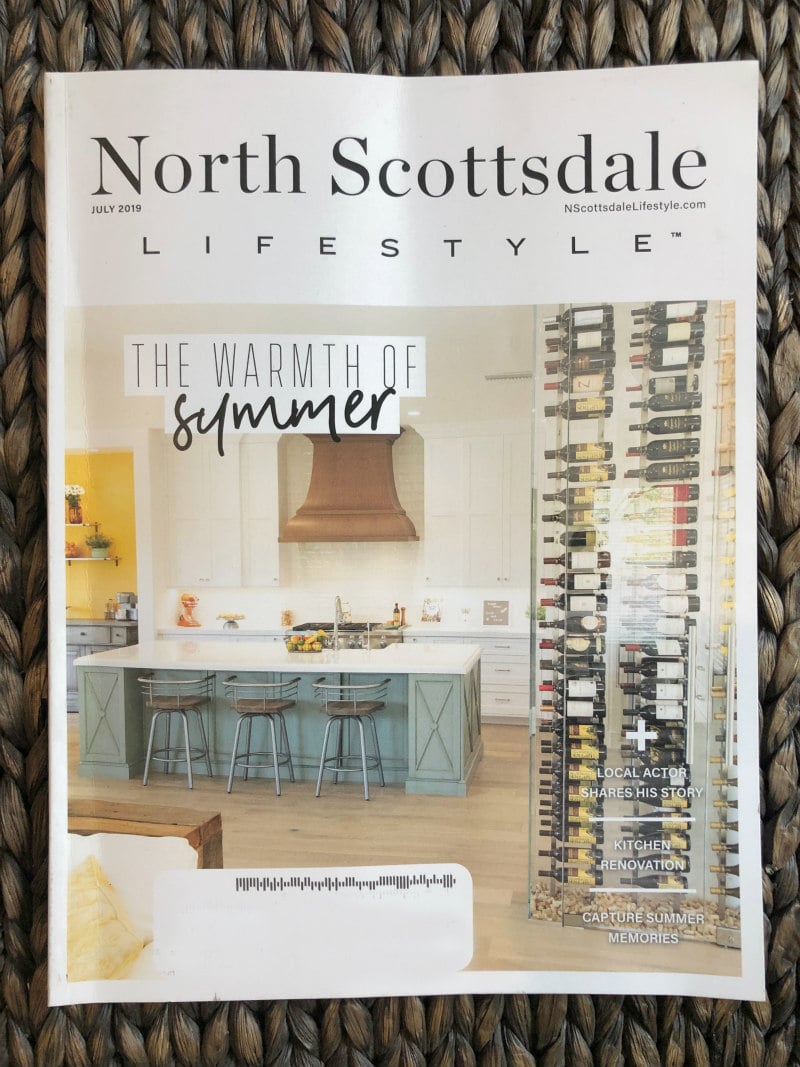 North Scottsdale Lifestyle Magazine liked our remodel so much that they featured it in their July 2019 issue!
Here's more on my home remodeling project, if you'd like to check it out from the beginning…
HERE'S A LIST OF THE CHOSEN COMPANIES WE USED FOR OUR SCOTTSDALE KITCHEN REMODEL:
Our contractor is a good friend of ours who does select projects in the greater Phoenix/Scottsdale area. If you are interested in his contact information for a potential project, please email me and I can share that with you.
We worked McKenzie Architectural Kitchens on the design of the layout of the kitchen and assistance with choosing the cabinetry and range hood from Cabico Custom Cabinetry. Our experience in working with them was very positive and professional, and we are extremely pleased with it all!
Metro West Wholesale was the company we ordered our wood flooring from.
We purchased our glass folding wall in the family room from NanaWall Systems. It completely changed the feel of our family room, and we love it!
The countertops in the kitchen and the tile for the fireplace were purchased from Cactus Stone and Tile. We love our countertops and marble fireplace, and Cactus Stone and Tile were super easy to work with.
The backsplash tile in the kitchen was purchased from Facings of America.
We hired a fantastic tile company who installed all of the tile and countertops in our remodel. If you are interested in their contact information, please email me and I can share that with you.
All of our appliances were ordered from KitchenAid, and all of the plumbing fixtures are from Kohler.
Innovative Wine Cellar Designs designed and installed our refrigerated, floor-to-ceiling wine wall. WE LOVE IT SO MUCH.
Our motorized patio screens are from Superior Sun Solutions. They are an essential feature to have in the heat of Arizona!
Our designer: Leslie Paige Interiors (helped with tile design and general advice on kitchen design decisions)
Our realtor: Tracey Gray from Sotheby's in Scottsdale was easy to work with and the sale went smoothly. I recommend her!