This Home Remodel in Scottsdale, Arizona is our latest project. We've lived in Arizona now for about a year and a half, and we looked at approximately 1,342 houses before deciding to buy this house in North Scottsdale! Then, we decided to tear it apart and put it back together. Here's my home remodeling project!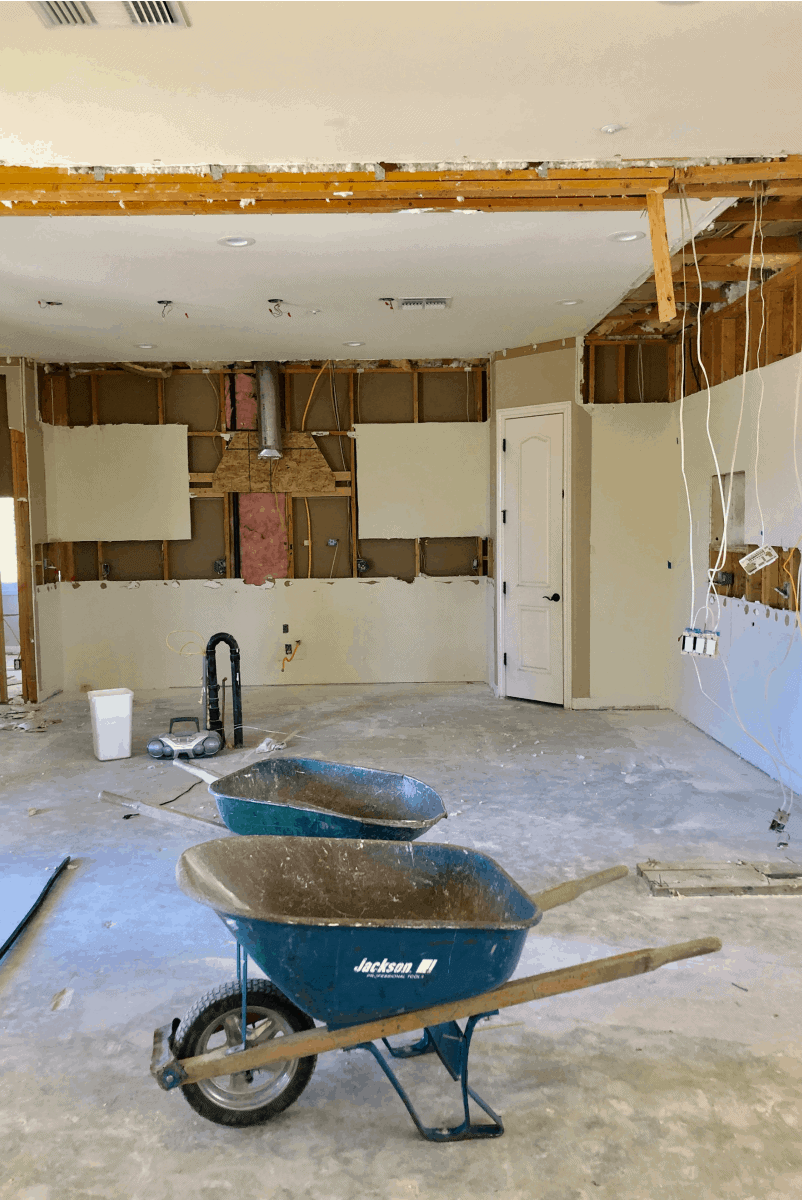 I'll admit that when we purchased the home, we had a few visions of remodeling to make it what we wanted, but then it became much bigger than that and most of the house currently looks like this! It's true what they say… plan a budget, and then make sure you plan to spend more than your budget… just in case! Oh, and if you are fortunate enough to live somewhere else while your remodel is in process, I highly recommend it. We're still in our rental home until our remodeling project is complete. We expect to move in mid April. Here are all the down and dirty details of our major home remodel– currently in process!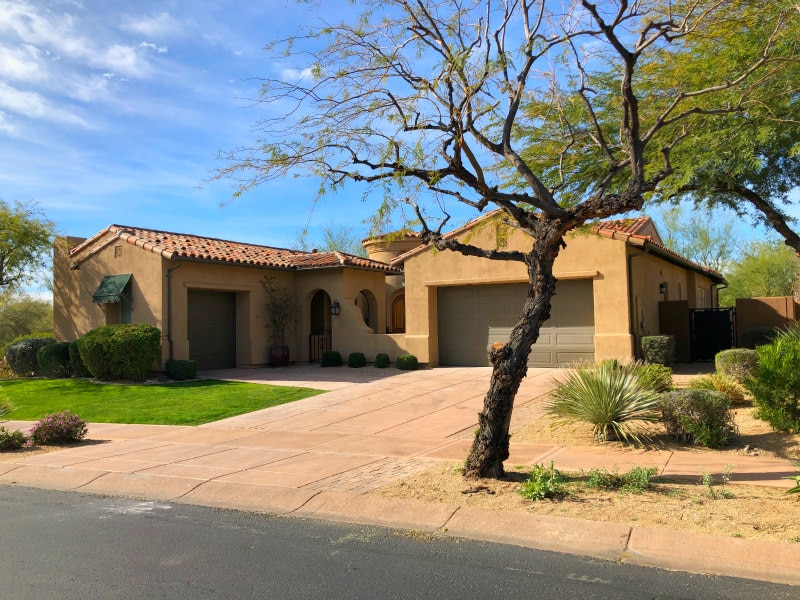 Here's the house we bought. It has three bedrooms, two and a half bathrooms + an office. It's the perfect size for my husband and me– as our son will be headed off to college this summer. We both work from home, so we needed to make sure we had enough space for both of us to move around during the day (without driving each other crazy!).
What we love most about our house: it's one level, there is a large space for entertaining in the back-and side-yard, and the neighborhood is what we had been looking for in terms of sociability and walking areas/parks for our dog. The first three homes we've owned were all two-story homes, and we're so done with that! Our one-story home is simple, and we no longer have a need to be upstairs. We love to entertain, and since we live in Scottsdale, Arizona… we can entertain outdoors much of the year. The neighborhood is gated, super quiet, and we have already met some pretty fabulous, social neighbors.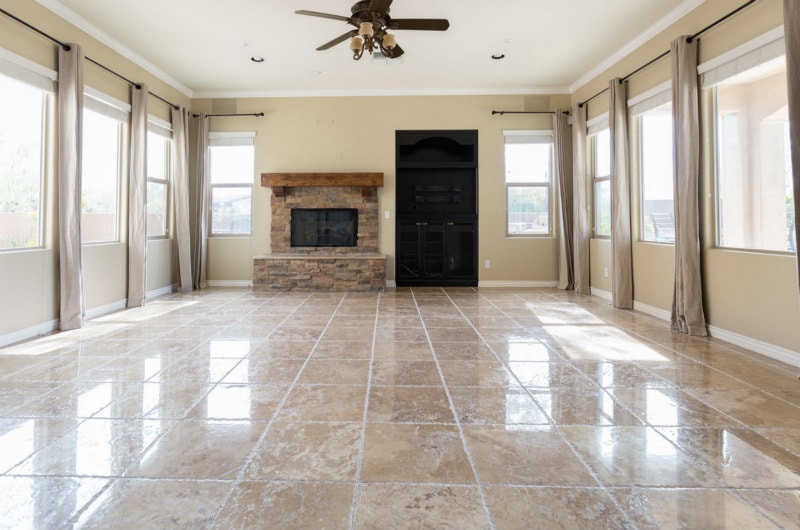 Here is what the family room looked like before we took it apart. Yes, I know it looks nice as-is… but the very shiny floors were just not quite to our taste, we didn't care for the fireplace, and the entertainment center location/size didn't work for us either. I do love this room because it's so nice and bright. That wall on the right… we'll be transforming it with a NanaWall opening glass wall system— a folding glass wall that will open to the pool area in the backyard, and create seamless indoor-outdoor living. The decorative design style we'll be going for generally throughout the house is probably best described as "Modern Farmhouse."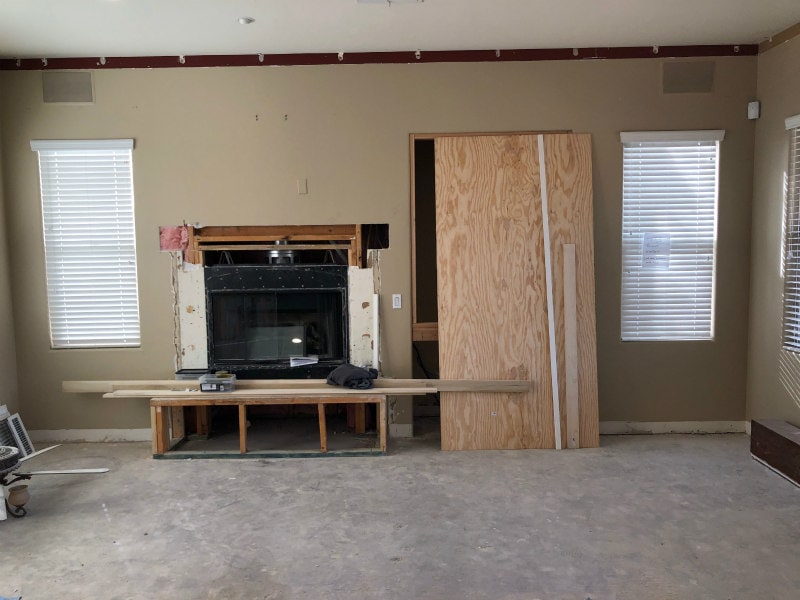 We'll be closing up the wall to the right of the fireplace to create a nice space for a very large TV that will be mounted on the wall. And we're still working out the details for the fireplace. I'm working with a local designer here in Scottsdale: Leslie from Leslie Paige Interiors on the details of various design decisions to be made on this project.
The wood sample on the left is what we've chosen for the wood floors throughout the house. We looked at quite a few options for wood flooring in and around Scottsdale, and we were most happy with finding Metro West Wholesale. They had great pricing and service, and they carried the line that we had liked at another company but it was much less expensive at Metro West. We chose French Oak "Moda" from the Mediterranean Collections by California Classics. I'm so excited to have nice, light wood floors!
The sample on the right is leathered marble from Cactus Stone and Tile that we're going to use for the fireplace. Our designer is working on all of the details for the fireplace, so I don't know quite what it will be like yet.
Here's a pano shot of the whole kitchen BEFORE we took it apart. Since we were replacing the floors, we decided to re-do the kitchen while we were at it. I spend a LOT of time in the kitchen–so, it's important for me to create a space that I absolutely love!
Here are a few things I didn't like about the existing kitchen:
The refrigerator seemed far-removed from the rest of the kitchen.
The existing "bar" area lacked helpful features like a sink and adequate storage.
There was only one oven.
The granite was similar to one I'd had in another house of ours… and I was ready for something different!
The sink was divided– I love to have one big sink without a divider.
The cabinets were dark wood– and I was hoping for a lighter and brighter feel!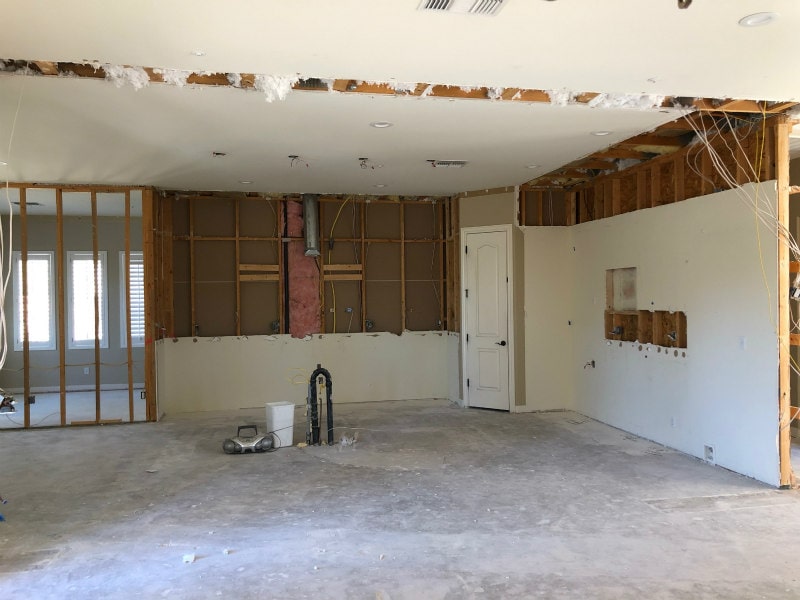 So we literally took the entire kitchen apart! We sold all of the appliances and cabinets to recoup some cash, and started interviewing kitchen design companies to help us work with this blank space!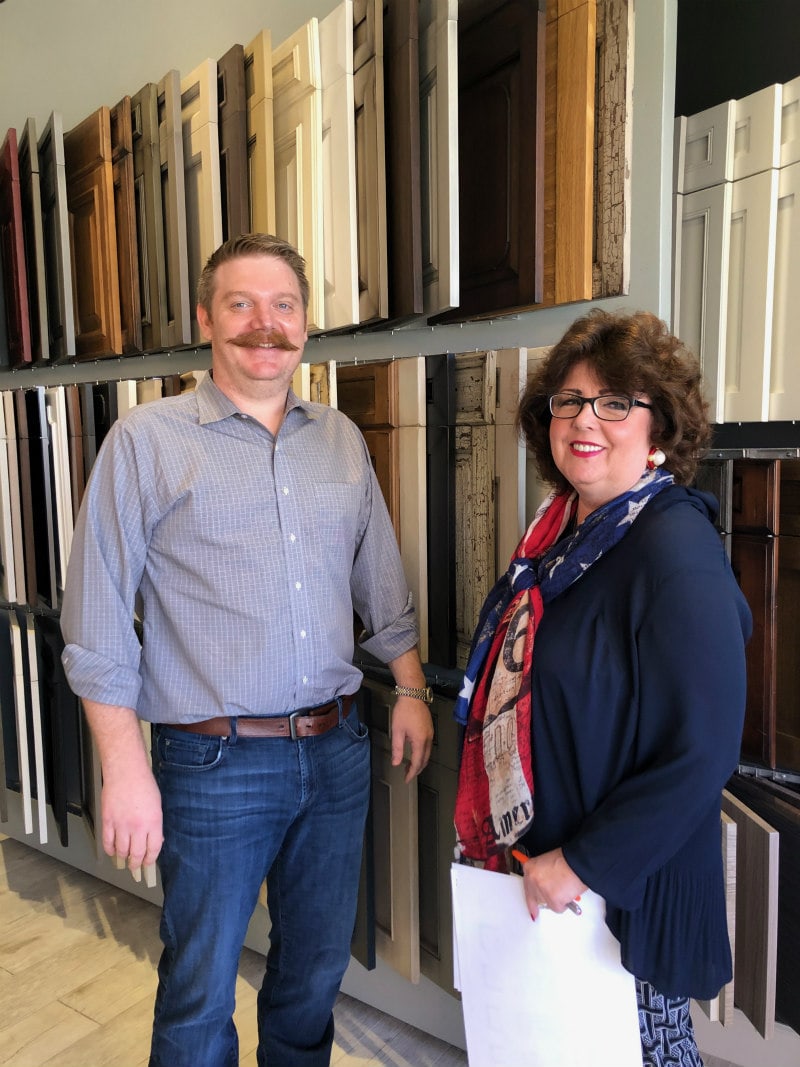 McKenzie Architectural Kitchens is who we partnered with on the kitchen design (this is the owner- Donald and designer- Catherine). They've worked on some pretty amazing kitchen remodels all over the Greater Phoenix area. We were super impressed with their knowledge, design ideas, cabinetry choices and pricing.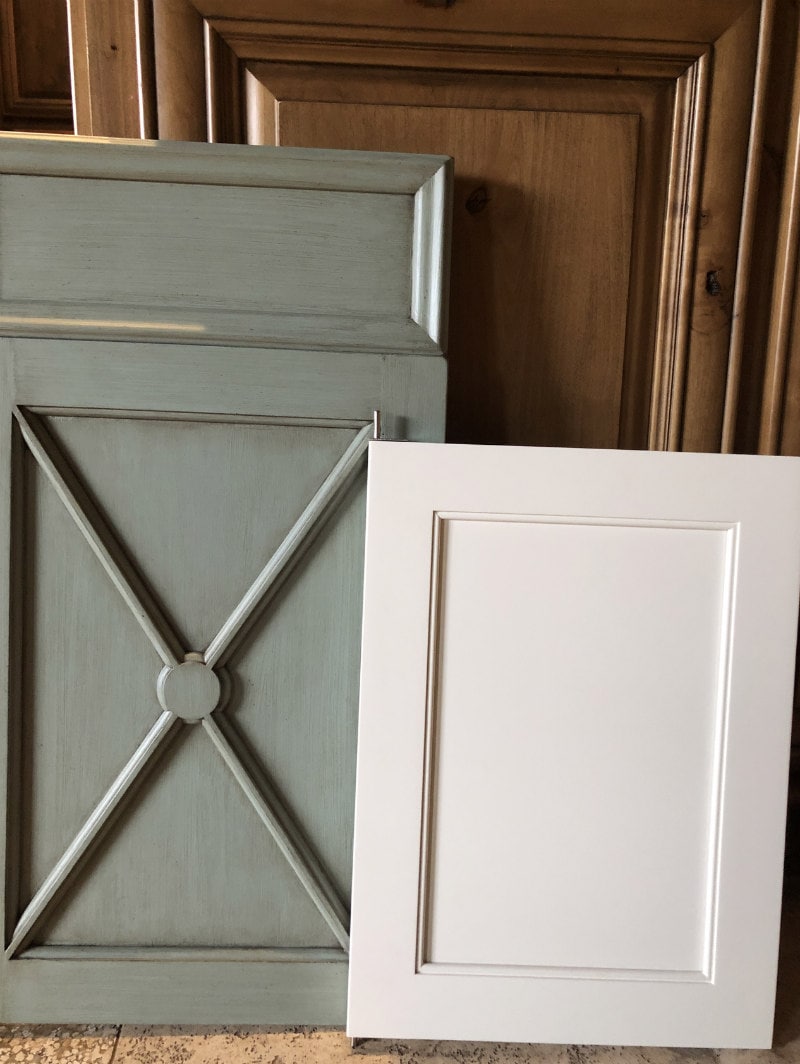 Here are some of our cabinetry choices by Cabico Custom Cabinetry. The light green on the left was our choice for our kitchen island, and the white is the cabinetry for the exterior of the kitchen. I'm so excited for these to arrive and to get them installed! The green style is Cabico's Elmwood series– more customizable and an interesting paint finish. The criss-cross works well with our Modern Farmhouse style.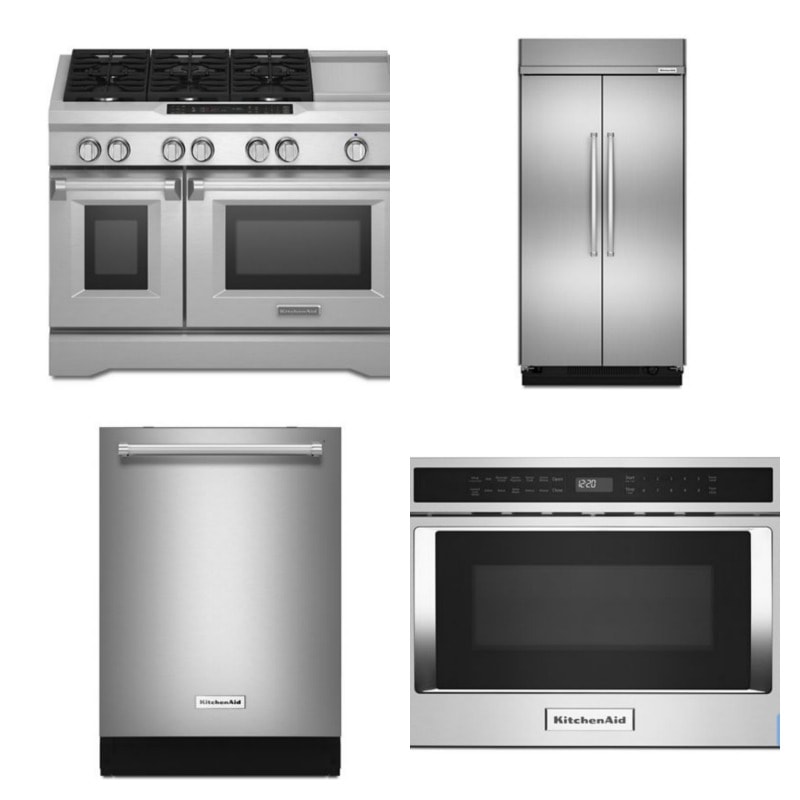 KitchenAid is our choice for all of the kitchen appliances. We've had KitchenAid in our last two homes, and have always been happy with the brand. I've never had a range before (stove with ovens underneath). Since space is somewhat limited in this new kitchen, a range seems like a good choice. We ordered the largest side-by-side refrigerator they have, one of their newer model dishwashers and a drawer microwave (which we're re-locating to the kitchen island).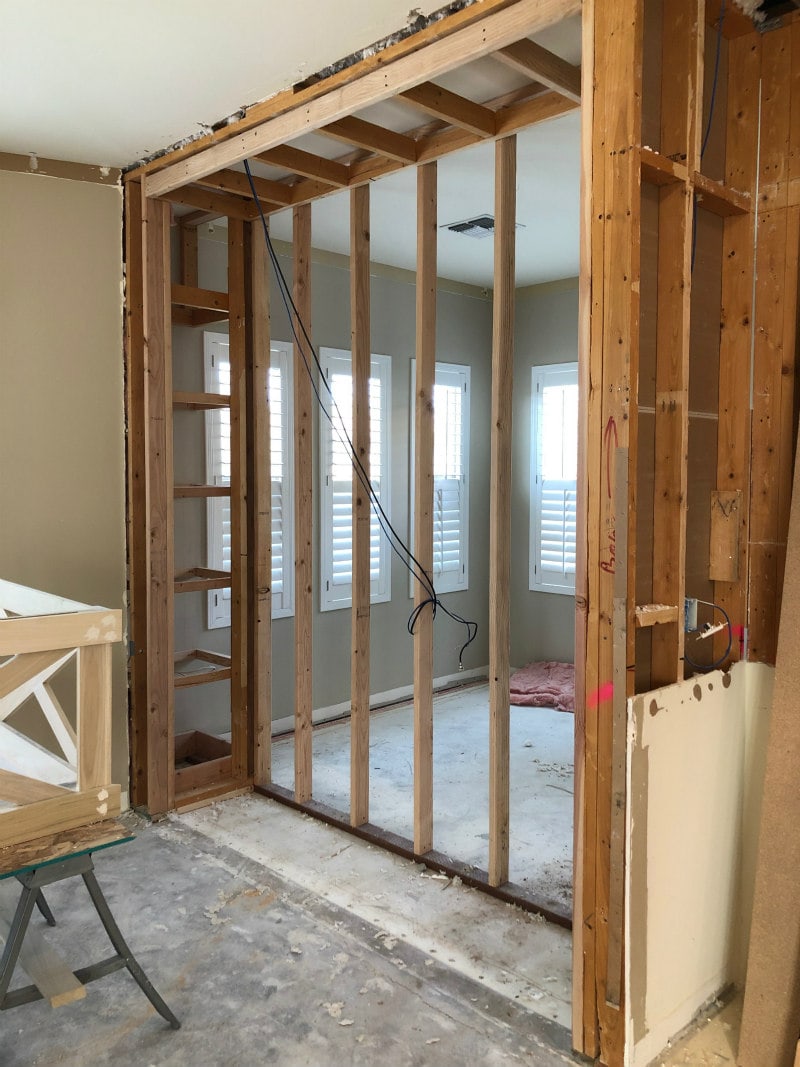 This is a wall in the kitchen nook that we had our contractor push back (into our Master Bedroom sitting room). I wanted more storage in the kitchen, and creating more wall space seemed like the best option. I bought a piece of furniture that will fit nicely in this spot. The plan is to set up our coffee/espresso area in this space.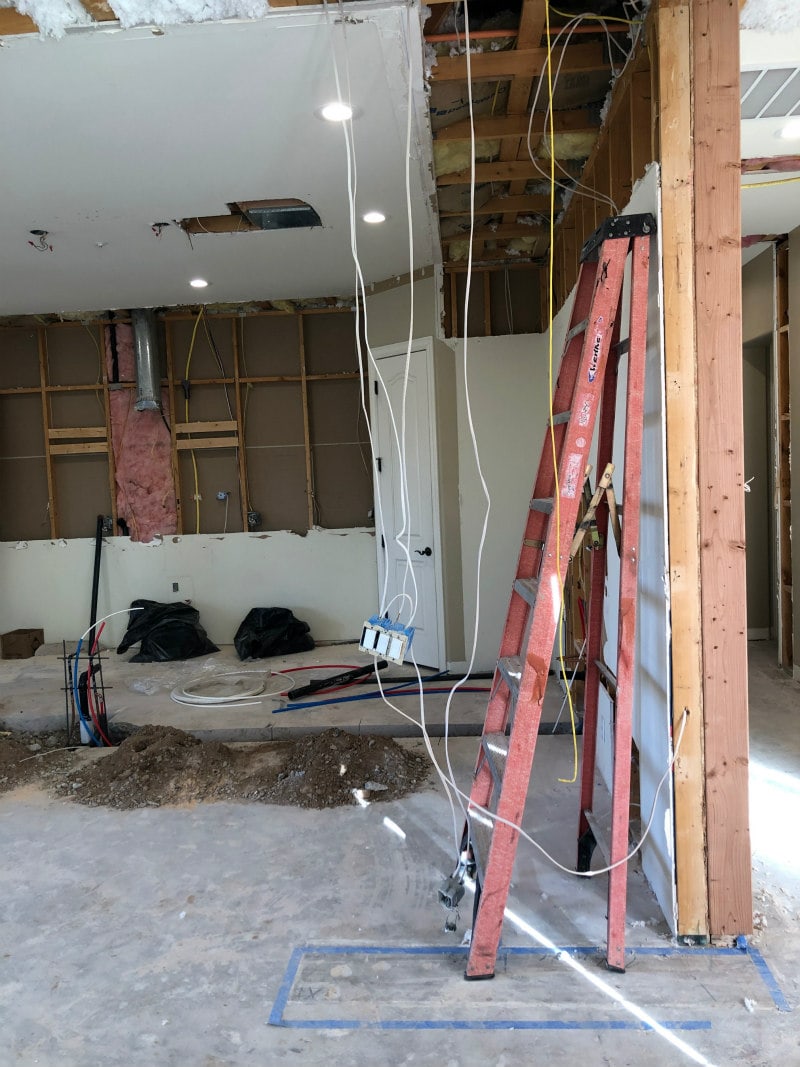 See that blue outline on the floor? That's going to be a floor-to-ceiling refrigerated clear glass wine wall from Innovative Wine Cellar Designs in Scottsdale. We love to entertain… and we love wine. Our wine wall will hold 216 bottles of wine on metal racks. We're pretty darn excited about this feature of our kitchen and living area!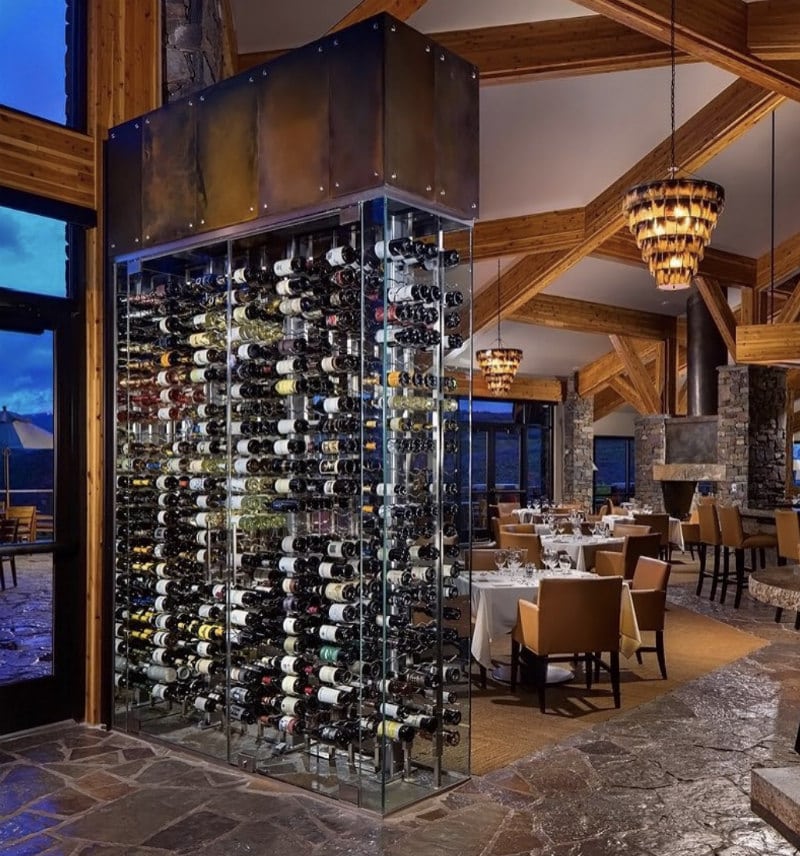 Here's an example of a wine wall that Innovative Wine Cellar Designs did in another one of their projects. Pretty cool, right? Time to go wine shopping!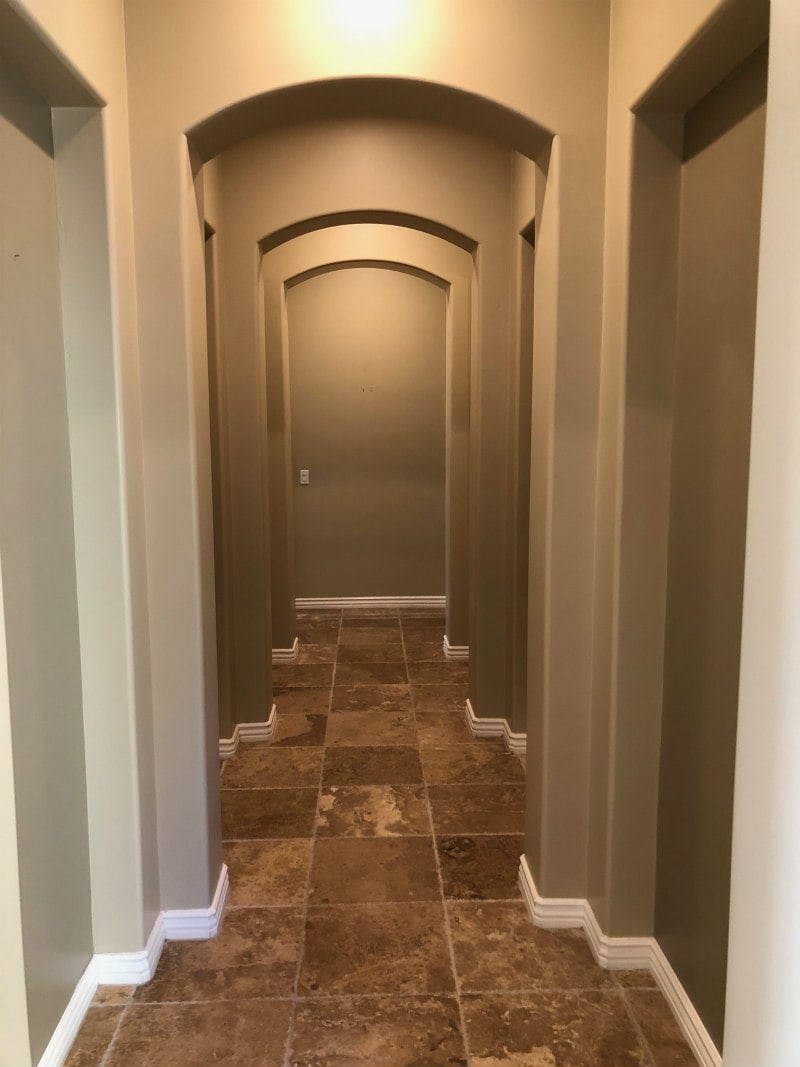 The original architectural design of the house included many arches throughout the home. For us, the arches in this hallway felt a bit closed-in and minimized the impact of the 10-ft ceilings.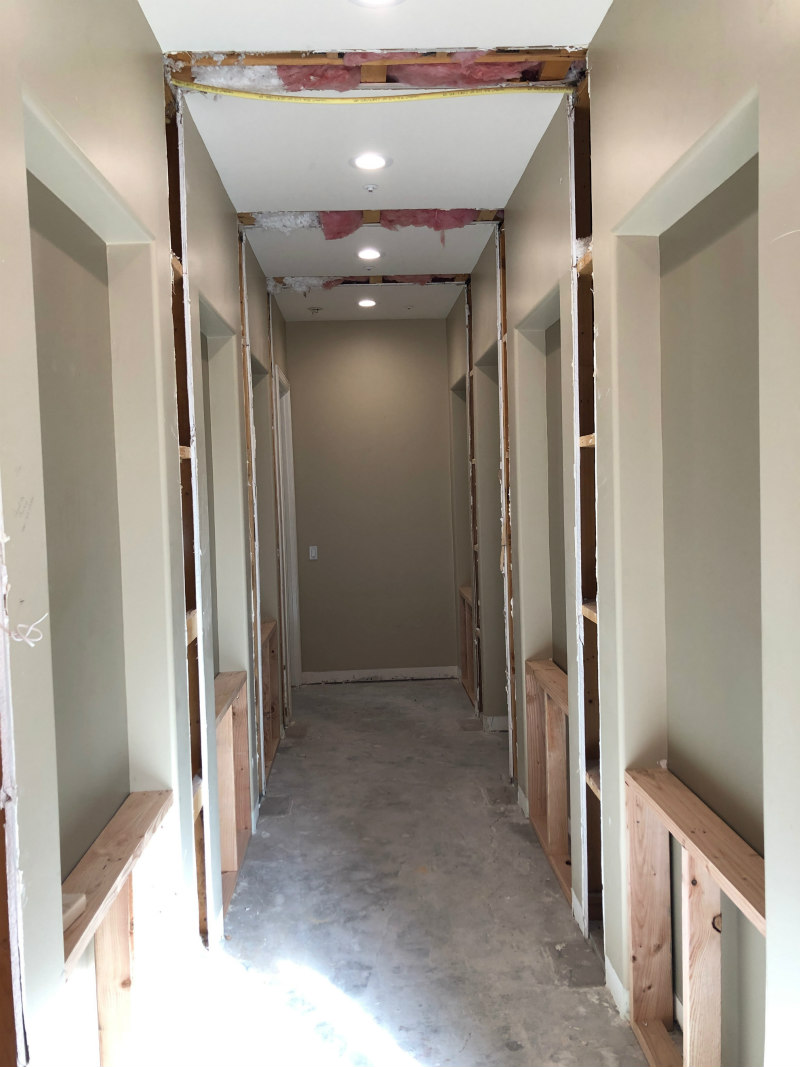 So, we had our contractor take out all of the arches, and it's amazing how big that hallway feels now! He also put in "ledges," so we now have easier nooks in that hallway for displaying photos or art.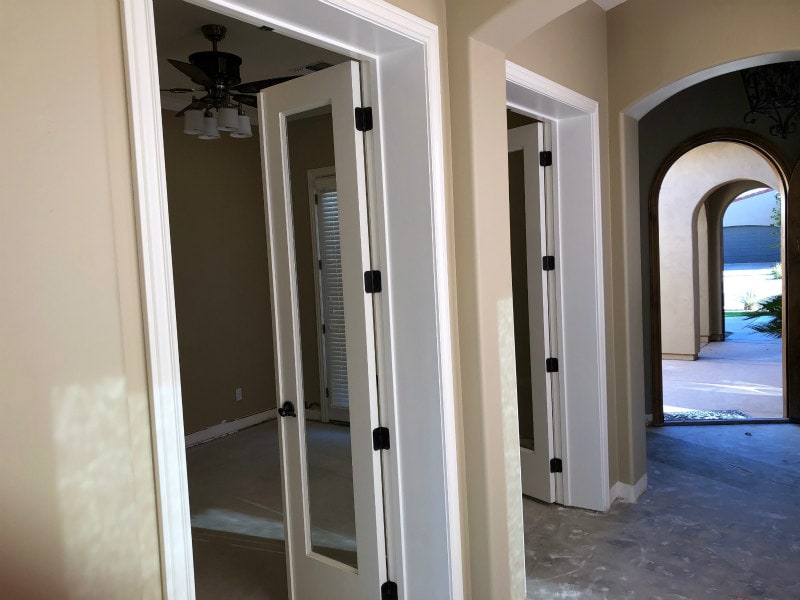 This is my husband's office. Two sets of double doors seemed excessive, and the opened doors took away valuable space in the room. Oh-and there's another arch right there, too!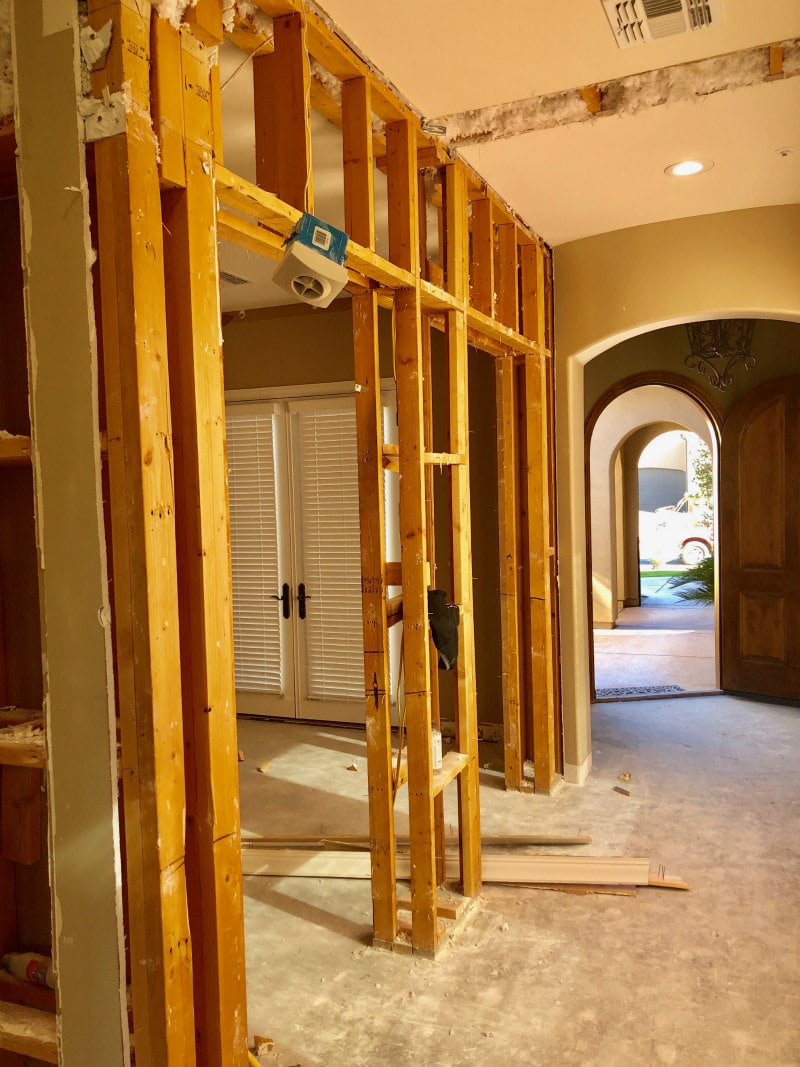 We took out the arch, and we took out the doors. The center between the two doors is coming out too. A sliding wood and glass door will be replacing the opening to this room.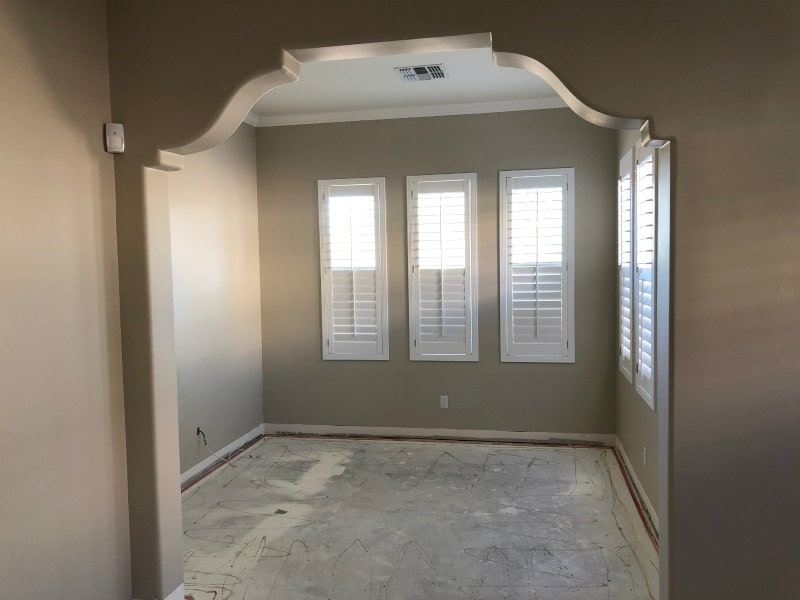 This nook off the master bedroom is my office. I don't need a big office space since I'm usually in the kitchen or working on the couch with my computer on my lap! See that big arch up above?
We took out the arch, and look how much bigger it feels! The wall on the left came in a bit (that's where we pushed back that wall in the kitchen). I'll be putting a desk and a couch in this area.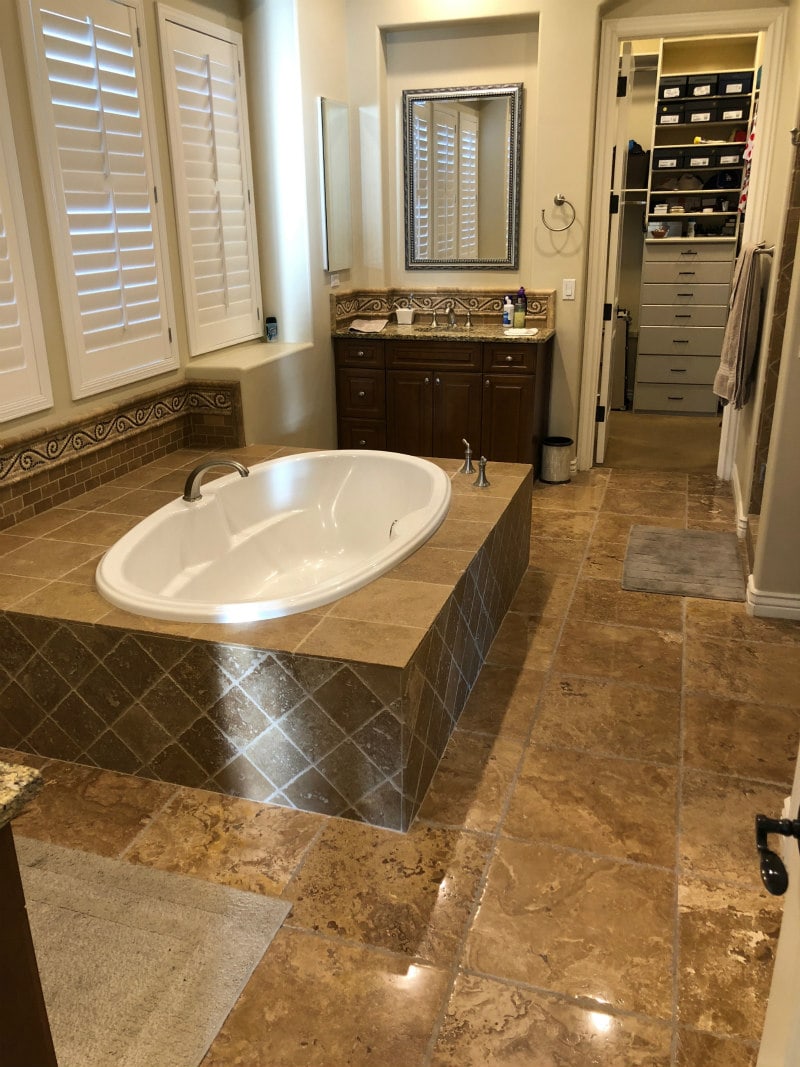 Here's the master bathroom. We looked at so many houses in Scottsdale, and I'd say that 95% of the houses had a big jacuzzi tub like this! They might have been desirable luxury items back-in-the-day, but this tub seemed to take up a disproportionate amount of the floorspace!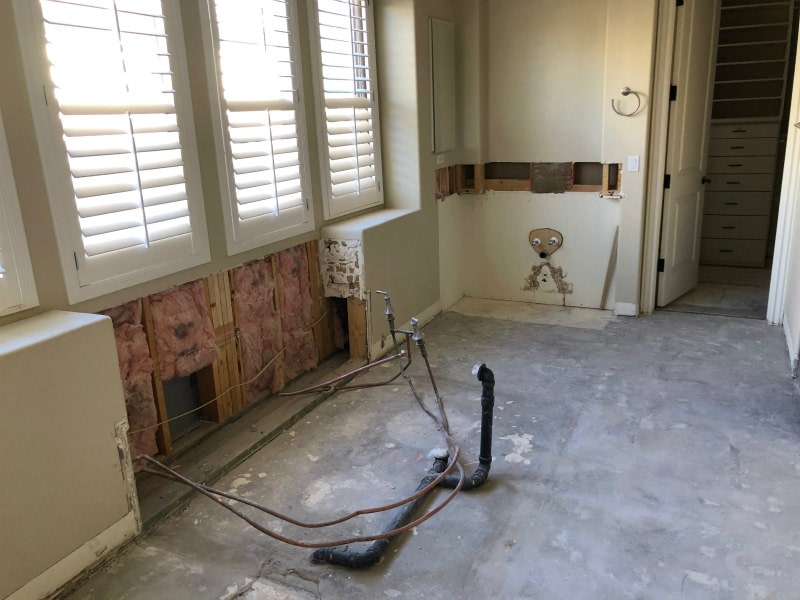 So, we took it out. And we ended up taking everything else out too (I believe they call this "project creep")! Starting from scratch…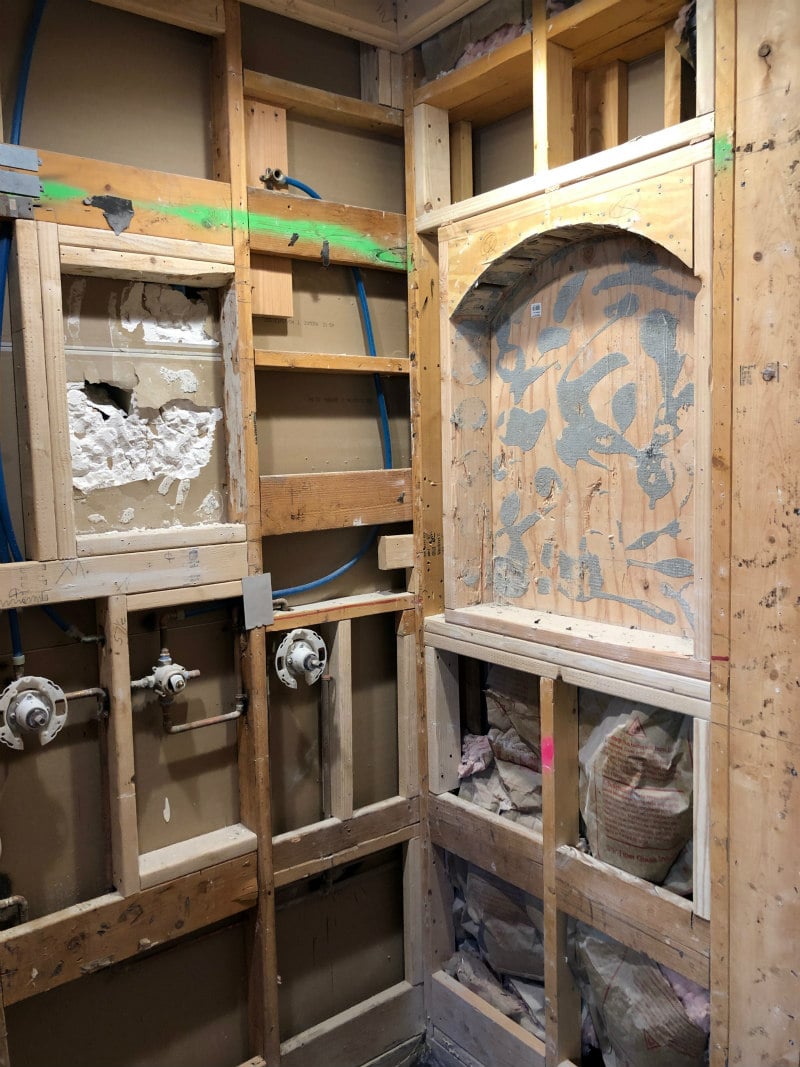 … including the shower!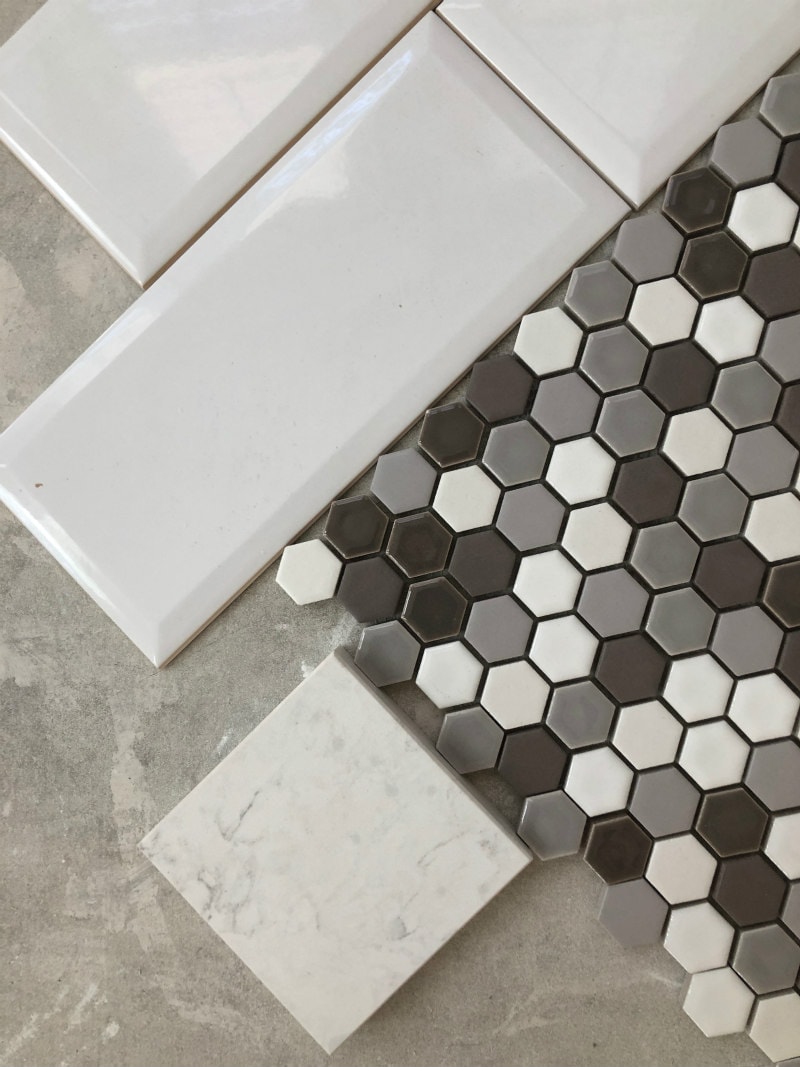 Here are my choices for tile in the shower. The white subway tile will cover the walls of the shower with light gray grout. That tile will also be used for the wall behind our new bathtub (freestanding to save space) and for the backsplash above the countertops. I bought the beveled edge ceramic subway tile at Floor & Decor. The Somertile Hexagon Mosaic Tile will go on the floor of the shower, as well as the wall niche. I found that one on Overstock.com. And we chose Quantra Engineered Quartz (Calacatta Frost) from Cactus Stone and Tile for the bathroom countertops.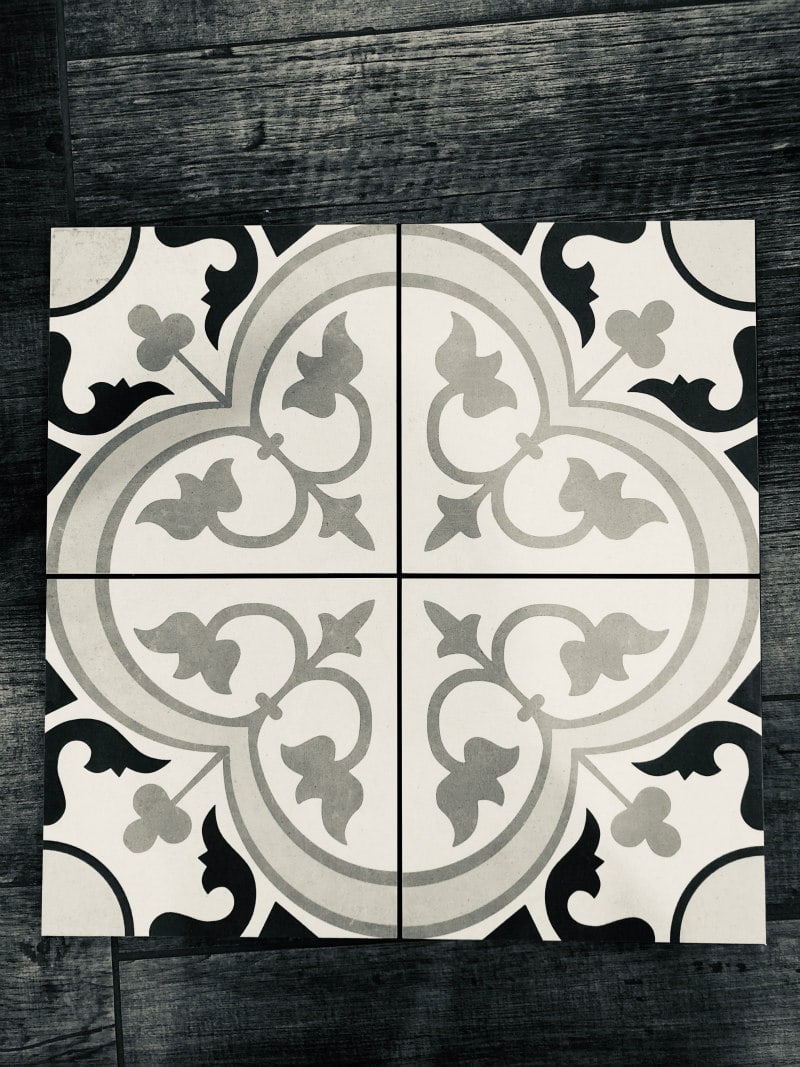 I found this tile for my bathroom floor here in Scottsdale, and I fell in love with it. But, it was super expensive, so I was on the fence about buying it. Then I walked into Cactus Stone and Tile and spotted this same tile for a much better price than the first place I saw it in. Score! Salesperson Chris suddenly became my new best friend, and I ended up choosing our kitchen tile, countertops and fireplace tile from Cactus Stone and Tile too.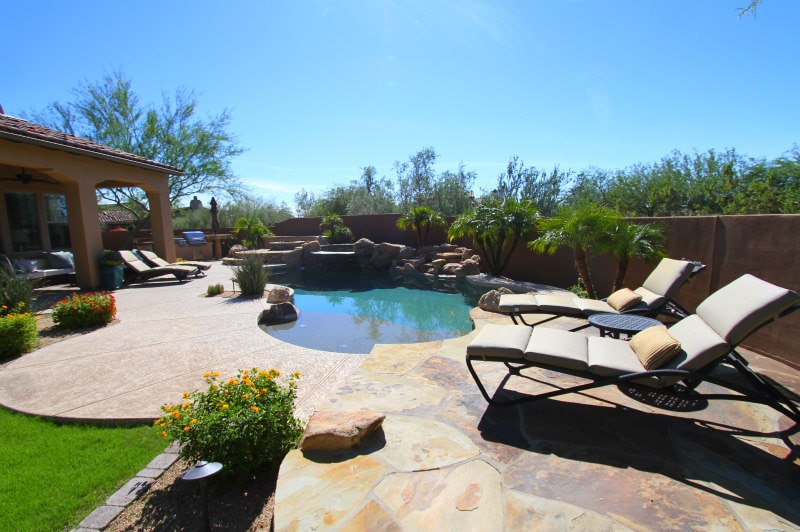 Here's our backyard! It's pretty perfect the way it is, and we have a nice grassy area to the left for the dog.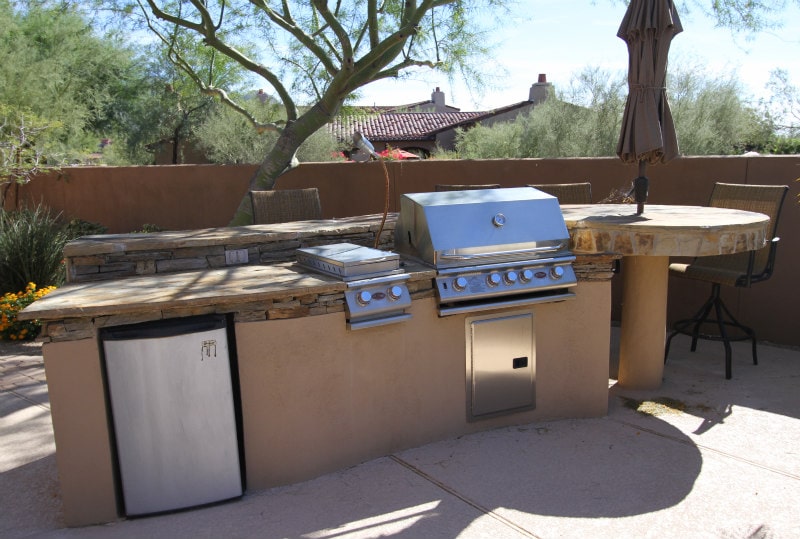 We have a nice barbecue island. We're currently trying to figure out if the grill just needs cleaning up or if it will need to be replaced. The fridge on the left needs replacing for sure. But it's a great spot for grilling with a nicely placed umbrella to protect the griller from the Arizona sun!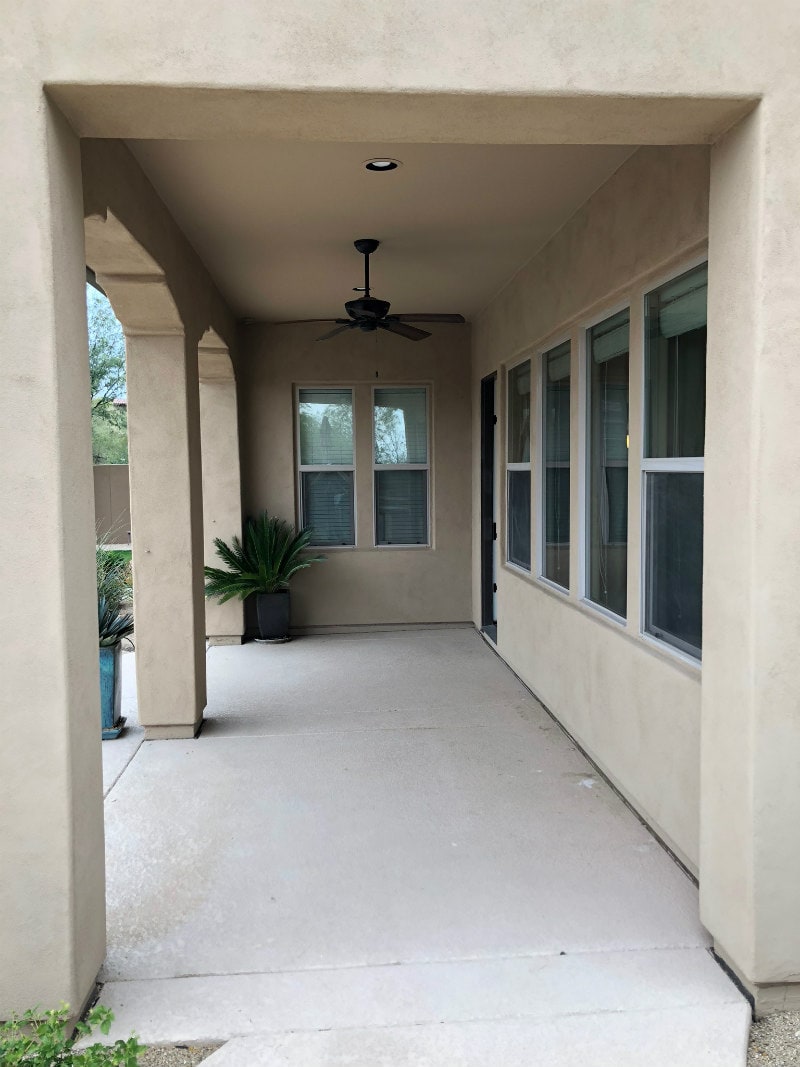 This is one of our outdoor areas that we need to furnish. It's just off the family room, and it's adjacent to the pool. That wall on the right is the one I mentioned earlier that will be turned into a moveable glass wall from NanaWall Glass Wall Systems. So excited about that!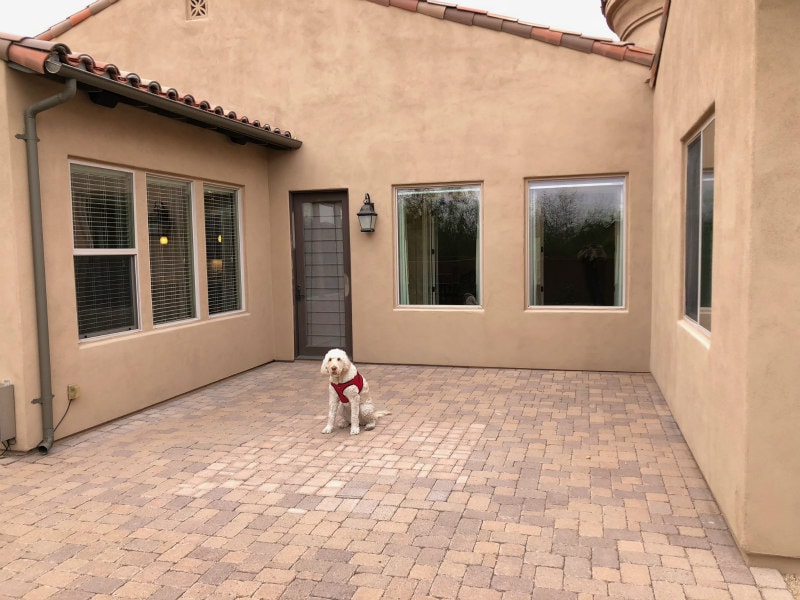 And this is another great, BIG outdoor entertaining area. To the left is the other side of our family room, and that door enters into the main hallway of the home.
I need help designing this space. What would you do with it?
I'm thinking… a large dining table with a huge umbrella… sideboard furnishing and extra seating on the exterior. Oh, and stringing some lights above…What else? And is there a good website or local Arizona store for ordering outdoor furnishings?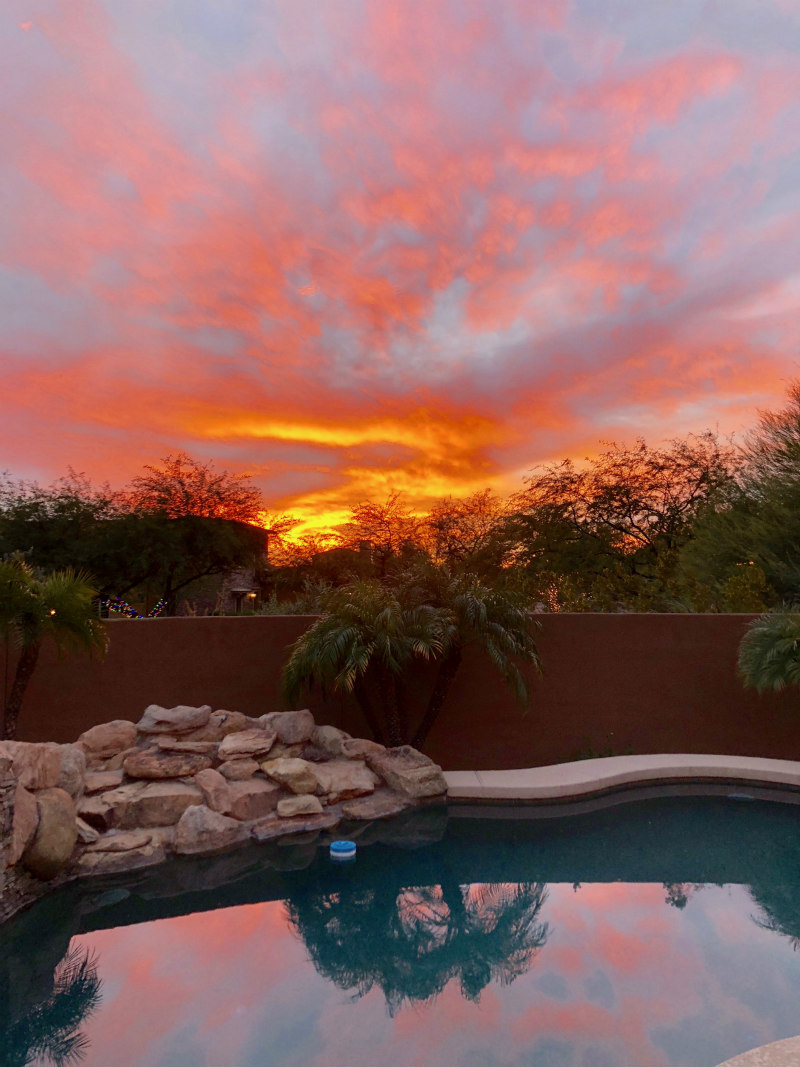 We are so in love with our property. This is the sunset view we'll get to see every night. A remodel isn't an easy project to take on, but it's also exciting to see the progress. I'll be sharing more on this Home Remodel in Scottsdale, Arizona in the weeks to come. It's projected to be done and ready for us to move in mid-April!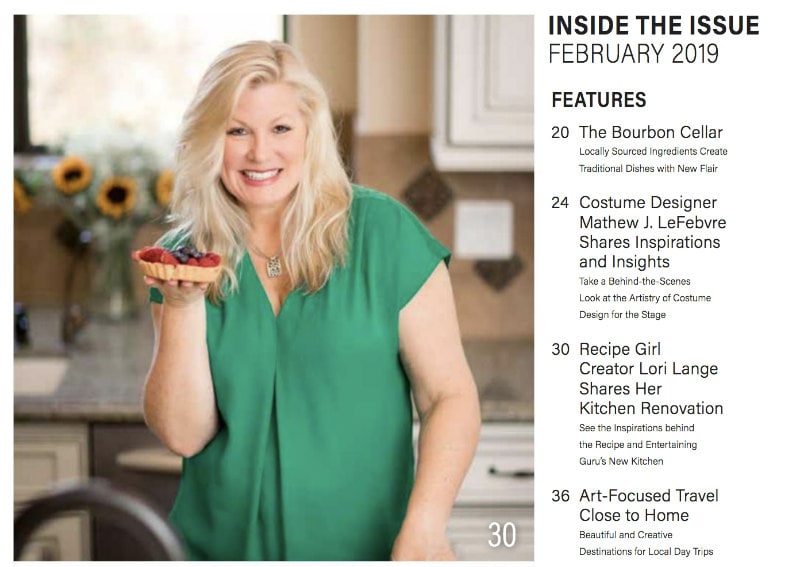 North Scottsdale Lifestyle Magazine is featuring our remodel in their February "Art" themed issue! And when it's all done, they'll be featuring the before/after photos in their June issue. Exciting!
I'd love to hear your thoughts, advice, and tips on our home remodel. I'd appreciate it so much if you left a comment below.
If you're looking for more remodel inspiration, you might like to read these: