Much more delicious than your average chicken recipe:  Mediterranean Chicken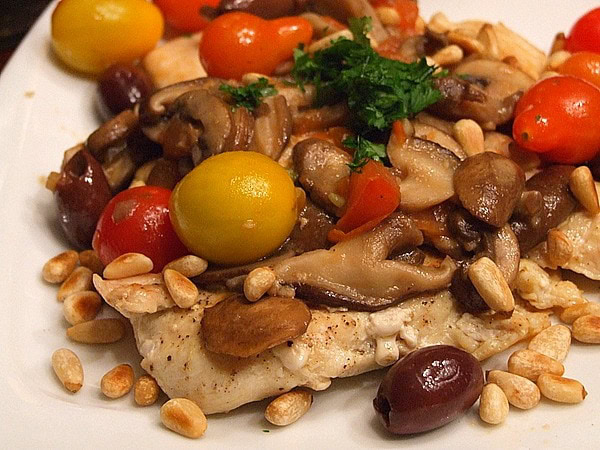 This recipe is filled with wonderful flavors: wild mushrooms, kalamata olives, two kinds of tomatoes, garlic, shallots, capers and pine nuts. And if you look really closely, you can actually see some chicken hiding underneath all that stuff.  This is a delicious recipe!
Mediterranean Chicken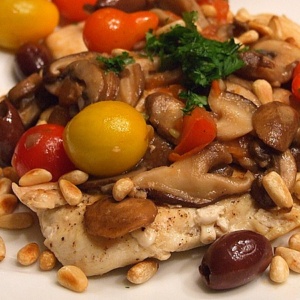 Yield:
8 servings
Prep Time: 25 min
Cook Time: 35 min
Ingredients:
6 Tablespoons extra-virgin olive oil, divided
8 skinless boneless chicken breast halves (about 2 1/2 pounds)
1 1/2 pounds assorted wild mushrooms (such as oyster, crimini and stemmed shiitake), sliced
1 1/2 cups low-salt chicken broth
2/3 cup pitted Kalamata olives
3 plum tomatoes, seeded and diced
3 cloves garlic, minced
1 Tablespoon chopped shallot
1 Tablespoon drained capers
2 Tablespoons (1/4 stick) chilled butter
1 cup pear tomatoes (red and yellow)
3 Tablespoons chopped fresh parsley
3 Tablespoons pine nuts, toasted
Directions:
1. Preheat oven to 200°F.
2. Heat 3 Tablespoons oil in large skillet over high heat. Sprinkle chicken with salt and pepper. Working in two batches, add chicken to skillet. Cook until brown and just cooked through, about 3 minutes per side. Transfer to ovenproof plate and place in oven to keep warm. Discard oil from skillet.
3. Add 3 Tablespoons oil to same skillet over high heat. Add mushrooms; sauté until wilted and beginning to brown, about 3 minutes. Add broth; boil until almost all liquid evaporates, about 5 minutes. Add olives, plum tomatoes, garlic, shallot and capers. Sprinkle with salt and pepper. Reduce heat to medium and simmer until liquid is reduced by half, about 7 minutes. Add butter; stir until melted. Mix in teardrop tomatoes. Season with salt and pepper.
4. Spoon mushroom mixture over chicken. Sprinkle parsley and pine nuts over and serve.
Tips:
*If you're preparing this recipe as GLUTEN FREE, just make sure to use brands of chicken broth and olives that are known to be GF.
Nutrition:
Nutritional Information per serving:
Serving size: 1/8th of the recipe
Calories per serving: 379
Fat per serving: 23g
Saturated Fat per serving: 4g
Sugar per serving: 3g
Fiber per serving: 1.75g
Protein per serving: 37g
Cholesterol per serving: 90mg
Carbohydrates per serving: 7g
WW POINTS per serving:
Points Plus Program: 10 Old Points Program: 10