Myrtle Beach Marriott Resort and Spa review (Grande Dunes)
I recently had the chance to experience a city I had never visited before:  Myrtle Beach, South Carolina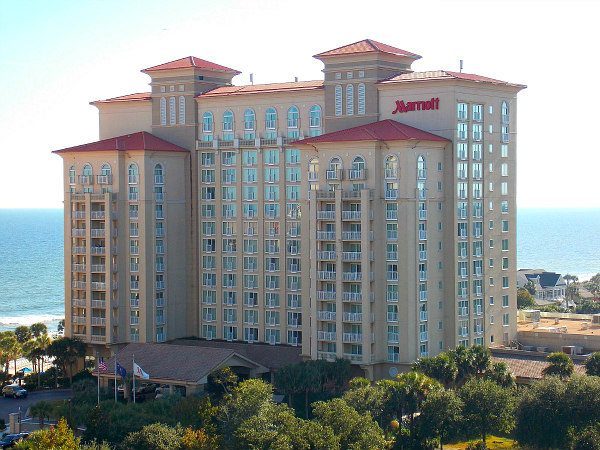 I was brought into town by Visit Myrtle Beach— and stayed at the Myrtle Beach Marriott Resort and Spa at Grande Dunes.  This place is right on the beach- picture yourself walking out the back door of the hotel, strolling past the swimming pool, tiptoeing through the sand and gazing at the ocean.  This is my kind of hotel!!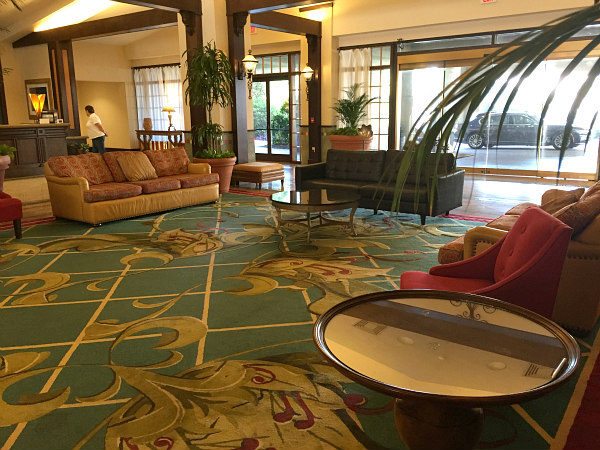 The lobby has a beachy vibe.  There is a nice, comfortable sitting area.  Fresh, fruit-infused water and fruit are available in the lobby for hotel guests.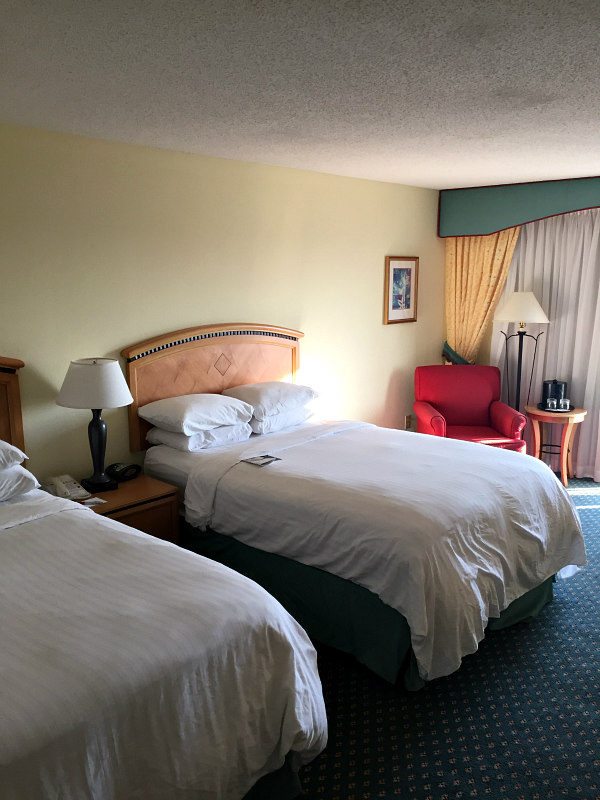 The rooms are spacious, clean and quiet.  I had a two-double bed room.  The linens are plush and the beds are very comfortable.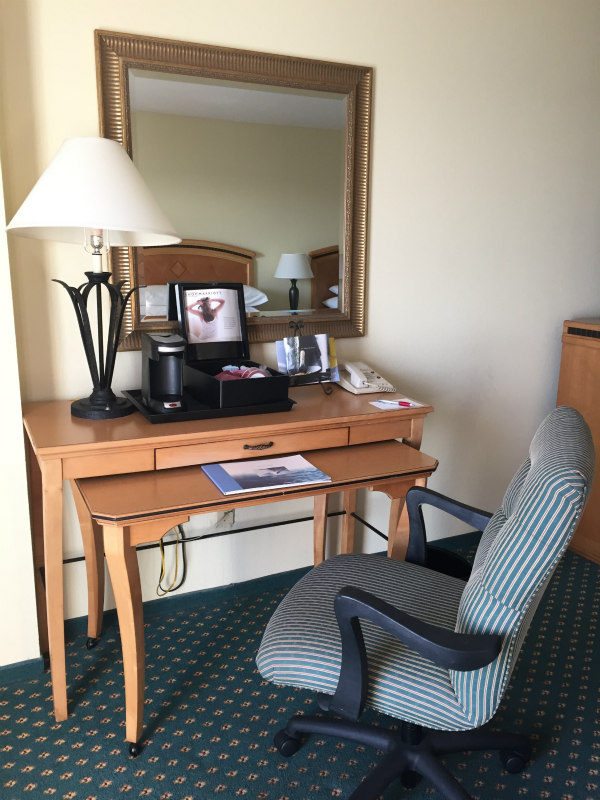 This desk area came in handy for working on my computer (the wifi signal was strong here- a super important detail for me!)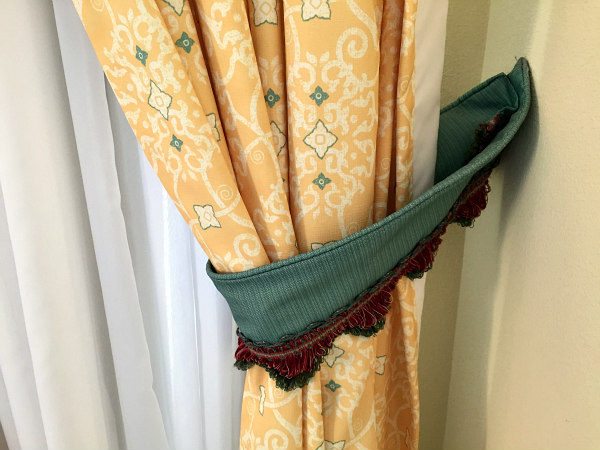 Cute tie-backs on the curtains.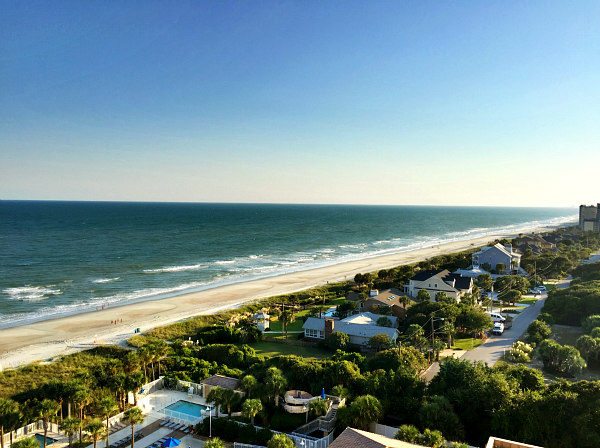 Here's the view from my room!!  Without a doubt, if you decide to stay here… step-it-up and pay the extra cash for an ocean view.  It's beautiful, and there is nothing like being able to hear the waves when you're dozing.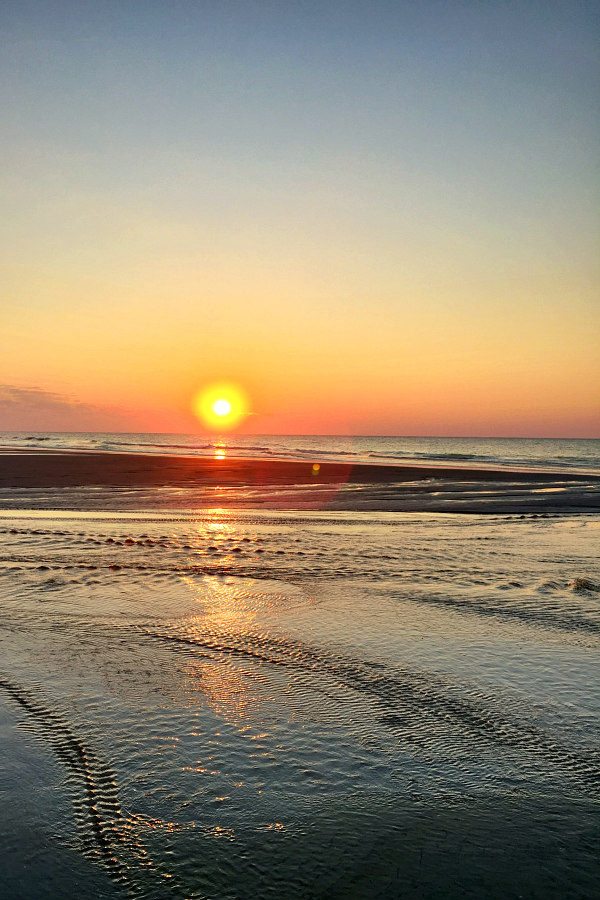 Where I live on the West coast, we experience incredible sunsets.  On the east coast… they experience incredible sunRISES.  The sun rises up over the ocean in the East.  It's quite beautiful if you can get yourself up early enough in the morning to experience it!  This is a peek at a sunrise on the beach right by the hotel.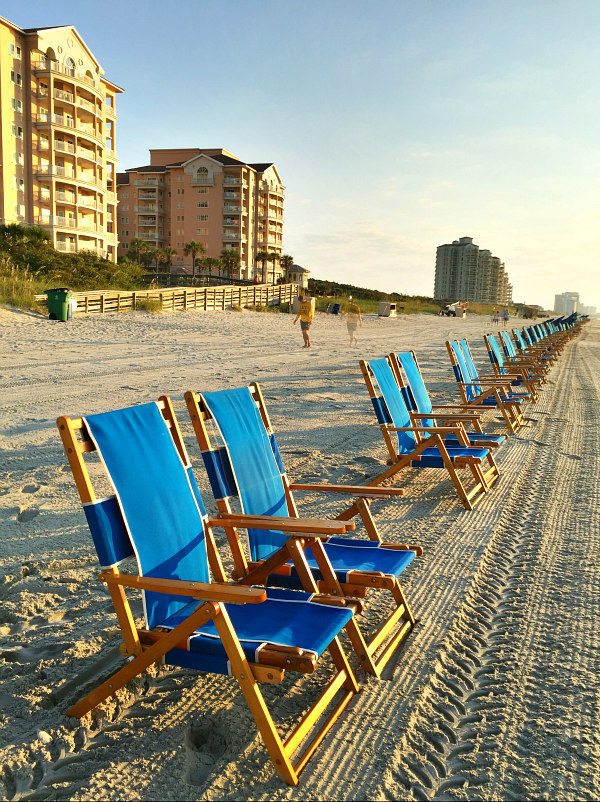 Getting up early has advantages… you have your choice of beach chairs!  These are all laid out for hotel guests.  Take your pick!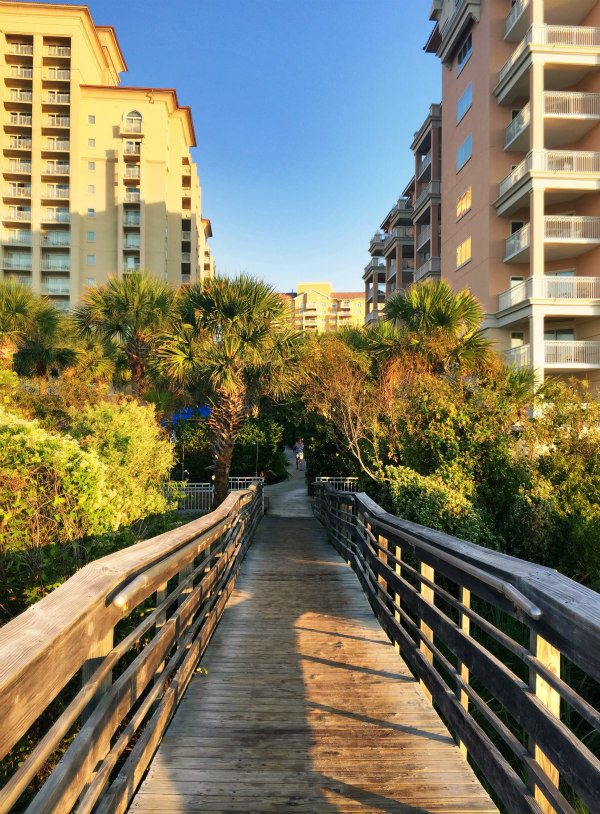 This is the bridge pathway leading back from the beach to the hotel.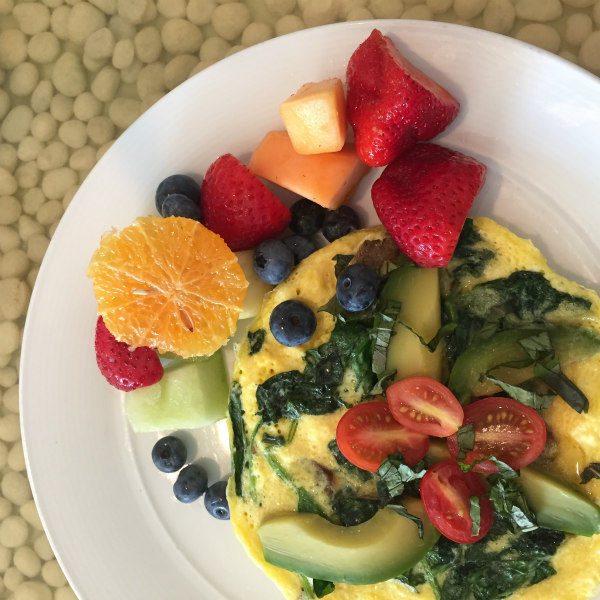 I'm not usually one to be excited about hotel restaurants, but everyone in my group was greatly pleased with their breakfast at Oceans on 82nd.  I had this wonderful frittata with many veggies and a side of fruit (the healthy choice), but there was French toast and amazing-looking fried egg sandwiches (among other things) on the menu too.  You may also choose to utilize the breakfast buffet.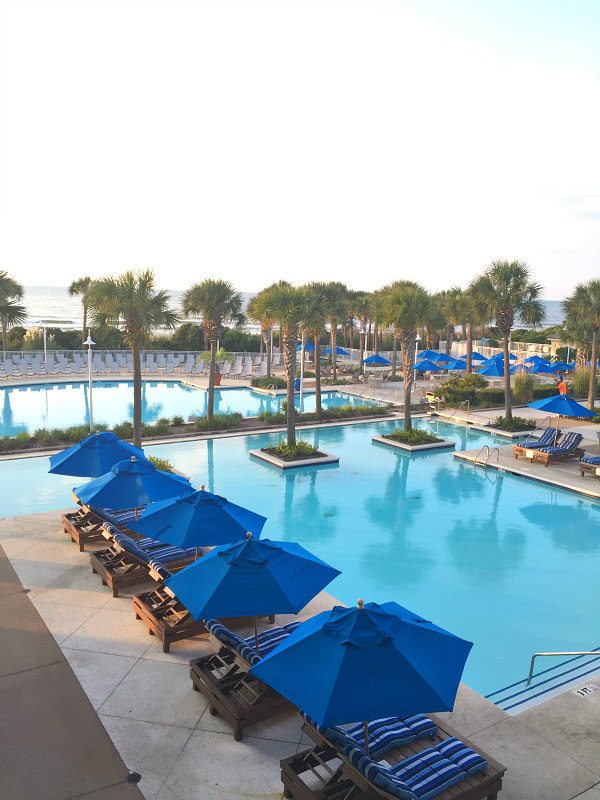 The pool area at this resort is quite large (2 pools).  There are many options for how to lounge and where to swim.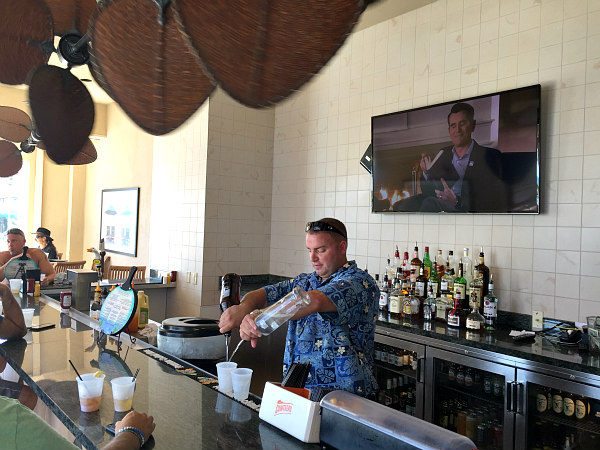 Totally key > a poolside bar (grab your own beverage from this guy or let a cocktail waitress serve you from your poolside lounger).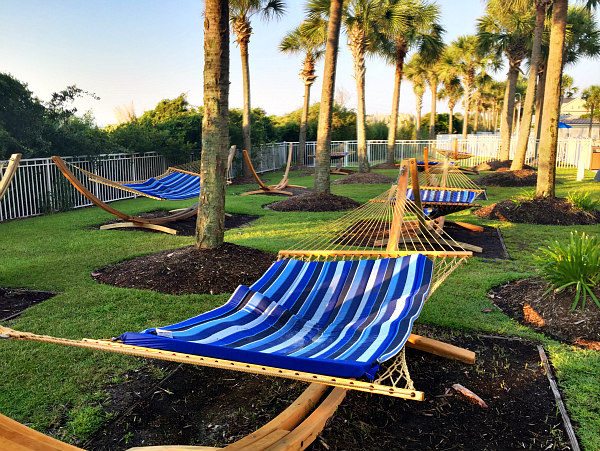 You can even lie on these hammocks– a special, relaxing area for those who are in need of getting away from the family to read their books and take a snoozer.  This beachside resort is all about kicking-back.  If you're looking to vacation in Myrtle Beach, this hotel should be a consideration for you.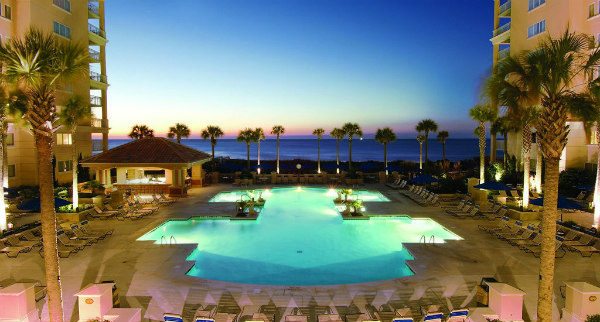 The evenings are beautiful too.  I visited Myrtle Beach just after Labor Day– which was the perfect time of year as it was no longer super summer hot and humid.  Everyone I talked to said that Myrtle Beach is pretty amazing at all times of the year.  Apparently they have pretty good year-round weather.  Until we meet again sweet Myrtle Beach!
Look for a post here next weekend on recommendations for places to eat and things to do while vacationing in Myrtle Beach!
Hotel Details:  Myrtle Beach Marriott Resort & Spa at Grande Dunes, 8400 Costa Verde Drive  Myrtle Beach  South Carolina  29572  USA : Phone: 843-449-8880
Check out their state-of-the-art spa, two swimming pools, a health club, championship golf and tennis, and exquisite on-site dining.
Nearby Restaurants (not on the hotel property):
Kaminsky's NY Deli
Collectors Cafe and Gallery
Liberty Tap Room
New York Prime
Thoroughbred's Restaurant
Rossi's Italian Restaurant
Ducati's Pizzeria and Trattoria
Fire and Smoke Gastropub
The Boom Boom Wine Room
The Boundary House
Lombardo's Restaurant
Aspen Grille
Waterscapes

disclosure:  I was invited as a guest on this Myrtle Beach press trip by Visit Myrtle Beach to share my experience with RecipeGirl readers.  All opinions shared about my experience on this trip (as always) are my own.
Comments